GMs Who Have Put Themselves on the Hot Seat This Offseason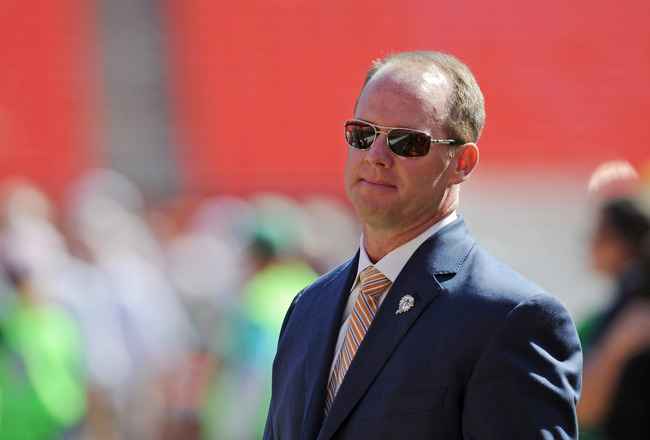 Steve Mitchell-USA TODAY Sports
The NFL offseason is a generally quiet period, but the actions of several general managers across the league have caused headlines and put them onto the proverbial "hot seat."
It comes with the territory, really. When GMs step outside the box and make draft picks that are surprising, or drop a ton of money into a select few free agents, then their job status immediately comes into question.
This is especially true for the men that are leading teams that have not seen success in recent memory. Can a GM for the Jets ever move away from the hot seat? Has Jeff Ireland's spending spree made the Dolphins a real contender for the Super Bowl?
Let's take a look at five GMs who have put themselves on the hot seat because of what has transpired so far this offseason.
Tampa Bay Buccaneers: Mark Dominik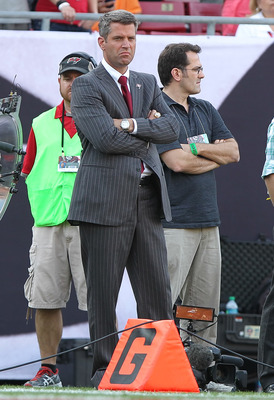 Kim Klement-USA TODAY Sports
The Tampa Bay Buccaneers often seemed like a ship without a clear direction last year, but GM Mark Dominik has taken some clear steps to improve the roster this offseason.
Tampa Bay ranked 32nd against the pass last season, allowing 297 yards through the air per game, so what did Dominik do? He brought in safety Dashon Goldson through free agency and made the blockbuster trade of the offseason to get Darrelle Revis. These are bold moves, but will they be enough?
Dominik also decided to draft QB Mike Glennon out of NC State. Josh Freeman is entering the final year of his contract and Glennon could be the next guy to take the reins at QB, but is the organization already giving up on Freeman?
Tampa Bay has struggled to keep up in the evolving NFC South and must show marked improvement this season for Dominik to keep a firm grasp on his position. He has made the big moves since becoming GM in 2009, but the Buccaneers have little to show for it.
The team did not have a first-round selection in this year's draft, but did nab the aforementioned Glennon and got one of the best cornerbacks in the draft in Johnthan Banks out of Mississippi State. The defense has been overhauled, but legitimate results are needed sooner rather than later.
Oakland Raiders: Reggie McKenzie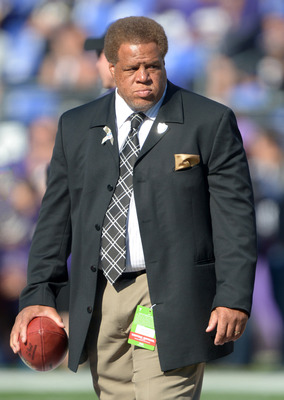 Kirby Lee-USA TODAY Sports
Reggie McKenzie is in a tough spot as the general manager of the Oakland Raiders. This is a team that has been in a state of decay for a long time. Poor draft picks and a trade for Carson Palmer are examples of bad decision-making that stand out, but there does seem to be hope on the horizon.
McKenzie has started a slow rebuilding process based on building talent from within the organization and using older, stopgap players to fill the voids while the roster is filled out. The defense alone this year will likely start numerous players, like Mike Jenkins, Kaluka Maiava, Nick Roach and Tracy Porter, with no long-term future in Oakland.
McKenzie seems to have the team headed in the right direction, but will there be time for him to see his vision through? Oakland drafted cornerback D.J. Hayden in the first round of the NFL draft, but did not have a second-round pick and took few guys who will be able to contribute immediately.
Oakland did not bring in any of the major prizes in free agency and the rest of the AFC West is clearly making strides to improve right now. The Denver Broncos are a Super Bowl contender, the San Diego Chargers took steps to address serious concerns along the offensive line and the Kansas City Chiefs have overhauled the entire roster.
The point is that the Raiders' "slow and steady" philosophy may take too long for McKenzie to see it all the way through. The NFL is a "what have you done for me lately?" type of league, and the Raiders are at least a few years from being real contenders.
Philadelphia Eagles: Howie Roseman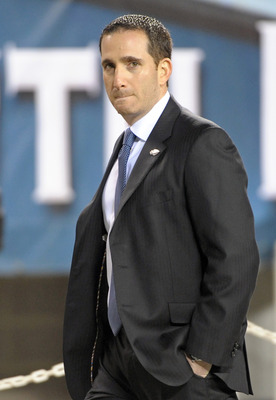 USA TODAY Sports
Chip Kelly was the head coaching prize that every NFL team with a vacancy seemed interested in and Howie Roseman and the Philadelphia Eagles were able to ink him to a deal. However, Kelly brings with him one of the most intriguing questions of the offseason: Can his offensive system work in the NFL?

Will Kelly even run the same high-octane offense he ran with the Oregon Ducks or will it be a variation that slows down the pace somewhat? We don't know, which makes this a huge gamble for Roseman because Kelly is an unproven commodity.
Roseman also decided to take QB Matt Barkley in the fourth round of the NFL draft. How serious is the competition for the starting job between Michael Vick, Nick Foles and Barkley going to be?
This is a team with far more questions than answers right now and Roseman has been on the job since 2010. It is time that he starts finding ways to win because the NFC East is not getting any worse. The Washington Redskins are blossoming around QB Robert Griffin III and the New York Giants are still a proven playoff contender.
The Eagles need to start winning now and Roseman's seat is going to start burning if they don't.
New York Jets: John Idzik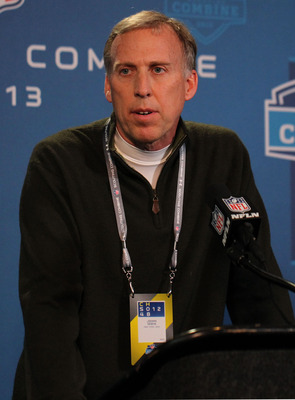 Brian Spurlock-USA TODAY Sports
John Idzik has inherited one of the biggest circus acts that the NFL has ever seen in the New York Jets, but he has already taken steps to move the team into a new era. He released Tim Tebow, traded away Darrelle Revis and drafted his QB in the form of Geno Smith from West Virginia.
However, the leash is perennially short in New York and the Jets will need to show signs of growth sooner rather than later if Idzik is going to have a long-term stay. Drafting Smith was an interesting move because there are at least five QBs on the roster now. This is a team with numerous offensive holes to fill and yet the skill positions have been mostly ignored this offseason.
Can New York compete in the conference or even their division? The Jets are not admitting that it is time for rebuilding, but the roster seems far too devoid of talent to make any real noise this year, and what if Smith does not show potential right away?

Will Idzik be able to handle the pressure that New York can bring? Will a sub-.500 season bring the calls for him to be fired?
It may not be fair to say that Idzik has directly put himself onto the hot seat this offseason, but there is no such thing as a cool seat within the Jets organization.
Miami Dolphins: Jeff Ireland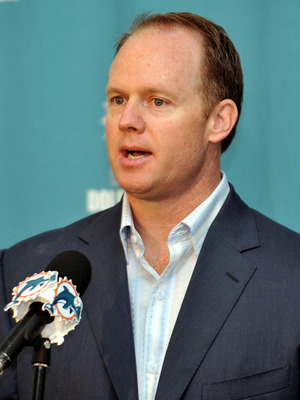 Steve Mitchell-USA TODAY Sports
Any general manager that goes on a spending spree as large as the one that Jeff Ireland of the Miami Dolphins undertook this offseason is bound to come under heavy scrutiny. After all, Ireland is putting a ton of stock, $60 million worth, into wide receiver Mike Wallace and also broke the bank for guys like Dannell Ellerbee, Brent Grimes and Dustin Keller.
Miami is a team that is making every effort to win now and the success or failure of that effort will largely fall on the shoulders of Ireland. He is the guy that signed all those names and he is also the guy who decided Ryan Tannehill was the right choice to be the franchise quarterback moving forward.
If all of this works out then Ireland looks like a genius, but there is no denying that he is playing a very dangerous game. Is Miami ready to compete with the New England Patriots for AFC East supremacy? New England does not look any weaker than last year, but both the Buffalo Bills and New York Jets are in the midst of rebuilding efforts.
Ireland picked the right time to go for it all. Now we just need to wait and see if he picked the right players.
Keep Reading