Boston Red Sox Grades for Every Player in April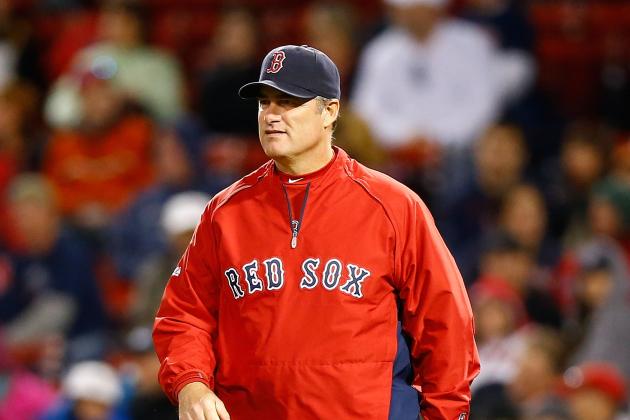 Jared Wickerham/Getty Images
John Farrell has the Red Sox pointed in the right direction.
The Boston Red Sox are off to a hot start because multiple players have stepped up, and they have played relatively mistake-free baseball.
John Farrell has made a difference, but quality pitching from all five starters and one of baseball's best bullpens is the real reason why the Red Sox went 18-8 in April.
Here are my grades for every player who contributed to the hot start in Boston.
Begin Slideshow

»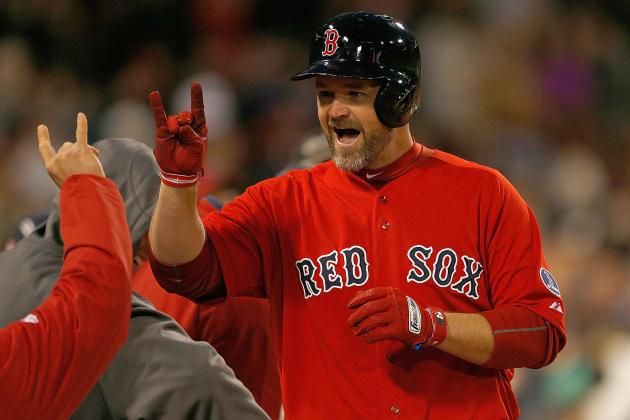 Jim Rogash/Getty Images
David Ross has been a decent backup to Jarrod Saltalamacchia.
David Ross has come in and performed well as a catcher. He's lived up to his reputation as a solid defensive catcher, and pitchers seem to be responding to his veteran wisdom.
Ross' caught-stealing percentage is lower than his career average, but at 27 percent, he is still above average for the season.
At the plate, though, he has started off slow. Aside from the power surge that he had against Houston when he went 4-for-4 with two home runs, Ross has been a .114 hitter.
With Jarrod Saltalamacchia struggling, Ross' struggles have greater impact.
Grade: C-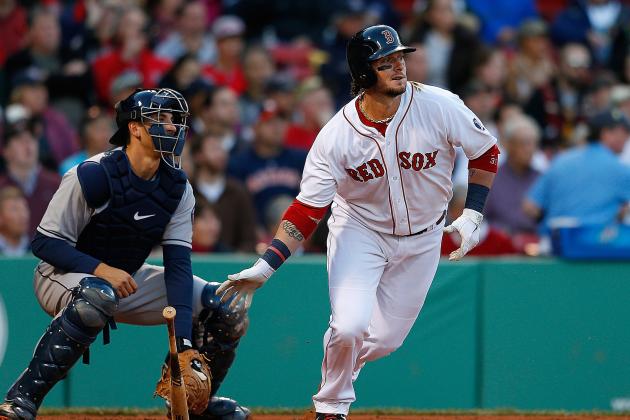 Jim Rogash/Getty Images
Jarrod Saltalamacchia looks set in his ways.
Jarrod Saltalamacchia is extremely streaky at the plate and strikes out at a problematic rate.
The strikeouts wouldn't be as much of an issue if the 28-year-old hit for more power, but his career high for extra-base hits is 43 when he hit 25 home runs, 17 doubles and one triple.
Salty has leveled off defensively and has not been a liability behind the plate.
The expectations have always been high, but it looks like he is what he is: an average (at best) catcher that can get hot at the plate.
Grade: C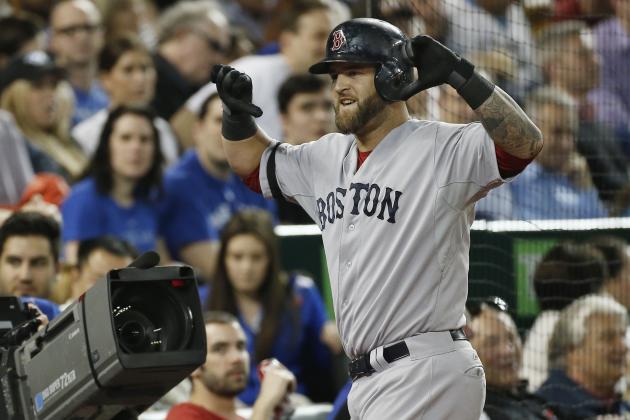 Tom Szczerbowski/Getty Images
Mike Napoli deserves a contract extension.
Mike Napoli has been a slugging machine for the Red Sox early in the season.
Napoli's 15 doubles lead all of baseball, and his 67 total bases are fourth behind Justin Upton, Chris Davis and Robinson Cano.
While Napoli's strikeout rate is at a career high, if he continues to slug the way he has, it won't be a big problem.
As a comparison, Napoli's strikeout rate is almost identical to Jarrod Saltalamacchia's, but because Napoli's OPS is 174 points higher, it is more acceptable.
Defensively, Napoli has been better than expected for a player that had only played 133 games at first base coming into the year.
Grade: A
Jim Rogash/Getty Images
Dustin Pedroia looks healthy and is playing at an All-Star level.
Dustin Pedroia came into the season healthy, and it looks like that has been a major difference early in the season.
He has been great at the plate, hitting .315 with a .417 OBP. Pedroia hasn't hit for power, but that will come with time.
In the field, he has excellent defensively—something fans have gotten accustomed to and sometimes take for granted.
Grade: B+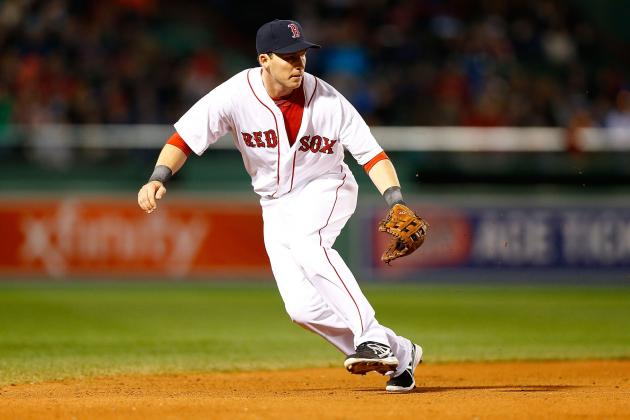 Jared Wickerham/Getty Images
Stephen Drew has been solid, but not special.
After Jose Iglesias got off to a hot start, Stephen Drew was put in a no-win situation as his replacement.
However after a slow start. Drew hit .318 over six games with his first home run and two triples.
Drew has been above average defensively, and though his signing may have been a mistake, the 30-year-old will be a solid shortstop for the Red Sox in 2013.
Grade: C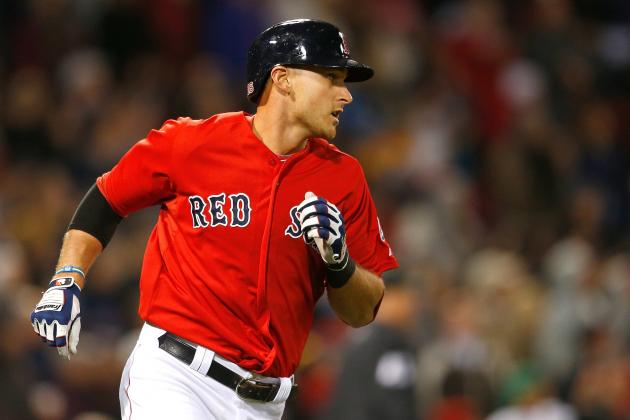 Jim Rogash/Getty Images
Will Middlebrooks is suffering through a sophmore slump.
Will Middlebrooks is suffering through a typical sophomore slump.
Defensively, he has been above average, but at the plate, he has taken a major step back and looks like he is pressing.
Pitchers seem to be attacking Middlebrooks on the outer half of the plate and have gotten him to chase more than his fair share of pitches.
Power-wise, Middlebrooks has been consistent; when pitchers make mistakes or throw him middle in, he has hit for power. However, if he is going to take the next step, he must learn to hit the other way when pitchers throw away from him, and he needs to work on his plate discipline before he gets set in his ways.
Grade: D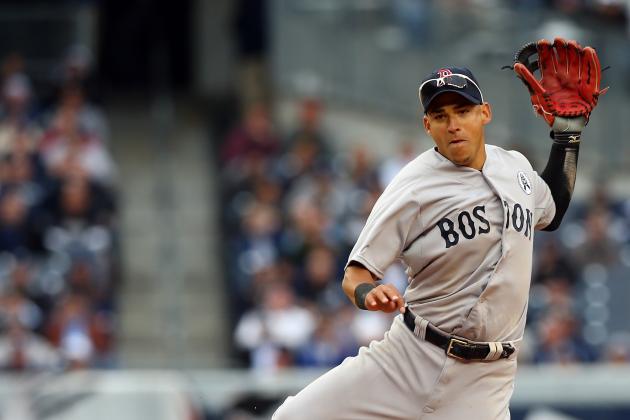 Elsa/Getty Images
Jose Iglesias looked ready to play in the majors.
While Jose Iglesias' numbers were off the charts, the reality is that most of his hits were weak ground balls that managed to avoid infielders.
Iglesias lived up to his reputation as a stellar defensive shortstop, but he still has room to grow at the plate.
I would have preferred to have him start for the entire season, but once the Red Sox signed Stephen Drew to a $9.5 million contract, it was clear that Iglesias would spend most of his time in Triple-A.
Grade: C+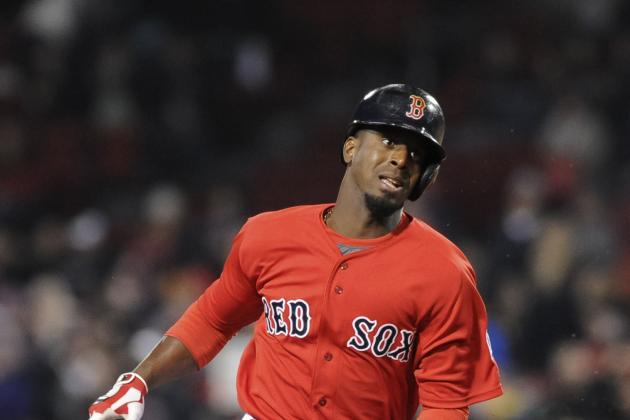 USA TODAY Sports
Pedro Ciriaco continues to be a servicable utilty player.
Pedro Ciriaco has been a solid utility player for the Red Sox. He is capable at playing second base, shortstop and third base, and he is fairly reliable at each position.
At the plate, Ciriaco is aggressive and lacks power, but that is exactly what Boston expects when he gets the call.
While he is only hitting .222, it's hard to criticize a player that only has 18 at-bats in the first month of the season.
Grade: C-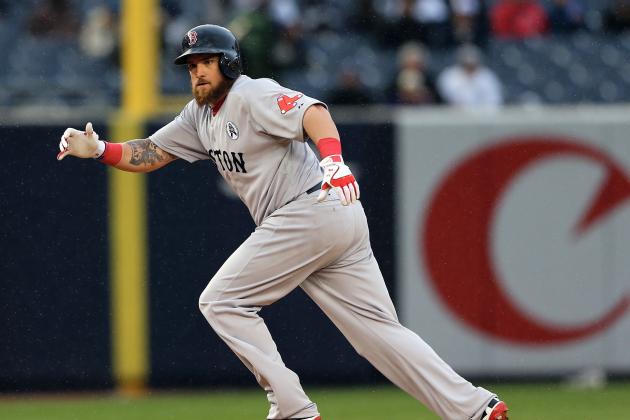 Elsa/Getty Images
Jonny Gomes has room to improve.
Jonny Gomes has struggled early on in the 2013 season. Defensively, he has been as advertised, so it is hard to judge him for that deficiency.
He seems to say all the right things and is considered a good teammate, but at the plate, he is struggling.
Gomes is hitting .208, but the bigger concern is his lack of power—early on particularly—since he theoretically is playing in a hitter's park for a right-handed pull hitter.
Grade: D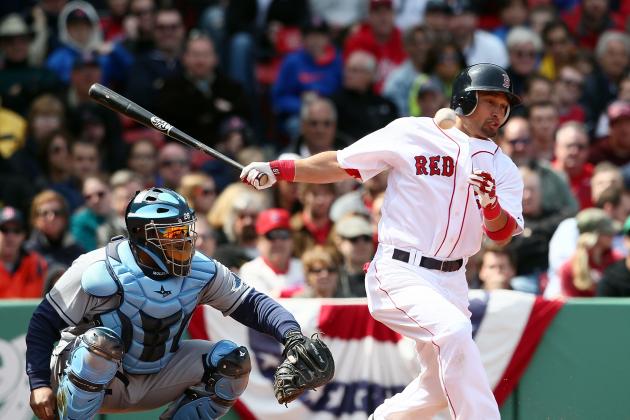 Alex Trautwig/Getty Images
Shane Victorino has bounced back after a subpar 2012 season.
Shane Victorino has been a nice addition to the Red Sox outfield. He has managed to play good defense despite a difficult right field at Fenway Park.
At the plate, Victorino has bounced back from a subpar 2012 season and has been a good No. 2 hitter for the Red Sox.
As long as his back injury doesn't cause a major setback, it looks like Victorino will be a decent contributor for the Red Sox in 2013.
Grade: B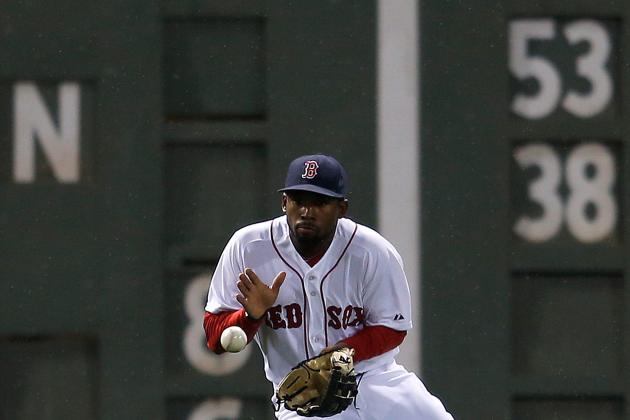 Jim Rogash/Getty Images
Jackie Bradley Jr. has room to grow before he is major league-ready.
In his first taste of big league pitching, Jackie Bradley Jr. looked overmatched. Like Will Middlebrooks, pitchers noticed a weakness and attacked it with ferocity.
Bradley lived up to his reputation as a patient hitter, but unless he learns how to hit inside pitches, he will always struggle at the big league level.
Defensively, he's made a few mistakes as well, but overall, he's been really good for a player with limited experience in left field.
Grade: D+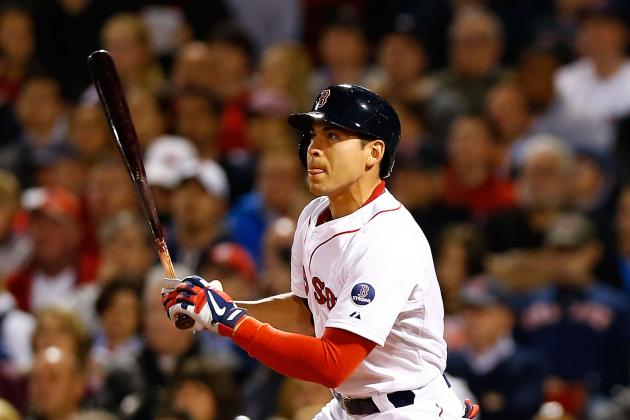 Jared Wickerham/Getty Images
Jacoby Ellsbury has been good but not quite MVP-caliber.
After struggling when healthy last season, Jacoby Ellsbury looks healthy and back to being the player he was from 2007-2009.
2012 was an aberration, and I do not expect him to hit for power, so my bar for him is much lower than others'.
I hope that he makes better contact moving forward, but if he maintains this pace, the Red Sox will be very happy.
If Ellsbury stays healthy, it will be very interesting to see what the Red Sox do in the offseason.
Grade: B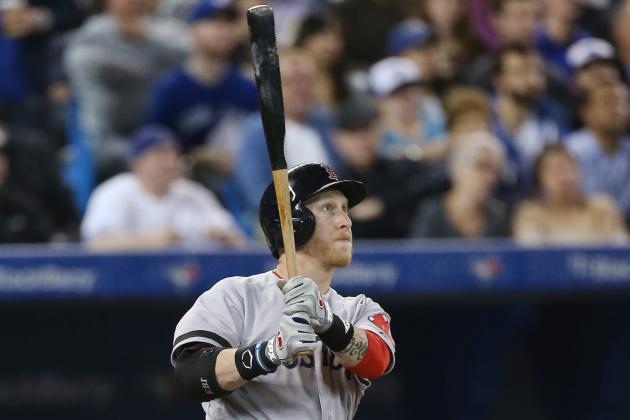 Tom Szczerbowski/Getty Images
Mike Carp has been great and provides flexibility.
After going hitless in three pinch-hit appearances, Mike Carp has been on fire at the plate.
Carp is known as a streaky hitter, and it seems like he is locked in at the moment.
I expect him to return to earth at some point, but for a player that is in a utility role, Carp has exceed early-season expectations by a landslide.
Grade: A-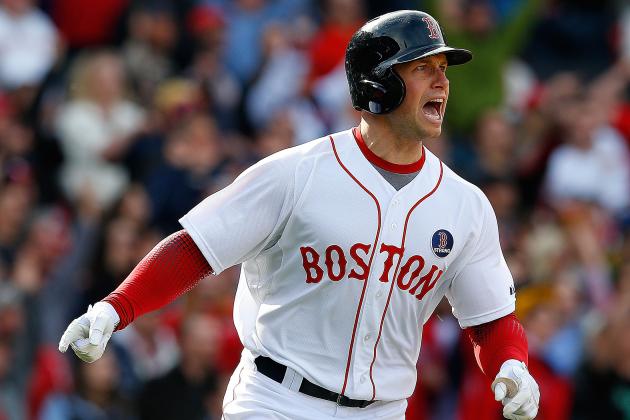 Jim Rogash/Getty Images
Daniel Nava is having a breakout year.
The Daniel Nava story is one of the early-season surprises for the Red Sox.
Nava, a journeyman that went undrafted out of Santa Clara University, has outperformed expectations. After being an injury replacement in 2010 and 2012, he has blossomed as a starter this season.
Nava continues to improve defensively and at the plate. He has great plate discipline and is making better contact, which has resulted in more power early in the season.
Grade: A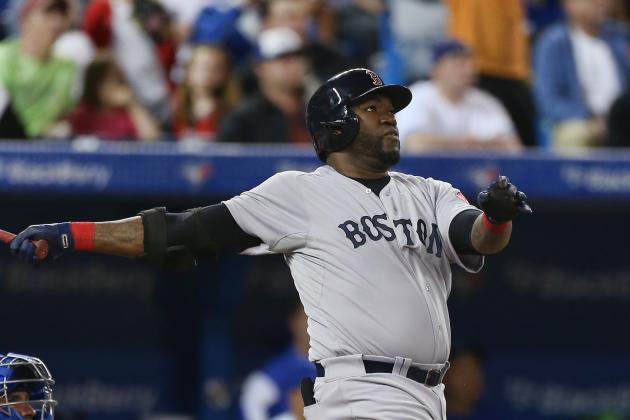 Tom Szczerbowski/Getty Images
David Ortiz continues to have success at an advanced age.
Even though he struggled in six games at Triple-A during his rehab stint, David Ortiz has been on fire at the plate since he was recalled from the DL.
He's stabilized the lineup after Jonny Gomes struggled as the DH. With Will Middlebrooks struggling as well, the Red Sox need Ortiz to perform or else the offense will suffer.
If Ortiz can stay healthy, then the two-year contract that he signed will be well worth it—but that's a big if.
Grade: A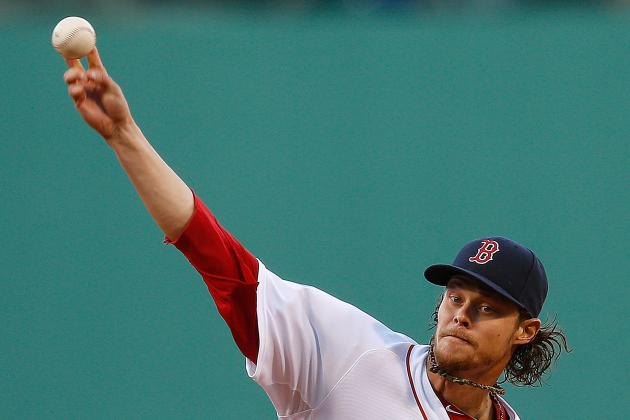 Jim Rogash/Getty Images
Clay Buchholz is one of the best starters in all of baseball right now.
While Clay Buchholz is off to the best start of his career, his turnaround actually started in the second month of the 2012 season.
Buchholz has always had the stuff needed to be a top-five pitcher, but health has been the issue.
The 28-year-old looks healthy and focused with John Farrell, and he will contend for the Cy Young award if he keeps it up throughout the season.
Grade: A+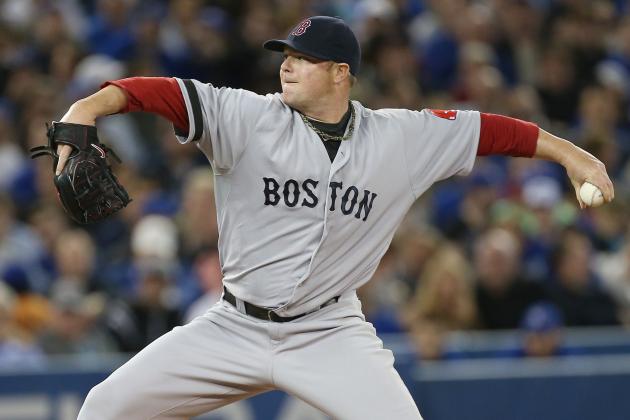 Tom Szczerbowski/Getty Images
Jon Lester has bounced back after an off year in 2012.
Like Buchholz, Jon Lester has been pitching at an All-Star level as well.
Aside from the poor performance against Toronto, Lester has returned to being a dominant lefty.
Lester and Buchholz both need to pitch up to expectations if the Red Sox are going to maintain their level of success.
Grade: B+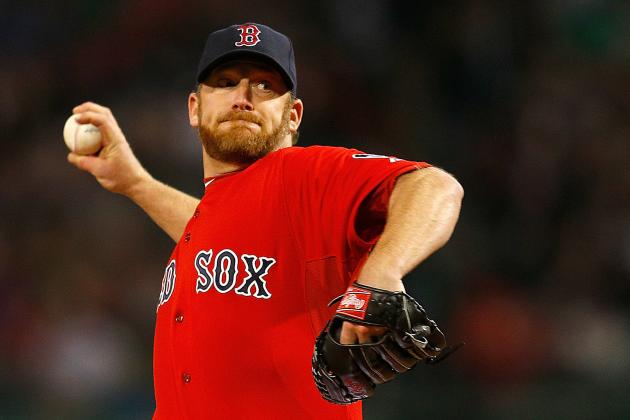 Jim Rogash/Getty Images
Ryan Dempster has dazzled early on.
With Allen Webster needing more seasoning in the minors, Ryan Dempster was signed as a stop-gap capable of being a top-three pitcher on the Red Sox staff.
Dempster has been really good early on, even surpassing expectations by striking out 47 hitters in 36 innings.
He has been a reliable pitcher over the last five seasons, and he should be more than just an innings-eater over the next two seasons.
Grade: B+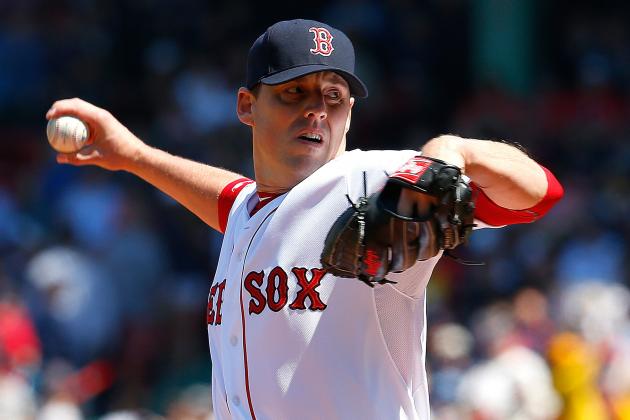 Jim Rogash/Getty Images
John Lackey has looked much better in his first two starts.
John Lackey suffered a small setback in his first start of the year, but after some rest and a brief rehab stint, he was able to return to the starting rotation.
Lackey has pitched well in his first two starts, but the team needs him to stay healthy more than anything.
Even if Lackey regresses performance-wise, if he stays healthy and eats innings, he will help the team.
Grade: C+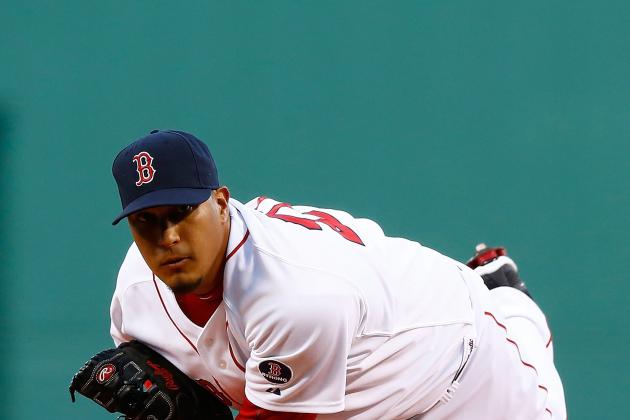 Jared Wickerham/Getty Images
Felix Doubront needs to attack the strike zone more and quit nibbling.
In his second season as in the majors, Felix Doubront is in a critical position. If he is going to be a good pitcher in the big leagues, he needs to learn from his first year and fine-tune his mechanics.
Doubront has good stuff, but he tends to nibble and struggle with his control.
Early on, he has performed close to his 2012 performance, but his walk rate has gotten worse.
Even though he is the fifth starter and doesn't need to pitch at an All-Star level, the Red Sox still expect him to improve.
Grade: C+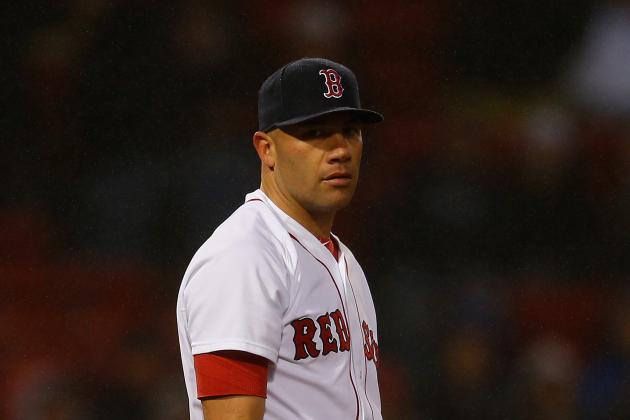 Jim Rogash/Getty Images
Alfredo Aceves needs to be waived or traded before he becomes a major problem.
Alfredo Aceves looks like he has worn out his welcome in Boston. His attitude problems are not new, but now that he is struggling, he provides little to the club.
If Aceves doesn't turn things around, he will be traded or released.
When healthy, Franklin Morales can fill the same role, and he is a much better teammate.
Grade: D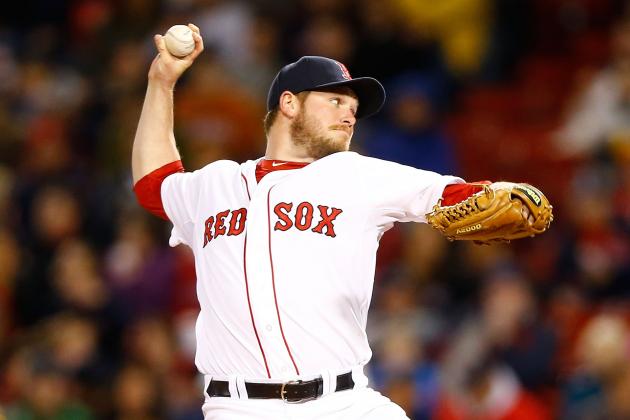 Jared Wickerham/Getty Images
Alex Wilson has looked good in his first week as a major leaguer.
Alex Wilson has had success in his first stint with the Red Sox.
The 26-year-old has had some issues with command, but overall, he has performed well in a middle relief role.
As one of the last options out of the bullpen, the expectations are low, but Wilson has potential to be an important piece moving forward.
Grade: B-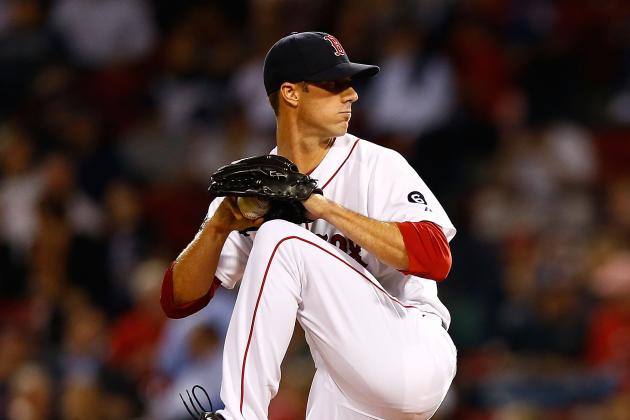 Jared Wickerham/Getty Images
Clayton Mortensen hasn't been great, but he has been good enough.
Clayton Mortensen will be remembered as the player acquired in the Marco Scutaro trade, but he is also a fairly reliable reliever who is under team control for at least four more years.
Mortensen has been up and down early on, but he is capable of pitching multiple innings and is capable of pitching against both left- and right-handed hitters.
Grade: C+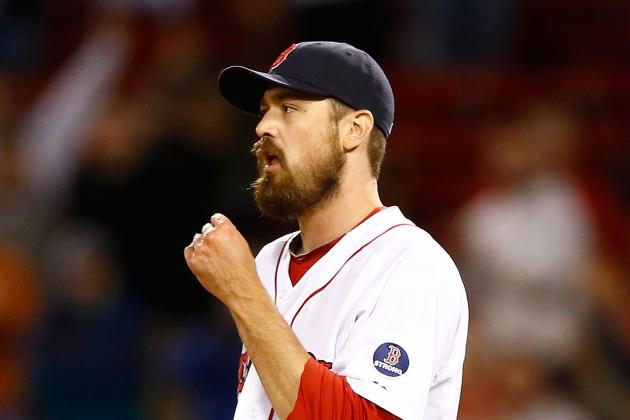 Jared Wickerham/Getty Images
Andrew Miller has struggled with command early on.
After being a reliable reliever in 2012, Andrew Miller has struggled with control in the early part of the 2013 season.
Miller has nasty stuff, but he has been inconsistent with his mechanics, resulting in seven walks in just over six innings pitched.
If Miller can be more consistent and pound the strike zone, he will be an important component in the Red Sox bullpen.
Grade: D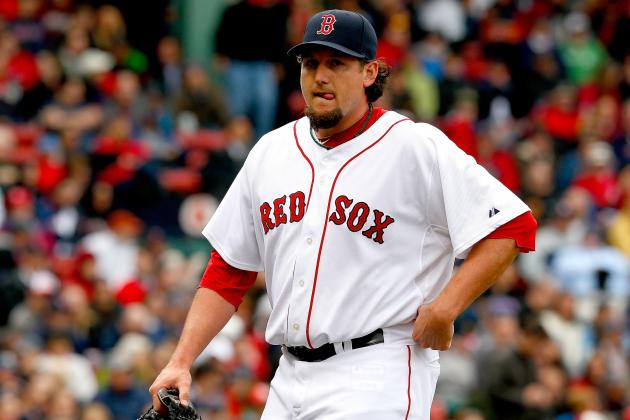 Jim Rogash/Getty Images
Joel Hanrahan has struggled with his control and maybe the pressure of playing in Boston.
Similar to Andrew Miller, Joel Hanrahan has struggled with his command. And as a result, he lost his closer's role to Andrew Bailey.
Hanrahan was apparently suffering from a hamstring injury, so it will be interesting to see if he can perform better now that he is healthy or if he is just struggling with the pressure of pitching in Boston.
Hanrahan is a free agent at the end of the season, so there is also pressure for him to perform so he can land a good contract.
Grade: D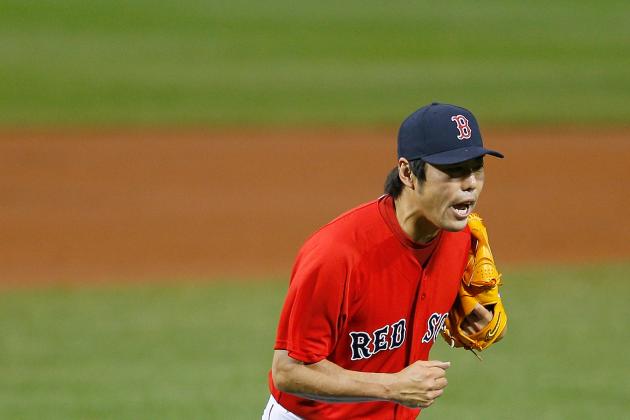 Jim Rogash/Getty Images
Koji Uehara has been a great addition to the Red Sox bullpen.
Koji Uehara has been an excellent free-agent signing for the Red Sox.
He attacks the strike zone against every hitter, and even though he is 38 years old, he looks like he has plenty left in the tank.
Uehara has adjusted well to being in Boston after spending a year-and-a-half with the Rangers.
Grade: A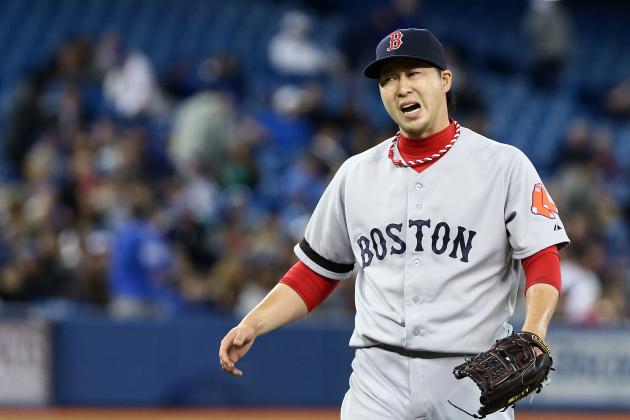 Abelimages/Getty Images
Junichi Tazawa is one of the most reliable relievers for the Red Sox.
In his second full season back after undergoing Tommy John surgery, Junichi Tazawa has turned into a dominant reliever for the Red Sox.
Tazawa has built upon the success he had in 2012 by attacking the strike zone—similar to Koji Uehara. He also has outstanding control.
Grade: A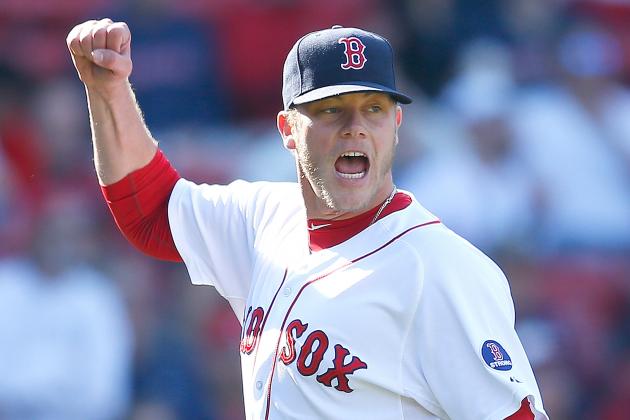 Jim Rogash/Getty Images
Andrew Bailey is healthy and pitching great.
After missing part of the 2012 season with an injury and then struggling to get on track, Andrew Bailey looks healthy and has been an early-season star for the Red Sox.
After Joel Hanrahan was put on the DL with a hamstring injury, Bailey became the closer. He looks poised to prove his critics wrong in 2013.
Grade: A