Seven NFL Rookies with the Most Fantasy Potential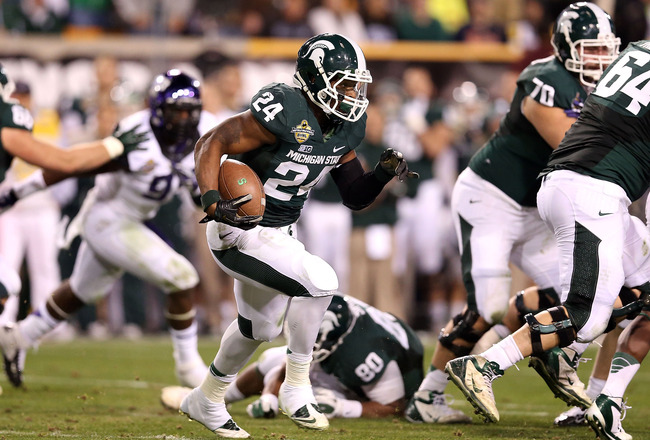 Christian Petersen/Getty Images
Finally, the NFL draft is complete. Now we can begin to accurately assess the impact that the recently drafted rookies can have in our fantasy leagues.
The NFL draft deviated from past drafts, as the emphasis was less on skill-position players and more about the war in the trenches, with many linemen being drafted early. That doesn't mean we can't uncover some middle-round gems from the draft for our fantasy teams.
The following seven players (ranking down from seven to one) should all be hot commodities when we conduct our fantasy drafts this summer. So keep these game-changing rookies in mind when drafting.
Honorable Mention
Streeter Lecka/Getty Images
These guys have talent, but it may take some time before they fully break out:
Johnathan Franklin, Joseph Randle, Cordarrelle Patterson, Keenan Allen, Andre Ellington, Marcus Lattimore, Zachary Stacy, Mike Gillislee, Stepfan Taylor, EJ Manuel, Geno Smith, Zach Ertz, Justin Hunter and Robert Woods.
7. Tyler Eifert, Cincinnati Bengals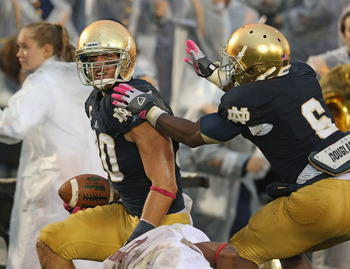 Jonathan Daniel/Getty Images
While Jermaine Gresham is technically atop the tight end depth chart for the Bengals, Eifert was not drafted to sit on the bench.
Bengals' offensive coordinator Jay Gruden is an innovative play caller and he'll likely use multiple sets that feature two and three tight end formations. With A.J. Green on the outside, Eifert should find a lot of room in the middle of the field and will provide quarterback Andy Dalton with another safety valve.
Eifert will be a on a learning curve, but his talent is limitless and it's only a matter of time before he makes his mark in this league.
Don't hesitate to draft Eifert late as a backup tight end with upside for much more.
6. DeAndre Hopkins, Houston Texans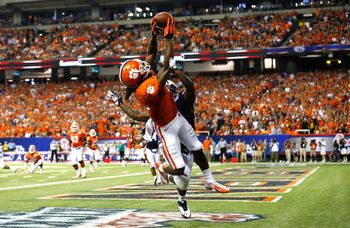 Kevin C. Cox/Getty Images
For years, the Texans have tried to line up a competent and talented wide receiver opposite Andre Johnson and for years, they have failed miserably.
That may be about to change after Houston selected the cerebral receiver out of Clemson at the end of Round 1 in this year's draft. Hopkins offers the Texans a great route runner who knows how to get open. That's a great trait to have, considering all the coverage Johnson will attract.
While he won't have an immediate impact like a Julio Jones or A.J. Green, Hopkins will prove to be a good fourth or fifth receiver for your fantasy squad.
5. Montee Ball, Denver Broncos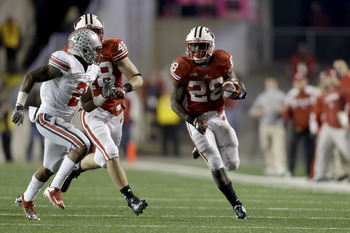 Mike McGinnis/Getty Images
Sure, the Broncos' backfield is a crowded one, but with Willis McGahee and Knowshon Moreno perhaps on shaky ground, Ball could be looked upon to make an immediate impact.
Ball should team with Ronnie Hillman to give the Broncos a great one-two punch at running back. Ball should have more value considering his inclination for scoring touchdowns. The Broncos will be in the red zone aplenty this year and Ball should see a lot of goal-line work if anything.
Ball is definitely worth a middle-round selection.
4. Tavon Austin, St. Louis Rams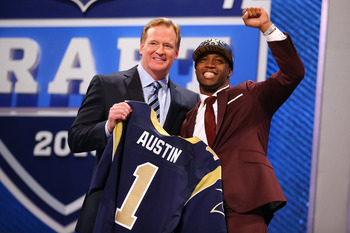 Al Bello/Getty Images
Simply put, Austin is a playmaker. An electrifying one at that.
Austin's talents were so badly wanted that the Rams had to move up in the draft to acquire his services. In a league that values speedy possession receivers, Austin could be one of the next breakout stars.
Yeah, he's small (5'8"), but tell that to Wes Welker, who has had quite the career despite his diminutive stature, and Austin fits the same mold.
It may take a while for Austin to get his timing down, and it's not like he's joining an offensive juggernaut in the Rams, but his skills will eventually be put to good use. As such, Austin makes for a great late-round flier.
3. Eddie Lacy, Green Bay Packers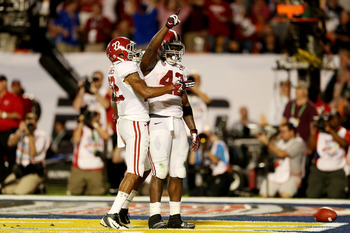 Streeter Lecka/Getty Images
Lacy's value would have been through the roof if not for the fact that the Packers also spent a fourth-round pick on an equally talented running back in Johnathan Franklin. So, there may be a competition for carries with both getting a good share of touches as the Packers try to fortify their meager rushing attack.
However, Lacy has the most potential for greatness and is more equipped to come in right away and produce. Coming from the factory known as the University of Alabama and playing with and against great talent in the SEC, Lacy has the know-how to come in and be an instant impact player at running back.
Draft Lacy with confidence in the middle rounds of drafts. And for good measure, try to handcuff Lacy with Franklin.
2. Le'Veon Bell, Pittsburgh Steelers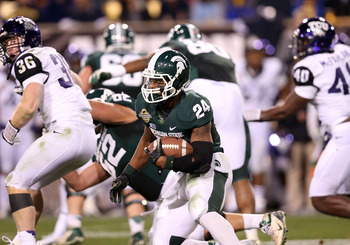 Christian Petersen/Getty Images
With Rashard Mendenhall now in Arizona and Jonathan Dwyer and Isaac Redman having proven to be nothing special, Bell has a great chance to break camp as the Steelers' primary running back.
Drafted in the second round in the NFL draft, Bell at 6'1", 230 pounds is someone who possesses a great amount of strength and athleticism. That's something the Steelers desperately need as they try to reshape their offense and go to more of a smash-mouth approach.
Expect the Steelers to run the ball more this season (especially after losing Mike Wallace in the offseason) and even if Dwyer and Redman are still in the mix, Bell still owns the most upside. With the Steelers investing a second-round pick on Bell, they will want to know what they have in the young star.
Bell will get his carries and is most definitely worth a pick in the middle rounds of drafts (think fifth-to-seventh rounds).
1. Giovani Bernard, Cincinnati Bengals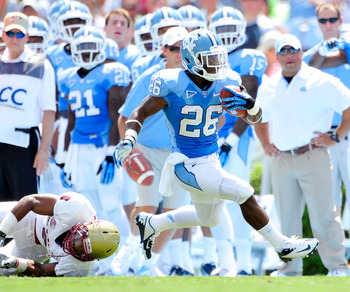 Grant Halverson/Getty Images
Clearly the Bengals, who also drafted Eifert in the first round, are going with a youth movement on offense.
With quarterback Andy Dalton and A.J. Green entering their third year in the league, the Bengals will also want to revamp their running game with an infusion of youth.
Sure, BenJarvus Green-Ellis is the incumbent starter, but it will only be a matter of time before they give the ultra-talented Bernard a significant amount of carries.
Green-Ellis is okay, but the Bengals will want more of a home-run threat in their running game. Expect Bernard to significantly cut into the "Law Firm's" carries this season.
Bernard may fly under the radar on draft day, but by the end of the year Bernard could be a starter. Bernard makes for an excellent mid-round pick.
Keep Reading