5 MLB Teams Who Most Desperately Need Bullpen Help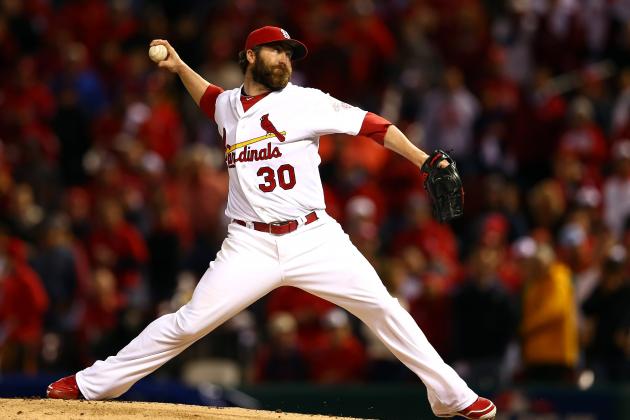 Elsa/Getty Images
Motte's elbow injury has the Cardinals struggling to find stability throughout the bullpen.
Major league bullpens can be unpredictable. Injuries can decimate a pitching staff. Relievers who were good one year are very bad the next for no apparent reason.
All of sudden, teams are scrambling a few weeks into the season looking for some stability throughout their bullpen. Middle and long relievers are shuttled back and forth between the majors and Triple-A. The most reliable ones stick around and can eventually get a shot in a late-inning role.
If teams are already going through this process after a month, it's a pretty good sign that they need some help. Here are five teams that fit the description.
Begin Slideshow

»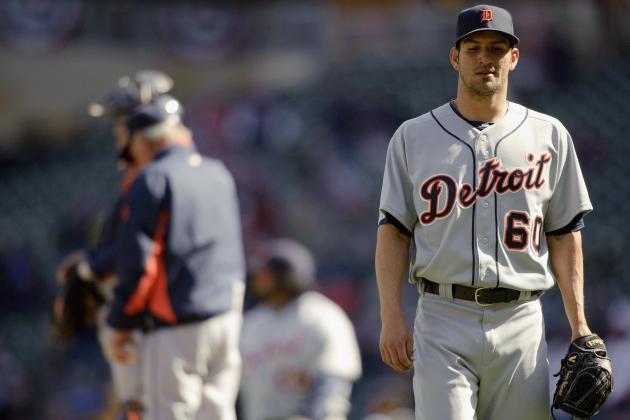 Hannah Foslien/Getty Images

Bullpen ERA: 4.18 ERA
Injuries: Octavio Dotel (elbow inflammation) allowed 10 hits in 4.2 innings before landing on the disabled list. Trying to pitch through an elbow injury can make one ineffective, but Dotel is also 39 years old and might just be reaching the end of his major league career.
Up until his last outing on April 25th, lefty Phil Coke had been adequate (7.1 IP, 4 ER, BB, 9 K). But four walks and four earned runs later, the 30-year-old had an 8.31 ERA and was headed for the disabled list with a strained groin.
Underachievers: Hard-throwing rookie Bruce Rondon went from projected closer throughout the entire offseason to Triple-A to start the season after the Tigers made the rational decision not to throw the 22-year-old into the fire.
After 7.2 scoreless innings with Toledo, he got the call to the majors, where he proceeded to show that he just wasn't ready (2.1 IP, 3 ER, 5 H, 2 BB, K). He was sent back to Toledo yesterday.
A breakout season in 2012 for Brayan Villarreal (pictured; 2.63 ERA, 10.3 K/9) had the Tigers expecting much better than he gave them in his first seven appearances this season (4.1 IP, 10 ER, 8 BB, 6 K). He's back in Triple-A now, where he's trying to get back on track. The 25-year-old had a perfect inning with two strikeouts in his first outing there, which is a very good sign.
Possible solution: I feel like I should remove the Tigers from this list after the 'pen combined on seven shutout innings in Thursday's 14-inning victory at Houston. For a World Series contender, though, there are still too many questions.
Rondon and Villarreal could help at some point during the season, but it's not a given that they'll figure things out enough to make a huge impact. The 'pen could also lose Drew Smyly if he's needed in the rotation at some point. The 23-year-old lefty has been an asset out of the bullpen, but he's also the team's sixth starter and would very likely move to the rotation if an injury were to occur.
An effective Jose Valverde, who has retired all nine batters he's faced since joining the team, helps to stabilize the ninth inning, but we can't forget last year when he was so ineffective that the Tigers had a closer-by-committee in the American League Championship Series. I don't think they want to take the risk and count on the 35-year-old not wearing down again.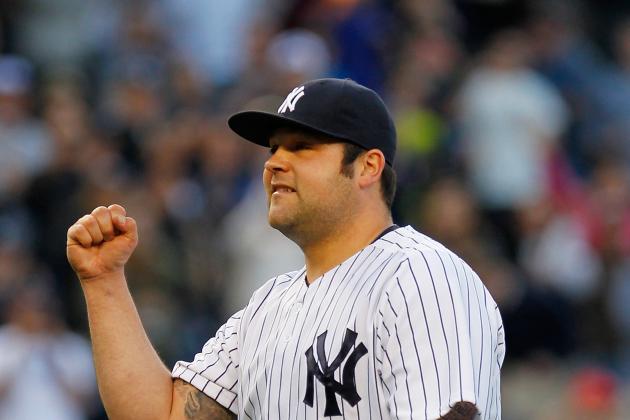 Mike Stobe/Getty Images

Bullpen ERA: 4.28 ERA
Injuries: The expectations for Joba Chamberlain (pictured) have dropped greatly since he dominated out of the bullpen over his first 49 relief appearances in the big leagues back in 2007-08 (59 IP, 39 H, 20 BB, 78 K). But he's not living up to those lowered expectations either with his early-season performance (9.1 IP, 4 ER, 10 H, 6 BB, 7 K).
Since returning from Tommy John surgery and ankle surgery last August, the 27-year-old has a 4.20 ERA with 36 hits and 12 walks allowed in 30 innings pitched. This isn't terrible, but based on the team's lack of urgency to upgrade the 'pen after Mariano Rivera, David Robertson and Boone Logan this offseason, the Yankees were likely hoping for more.
Chamberlain was originally in the "Underachievers" until he landed on the disabled list earlier Thursday with a strained oblique.
Underachievers: Aside from Adam Warren, who has given them 10 solid innings in long relief, they haven't gotten much help elsewhere. Shawn Kelley (7.84 ERA in 10.1 IP), David Phelps (5.29 ERA in 17 IP) and Cody Eppley (1.2 IP, 4 ER) have all struggled.
Potential solutions: Preston Claiborne (3.48 ERA, 10.1 IP, 14 H, BB, 10 K in Triple-A) is likely getting the call to replace Chamberlain, but it's Mark Montgomery who everyone is waiting on. Apparently, the Yankees feel he needs some more time. If you look at his numbers at every level over the past three seasons, you wonder what the 22-year-old has left to prove.
In 12 Triple-A innings in 2013, Montgomery has allowed just two earned runs and seven hits with five walks and 17 strikeouts. If he's the real deal like many people expect him to be, the Yankees might not have to go out and find help.
Lefty Vidal Nuno, who was impressive this spring before posting a 1.54 ERA with two walks and 26 strikeouts in 23.1 Triple-A innings, recently joined the Yankees bullpen. The 25-year-old tossed three scoreless innings of relief, which could get him a longer look and possibly a few high-leverage situations in the near future.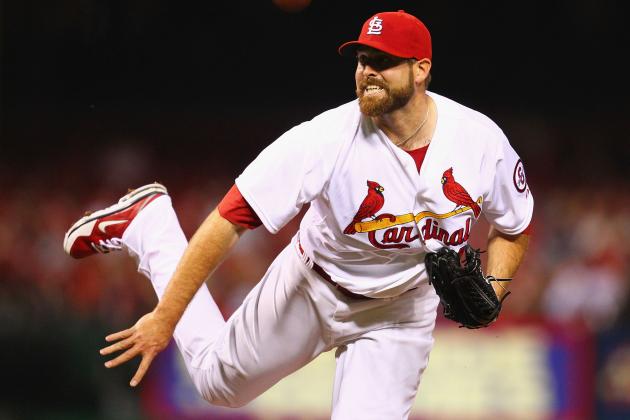 Dilip Vishwanat/Getty Images

Bullpen ERA: 5.90 ERA
Injuries: Closer Jason Motte, who had a dominant season in 2012 (2.75 ERA, 42 saves, 6.1 H/9, 2.1 BB/9, 10/8 K/9), hasn't pitched in 2013 due to an elbow injury that could require Tommy John surgery. Mitchell Boggs (pictured) struggled to replace him out of the gate, and veteran Edward Mujica has stabilized the closer's role for now.
Underachievers: Like Motte, Boggs was very good out of the 'pen in 2012 (2.21 ERA, 34 holds) but couldn't keep the closer's job and has also been shaky since his demotion. The 29-year-old walked the only two batters he faced with a four-run lead on Thursday. At this point, he's a nonfactor on a team that could use the stability that Boggs provided in the eighth inning last season.
Lefty Marc Rzepczynski was sent to the minors after allowing seven earned runs over his last four innings. Getting left-handed hitters out is one of his main jobs, but they are 5-for-13 against him.
Although expectations aren't through the roof for Joe Kelly, who has mostly pitched in low-leverage situations out of the 'pen, his name has been brought up often as a potential setup man. He's gotten more chances lately, but has struggled in his last two games.
Potential solutions: With one of the deepest, if not the deepest, farm systems in baseball, the Cardinals have the resources to go out and acquire an impact closer. They'll likely be patient for now and see if anything develops with their young pitchers while Mujica holds down the closer's job.
Trevor Rosenthal can be dominant with his 100 mph fastball, but he's not quite reliable enough yet. Lance Lynn could also help at some point if they felt comfortable moving him out of the rotation and replacing him with a rookie like John Gast (0.00 ERA, 29 IP, 20 H, 7 BB, 29 K) or Michael Wacha (1.86 ERA, 29 IP, 19 H, 11 BB, 15 K in five Triple-A starts).
The ex-factor could be Double-A starter Carlos Martinez, who has electric stuff and could be dominant in the late innings right now. He's not quite polished enough to make an impact in the rotation yet, but some scouts think he can be a shutdown closer and would arrive in the big leagues much sooner as a reliever. UPDATE: Martinez had his contract purchased from the minors on Friday. He'll work out of the bullpen. Boggs was optioned to the minors.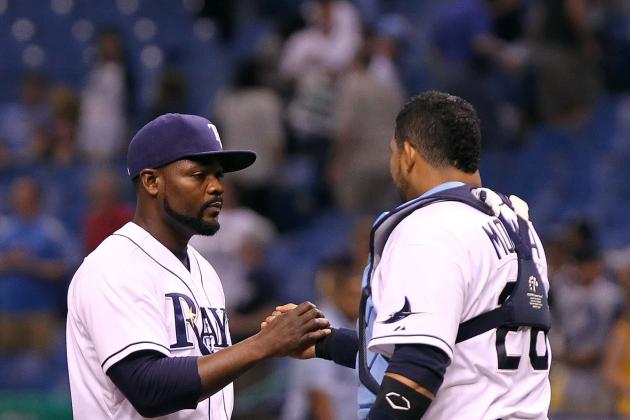 Kim Klement-USA TODAY Sports

Bullpen ERA: 5.20 ERA
Injuries: After losing out to Roberto Hernandez for the last rotation spot, Jeff Niemann was headed for the bullpen to start the season. He never made it, though, as shoulder surgery ended his season before it started.
Although he has just five appearances out of the bullpen in his career, there was some thinking that he could have a solid year in middle relief and potentially in a setup role.
Underachievers: If you take away Wednesday's disastrous outing (0.2 IP, 5 ER, 5 H) and his 2013 debut (0.2 IP, 5 ER, 4 H), Jake McGee's overall numbers look pretty good. But two bad appearances when you've only pitched in 11 games isn't forgivable, especially when leads were blown in both games and resulted in losses for the Rays.
Kyle Farnsworth (5.2 IP, 5 ER) and Cesar Ramos (6.1 IP, 5 ER) have also struggled, and closer Fernando Rodney (pictured), while not a big factor in the Rays' disappointing 12-15 start, is looking more like the inconsistent journeyman from his pre-2012 days.
The 36-year-old has seven walks and nine strikeouts in 8.1 innings, a huge dropoff from last season (74.2 IP, 15 BB, 76 K). He's only had four save opportunities, but I imagine manager Joe Maddon is not feeling as confident going to Fernando Rodney in a close game as he was in 2012.
Potential solutions: The Triple-A Durham bullpen has several pitchers with dominant numbers thus far, including right-handers Josh Lueke (1.20 ERA, 15 IP, 9 H, 5 BB, 24 K) and Kirby Yates (2.31 ERA, 11.2 IP, 8 H, BB, 20 K). Lefty starter Alex Torres (2.08 ERA, 26 IP, 15 H, 9 BB, 34 K) could also be an option now that he's throwing strikes more consistently.
If Rodney struggles, however, they don't have the shutdown closer to take over for him internally. They'll be able to plug holes in the middle of the 'pen, but might have to find some help for the late innings if things start getting ugly.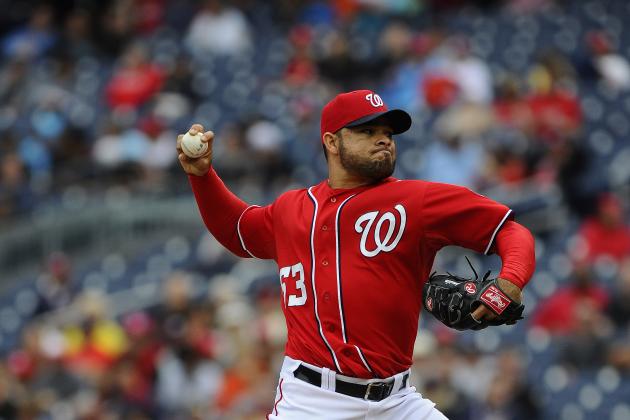 Brad Mills-USA TODAY Sports

Bullpen ERA: 4.14 ERA
Injuries: There are no injuries, but Christian Garcia, who had a breakout season out of the bullpen in 2012 (12.2 IP, 3 ER, 8 H, 2 BB, 15 in majors; 0.86 ERA, 11.4 K/9 between Triple-A and Double-A) and could've been an option again this season, hasn't pitched because of a forearm injury.
Although the 27-year-old was expected to pitch out of the Triple-A rotation, his success from last season could've made him a logical choice for a bullpen spot, if needed, assuming he wouldn't have been needed in the rotation.
Underachievers: Setup men Tyler Clippard and Drew Storen, both of whom have success as big league closers, were expected to form a dominant late-inning trio with new closer Rafael Soriano. Instead, both have been shaky in bridging the gap to the ninth inning.
Although each has four holds, Clippard has eight walks in 10.1 innings while Storen has allowed at least one run in four of 10 appearances and has allowed 15 hits in 10.1 innings.
Not to be outdone, Henry Rodriguez (pictured) has nine walks in 9.2 innings, although that's come to be expected from the inconsistent 26-year-old. He's out of options, throws 100-plus miles per hour and has showed enough ability in spurts throughout his career that the Nats are willing to keep him around. At least for now.
Zach Duke, the lone lefty reliever on the roster, has a 6.28 ERA in 14.1 innings. Left-handed hitters are 7-for-19 against him.
Potential solutions: Veteran J.C. Romero has allowed just one earned run in 11 Triple-A innings with two walks and 14 strikeouts so it could be just a matter of time before he's back in the big leagues in place of the struggling Duke.
Clippard and Storen have too good of a track record to give up on this early in their current roles, so expect them to continue there for now. It's way too early for the Nats to start looking for a setup man and it's unlikely that many good ones would be available right now.
Ryan Mattheus (3.27 ERA in nine appearances) could get some more opportunities in the late innings at some point and Triple-A reliever Erik Davis (1.64 ERA, 11 IP, 7 H, 3 BB, 14 K) could eventually get a shot in middle relief if Rodriguez doesn't get it together.