Keys to Every Last-Place MLB Team Salvaging Their Season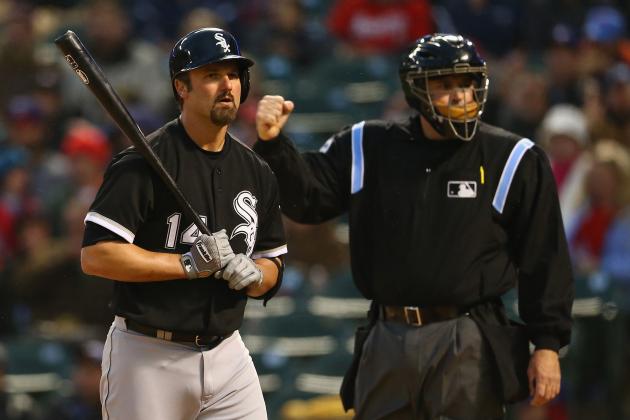 Ronald Martinez/Getty Images

Nobody likes being last.
Think back to when you were growing up. When it came to picking teams for a sporting event, be it baseball, kickball, dodgeball—whatever—we dreaded being the last one picked.
But there isn't one player on a major league roster who can relate to that. Growing up, these guys were the alpha dogs, the kids that were always one of the first two or three to be picked (if they weren't the people doing the picking).
Sitting on a last-place team, failing to meet even the most modest expectations, is as frustrating for them as it is for the fans of their respective teams.
For some of those teams, there weren't even modest expectations placed upon them heading into the season. Players and fans alike knew that it was going to be a long season; progress, not success, was what we were looking for during the regular season.
For others, the 2013 season is shaping up to be a colossal failure—and turning things around quickly has become the top priority of everyone involved.
Let's take a look at what every last-place team is dealing with—and what can be done to salvage their seasons.
*Unless otherwise noted, all statistics and team records courtesy of MLB.com and are current through games of May 2.
Begin Slideshow

»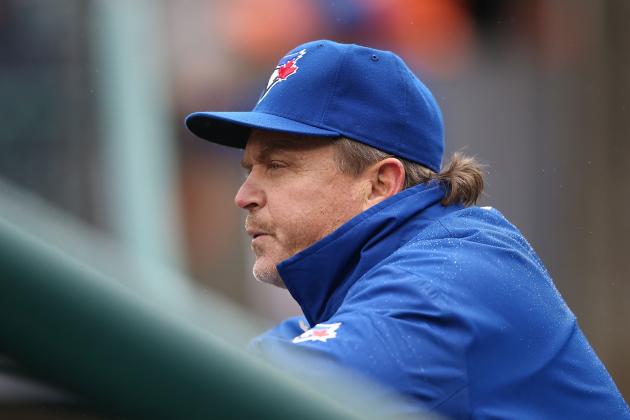 Leon Halip/Getty Images
How much longer will Toronto stick with John Gibbons?
How Bad Is It?
10-19 (.345), 10.5 games back in AL East, 7 games back of AL Wild Card
It certainly isn't a lack of talent that's holding the Toronto Blue Jays back, but something is most definitely amiss when it comes to MLB's only franchise north of the border.
While the team is dealing with injuries to Jose Reyes and Josh Johnson, there is still more than enough talent on the roster for the Blue Jays be successful.
Expectations were incredibly high for the Blue Jays entering the season, and it's still "Playoffs or Bust" in Toronto this season. Turning the season around is an absolute necessity if it's to be salvaged and considered anything besides a failure of epic proportions.
Key: Shake Things Up
John Gibbons is a baseball lifer, and from all reports, a genuinely nice and likable guy.
Yet for some reason, his message and that of his coaching staff is not resonating with the players on Toronto's 25-man roster. I'm typically not one to call for someone to lose their job, but something needs to change—and quickly.
Toronto is far too talented a team to already be facing a double-digit deficit in the AL East race. This isn't a situation where bringing in more talent is going to solve the problem.
It's about finding the right people to help the current talent play up to the numbers on the back of their baseball cards.
Whether it's cleaning house and bringing in a new manager or tweaking things and replacing hitting coach Chad Mottola and/or pitching coach Pete Walker, a fresh voice and new perspective on what ails the team is desperately needed.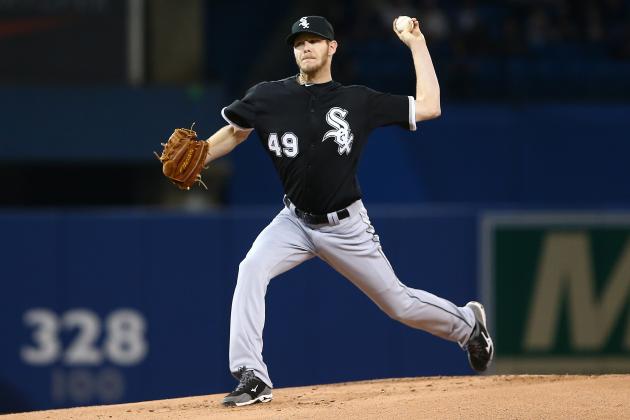 Tom Szczerbowski/Getty Images
Chris Sale remains a key piece of the future in Chicago.
How Bad Is It?
12-15 (.444), 4 games back in AL East, 4 games back of AL Wild Card
The White Sox returned largely the same group of players that crumbled down the stretch in 2012, giving up the AL Central lead and missing the playoffs. Despite that, Chicago remains a talented team that many expected to contend again in 2013.
So far, the results have been mixed at best, due largely to an offense that has been inept at the plate. They're sitting with a paltry .231/.284/.390 slash line with 97 runs scored through the season's first 27 games.
If the season is to be deemed a successful one, the White Sox must make a decision: Do they merely need to tweak things, or do they need to commit to a full rebuilding process?
Key: Turn a Plethora of Starting Pitching into Young Bats
Let's face facts, shall we?
Paul Konerko is nearing the end of his career, and Adam Dunn, while an excellent run-producer, is past his prime. In general, the team lacks a real difference-maker at any spot in the lineup.
The team's best offensive prospects—outfielders Courtney Hawkins and Trayce Thompson, along with first baseman Keon Barnum—are still a few years away from making an impact.
But the White Sox have plenty of pitching, both in the starting rotation and in the bullpen—and that strength can be used to bolster the weakest part of the team: the lineup.
Chris Sale is firmly entrenched as the ace of the rotation for years to come, with fellow youngsters Jose Quintana and Dylan Axelrod giving the White Sox three quality arms moving forward.
The injured John Danks remains under contract with the team through the 2016 season, and with prospects like Nestor Molina, Simon Castro, Andre Rienzo and Erik Johnson working their way through the system, the White Sox won't be needing for starting pitching anytime soon.
That leaves a pair of veterans, Jake Peavy and the injured Gavin Floyd—and the White Sox should look into unloading both of them this season.
Floyd, who is a quality back-of-the-rotation arm when healthy, is a free agent after the season and therefore has less trade value than Peavy, who is under contract through next season and is more of a difference-maker.
Yet the pair of veterans could bring back multiple pieces, and with the White Sox not necessarily needing to take back young pitching in exchange, the team should be able to land some solid offensive prospects in a deal for either player.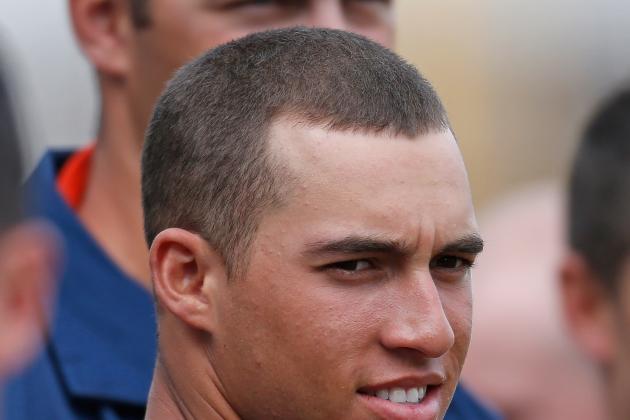 J. Meric/Getty Images
George Springer is part of the solution in Houston.
How Bad Is It?
8-21 (.276), 9.5 games back in AL West, 9 games back of AL Wild Card
The only expectation placed on the Astros this season was that they were going to lose a lot of games. Thus, any pressure for immediate success—or marginal improvement in the standings—was minimal for the team, first-year manager Bo Porter and GM Jeff Luhnow.
That gives the Astros hierarchy the freedom to pretty much do whatever it wants with the team's roster and lineup without running the risk of being chastised or fired for making the wrong decision.
For the 2013 season to be a productive one, the Astros must get the youngsters in the system who figure to play large roles on next year's team into the lineup this season.
Key: Get the Young Bats Experience
Houston has already begun the process, with third baseman Matt Dominguez breaking camp with the team while center fielder Robbie Grossman was recently called up, both playing on a daily basis.
Outfielder George Springer, who opened eyes with this play in spring training, should be next to get the call.
Named the team's third-best prospect by Baseball America heading into the season, Springer has been raking at Double-A Corpus Christi, as noted by the Houston Chronicle's Jose de Jesus Ortiz
OF George Springer was Corpus Player of the Month. Hit .297 (27x91) with 8 doubles, 8 HR and 20 RBI in 25 games

— Jose de Jesus Ortiz (@OrtizKicks) May 2, 2013
Considering the production—or lack thereof—that Houston is getting from the trio of veteran fourth-outfielder types that currently sit on the roster, clearing a spot for Springer wouldn't be much of an issue:
| | | | | |
| --- | --- | --- | --- | --- |
| | BA | OPS | HR | RBI |
| Rick Ankiel | 0.200 | 0.742 | 5 | 11 |
| Fernando Martinez | 0.214 | 0.588 | 1 | 3 |
| Justin Maxwell | 0.234 | 0.679 | 1 | 6 |
| Totals: | 0.219 | 0.675 | 7 | 20 |
As the season progresses and he's finished serving his 50-game suspension for testing positive for marijuana last year, first baseman Jonathan Singleton, ranked as the team's second-best prospect by Baseball America, should get the call to replace Carlos Pena at first base as well.
The 2013 season needs to be about making strides with the rebuilding process. The best way to achieve that is by having those players who are going to be a part of the solution begin to get the experience they'll need to succeed at the next level.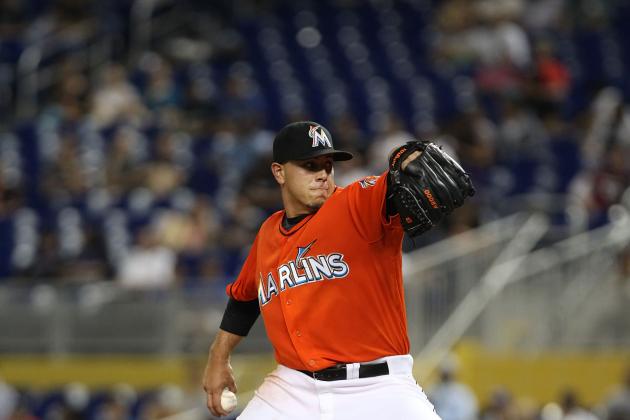 Marc Serota/Getty Images
Jose Fernandez is gaining invaluable experience with the struggling Marlins.
How Bad Is It?
8-21 (.276), 9.5 games back in NL East, 8.5 games back of NL Wild Card
After watching owner Jeffrey Loria oversee his second dismantling of the Marlins roster this past winter, nobody expected much of anything from the Marlins in 2013.
With the owner's continued meddling in the team's on-field decisions (via Yahoo! Sports' Jeff Passan), attracting legitimate major league talent to Miami is going to become an increasingly difficult task.
That will force the Marlins to build from within.
This season needs to be about continuing to add assets—and finding out what they've got in some of the youngsters already in the system.
Key: Trade Ricky Nolasco
There's a better chance of Santa Claus, the Easter Bunny and the Tooth Fairy showing up at your front door and offering to cook your dinner than there is of Ricky Nolasco re-signing with the Marlins when his contract expires at the end of the season.
According to The Miami Herald's Barry Jackson, no team has called the Marlins to see what it would take to pry the 30-year-old right-hander loose—not a major surprise given how early it is.
But as the season progresses and injuries pile up, teams are going to have interest in Nolasco. Miami would be wise to take what it can get for him rather than let him walk for nothing at the end of the season.
Key: Promote Christian Yelich
With Giancarlo Stanton's latest trip to the disabled list, many people expected that the Marlins would call up their top position prospect, outfielder Christian Yelich, to take his place. Instead, Marcell Ozuna, ranked as the team's fifth-best prospect by Baseball America, got the call.
While the 21-year-old Yelich hasn't put up eye-popping numbers with Double-A Jacksonville (.278/.328/.444 slash line with no home runs and nine RBI in 12 games), he has consistently found a way to get on base, as noted by Matt Leland, Jacksonville's media relations assistant:
11 game hitting streak for Christian Yelich, as he singles to lead off tonight's @sunsbaseball game against the Jackson Generals. #Marlins

— Matt Leland (@MattLeland) May 3, 2013
Primarily a center fielder, it's hard to argue that he'd be any worse than the Marlins' current center fielder, 31-year-old Justin Ruggiano, a fourth outfielder at best on a contending team and owner of a mediocre .242/.308/.402 slash line in 25 games this season.
Letting Yelich, along with Ozuna, get major league experience now is only going to help the Marlins in the future.
Key: See What You Can Get for Giancarlo Stanton
Currently on the disabled list with a strained hamstring, Stanton missed time last year with knee surgery, an injury that forced him out of the All-Star Game. Fair or not, the term "injury prone" is beginning to pop up alongside the 23-year-old slugger's name.
Yet he remains one of the best building blocks a team can have and would be the most valuable trade chip in the game if the Marlins made him available.
There's no harm in kicking the tires on potential Stanton deals. The Marlins could net some nice, young major league talent and top-tier prospects from interested parties.
Considering how substantial a package it would take to pry him loose, Miami could speed up the rebuilding process significantly—perhaps putting itself in position to get back to being a contender as early as 2014.
Jonathan Daniel/Getty Images
Matt Garza needs to get back on the hill...so the Cubs can trade him.
How Bad Is It?
11-17 (.393), 6 games back in NL East, 5 games back of NL Wild Card
Chicago's rebuilding plan under Theo Epstein and Jed Hoyer currently sits in a holding pattern, waiting for the fate of proposed renovations at Wrigley Field to be decided before the next step.
Epstein confirmed as much to ESPN Chicago's Jesse Rogers last month:
We have a baseball plan and we have a business plan and they're timed to sync up with one another. They are interdependent. If we don't get the Wrigley renovation done in a timely manner and done in a right way we can't accomplish our business objectives and that will certainly get in the way of us ultimately accomplishing our baseball objectives. So it's very important.
Let's assume for a moment that negotiations with all interested parties on those renovations continue throughout the season. While that will certainly delay the plan that Epstein and Hoyer have in place, it doesn't mean that smaller steps in the rebuilding process can't be made.
Key: Trade Matt Garza
Matt Garza needs to get back on the mound and prove that he's healthy before the Cubs can even entertain the thought of trading him. If he is healthy, the 29-year-old right-hander will be one of the more sought-after pitchers at the trade deadline.
Garza hasn't pitched in a major league game since last July. Nonetheless, he is a proven commodity with prior success pitching in both leagues and deep into the postseason, reaching the 2008 World Series as a member of the Tampa Bay Rays.
Currently working his way back to the major leagues, it's going to be a few more weeks before Garza even considers rejoining the team, according to MLB.com's Carrie Muskat:
#Cubs matt Garza will make at least 3 more Minor League rehab starts before team decides if he's ready

— Carrie Muskat (@CarrieMuskat) May 1, 2013
A free agent after the season, Garza's trade value is significantly lower than it was last season before he injured his elbow. That said, Chicago could still obtain multiple pieces to further the rebuild in exchange for him—while still having the option of re-signing him as a free agent after the season.
With Jeff Samardzija entrenched as the team's ace, Travis Wood looking like a part of the solution and a veteran innings eater in Edwin Jackson under contract through the 2016 season, the Cubs have three solid arms at the front of their rotation. Keeping Garza is an option, but it's not a necessity.
Key: Work out a Deal with Rooftop Businesses
While we are operating under the assumption that the renovations to Wrigley Field will still be a point of contention at the end of the season, it's an issue that needs to be solved sooner rather than later.
The biggest holdup, from all reports, is the team's desire to install a 6,000-square-foot video screen in left field.
While owner Tom Ricketts says that the team must be able to generate revenue in the outfield, owners of the rooftop clubs that surround Wrigley Field and offer unobstructed views into the ballpark are up in arms over the proposal. They claim it will negatively impact their business and are threatening legal action.
In response, Ricketts bought up the option of moving the team out of Wrigley Field, baseball's second-oldest active ballpark, if he doesn't get what he wants—something that nobody wants to see come to fruition.
There's a happy middle ground here for the team, the rooftop clubs and the fans. Those involved must find it to keep the Cubs where they belong—and to ensure that the team is able to go out and make the moves necessary to field a contending team.
Key: Find out What You Have in Brett Jackson
Brett Jackson's star isn't shining quite as brightly as it was two years ago, but the 25-year-old outfielder remains one of the team's top prospects. The time has come for the Cubs to find out his place in the team's future outfield.
Detractors will point to Jackson's mediocre numbers for Chicago in 2012 and the decline in his numbers at Triple-A over the past three seasons:
| | | | | | |
| --- | --- | --- | --- | --- | --- |
| | G | BA | OPS | HR | RBI |
| Cubs (2012) | 44 | .175 | .644 | 4 | 9 |
| Triple-A Iowa (2011) | 48 | .297 | .939 | 10 | 26 |
| Triple-A Iowa (2012) | 106 | .256 | .817 | 15 | 47 |
| Triple-A Iowa (2013) | 19 | .219 | .721 | 2 | 9 |
But couldn't that decline—especially this season—be a result of frustration on Jackson's part?
The major league team isn't winning, yet he's not getting a chance to show whether he can help turn things around. Most of us would feel the same frustration if we were in Jackson's shoes.
Yes, Alfonso Soriano remains an immovable object in left field thanks to his albatross of a contract. But he, along with David DeJesus and Nate Schierholtz are not parts of the long-term future in Chicago.
Jackson might be.
It's time to get a more definitive answer to that question.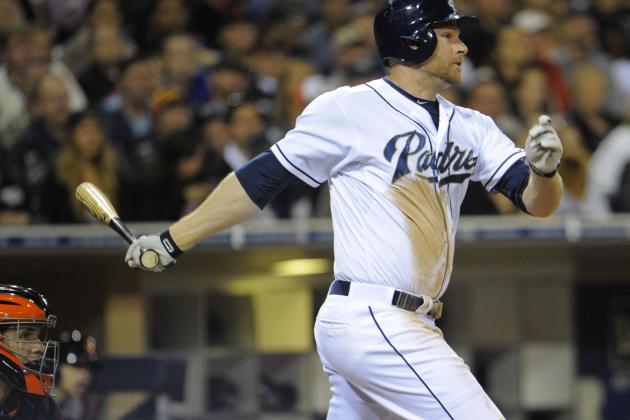 Denis Poroy/Getty Images
Keeping Chase Headley is the wrong move for San Diego.
How Bad Is It?
11-17 (.393), 6 games back in NL West, 5 games back of NL Wild Card
Like many teams in baseball, a lack of quality pitching is the biggest problem facing San Diego in 2013 and the primary reason that the team remains a pretender and not a contender in a highly competitive NL West.
The pitching staff's 4.48 ERA ranks 27th of the 30 teams in MLB, significantly higher than both the National League average (3.81) and MLB average (3.93), according to ESPN's figures.
San Diego's starting rotation remains the biggest culprit, with a 5.45 ERA and 1.58 WHIP that rank among the highest in baseball. Figuring out how to infuse the team's pitching staff with new blood must be GM Josh Byrnes' top priority.
Key: Maximize Chase Headley's Value
I'm a big Chase Headley fan, have been for years. With an excellent glove that has often been overlooked due to his mediocre offensive numbers, Headley broke out in 2012 with 31 home runs and an NL-leading 115 RBI—numbers that landed him a fifth-place finish in the NL MVP voting.
Teams were drooling at the chance to add Headley's Gold Glove-caliber defense and powerful bat to the mix last season, and that isn't going to change with this news:
Padres 3B Chase Headley says he will not negotiate a contract extension during season: atmlb.com/132FTlw

— MLB (@MLB) May 2, 2013
Should Headley stick to that stance, despite reports that the team is prepared to offer him the richest contract in team history, teams will once again line up to try to land Headley in a trade. That puts Byrnes and the Padres in a position of power where they could name their price.
A package built around at least two major league-ready (or close to it) pitching prospects would do wonders for the Padres, both in 2013 and the future.
With Andrew Cashner already part of the solution and top prospect Casey Kelly waiting in the wings, the Padres would have the makings of a young, talented rotation for years to come. That would allow the team to move on from the failed experiment that has been Edinson Volquez's tenure as the team's "ace."
Keeping Headley make sense—but trading him for a significant package of talent is the far more sensible road to take.