Report Card Grades for the Jacksonville Jaguars Undrafted Free Agent Signings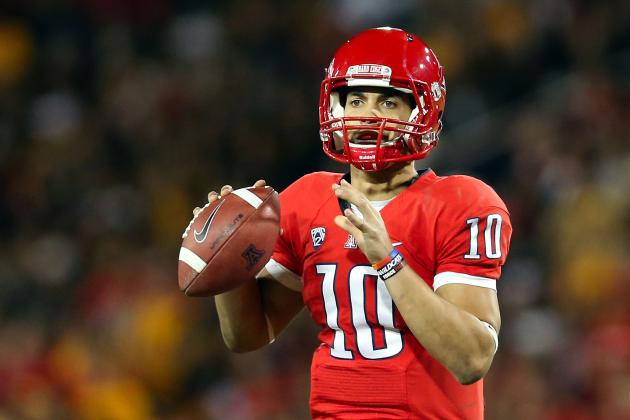 Christian Petersen/Getty Images

After what was widely considered a successful draft, the Jacksonville Jaguars and general manager David Caldwell wasted no time signing undrafted free agents.
The Jaguars addressed several major areas of need throughout the draft, and the team continued to do so in undrafted free agency. They added more cornerbacks and return specialists to compete for playing time, while acquiring players at other positions who can potentially provide depth.
All franchises are looking to find hidden gems in undrafted free agency, and Jacksonville seems to have found some players who fit that bill.
The Jaguars have the best undrafted free-agent class, according to NFL.com's Gil Brandt, but how do the individual players stack up?
The grades are based on skill and the player's chances of making the team.
Begin Slideshow

»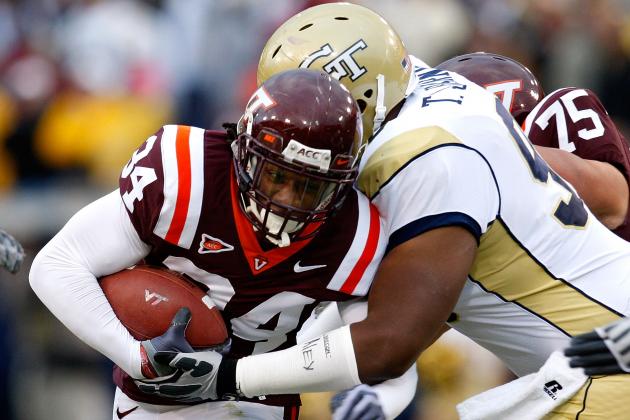 Kevin C. Cox/Getty Images

T.J. Barnes is a huge signing.
Literally.
Barnes stands in at 6'6" and 369 pounds and is a mountain in the middle of the defensive line. He is a space-eater who anchors the defensive line against the run.
He is a candidate to fill the same role Red Bryant filled during Jaguars head coach Gus Bradley's time as the Seattle Seahawks defensive coordinator. He will be asked to hold the point of attack and clear other defenders to penetrate into the backfield. Although the Jaguars signed Roy Miller in free agency to fill the position, Barnes could make the team as a rotational player.
Grade: A
Charles LeClaire-USA TODAY Sports

The Jaguars are looking for a replacement for departed linebacker Daryl Smith, and Maalik Bomar may get that opportunity.
Bomar is a reliable tackler and was second on the Bearcats last year with 85 total tackles. He's an athletic player, which helps make him effective on special teams.
He's undersized at 6'1" and 232 pounds. He needs to add weight to make an impact in the NFL. His special teams abilities could make him valuable to the Jaguars, which could help land him on the team as he develops the rest of his game.
Grade: C
Marcus Burley dominated lower-level competition during his collegiate career at Delaware. He started 33 games as a Blue Hen and recorded four interceptions and 18 passes defensed.
He has blazing speed and his 4.35 40-yard dash time at his pro day would have been the fastest among cornerbacks at the combine. He is also pretty strong and had 17 bench press reps at his pro day, which would have been third-most at the combine among cornerbacks.
In addition to his excellent speed and athleticism, he has good instincts to break on the ball.
Burley is going to have to prove he can hang with NFL-caliber talent after playing well at Delaware. His quickness and strength could give him advantage in a wide-open race in the secondary. The cornerback battle is going to be a lot of fun to watch throughout the offseason. Burley could be in the thick of it.
Grade: C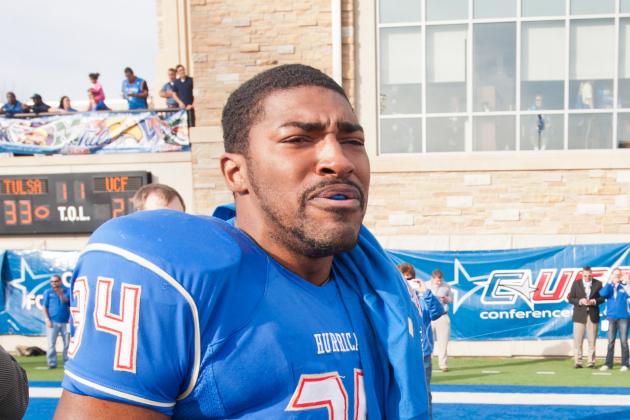 USA TODAY Sports

Willie Carter adds another body to a surprisingly crowded running back corps in Jacksonville.
He wasn't a prolific rushing the ball in college and had just 37 rushing yards on 14 attempts last season.
Carter made up for his lack of rushes with his receiving abilities. He caught 49 passes for 382 yards and three touchdowns last year.
He flashes speed and reliable hands, but he doesn't appear to be much more than a camp body to relieve the other running backs. There is an outside shot he could land on the practice squad if he impresses in training camp.
Grade: D
Rob Carr/Getty Images
Courtesy of ScarletReport.com
The Jaguars desperately needed help along the offensive line entering the draft. They addressed this issue they made Luke Joeckel the No. 2 overall pick.
The selection of Joeckel immediately improved the offensive line, but the line still lacks depth. GM Caldwell continued to add "big uglies" in undrafted free agency.
R.J. Dill has the size (6'7", 310 lbs) and strength to make it in the NFL. He is an experienced player who started every game in his final two years in college at right tackle after transferring from Maryland. He sustains blocks throughout the play and is an anchor against the bull rush.
He's not overly athletic and struggles against quicker defenders. He doesn't have good initial quickness from a three-point stance and doesn't have the speed to block at the second level. The Jaguars are transitioning to a zone-blocking scheme this year, and Dill doesn't seem to have the skill set to succeed in the system.
Grade: D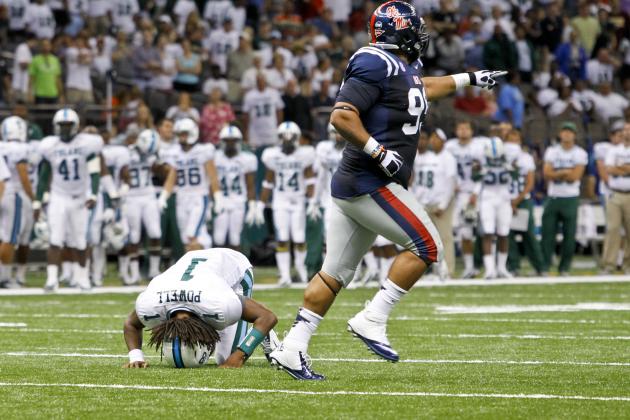 Derick E. Hingle-USA TODAY Sports

Uriah Grant was productive during his final year at Ole Miss.
The 6'0", 290-pound defensive tackle often made plays in the backfield. His penetrating ability allowed him to record seven tackles for loss and five sacks during his senior campaign.
With the Jaguars, Grant would be used as a pass-rushing defensive tackle. The team already has Tyson Alualu and Sen'Derrick Marks, along with other undrafted free agents, filling the same role, which could make it difficult for Grant to find a spot on the roster.
Grade: D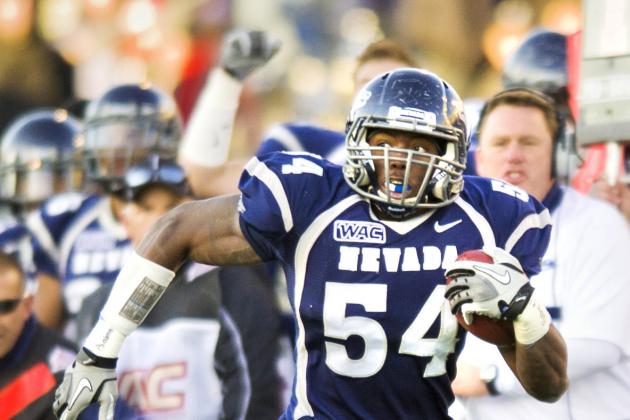 Douglas C. Pizac-USA TODAY Sports

Jeremiah Green is another player who could challenge for the roster spot left vacant by ex-linebacker Daryl Smith.
He is an athletic linebacker who moves well in space sideline to sideline. He covers a lot of space and can keep up with running backs and tight ends in coverage.
Green isn't a reliable open-field tackler and he lacks the instincts to succeed as an NFL linebacker. He could find his way onto the roster as depth with a good camp, but he has to improve his reaction skills to make it.
Grade: D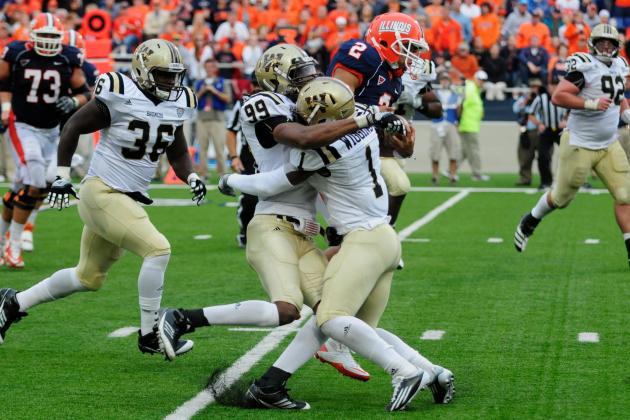 Reid Compton-USA TODAY Sports

Paul Hazel is an athletic and explosive pass-rusher who never seemed to develop his game in college.
He had an outstanding sophomore campaign, as he tallied 12 tackles for loss and eight sacks. His production regressed over his final two years at Western Michigan and he finished his senior year with six tackles for loss and four sacks.
Hazel's athleticism makes giving him a shot worth it. He plays with good speed and easily changes directions to pursue the ball-carrier.
He's a project and has to add weight to his 6'5", 223-pound frame. If he is able to add size, he could eventually land himself on the roster as a rotational pass-rusher.
Hazel has potential, but he will be best-suited to develop on the practice squad for a couple of years.
Grade: C+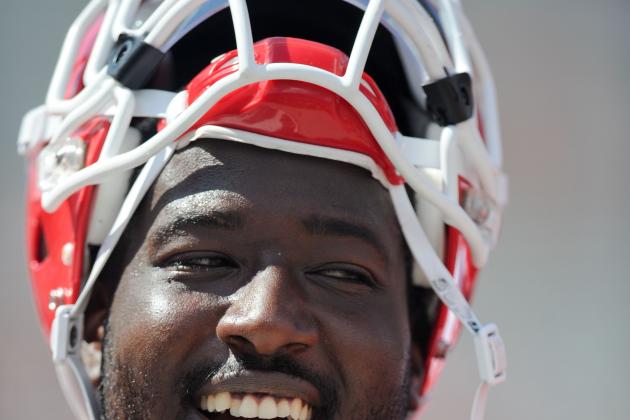 Kevin Liles-USA TODAY Sports

Abry Jones lined up all over Georgia's defensive line, but he will be asked to be a penetrating defensive tackle for the Jaguars.
He is an athletic and strong defensive tackle who can stop ball-carriers coming through the hole. He has a swim move to get by guards and can win battles against the double-team.
Jones is inconsistent getting off the snap and doesn't have great closing speed.
He looked like he was poised to become a playmaker from the interior of the defensive line during his junior year, but that changed during his senior campaign. He had a disappointing senior season as he had 17 tackles and one for loss over the first seven games. He missed the remainder of the year after undergoing surgery on an injured ankle.
If Jones can get back to his junior production, he could turn heads this summer. Despite his potential, the Jaguars already have two players–Alualu and Marks–filling the same role, which makes Jones a long shot to make the team.
Grade: C+

Whenever a player puts up stats like Cole McKenzie did last year at Southern Oregon, it's hard not to get excited. He easily blew by defenders en route to hauling in 98 receptions for 1,661 yards and 16 touchdowns last year.
The Jaguars could have found a small-school gem in McKenzie. At a regional combine in March, he ran a 4.41 40-yard dash, 40" vertical and 10'4" broad jump (per Chris Leone of KDRV.com). Those results would have put him near the top of each category among wide receivers at the combine in February.
McKenzie easily dominated lesser talent, but does he have what it takes to be productive against NFL cornerbacks? He will have to answer that question this summer. He has the physical tools to succeed in the NFL.
Justin Blackmons's suspension could open the door for an undrafted free-agent wide receiver to make the team. McKenzie could make the most of that opportunity.
Grade: B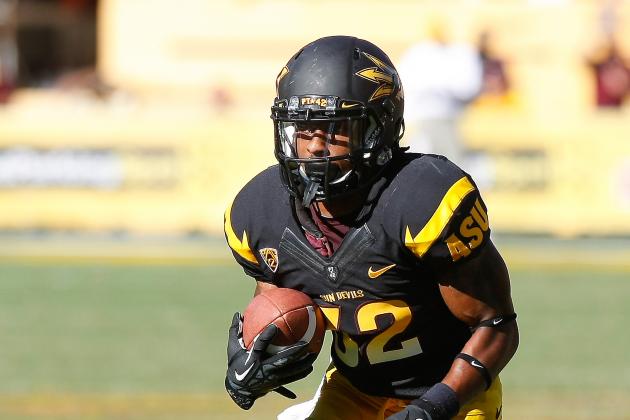 Rick Scuteri-USA TODAY Sports

Jacksonville added much-needed speed during the fourth and fifth rounds of the draft by taking Ace Sander and Denard Robinson.
That trend continued in undrafted free agency with the signing on Jamal Miles.
Miles' game is built around his speed and quickness. He can free himself from defenders with a shake of the line of scrimmage and is strong enough to run through arm tackles.
He wasn't a prolific receiver in college, but he made his name in the return game. He is an explosive return man who averaged 10.3-yards per punt return and 23.3-yards per kick return with four combined touchdowns during his collegiate career. He is an elusive runner who would kick his speed into another gear when he found a lane.
Adding competition to find the best return man is never a bad thing, especially when it's one the caliber of Miles. He could be a fantastic find and the return man the Jaguars have been missing for years.
Grade: C+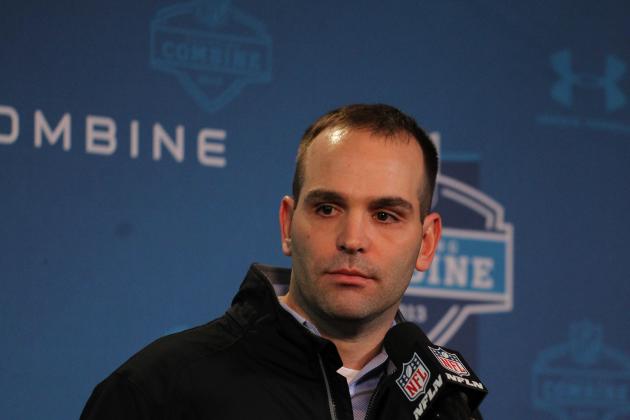 Brian Spurlock-USA TODAY Sports
Courtesy of UMassAthletics.com
Stephane Milhim started at left tackle during his final two seasons in college, but he's going to move inside to guard in the NFL.
He is explosive off the snap and quickly gets into blocks. He moves well and has the athleticism to reach the second level of the defense to continue blocking. He has the ability to succeed in both run-blocking and pass protection.
Milhim played well against the lower level-talent he faced at UMass, so he'll have to prove he can handle playing against top-level talent. He has high upside and his quickness should make him a natural fit in Jacksonville's zone-blocking scheme, which means Milhim could make the roster by adding depth to the offensive line.
Grade: B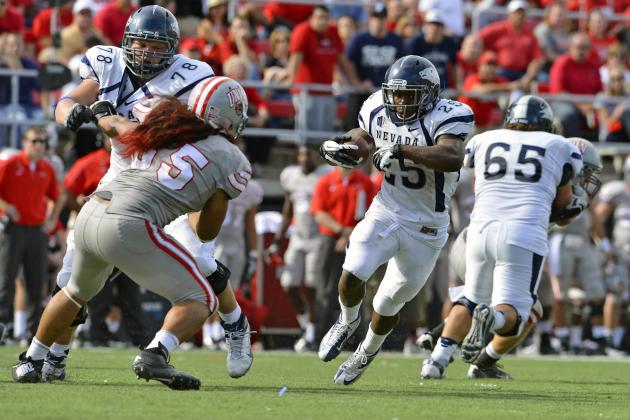 Ron Chenoy-USA TODAY Sports

Jeff Nady is another offensive tackle who could challenge for a roster spot due to the lack of talent along the offensive line.
He had a successful collegiate career and was named to the 2012 All-MWC First Team. He was a key cog to an offensive line that paved the way for Nevada's eight-ranked rushing offense in the country last season.
Nady has the size (6'6", 305 lbs) to catch on in the NFL. He gets into blocks quickly and can hold up against in pass protection and create lanes in run blocking.
He does need some development, which is evident by him being undrafted. Jacksonville's coaching staff needs to work with him, but he has the talent to be a backup right tackle in the league.
Grade: C+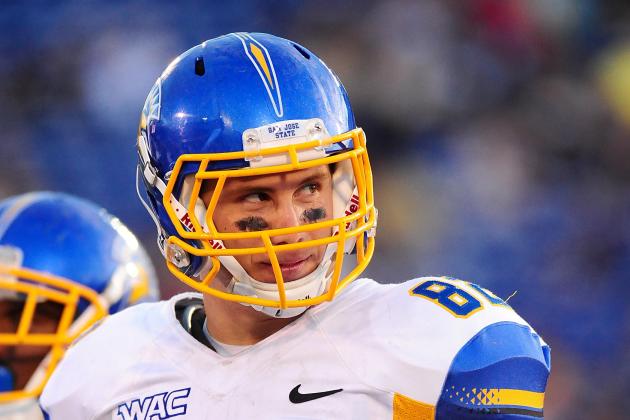 Evan Habeeb-USA TODAY Sports

Ryan Otten had a very productive college career and was a two-time All-WAC First Team selection.
His collegiate success made it a giant surprise that he wasn't drafted. It was great news for the Jaguars, who scored a talented receiving tight end in undrafted free agency.
Otten doesn't have great speed, but he uses his size to box out defenders and haul in passes with his strong hands. He can quickly turn upfield to run with the ball and is willing to lower his shoulder to gain extra yards.
Otten is almost guaranteed to make the team, as the Jaguars lack any kind of depth behind starter Marcedes Lewis. Otten's receiving ability could make him an asset to Jacksonville's offense.
Grade: A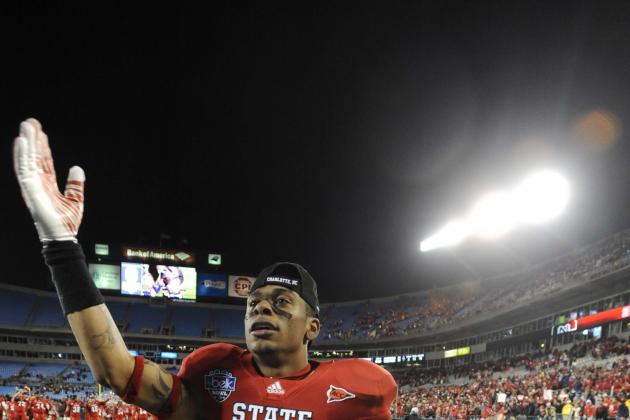 Sam Sharpe-USA TODAY Sports

The Jaguars added another speedy wide receiver in undrafted free agency in Tobais Palmer.
Palmer was North Carolina State's leading receiver last season with 54 catches for 781 yards and six touchdowns. He is a quick receiver who finds open space on the field and watches the ball into his hands.
Although he was successful as a receiver, it will most likely be his dynamic return abilities that make him stick to an NFL team. He returned kicks for the Wolfpack last year and averaged 25.7 yards per return with two touchdowns.
If his receiving talent isn't enough, Palmer could turn heads this summer with his explosive return abilities.
Grade: B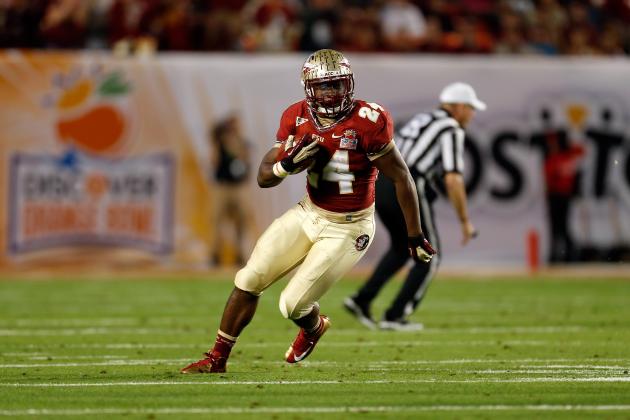 Chris Trotman/Getty Images

The Jaguars needed to find another fullback after Greg Jones signed with the Houston Texans in free agency. The team found his replacement from his alma mater by signing Lonnie Pryor out of Florida State.
Pryor could not be more of a polar opposite of Jones. Pryor is an athletic fullback who has a powerful lower body. He's capable of making plays when rushing and receiving the ball.
He isn't the blocker Jones was, but Pryor does have an effective cut block. He has consistent hand placement on his blocks, so he has the potential the continue to develop that aspect of his game.
Pryor is a bit of a tweener between a running back and fullback. He's going to have to add some bulk to be an impact blocker in the NFL, but he's almost a lock to make the final 53-man roster.
Grade: A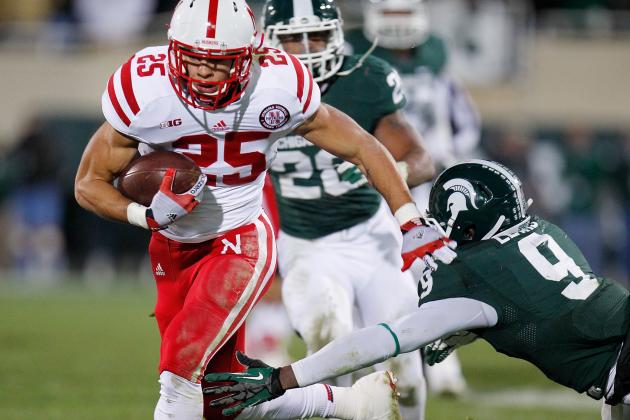 Gregory Shamus/Getty Images

Kyler Reed wasn't utilized much as a receiving tight end at Nebraska, but he has the skill set to play both tight end and fullback.
He had just 24 receptions for 327 yards and two touchdowns during his senior season, but he has the physical tools to do so much more.
He had a great showing at his pro day before an injury forced him to pull out. His 40-yard dash (4.43) and broad jump (10'7") would have led all tight ends at the combine.
With the Jaguars severely lacking depth at tight end, Reed has a chance to make the squad.
Grade: C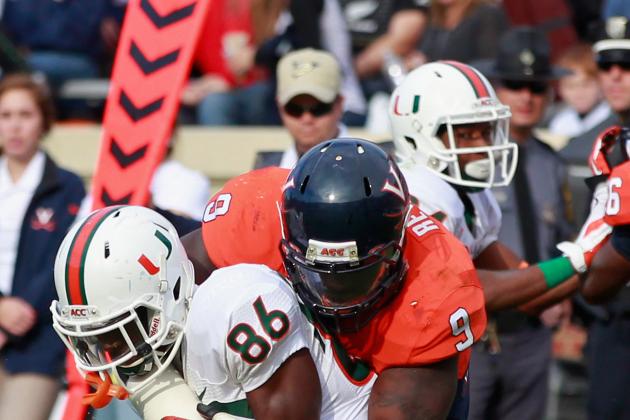 Geoff Burke/Getty Images

LaRoy Reynolds is another outside linebacker who could challenge for a spot during training camp.
The former safety was a tackling machine for the Cavaliers last season and finished second on the team in total tackles (90) and tackles for loss (9.5). He covers a lot of area on the field and plays through the whistle. He is disciplined and stays true to his assignments while having the athleticism to chase the plays to the sideline.
Reynolds has to improve his coverage abilities, but he has the athleticism to be a linebacker in the NFL. He may challenge for a roster spot to add depth at linebacker.
Grade: B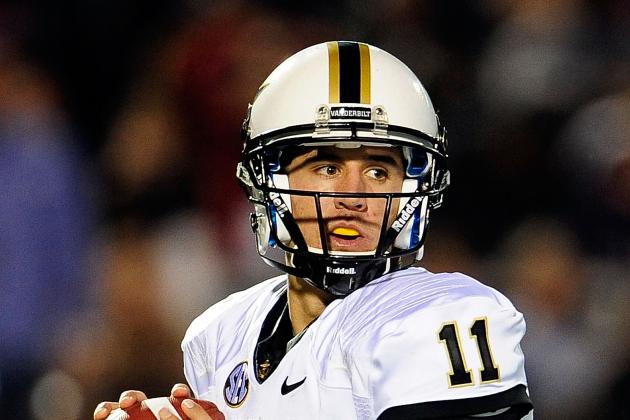 Stacy Revere/Getty Images

GM Caldwell said (via AP's Mark Long) that he would add quarterbacks during the offseason to compete for spots on the team. He bypassed doing so in free agency and the draft, opting to find quarterbacks in undrafted free agency instead.
One of the two quarterbacks the Jaguars signed is Jordan Rodgers out of Vanderbilt.
Rodgers was solid but unspectacular during his senior season at Vanderbilt. He finished the season completing almost 60 percent of his passes for 2,539 yards with 15 touchdowns and five interceptions.
He has the brain to read defenses, but he doesn't have a strong enough arm to make all the required throws. Rodgers will also be 25 years old entering the regular season, which is old for a rookie.
He probably won't be much more than a training camp arm, but it's worth to see if he possesses any of the talent his older brother has.
Grade: D+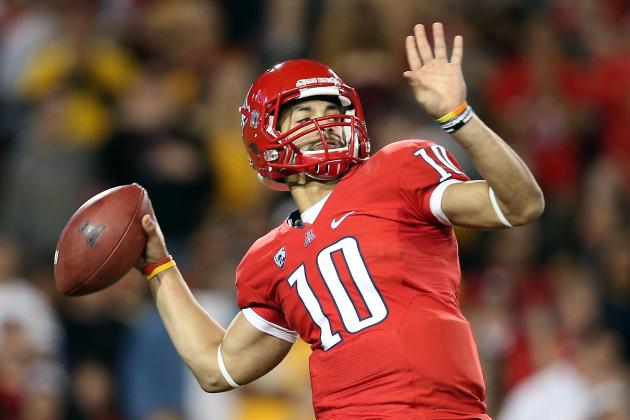 Christian Petersen/Getty Images

Matt Scott has been linked to the Jaguars almost all offseason.
Jacksonville was "well-represented" (per Tony Pauline of USA Today) and had both scouts and coaches (per Pauline) at Arizona's pro day.
Jaguars quarterbacks coach Frank Scelfo was also Scott's coach for several years in college.
All signs seemed to point to the quarterback joining the Jaguars, and it came as no surprise when he signed as an undrafted free agent.
Scott is the team's best undrafted free agent signing and could be a diamond in the rough.
He is an accurate passer who has good velocity on the ball to all levels on the field. He stands tall in the pocket and can fit the ball in tight windows.
He's also athletic and can make defenders miss by moving around in the pocket. He's dangerous when he gets space and has the straight-line speed to outrun the defense in the open field for big gains.
Scott isn't without his faults, though, as he needs to work on his footwork.
He is a developmental quarterback, but he has tremendous upside. If Scott performs well in Jacksonville's offseason camps, he will easily find himself on the team's 53-man roster.
Grade: A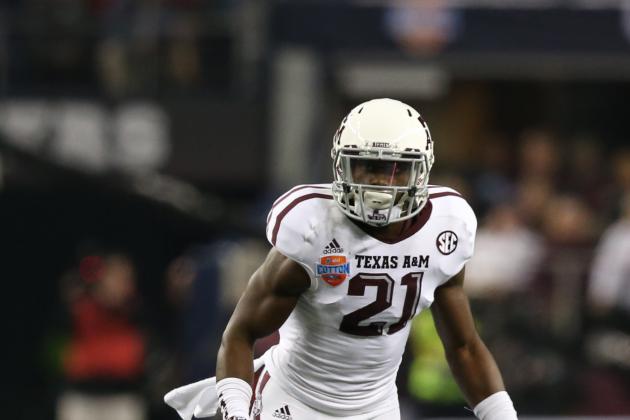 USA TODAY Sports

Steven Terrell is a tough safety who can play both in coverage and in the box.
He recorded four career interceptions during his collegiate career. Terrell also made plays behind the line of scrimmage and totaled seven tackles for loss during his career, including four last year.
He said (per Damond Talbot of NFLDraftZone.com) that he tries to model his game after Earl Thomas. Thomas thrived during coach Bradley's tenure as Seahawks defensive coordinator. If Terrel possesses even some of the same skills as Thomas, he has a good chance of fitting in the Jaguars defense.
Grade: B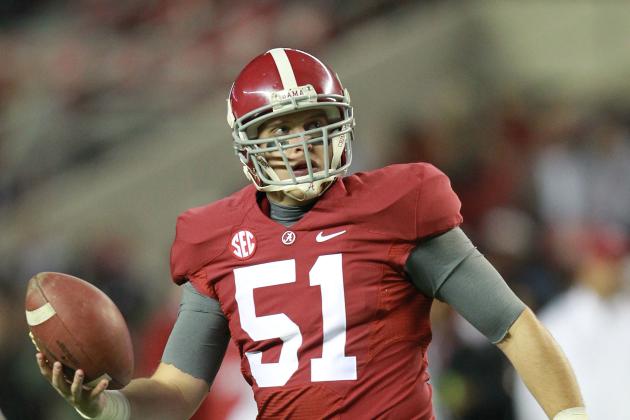 Marvin Gentry-USA TODAY Sports

Carson Tinker has one of the most heartbreaking stories for any player entering the draft. He and his girlfriend hid in a closet as a tornado ravaged Tuscaloosa in April 2011. They were both thrown from the closet during the tornado and his girlfriend sadly did not survive.
The Crimson Tide's championship runs helped heal the town, and Tinker was an integral part of those teams.
He was successful on 133 of 135 snapping attempts in college. He has a strong and accurate delivery and almost always hits the receptor right in the torso.
Tinker doesn't have the ideal size for a long snapper (6'1", 220 lbs), but he does hold up against the rush and puts in very good effort covering punts.
There is a chance he could make the team with good showings at camps throughout the summer. The team's current long snapper, Jeremy Cain, has the sixth-highest cap hit in 2013 ($1,083,333) among players at his position, per Spotrac.com.
If Tinker is close to the same level as Cain, then expect the Jaguars to go with the cheaper option in the rookie.
Plus, it's impossible not to cheer for someone like Tinker.
Grade: B+
Offensive tackle Roderick Tomlin is an experience player who started the final 37 games of his collegiate career, and all but the first four were at right tackle.
He was named to the Second Team All-OVC following his senior season after he helped anchor the line for one of the best offenses in the FCS.
Tomlin played well and controlled defenders at the lower level, but how will his talent transition to the NFL?
He doesn't have great athleticism, which was revealed in his pro day. His 40-yard dash (5.41), vertical, broad (25.5"), 20-yard shuttle (4.91) and three-cone drill (7.87) results didn't display the athleticism needed to succeed in a zone-blocking scheme.
Tomlin played well enough at Murray State to earn a look, but it probably won't be much more than that.
Grade: D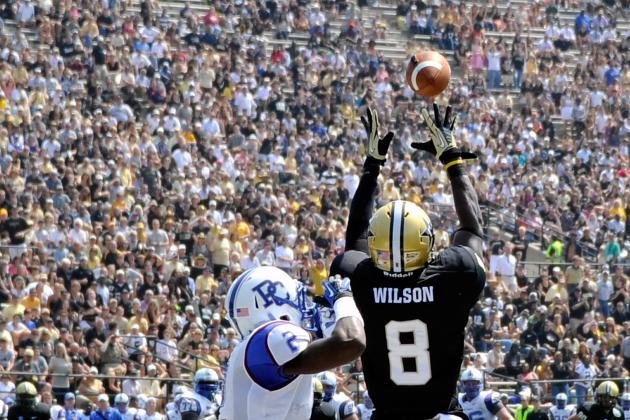 Frederick Breedon/Getty Images

Trey Wilson is an aggressive cornerback who led Vanderbilt with three interceptions in 2012 and returned two for scores.
He is a disciplined cornerback who keeps the plays in front of him. He closes quickly on ball-carriers and is a good open-field tackler. He plays well in zone coverage and does a nice job recognizing routes.
Wilson struggles keeping up with opponents and has a tough time making plays with his back to the ball.
Wilson would be a better fit in a zone-heavy scheme on defense, which is almost a complete opposite of what Jacksonville is implementing this year. Although he has talent and could push other cornerbacks, it tough to see him fitting in the defense.
Grade: D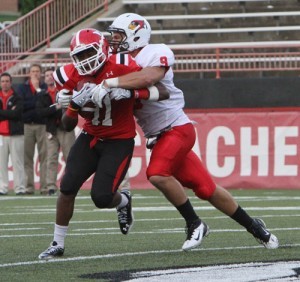 Courtesy of Pantagraph.com
Michael Zimmer was a tackling machine during his senior season at Illinois State.
In his first year starting as middle linebacker, he led the Redbirds with 127 tackles, including 4.5 sacks and 5.5 tackles for loss. His play landed him on the First-Team All-MVFC.
While Paul Posluszny has the starting middle linebacker role locked down, the team lacks depth behind him. Zimmer's play at Illinois State and his secure tackling gives him the opportunity to try playing at the next level.
Grade: C