Fantasy Baseball: 10 Players Who Killed Their Fantasy Baseball Stock in April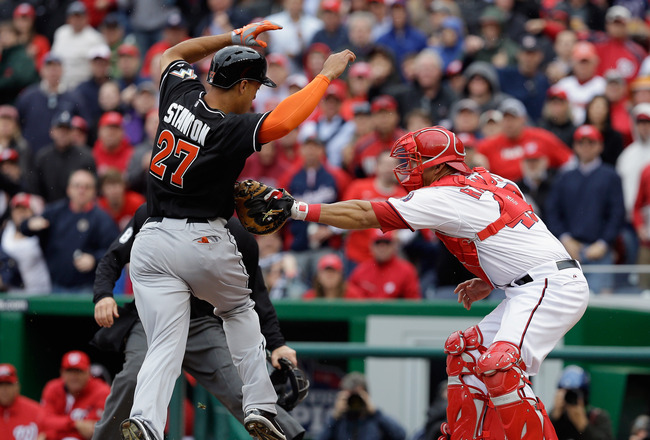 Rob Carr/Getty Images
Just one month ago, every major league clubhouse had dreams of October glory, and every fantasy baseball lineup had championship aspirations.
Even at this point, owners allow themselves to cling to hope, arguing that the small sample size is not enough to bail on preseason plans. But there are a few exceptions.
Early-season values, which hinge most heavily on early-season performances, are often shaky before the season starts. A bad April is enough to greatly discount older players coming off uncharacteristically bad years—those who owners hoped would rebound.
Early results can also be very revealing for prospects who get the call to start the season with the big club.
For most players, one bad month is not enough for owners to lose hope, but the players represented in the coming slides are simply not who owners thought (or hoped) they would be.
Josh Hamilton, Los Angeles Angels of Anaheim
Lisa Blumenfeld/Getty Images
In 19 innings on Monday, Josh Hamilton batted eight times, saw 27 pitches and collected zero hits. That dropped his average for the season down to .219 and added three strikeouts to his total, leaving him at 29 through 25 games with just five walks.
Between 2008 and 2011, Hamilton averaged 42 walks and 98 strikeouts per season. Then in 2012, he amassed 162 strikeouts, whiffing more than once per game for the first time in his career. While his career highs in home runs and runs scored kept owners happy, the rate at which he chased pitches out of the zone was worrisome entering 2013.
Now watching Hamilton is painful. Pitchers see no need to throw fastballs or strikes, as he can easily be made to chase off-speed offerings out of the zone.
He will need to regain some plate discipline to return to elite production. Owners should also beware the injury specter still hovers around a man who has played 140 games just twice in his seven-year career.
Dan Haren, Washington Nationals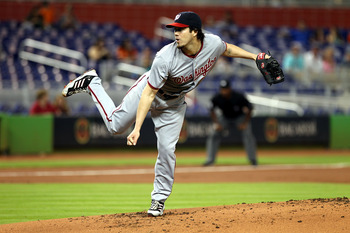 Marc Serota/Getty Images
From 2007 to 2011, Dan Haren had a 3.33 ERA, 1.127 WHIP and a massive 4.68 K/BB, routinely finishing near the top of the league in that category. In 2012, he battled injuries to a 4.33 ERA, and his BB/9 jumped from 1.2 in 2011 to 1.9.
Coming into 2013, Haren was a popular sleeper pick as a likely bounce-back candidate. There was thought to be significant value available. Now, after five starts, he has a 6.29 ERA and 1.726 WHIP. He is averaging less than five innings per start and has given up six home runs.
Owners who want to use him as a matchups player may even find this difficult, considering he lasted only 4.1 innings, allowing seven runs (three earned) to the miserable Miami Marlins.
Haren may not be fully healthy, but it is best to leave him benched until an injury is revealed, or he shows signs of regaining consistent effectiveness.
Derek Jeter, New York Yankees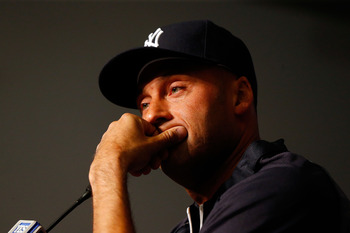 Jim McIsaac/Getty Images
Coming off a 216-hit 2012 season apparently did not make Derek Jeter any less 38 years old.
While he hoped to return from a broken ankle suffered in the 2012 ALDS by Opening Day and was drafted by many owners to be their starting shortstop, Jeter is finding it more difficult to recover at 38 than it might have been in his heyday.
After suffering a setback in April, Jeter has still yet to play an inning and is likely to be out until at least the All-Star break. For the first time in his Hall of Fame career, the Yankees captain has proven vulnerable. The question now remains, once he does come back, how healthy will he be?
Jeter has scored 80 runs and stolen at least nine bases every year since 1997. He will probably do neither. But there may yet be sneaky value in Jeter as a deep league middle infield player, if he has been dropped.
Ike Davis, New York Mets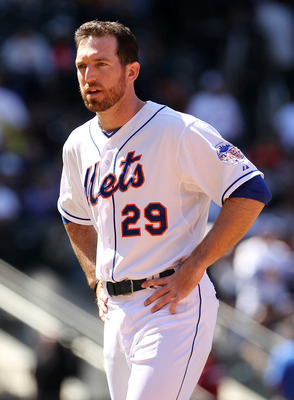 Mike Stobe/Getty Images
Ike Davis hit 32 HR, knocking in 90 RBI in 2012. He was a rare bright spot for Mets fans and outperformed his preseason value, which was tainted by his injury-shortened 2011. He also batted .227 and struck out 141 times, unnoticed by owners ecstatic over the power.
Through 23 games, Davis has 29 strikeouts and four home runs, producing only eight runs batted in. While Davis is still a good bet for 25-plus home runs, at some point, the peripherals simply become too damaging for a fantasy team to bear (i.e. 2011 Adam Dunn).
If Davis' slash line (currently .159/.263/.317) does not improve dramatically in the very near future, he may be in danger of losing at-bats, and the time will surely come to remove him from fantasy lineups.
Julio Teheran, Atlanta Braves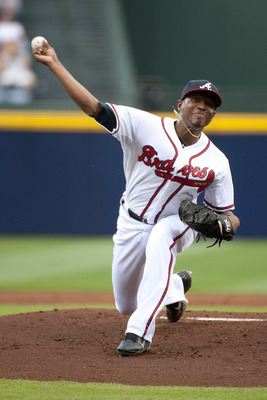 Kevin Liles/Getty Images
When Julio Teheran posted a 1.04 ERA, 0.79 WHIP and 35 strikeouts in 26 spring training innings this season, opportunistic fantasy owners licked their lips. They had been waiting for the Braves former top prospect to become the ace he was destined to be.
Five starts in, he has a 5.08 ERA, 1.659 WHIP and 20 strikeouts in 28.1 innings. He is allowing 12.4 hits per nine innings. According to Fangraphs, opponents are hitting .367 off of his fastball. For comparison, Matt Moore, who Baseball America ranked 10 spots below Teheran in their 2011 Top 100, has allowed just a .196 average against his fastball.
Teheran must learn to keep the ball down and needs to regain life to a very straight fastball to produce remotely useful fantasy stats.
Roy Halladay, Philadelphia Phillies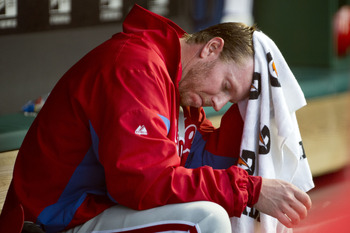 Jason Miller/Getty Images
Like Haren, owners eagerly drafted Roy Halladay, hoping his 2012 struggles were injury related and expecting a bounce back to the predictable dominance that was a staple of Doc-ownership for the last decade.
Through five starts, Halladay has a 6.75 ERA, having made three excellent starts and three disastrous starts in April.
He has given up eight home runs over 32 innings. Halladay is attempting to adjust his approach using deteriorating stuff, and the adjustment period—like that of new prospects—is likely to have several ups-and-downs.
Halladay has been around long enough that it seems likely he will figure out how to win with his new skill set, and there is buy-low value here. But for now, any start could torch a team's ERA and WHIP for the week, so use him with extreme caution.
R.A. Dickey, Toronto Blue Jays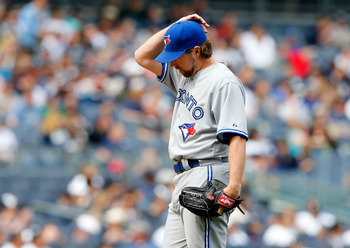 Jim McIsaac/Getty Images
One of the great stories of 2012, Dickey entered 2013 with a Cy Young Award, a new team and fantasy owners hopeful of repeated dominance. Unfortunately, the odds were already against them. A large factor in his unprecedented leap in performance was a K/9 that jumped from 5.8 in 2011 and 5.5 for his career to 8.9 in 2012.
In six starts so far in 2013, Dickey is 2-4 with a 4.50 ERA and 7.0 K/9. His 1.306 WHIP is more in line with his career 1.326 mark than the 1.053 he posted in 2012.
A repeat of that magical season was highly unlikely, and those who paid for Dickey as a top-five starting pitcher never had much chance for equitable return. But if an owner looked at his 2011 and 2012 numbers, hoping for the truth to fall somewhere in between, Dickey will likely satisfy.
Closers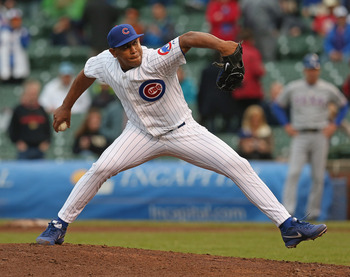 Jonathan Daniel/Getty Images
Every season, fantasy owners draft closers, and every season they lose jobs faster than a gambler loses his kid's college fund.
Jason Motte has yet to make an appearance and now seems possibly headed for Tommy John surgery. Carlos Marmol lasted all of one disastrous appearance before being replaced by Kyuji Fujikawa, who subsequently landed on the disabled list.
John Axford did not hold his job much longer before giving way to Jim Henderson. Joel Hanrahan and Ryan Madson are both on the disabled list, allowing Ernesto Frieri and Andrew Bailey to serve as adequate ninth-inning arms.
The Tigers have gone through Bruce Rondon (in spring training), Phil Coke, Joaquin Benoit and have landed back where they started last season with Jose Valverde.
The moral of the story is let saves come to you. Every season sees Hendersons, Frieris and Kevin Greggs fall in to save chances: Side note, Gregg now has four saves and six strikeouts in 5.1 innings.
Players like them can be found all over the waiver wire if owners are paying attention.
Jackie Bradley Jr., Boston Red Sox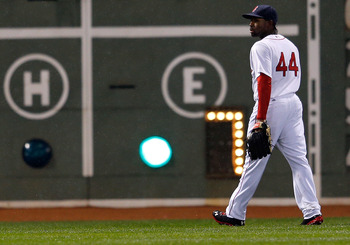 Jim Rogash/Getty Images
Jackie Bradley Jr. essentially forced Boston to keep him in the major leagues to start the season. Expected to start the year in the minors, the South Carolina product batted .419 in 28 spring games, earning a spot in the Opening Day lineup.
Fantasy owners fawned over his .315, 24 SB, 90 R minor league season in 2012 and dreamed of a discounted bat who would help in average while providing speed and scoring runs.
Bradley immediately struggled with big league pitching, collecting three hits in his first 38 plate appearances and was subsequently sent down when David Ortiz was ready to come off the disabled list.
Bradley may yet develop into a fantasy-useful outfielder, but he is just that—a development in progress. Owners are an impulsive bunch who react wildly to spring stats. At least Bradley did not cost what was paid for the final guy on this list.
Giancarlo Stanton, Miami Marlins
Jason Arnold/Getty Images
The few Miami Marlins fans who have still been going to Marlins Park this season go to see Giancarlo Stanton. Owner Jeffery Loria has left them little choice after shipping off Hanley Ramirez, Jose Reyes, Josh Johnson, Emilio Bonifacio and others over the last year.
Through the first 20 games, it seemed things could not get worse for those Stanton fans. He batted .227 and hit just three home runs. But then they did. Stanton suffered a Grade 2 hamstring strain while trying to beat out a slow ground ball and is sidelined at least three-to-four weeks, according to MLBlogs' Joe Frisaro.
Entering 2013, owners wondered how the lack of big league talent around him would affect Stanton's production, and some of his struggles could be attributed to his lack of hittable pitches—just 36.4 percent of pitches to Stanton this season have been in the strike zone.
But a trade to a legitimate team and the subsequent boost in production is not anywhere on the horizon, and this injury will surely put any ongoing trade talks on hold until July and possibly until the next offseason.
Keep Reading