Projecting the 2013 Impact for Each Houston Texans Selection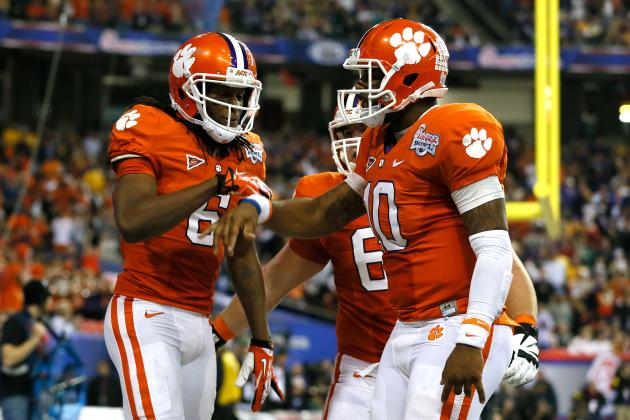 Kevin C. Cox/Getty Images

The NFL draft is over. Now, the terrible, anxious waiting game begins. It will be months before the Houston Texans' new rookies will be seen in game action.
So, to fulfill your insatiable appetite for draft information, here is another thirst-quenching article, predicting the impact each new Texan will make on the team.
Begin Slideshow

»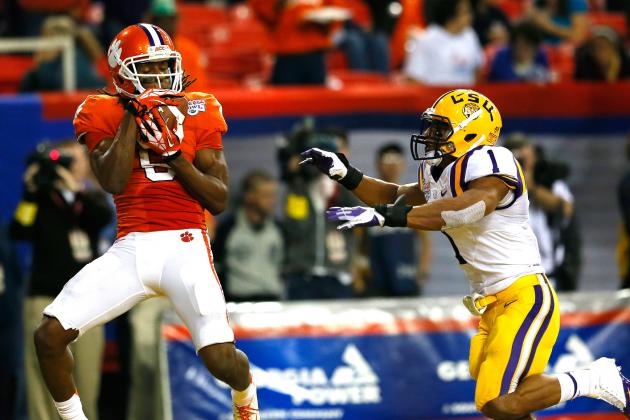 Kevin C. Cox/Getty Images

There was no denying it—the Texans were going to draft a wide receiver in the first round. It was not a question of whether they would or not, but rather, which one it would be.
The Texans chose DeAndre Hopkins. They chose wisely.
Hopkins is a perfect fit with the Texans. The Texans' offensive scheme demands a very specific set of skills from its receivers, and thankfully for the Texans, Hopkins fits the bill.
He is an extraordinary route-runner, a rare trait for receivers coming out of college. In fact, Hopkins will likely be the second-best route-runner on the roster. Behind Andre Johnson, of course.
Furthermore, Hopkins has incredible hands. It is a strange occurrence when he drops a catchable ball. The Texans' offense is all about efficiency. One drop can ruin an entire series, putting the Texans' often inconsistent offense in a hole.
Hopkins would never let that happen.
Finally, Hopkins has had major success in the red zone. A former basketball player, Hopkins knows how to use his physicality to his advantage.
Typically, rookie receivers fail to make much of an impact in their first year in the NFL. Hopkins, however, is NFL-ready, and he will become a major factor in the Texans' offense from very early on.
Last season's top rookie receivers turned in exceptional seasons, which was extremely rare. Expect Hopkins, though, to come close to their level of production.
Prediction: 63 receptions, 840 yards, five touchdowns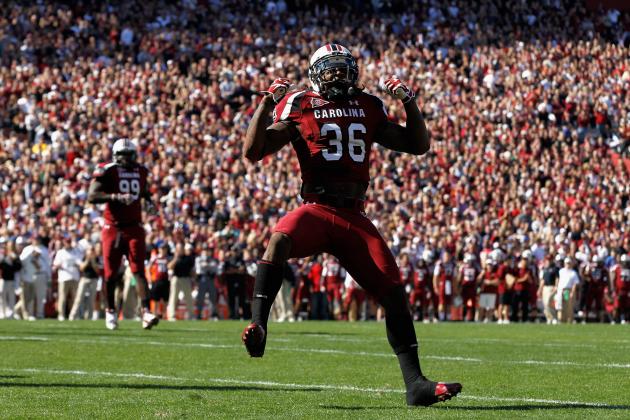 Streeter Lecka/Getty Images

When Ed Reed was brought on to be the Texans' starting safety, fans were ecstatic. Reed's ball-hawking ability would make quarterbacks think twice before throwing the ball, which would give the Texans' defense a much better chance of slowing down elite quarterbacks.
When Reed was signed, though, two concerns arose: Reed is old, and his tackling ability has gown downhill.
What if Reed were to get hurt, which is an extremely plausible situation given his advanced age? The best backup safeties on the Texans' roster were Shiloh Keo and Eddie Pleasant.
It was clear that the Texans needed to draft a safety who could play right away and also be prepared to take over Reed's job once he retires.
D.J. Swearinger was an excellent choice.
One glance at a Swearinger highlight tape shows why he is known as a devastatingly hard hitter.
Due to the fact that the Texans often play nickle and dime defenses, Swearinger will see the field early and often. He will bring physicality to the safety position that was lacking with just Reed and Danieal Manning on the roster.
Swearinger will be a ferocious run-defender, but he will need to work on his coverage skills in order to become a truly dominant safety in the NFL.
Prediction: 49 tackles, one interception
The right side of the Texans offensive line collapsed last season. It allowed pass-rusher after pass-rusher to reach Matt Schaub; it was unable to open up holes for Arian Foster.
To make matters worse, Derek Newton—the starting right tackle—underwent major knee surgery in the offseason. It is unknown when he will be medically cleared to play.
So, it didn't come as much of a surprise that the Texans drafted Brennan Williams, a raw, athletic tackle out of North Carolina, in the third round.
Williams will immediately be thrust into a competition for the starting right tackle job, and his physical attributes will likely give him an advantage in the competition.
If Williams can develop his skill set, he can become a very, very good tackle in the NFL.
Prediction if Newton is healthy: Williams will be the primary right tackle backup, ready to take over the starting duties if Newton is unable to impress.
Prediction if Newton is not healthy: Williams will win the starting job, but he will split time with Ryan Harris.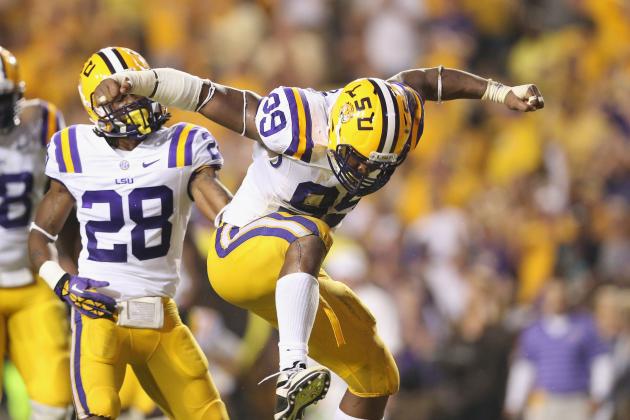 Ronald Martinez/Getty Images

The need for an outside linebacker was clear. Connor Barwin left the Texans in free agency, leaving the Texans with only two proven outside linebackers on the roster in Brooks Reed and Whitney Mercilus.
The Texans needed a guy to be the third rotational outside linebacker, and they needed him to be capable of starting if either Reed or Mercilus were to get injured.
They found that guy in Sam Montgomery. A proven pass-rusher, Montgomery is expected to provide the Texans with another pass-rushing asset immediately.
Montgomery's impact next season will really depend on what the Texans decide to do with Brooks Reed.
It has been rumored that the Texans are considering moving Reed to inside linebacker. If this happens, Montgomery will become the strong-side outside linebacker. If it doesn't happen, Montgomery will be the primary outside linebacker backup.
Regardless of what happens with Reed, Montgomery should have a solid rookie season.
Prediction if Reed is moved to inside linebacker: 34 tackles, five sacks
Prediction if Reed stays at outside linebacker: 19 tackles, 2.5 sacks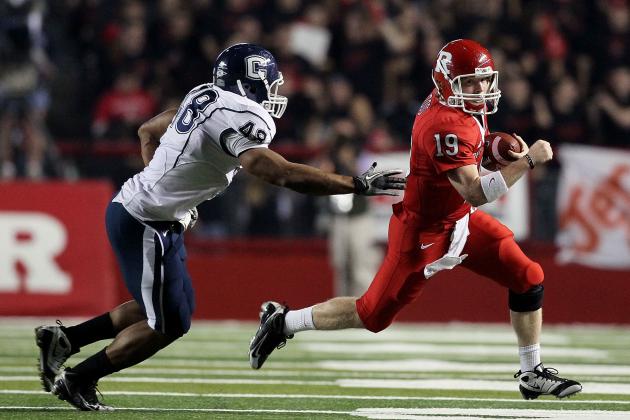 Jim McIsaac/Getty Images

Trevardo Williams could end up being the steal of the draft for the Texans.
After putting together a solid career at Connecticut, Williams excelled at the NFL Combine, finishing as a top performer in the 40-yard dash, broad jump and vertical jump.
It goes without saying, but Williams in an athletic freak. And to go with his impressive physicality, Williams actually has a developed hands game, making him a dangerous pass-rusher.
I'm sure the Texans were very surprised that Williams fell to their pick in the first round. They scooped him up very happily.
Unfortunately for Williams, he will likely be stuck behind Brooks Reed, Whitney Mercilus and Sam Montgomery on the depth chart. If Reed is moved to inside linebacker, Williams will become the primary outside linebacker backup.
Prediction if Reed is moved to inside linebacker: 22 tackles, three sacks
Prediction if Reed stays at outside linebacker: 12 tackles, 1.5 sacks
Like Trevardo Williams, David Quessenberry could be one of the Texans' steals of the draft.
Quessenberry is a perfect fit in the Texans' zone-blocking scheme, as all his skills match up perfectly with what the Texans love to do on offense.
Quick and tough, it is a surprise that Quessenberry fell so far in the draft. Once the Texans realized he was still available at the start of the sixth round, they quickly traded up to select him.
Quessenberry is a solid pass-protector, but his true strengths lie in the run game. His footwork and natural athleticism allow him to reach the second level quickly, opening up holes for running backs.
After a season or two of development, there is no reason to doubt that Quessenberry will become a force on the Texans' offensive line.
Prediction: Initially start behind Ryan Harris on the depth chart, but will overtake him by the end of the season.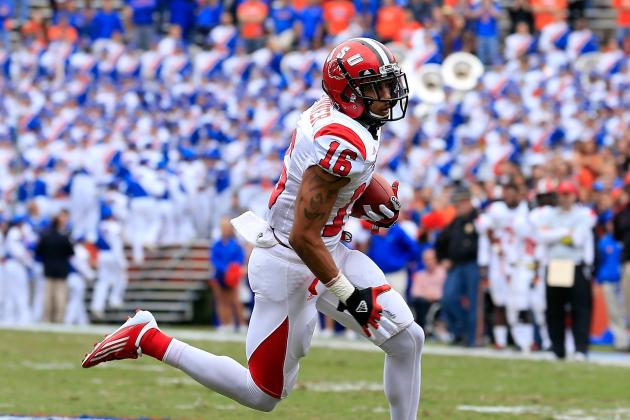 Sam Greenwood/Getty Images

It was a surprise when the Texans drafted Alan Bonner in the sixth round. Questionable, actually.
Bonner was expected to become an undrafted free agent, and the Texans could have easily picked him up after the draft.
Gary Kubiak, however, seems to love the relatively unknown receiving prospect, offering up these words of praise on Bonner:
I just loved watching this guy work in Indianapolis (at the NFL Scouting Combine), his confidence," Kubiak said. "I think there's a big upside here. There's a big step for him to take from where he's coming from, but he's gonna get a great opportunity with us. We're so young at wide receiver, there's gonna be plenty of reps to go around, and I think this kid's got some special stuff to him. We'll just sit there and work with him, but I think he's got a chance to help our football team.
Maybe Bonner will end up being a steal. Likely, he won't. Even more likely, he will be buried on the Texans' depth chart, stuck behind Andre Johnson, DeAndre Hopkins, Keshawn Martin, Lestar Jean and DeVier Posey.
Prediction: 0 receptions, 0 yards
Unlike the Alan Bonner pick, this one certainly was not questionable.
The Texans have a huge need at the nose tackle position, and the 302-pound Chris Jones can certainly fill it.
Jones is relentless on the field, possessing an endless motor. He gives it his all on every single play, and the results were clear at Bowling Green.
Jones put together an incredible college career, totaling 157 tackles, 46.5 tackles for loss and 28 sacks.
He can rush the passer, and he is also very solid against the run. Wade Phillips will have no trouble finding a place for him on the defense.
Jones likely will start the season as Earl Mitchell's backup and be given every opportunity to take over the starting duties.
Prediction: 25 tackles, one sack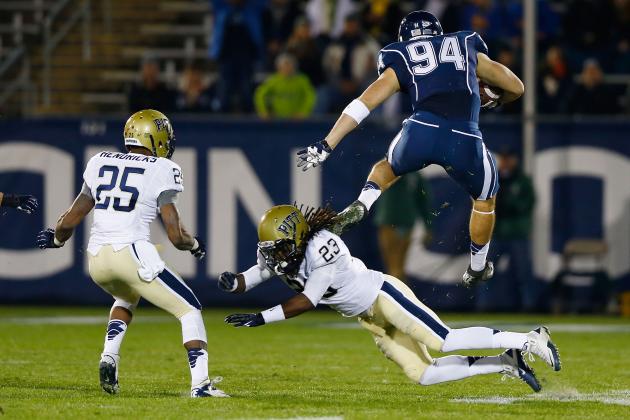 Jared Wickerham/Getty Images

Ryan Griffin was purely a depth pick. Yes, Gary Kubiak loves his tight ends, but it will be surprising if Griffin gets many opportunities in the passing game.
Griffin is a pretty similar player to the Texans' No. 2 tight end, Garrett Graham. Both have very solid hands, but neither of them is explosive.
Of course, Graham will see much more playing time, as he had a decent season last year and has much more experience.
Don't expect much from Griffin. He will make very little offensive impact.
Prediction: Two receptions, 10 yards