Report Card Grades for the Saints' 13 Undrafted Free-Agent Signings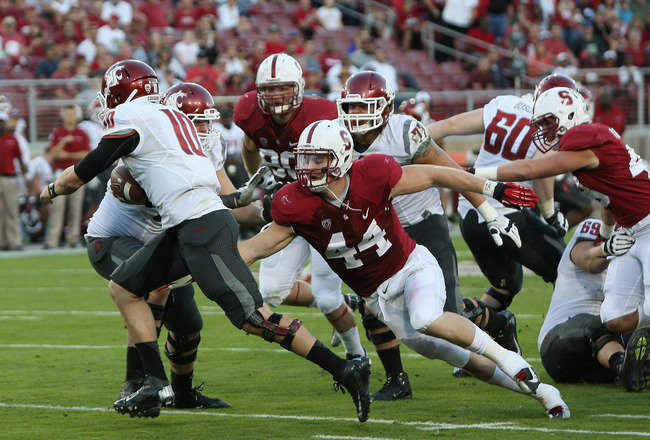 Tony Medina/Getty Images
The New Orleans Saints were quick to add quality talent to their roster once the 2013 NFL draft was completed. Almost immediately, the team added three players many projected to go in the seven-round draft.
Chase Thomas, Ryan Griffin and Kevin Reddick were three of the top five undrafted players in the entire player pool.
The Saints signed some other really good players in addition to those three. For each of the 13 players the Saints signed as undrafted free agents, grades and evaluations follow.
Ryan Griffin, QB, Tulane
Chris Graythen/Getty Images
Ryan Griffin's name wasn't one on the tongue of many draft analysts headed into the 2013 draft. Of course it makes sense, since Griffin came from a Tulane program that's been the in the doldrums for the better part of the past decade.
Griffin was unable to push them up the board of prestigious college football programs in his four years at the Uptown school.
Still, Griffin shows a lot of promise as an NFL prospect. He is intelligent, has a grasp of what the Saints are trying to do offensively and has the best accuracy of any quarterback in the 2013 class.
To that end, Griffin's ball placement is uncanny. Even Drew Brees might be jealous of the way Griffin places the ball exactly where his receiver needs it on any given pass. Like Brees, he also has great pocket presence and ability to step up in the pocket and into a throw.
Granted, Griffin struggles to sling the ball with much velocity, unless he really steps into a throw, which is noticeable when he does. But his arm strength can improve with greater attention to his mechanics (which are raw as he has quite a long delivery) and strength.
His ability to make good decisions, look for receivers and locate the ball will endear him to Sean Payton, Pete Carmichael and quarterbacks coach Joe Lombardi immediately.
Grade: A-
Chase Thomas, OLB, Stanford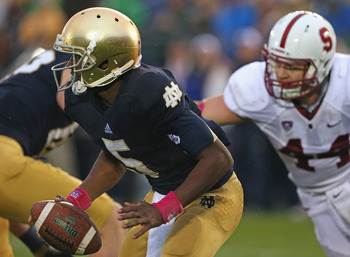 Jonathan Daniel/Getty Images
Somehow Chase Thomas went undrafted in 2013, despite many draft analysts giving him a second- or third-round grade.
We've ooh'd and aah'd over Thomas in this space for months so we'll try to avoid too much of that here.
Needless to say, though, Thomas is the best player the Saints picked up as an undrafted free agent. And he's a player who has a legitimate shot to make an impact in 2013. Whether he starts or not, Thomas will play early and often.
His abilities as a three-down linebacker and run-stopper, and his abilities in space make him a special player and a great fit for a defense who has no one like him on the roster.
As a career projectory, he figures to be a five sack-per-season kind of outside linebacker. With the other pass-rushers the Saints have on the roster, Thomas' unique skill set is something Rob Ryan certainly will embrace.
Grade: A+
Kevin Reddick, ILB, North Carolina
Andy Lyons/Getty Images
Kevin Reddick was the third undrafted free-agent gem the Saints nabbed Saturday night. Reddick is another player many draft analysts gave between a third- and fifth-round grade.
To secure Reddick's services after the draft is a blessing to a team already deep at inside linebacker but low on youth at the position.
Reddick is a bit of a blob in terms of his abilities in space. He is a stationary player. But that's not a bad thing. It simply means that he's better when the play comes right at him.
Considering many linebackers struggle with the run right at them, this is actually a welcome difference. Reddick is unafraid to take on blockers and does a wonderful job of shedding blockers. He is the antithesis of Jon Vilma, with his size, lack of mobility and sure tackling.
Reddick is a two-down player, though. He is not a player the Saints will keep on the field on third down. Still, he fits what the Saints want to do with their defense almost perfectly.
Grade: B+
Glenn Foster, DL, Illinois
Glenn Foster is a wide body who takes up a ton of space along the defensive line. He has more than adequate lateral agility, which he uses to take up multiple blockers and get skinny on inside rushes.
That said, he also has great strength to bull-rush blockers to get to the quarterback and/or create penetration against the run. But it is his perseverance that will endear him to Rob Ryan and the Saints coaching staff.
It helps that he is quick off the snap and combines a great punch to knock his blocker off the play immediately. All of it allows him to make plays behind the line of scrimmage and down the field with his incredible effort.
Watching Foster creates a reminiscent feeling of watching Saints defensive end Cameron Jordan. His abilities are quite similar, in fact. Maybe he can eventually become Jordan's linemate in New Orleans.
Grade: B+
Ray Shipman, LB, Central Florida
Unfortunately some of the players the Saints brought in as undrafted free agents simply will not make the team. In the case of Ray Shipman, it seems unlikely he was even brought in to be anything more than a camp body.
That being said, Sean Payton is quick to remind the media and fans alike that a player is not judged by their past but by how they play once in the building. Thus, if Shipman can improve upon his college career and proves to become a late-bloomer, there is a possibility he could stick with the Saints.
Still, the limited film that is easily available makes Shipman look like a stiff and tight-hipped athlete who is rarely seen around the football.
From a positive perspective, Shipman does appear to be an intelligent player who reacts quickly. However, he lacks the natural athletic ability and explosion to use those instincts to get to the ball.
Grade: C-
Shawne Alston, RB, West Virginia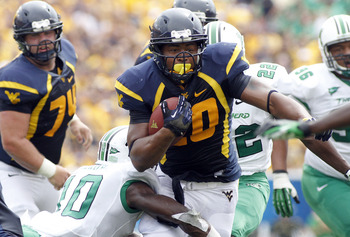 Justin K. Aller/Getty Images
Shawne Alston plays the game like a big, physical running back. He's the 2013 version of "three yards and a cloud of dust." That is not meant to be a knock on him. It is to say that it did not fit in Dana Holgorsen's offense at West Virginia, which wanted to hit a home run on every single offensive play.
As a result, Alston was replaced as his senior year went on by Andrew Buie and even eventual first-round pick Tavon Austin at running back.
With the Saints looking to replace Chris Ivory on their roster, Alston will get a serious look in training camp. Then again, Mark Ingram is similarly a "three yards and a cloud of dust" type of runner. The Saints really don't need two of those types of backs.
Then again, Ingram is more than capable of becoming a 5.0 yards-per-carry back. If he can become that, perhaps Alston can replace him as the clouds-of-dust back on the Saints' roster.
Grade: C+
Josh Hill, TE, Idaho State
Let's just be honest, no one really knows anything about Josh Hill. He was not a tight end who was prominently mentioned in draft circles prior to the 2013 draft.
The Saints seemed to strike gold in 2011 when it brought in Michael Higgins as an undrafted free agent. He appeared to be a player ready to make quite an impact. He still has not.
That is the primary reason the Saints brought Josh Hill to town. Don't expect Hill to surpass Higgins though. The Saints are always loyal to their guys, and Hill provides nothing that Higgins does not.
Grade: D
Ryan Lacy, CB, Utah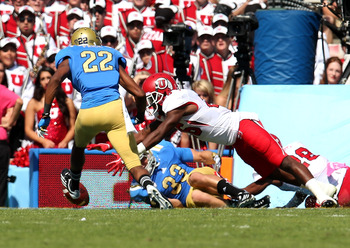 Stephen Dunn/Getty Images
Ryan Lacy is a talented corner. But he went undrafted for a reason.
He's smaller than the ideal corner would be. With that, he lacks physicality and effort to hit anyone. In fact, he seems to shy away from contact. In the run game, he generally shies from contact.
He's primarily a zone corner, which isn't a great fit for the Saints' new defense. When asked to play press coverage at Utah, he too easily gave ground to the receiver and failed to throw receivers off their routes from the release. He also struggles to stay with receivers at the stem of their routes.
Finally, despite being a good zone corner, his ball skills are lacking. That is not an ideal fit for a cornerback prospect.
Grade: C
Rod Sweeting, CB, Georgia Tech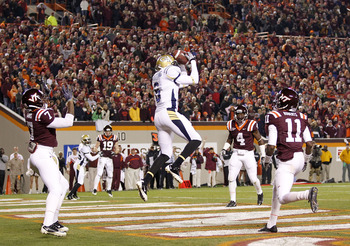 Geoff Burke/Getty Images
Rod Sweeting is an underrated corner from Georgia Tech. He likes to play physically at the line of scrimmage and rides receivers down the field.
He also has nice ball skills, which allow him to finish well. That, of course, is a key to any great cornerback play.
Sweeting will face a tough road ahead to make the Saints roster in the fall. But he's certainly capable of stepping up with his unique skill set.
Grade: B
Keavon Milton, TE, Louisiana-Monroe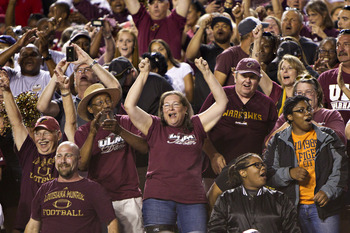 Wesley Hitt/Getty Images
Keavon Milton was a standout at Louisiana-Monroe in his senior season as the Warhawks made waves around college football in September.
At 6'4" and 293 pounds, Milton is huge for the tight end position. He may as well be a tackle prospect. If the team was looking for a blocker at the position than it was a good move.
Perhaps the team will move him to tackle or guard in training camp.
Grade: C
Elliot Mealer, C, Michigan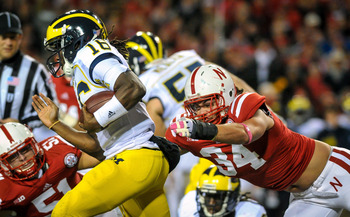 Eric Francis/Getty Images
Elliot Mealer started 50 games at Michigan. The redshirt senior was a key cog in one of the nation's best offensive lines, which helped Denard Robinson and Co. become an explosive offense in the Big Ten.
For a team that needed to develop a backup center—in the event that Brian de la Puente regresses, gets hurt or is not re-signed in the 2014 offseason—Mealer's experience is a positive for him in regards to becoming a quality NFL center.
For now, he ought to be a tremendous backup.
Grade: B
Eric Martin, OLB, Nebraska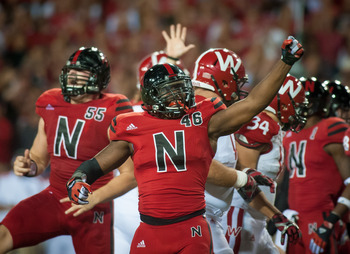 Eric Francis/Getty Images
Eric Martin was a defensive end at Nebraska who will transition to outside linebacker in the Saints' 3-4 system in 2013. Based on the fact that Martin was not drafted, it is obvious that teams did not consider him one of the finest pass-rushers in this draft.
Yet Martin had 8.5 sacks as a senior for the Cornhuskers. There's no doubt that Martin has an ability to get to the quarterback.
Can Martin become one of the Saints' dynamic pass-rushers? It is possible.
Grade: B
Tim Lelito, OG, Grand Valley State
Tim Lelito started 45 consecutive games at Grand Valley State. Impressively, the Lakers averaged 474.5 yards per game and 41.5 points per game.
Of course, none of that is possible without a great offensive line. Lelito was the finest member of that unit.
Considering how little depth the Saints have at offensive guard, signing an impressive lower-level guard made too much sense for the Saints.
Grade: B+
Keep Reading

New Orleans Saints: Like this team?