April Report Cards for New York Mets' Top 10 Prospects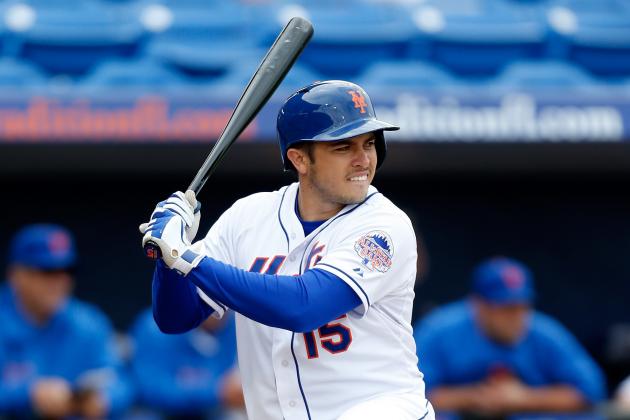 Chris Trotman/Getty Images

The New York Mets haven't given their fans much to smile about in this early 2013 season, as Terry Collins and Co. are 3-7 in their last 10 games and 11-15 on the year. The bullpen has reared its ugly head again, and the bats have been fading fast after an unexpected hot start, but the Mets and their fans have plenty to look forward to.
No, I'm not talking about this season's big league club, nor am I talking about Matt Harvey, the one consistent bright spot on this year's roster. I'm referring to the surprisingly impressive crop of prospects that the organization is grooming in the lower ranks.
Under Sandy Alderson, the landscape of the Mets minor league system has undergone a massive overhaul. The franchise now has more promising pitching prospects than at any other time over the last two decades—and the hitters aren't too shabby either.
It's hard to keep up with the Las Vegas 51s, Binghamton and St. Lucie Mets, Savannah Sand Gnats and the Brooklyn Cyclones, so here you can find complete April grades for the Mets top prospects across multiple levels of play.
**(Statistics are via baseballreference.com and fangraphs.com)**
Begin Slideshow

»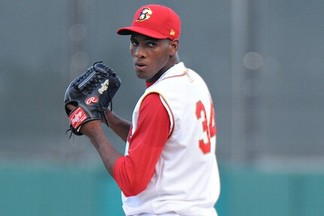 Photo Credit: ESPN.com
Luis Mateo is largely unknown amongst the general population of New York Mets fans, but he has the stuff to make a name for himself in the future.
The right-hander's career started off on a tough note after he was signed by the San Francisco Giants in July of 2008 and subsequently saw his contract voided shortly thereafter due to what the Giants perceived as an elbow issue (via ESPN's Adam Rubin). Following his very brief appearance in San Fran, in which he didn't even see the field, it was revealed that Mateo was in fact about two years older than his birth certificate indicated.
Of course, Mateo had to pay the piper for providing false documents and was suspended for a year. When his suspension was over, he tried out for the Mets and was signed to a $125,000 deal (also according to Rubin's above report).
Last season with Brooklyn, Mateo showed great potential in terms of his K/9 ratio (11.4) and K:BB ratio (9.44:1). He finished 2012 with a 2.45 ERA, but has since seen that number jump to 3.72 in St. Lucie and Binghamton this season.
Due to his small arsenal of pitchers, Mateo isn't likely to pan out as a starter, but given his propensity to miss bats, he could be a late-inning relief pitcher when he develops more.
April Grade: C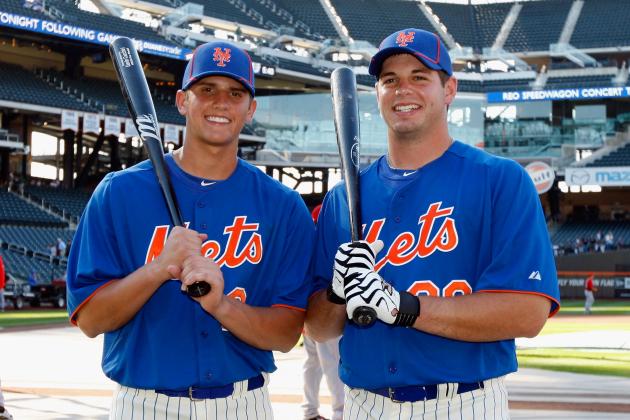 Mike Stobe/Getty Images
Cecchini pictured left
Gavin Cecchini doesn't get much press around the New York Mets organization, but the No. 12 overall pick in the 2013 MLB June Amateur Draft has plenty to like about him.
Although he's going not going to hit for much power, many project him to pan out as an above-average hitter, mostly because of his ability to hit for average and his gap-to-gap line drive power. We'd have seen more of that last season in Low-A ball if he hadn't suffered a fractured finger in his fifth game with Brooklyn.
Unfortunately, we haven't seen Cecchini in a game this season, as the Cyclones have yet to begin the season and won't do so until June. So for now, Cecchini is an incomplete.
April Grade: Incomplete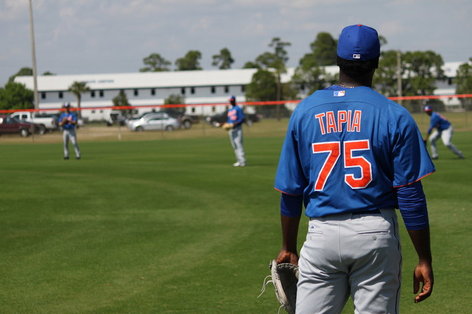 Photo Credit: Amazinavenue.com
Domingo Tapia is an interesting prospect. Like the pitcher that came before him on this list, he is a product of the Dominican Republic. He hasn't shown quite the strikeout rate of his countryman, but he has a higher velocity fastball, and he also possesses a changeup and a slider—the former of which is much better than the latter.
Tapia has shown solid stuff this season in St. Lucie, posting a 2.49 ERA through five starts with the Mets minor league affiliate. A sub-2.50 ERA is a pretty good indication that he's performing well this season, but he has averaged just about five innings per start in High-A ball.
However, if we throw out his second start of the year, in which he managed to record just two outs while issuing four free passes, a hit and three earned runs, Tapia's ERA would stand at a paltry 1.46.
He's prone to being erratic, but that problem often diminishes with experience.
April Grade: B-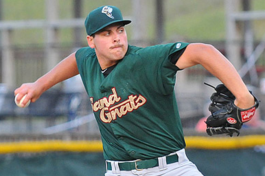 Photo Credit: Metsmerizedonline.com
Michael Fulmer was bitten by the injury bug before his minor league season began, but he's too good of a prospect to leave off this list, despite not playing a game in 2013.
Following a wildly successful 2012, in which he went 7-6 with a 2.74 ERA and 101 strikeouts in 108 innings, Fulmer hit the shelf when he underwent surgery on his right knee thanks to a torn meniscus (via MLB.com's Anthony DiComo).
Meniscus injuries seldom turn out to be serious—just ask Los Angeles Lakers small forward Metta World Peace, who returned from the injury in just two short weeks this season. Obviously, these are two very different circumstances and the New York Mets are going to treat Fulmer like a piece of fine china before they run him back on the bump, but meniscus issues don't tend to linger.
In fact, Fulmer is well on his way to pitching again, according to his Twitter feed:
Now just gotta make a few outings and then back at it!!
— Michael Fulmer (@MFulmer12) April 22, 2013


April Grade: Incomplete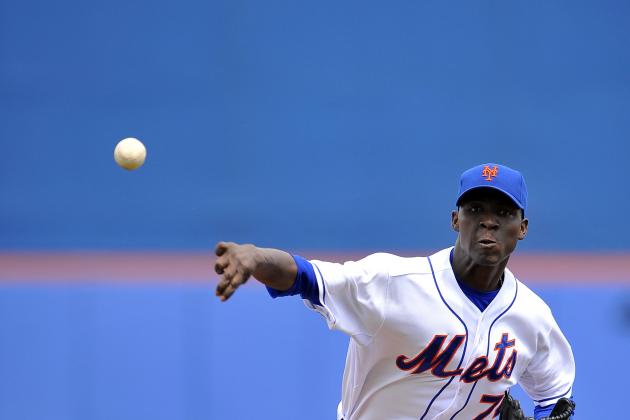 Brad Barr-USA TODAY Sports

The fourth member of the 22-and-under pitching prospect club is Rafael Montero, whose funky, slightly flatter than three-quarters delivery is going to give hitters trouble throughout what should be a lengthy career.
Montero has been unheralded during his time in the minors, which is a bit of a surprise given that he was consistently shown that he has the goods to get hitters out at the next level. In 2011, at just 20 years old, Montero posted a 2.15 ERA in rookie ball, Low-A ball and the Dominican Summer League. Last season, in Savannah and St. Lucie, Montero started 20 games and saw his ERA take a moderate jump to 2.36.
This season, Montero has been on the money through his first five starts, winning three-of-four decisions and racking up 35 strikeouts in 27.2 innings pitched. He isn't just pitching well right now; he's shutting hitters down. His .795 WHIP is good for top-10 in the Eastern League, and he hasn't shown any signs of letting off the gas.
April Grade: A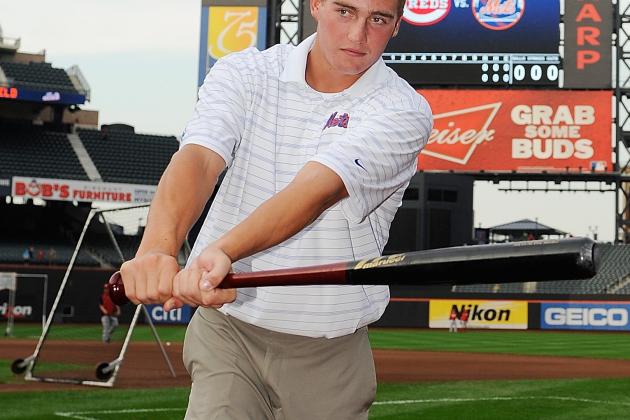 Patrick McDermott/Getty Images

The khaki pants and polo don't make Brandon Nimmo look like much of a top-prospect, but the Wyoming native and first outfielder on this list has put up some great numbers at the dish through 23 games with Savannah as a 20-year-old.
In 107 plate appearances this season, Nimmo is hitting .322 and is getting on base at a .421 clip. The power hasn't been there thus far, but his ability to get on base has resulted in him scoring 22 runs for the Sand Gnats. He isn't just doing it with the bat, either, as he's yet to make an error in 44 chances in center field.
One concern for Nimmo this season is that his BABIP is an astronomical .424, meaning that his average may see a decline in the near future. But that is likely just another ebb and flow of a tediously long baseball season.
Nimmo won't be patrolling the outfield at Citi Field for at least a couple more seasons, but given the New York Mets lack of both depth and talent in the outfield, Terry Collins must be hoping that Nimmo hones his skills sooner rather than later.
April Grade: B+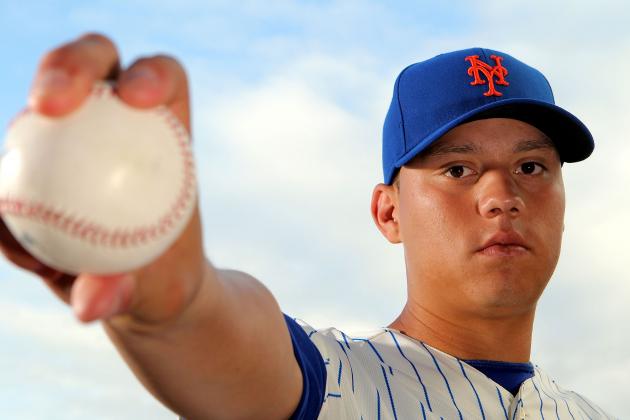 Marc Serota/Getty Images

Labeling Wilmer Flores as a second baseman needs to be accompanied by a disclaimer, seeing as the Venezuelan prospect has notched time at every infield position throughout his five-year(!) minor league career. At just 21 years old, Flores has been in the New York Mets system since he was just a pup at 16 years old, and he is the first member of this list to don a Las Vegas 51s uniform.
After an eye-opening 2012, in which he hit .300 to go along with 18 homers and 75 RBI in High-A and Double-A, Flores has yet to pick up where he left off. He has 25 hits in 24 games, but his even K:BB ratio just isn't going to get the job done at any level.
His power has been absent in this early season, as shown by his disappointing one home run, but the season is still in its infancy, and Flores could turn himself into an option for the Mets later this summer if he finds another gear before then.
However, Flores' main issue is his position in the field. He's currently spending most of his time at second base in Las Vegas, but Flores is just too big for the position at 6'3" and 190 pounds. The size is what is so attractive about Flores, as many predict that his power numbers will take a jump when his frame fills out, but that's both a blessing and a curse.
April Grade: C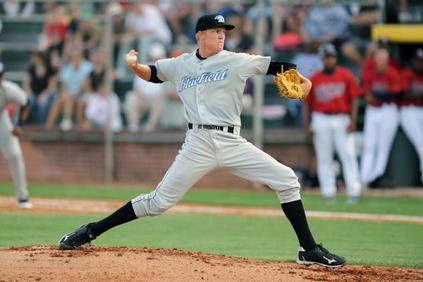 Photo Credit: New York Daily News
Now that Matt Harvey is dominating hitters in the big leagues and is no longer a prospect, 20-year-old right-hander Noah Syndergaard is officially the No. 2 pitching prospect in the New York Mets minor league system.
The Mansfield, Texas native strutted his stuff in the Toronto Blue Jays organization last season, when he registered a 2.60 ERA in 27 appearances (19 starts) and a 10.6 K/9 ratio. His numbers have been a tick worse this season, but that's only due to one horrific outing, when he allowed seven earned runs on eight hits in just three innings.
As it stands, Syndergaard's ERA sits at 3.24. Sans his one poor outing against Minnesota, Syndergaard's ERA is a brilliant 0.82 through 22 innings. Unfortunately for Syndergaard and his full body of work, statistical outliers are not excluded from the final line.
Minor league numbers are always tricky to evaluate, but Syndergaard has all the physical tools to be a front-end starter in Major League Baseball.
April Grade: B+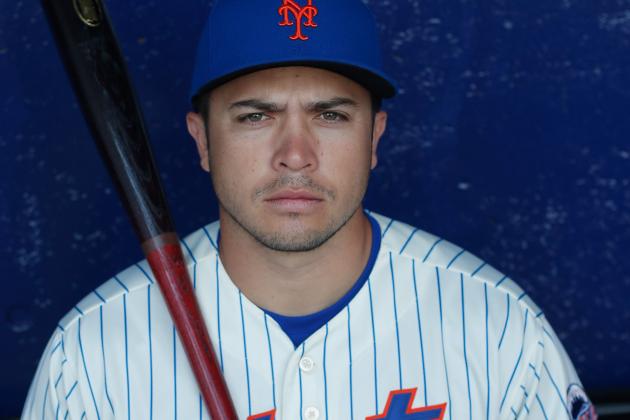 Chris Trotman/Getty Images

New York Mets fans held their collective breath when the news broke that Travis d'Arnaud had taken a foul ball off the left foot that resulted in a fractured first metatarsal. Come to think of it, Mets fans are still holding their collective breath all around the five boroughs as ESPN's injury guru Stephania Bell wrote that the mishap will put MLB.com's No. 6 prospect in the league on the shelf for two months.
This is concerning—very concerning. After tearing his PCL at the tail end of 2011, d'Arnaud has now suffered his second significant injury in about 10 months. Catchers take enough of a beating throughout their careers, and now d'Arnaud has an unwelcome jump start on the other young catching prospects throughout the league.
Prior to his injury, d'Arnaud was hitting just .250 through 12 games, but he demonstrated a superior eye at the plate, as he walked in nearly 25 percent of his plate appearances. The Mets didn't trade a reigning Cy Young winner for d'Arnaud's plate discipline, but it's good to see that his concept of the zone is coming along.
Although most of the numbers weren't there for the 24-year-old, he did score 12 runs in as many games. This guy is going to be an impact player for the Mets if he can stay on the field, so keep your fingers crossed, Mets fans.
April Grade: C-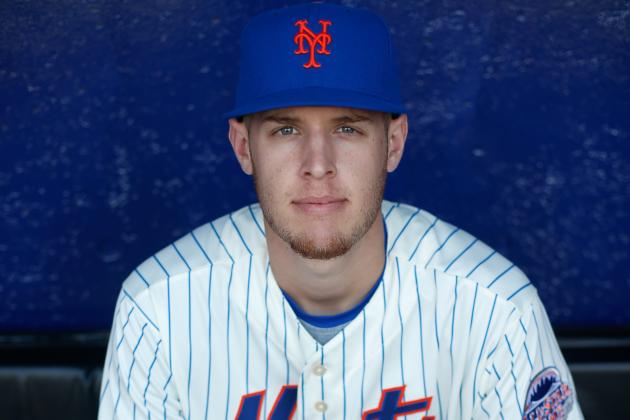 Chris Trotman/Getty Images

Make no mistake about it: Zack Wheeler is off to a unsightly start for the Las Vegas 51s. Following the oblique injury that threw his spring training off track, Wheeler has had trouble regaining command of his arsenal of pitches. That's not to say that the injury is still lingering, but it's certainly a possibility.
Wheeler has got progressively worse over his last three outings, allowing three, four and five earned runs, respectively. His 4.80 ERA paints a picture that his best stuff has been absent for the majority of the campaign, but his 10.8 K/9 rate serves as consolation.
Here's some more consolation: Wheeler's BABIP is an unfortunate .346 this season. Whether that's because of poor defense behind him or exceptionally bad luck, it's likely that number will regress toward the mean.
However, Wheeler turned in his best start of the season on Tuesday, as he whiffed eight while hurling 6.2 innings of one run ball.
Sit tight with him. He seems to be getting back on track.
April Grade: C-