Texas A&M Football: Aggies Most Likely to Be Selected in the 2014 NFL Draft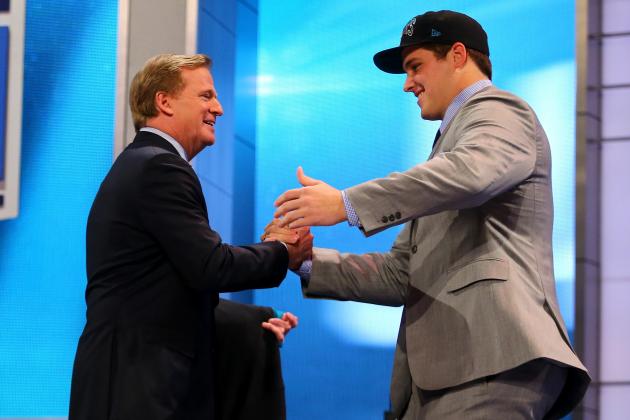 Al Bello/Getty Images

The Texas A&M Football team had five players selected in the 2013 NFL draft, including the No. 2 overall pick in offensive tackle Luke Joeckel. The 2014 draft should see multiple Aggies selected again.
The Texas A&M football program has produced top-10 draft picks in three consecutive drafts for the first time in school history. The Aggies have two All-Americans returning to their 2013 team, so Aggie fans should expect that streak to move to four in 2014.
The Aggies' move to the Southeastern Conference and early success in the conference has resulted in improved recruiting. As long as Kevin Sumlin stays in Aggieland and the Ags continue to have success in the SEC, they should continue to provide top-flight talent to the NFL for years to come.
This is a look at the players from A&M who are most likely to be selected in the 2014 draft. Since no one knows who is going to declare for the NFL early, this list was limited to the seniors on the A&M team.
Begin Slideshow

»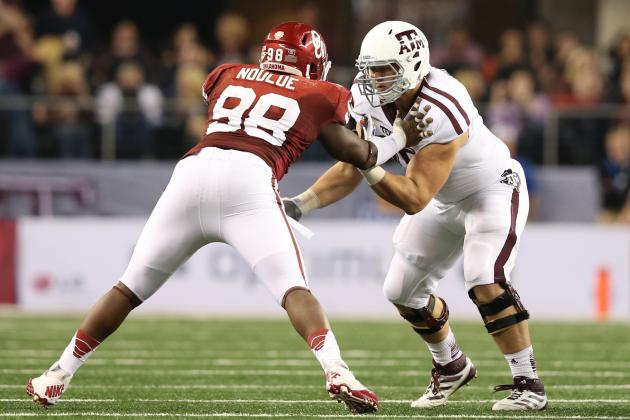 USA TODAY Sports

Jake Matthews is the Aggie most likely to continue the streak of top-10 draft selections from A&M. He was an All-American in 2012 at right tackle and flipped over to left tackle for the 2013 season.
Matthews was dominant at left tackle in the spring. He should once again compete for All-American honors in 2013 and will likely be a candidate for the Outland Trophy.
Some people believe that Matthews is one of two future first-round draft picks on the Aggies offensive line.
Joeckel goes # 2. Cedric O (@nuff_ced70) will go in 1st rd. Jake Matthews will go 1st rd. Jarvis Harrison will go top 3 rd. #AggiesInTheNFL
— BrandonLeone (@BrandonLeone) April 26, 2013
The Aggies should again have one of the top offensive lines in the country in 2013, and Matthews will be the anchor at left tackle.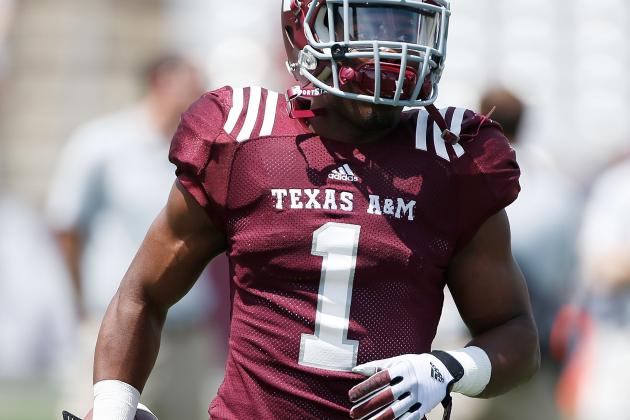 Scott Halleran/Getty Images

Ben Malena is one of the better running backs in the SEC, yet few people know about him. He is overshadowed on his own team by quarterback Johnny Manziel and wide receiver Mike Evans.
Malena quietly goes about his business, getting the job done as a solid all-around back. In 2012, Malena rushed for 808 yards and eight touchdowns while averaging 5.9 yards per carry.
He led all Aggie running backs with 18 receptions and added one receiving touchdown. Malena is the best pass-blocker at running back on the Ags' roster.
He will likely remind pro scouts of Florida running back Mike Gillislee. The Miami Dolphins made Gillislee their fifth-round selection. Do not be surprised to see Gillislee stick in the NFL for a long time.
He, too, is good in every aspect of playing running back. There is something to be said for being very good at every facet of your job.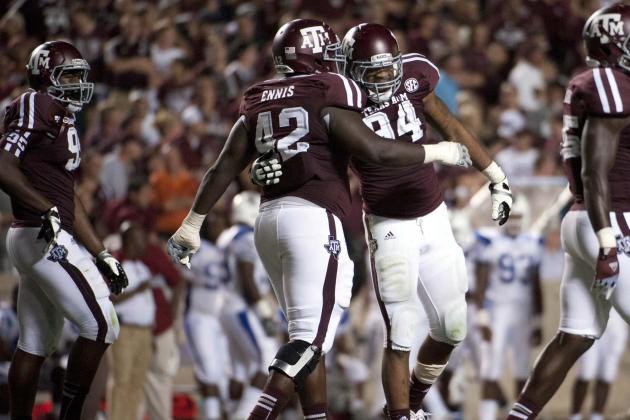 Brendan Maloney-USA TODAY Sports

Kirby Ennis is a 6'4", 300-pound defensive tackle. He started 11 games at nose guard in 2012. Ennis has the size and athleticism that NFL teams crave in their interior linemen.
Ennis finished the 2012 campaign with 24 tackles and a sack. He is a solid run-stopper in the middle for the Aggies.
He does not play a glamour position, but Ennis is a big part of the Ags' run defense. Ennis is a possible late-round draft selection in the 2014 draft.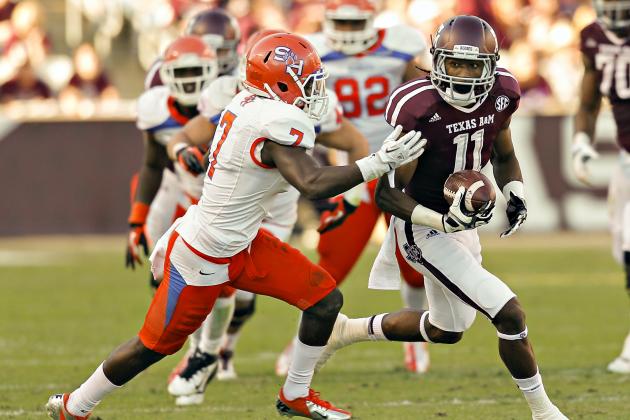 Bob Levey/Getty Images

Derel Walker did not start a single game at wide receiver in 2012 when he caught eight passes for 85 yards. He is projected to be a starter at either the slot or the outside in 2013.
Receivers put up big numbers in Kevin Sumlin's system, and Walker is no different. Aggie fans should expect him to catch around 40 passes in 2013.
Walker's 6'2", 185-pound size and his versatility to play in the slot or outside should appeal to scouts. If he puts up big numbers as a senior in 2013, do not be surprised to see some NFL team take a chance on him late in the draft.