Ranking the Top 10 MLB Pitchers Who Never Reached 200 Career Wins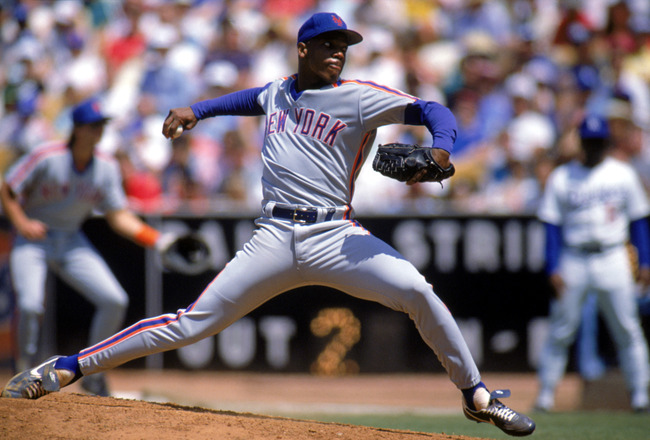 Mike Powell/Getty Images
On Tuesday in Atlanta, Braves starting pitcher Tim Hudson will chase the elusive milestone of 200 wins for third time this season.
If Hudson records a win over the Nationals at home, he will become the 110th pitcher in Major League Baseball history to earn a spot in the 200-win club.
He would join Jamie Moyer, Andy Pettitte and Roy Halladay as the only active pitchers to reach 200 wins—a number that is becoming harder and harder to reach by the decade.
While Hudson will eventually reach the 200-win mark sometime this season, some of the game's greats never got a chance to celebrate win No. 200. This article takes a look at the 10 best pitchers in MLB history to never reach 200 wins, and you would be surprised how many greats of the game are actually included.
10. Frank Viola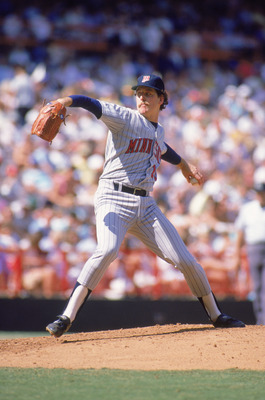 Tim DeFrisco/Getty Images
Career Win Total: 176
Years in MLB: 15
Frank Viola, the Most Valuable Player of the 1987 World Series and 1988 AL Cy Young Winner, had a strong seven-year career in Minnesota before moving to the National League.
Viola left the Twin Cities in 1989 for the Big Apple, where he joined up with the Mets.
He was a productive member of the Mets rotation for two-and-a-half seasons before heading back to the American League to pitch for the Red Sox in 1992.
Before he ended his career with the Blue Jays in 1995, Viola had two 20-win seasons and six seasons in which he won over 15 games.
However, he only made 44 starts and won 13 games in his final four seasons in the league, which eventually halted his progression toward 200 wins.
9. Dennis Eckersley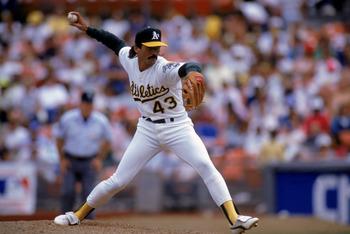 Otto Greule Jr/Getty Images
Career Win Total: 197
Years in MLB: 24
Dennis Eckersley was ahead of his time when he switched from a starting pitcher to a closer in 1987 after he joined the Oakland Athletics.
Had Eckersley continued on as a starter, he would have had no business being on this list.
Instead, he is on this list because he is three wins short of the illustrious 200-win mark.
In his years as a starter with the Indians, Cubs and Red Sox, Eckersley had just one 20-win season, but he recorded a win total in double digits in all but two of his first 11 seasons in the league.
8. Bret Saberhagen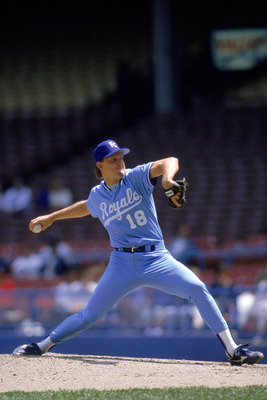 Rick Stewart/Getty Images
Career Win Total: 169
Years in MLB: 16
Bret Saberhagen seemed like a sure thing to reach at least 200 wins in his career after his breakout season in 1985 with the Kansas City Royals.
In 1985, Saberhagen went 20-6 with a 2.87 ERA and won both the World Series Most Valuable Player and the AL Cy Young.
After spending eight seasons in Kansas City, he made a move to the Mets, a team that he spent a tumultuous three-and-a-half seasons with.
After leaving New York, Saberhagen had a stint in Colorado before moving to Boston, where he won 26 games in four seasons as a member of the Red Sox.
7. Ed Walsh
Photo via sabr.org
Career Win Total: 195
Years in MLB: 14
Most of us living today do not remember the pitching exploits of Ed Walsh, and for good reason, because he last pitched in the majors in 1917.
Walsh started his career in 1904 with the Chicago White Sox, spending 13 seasons on the South Side of Chicago before playing his final season in Boston.
During his time in Chicago, the man known as "Big Ed" had four 20-plus win seasons and even reached the improbable 40-win mark in 1908.
In that 1908 season, Walsh made a career-high 66 starts and threw 42 complete games.
6. David Cone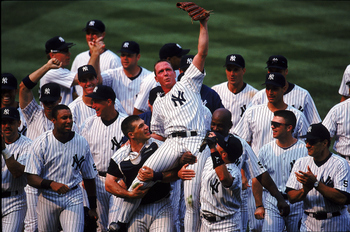 Vincent Laforet/Getty Images
Career Win Total: 194
Years in MLB: 17
David Cone won five World Series titles, pitched in five All-Star games and won the 1994 AL Cy Young Award, but he never reached 200 wins.
Cone's illustrious career saw him spend most of his time in New York with both the Yankees and the Mets.
The everlasting image of his career came in 1999 when he pitched a perfect game on June 18 against the Montreal Expos at Yankee Stadium.
1999 was also the final season in which Cone recorded a win total in double digits with 12.
5. Don Newcombe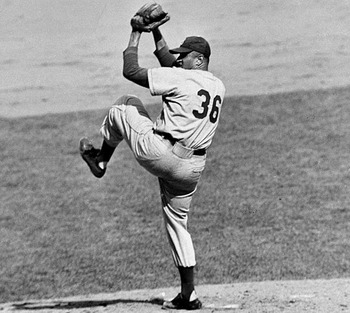 Photo via sikids.com
Career Win Total: 149
Years in MLB: 10
Don Newcombe was one of the faces of the Brooklyn Dodgers before they made their move out West in 1958.
Newcombe exploded on to the baseball scene in 1949 by going 17-8 and pitching in 19 complete games. That season, he won the NL Rookie of the Year Award and was named to the National League All-Star Team.
Newcombe's career win total would have been much higher than 149 had he not spent two years in the military during the Korean War.
After he returned from military duty, he had his two best seasons in 1955 and 1956, going a combined 47-12.
Newcombe never won a game as a member of the Los Angeles Dodgers in 1958. Then he was shipped off to Cincinnati, where he played for two-and-a-half seasons before retiring in 1960.
4. Addie Joss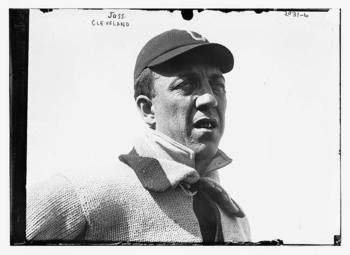 Photo via loc.gov
Career Win Total: 160
Years in MLB: 9
Addie Joss' career was one of the shortest, most successful careers in the early days of baseball.
Joss pitched for nine seasons in Cleveland, from 1902 until 1910, before he contracted meningitis and passed away before the 1911 season.
He was posthumously inducted into the Baseball Hall of Fame in 1978 for his nine seasons, in which he produced a 1.89 career ERA and a 160-97 overall record.
3. Fernando Valenzuela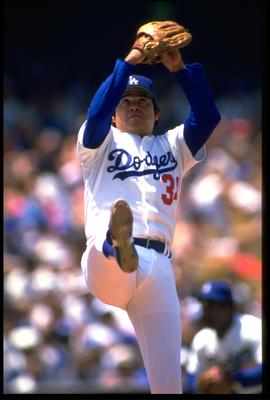 Mike Powell/Getty Images
Career Win Total: 173
Years in MLB: 17
Fernando Valenzuela may have pitched 17 seasons in the majors, but he is known most for his 11-season stint with the Dodgers from 1980-1990.
Fernando-Mania took the world by storm in 1981. The lefty won the World Series Most Valuable Player, NL Cy Young and NL Rookie of the Year on the way to collecting the 1981 World Series title.
Valenzuela's highest win total came in 1986, when he went 21-11 and pitched in 20 complete games.
After leaving the Dodgers in 1991, Valenzuela pitched for the Angels, Reds, Orioles, Phillies, Padres and Cardinals before calling it quits after the 1997 season.
2. Dwight Gooden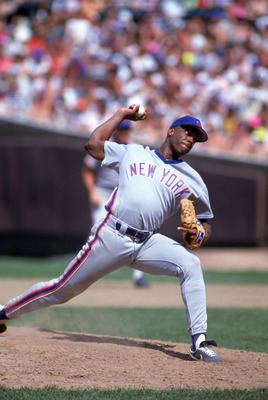 Jonathan Daniel/Getty Images
Career Win Total: 194
Years in MLB: 16
Another pitching star of the 1980s to not reach 200 wins is Dwight Gooden.
Gooden won over 10 games in nine of his first 10 seasons with the New York Mets and was on track to become one of the highest-winning pitchers in baseball history.
However, the latter stages of Doc's career were not as successful as his first decade in the majors. The four-time All-Star and 1985 NL Cy Young Award winner amassed just 43 wins in his final five seasons with the Yankees, Indians, Astros and Devil Rays.
1. Sandy Koufax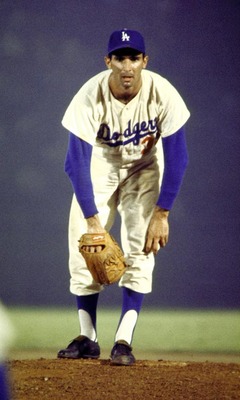 Photo via Sports Illustrated
Career Win Total: 165
Years in MLB: 12
Sandy Koufax spent all 12 of his seasons in the majors with the Dodgers franchise, three of which were in Brooklyn before the team moved out to Los Angeles.
Koufax's last two seasons were his most successful in Dodger Blue, as he went 26-8 in 1965 and 27-9 in 1966.
After the 1966 World Series, Koufax retired as one of the most successful pitchers in MLB history.
He won three NL Cy Young Awards, three World Series titles, two World Series MVPs, the 1965 Sports Illustrated Sportsman of the Year and was named to the All-Star team six times.
Which pitcher do you think belongs on top of this list?
Comment below or leave me a comment on Twitter, @JTansey90.
Keep Reading