Stock Up, Stock Down on MLB's Top 10 Prospects After April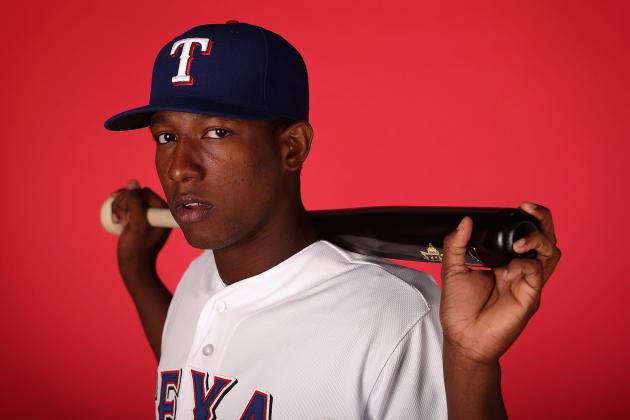 Christian Petersen/Getty Images
How is baseball's top prospect faring after one month in Triple-A?
One month in a baseball season is just a mere blip on the radar in the grand scheme of things. It does, however, give us a least some semblance of a sample size by which we can properly judge where players stand.
In the prospect world, you won't really find much of a change in the value or scouting report of a player after just one month. Unless there are just glaring weaknesses that stand out, or a notable adjustment leading to better success, minor leaguers are right where they should be at this moment.
For the best of the best in the prospect world, there are so many eyes watching every little thing that you do. It is easy to panic because Jurickson Profar has a two-game stretch in which he doesn't get a hit, or Oscar Taveras only hits one home run in two weeks.
Just remember that these players are elite talents for a reason and will make adjustments if they have to.
Here is a look at the stock for the top 10 prospects in baseball (as ranked before the season), as well as a few notable names to keep an eye on at the end.
Note: All stats courtesy of MiLB.com unless otherwise noted and are through games as of April 27. Prospect rankings are based on my own list.
Begin Slideshow

»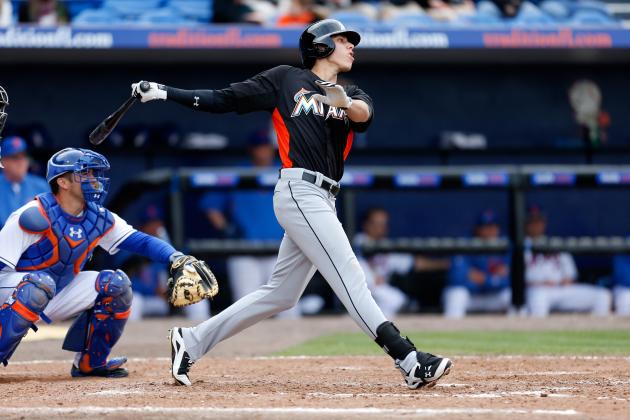 Chris Trotman/Getty Images
Christian Yelich has battled plantar fasciitis and only played in nine games this season.
| G | AVG | OBP | SLG | H | R | 2B | 3B | HR | RBI | BB | K | SB |
| --- | --- | --- | --- | --- | --- | --- | --- | --- | --- | --- | --- | --- |
| 9 | .220 | .256 | .317 | 9 | 4 | 4 | 0 | 0 | 6 | 2 | 18 | 1 |
Stock: Down
It is hard to have a proper evaluation of Yelich so far this season. The 21-year-old outfielder started the season on the disabled list with plantar fasciitis, the same injury that Albert Pujols is dealing with right now.
As a result of the foot injury, Yelich has only been able to play in nine games. Given the nature of the ailment, it has undoubtedly hampered his ability to swing properly and really drive the ball. That's too bad, because at his peak, he has one of the best swings in the minors.
Given Yelich's talent and natural ability to hit, it would be a surprise to see him stay down too long. Hopefully the foot problem is not one that lingers all year, especially since there is a good chance he could see time in the big leagues if he performs and stays healthy.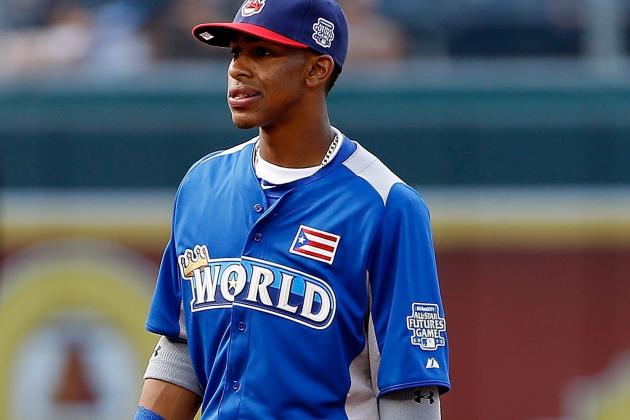 Jamie Squire/Getty Images
Francisco Lindor's all-around game has translated nicely to High-A.
| G | AVG | OBP | SLG | H | R | 2B | 3B | HR | RBI | BB | K | SB |
| --- | --- | --- | --- | --- | --- | --- | --- | --- | --- | --- | --- | --- |
| 21 | .317 | .385 | .439 | 26 | 10 | 4 | 3 | 0 | 6 | 9 | 11 | 7 |
Stock: Up
The key for Francisco Lindor this season will be maintaining his high level of performance into the dog days of August. He was fantastic in his first full season at Low-A Lake County last year, but his numbers (.257/.352/.355) didn't look as strong, other than the OBP, because he was worn out.
This year has been a lot of everything you would expect from Lindor. He is showing great maturity and discipline at the plate, taking pitches and working counts. His baserunning is improving, as he has been successful on seven of nine stolen base attempts.
Lindor will never have better than average (at best) home run power, but he has always been able to drive the ball into the gaps and get his share of extra-base hits. He already has seven in 21 games.
Defensively is where Lindor's game gets elevated. He is a stellar shortstop, with plus range, instincts, arm strength and accuracy, incredible hands and a feel for the position. At just 19 years old, Cleveland's shortstop of the future has had as good a start at High-A as could be hoped for.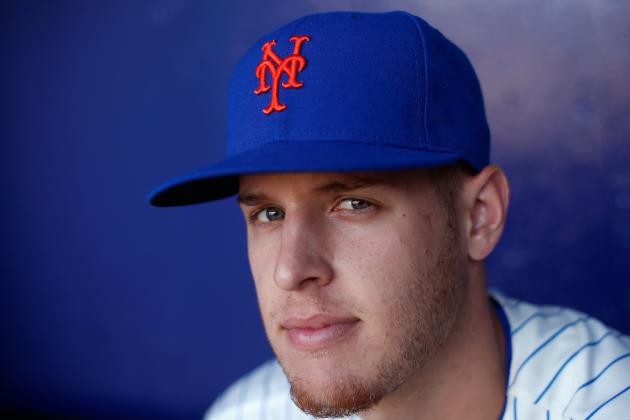 Chris Trotman/Getty Images
Even though Zack Wheeler's numbers don't look good, Las Vegas is a hitter's paradise.
| G (GS) | W-L | ERA | IP | H | R | ER | BB | K | HR | BAA |
| --- | --- | --- | --- | --- | --- | --- | --- | --- | --- | --- |
| 5 (5) | 0-1 | 5.79 | 23.1 | 26 | 18 | 15 | 15 | 28 | 3 | .283 |
Stock: Down
On the surface, yes, Wheeler has had a rough go of things in his first extended taste (if we can call it that, yet) of Triple-A. But don't get overly concerned about his ERA just yet, because Las Vegas and the Pacific Coast League are notorious for being brutal on pitchers.
That said, Wheeler has had some issues that have dropped his stock slightly at the start of the season. Even though the 22-year-old is averaging more than one strikeout per inning, his walk total is very high considering he has only thrown 23.1 innings.
Wheeler has walked three hitters in three of his five starts--he walked six in a start on April 19 and zero in a start on April 14.
The knock on Wheeler coming into the year—and the biggest reason he didn't start the season in New York—was his ability to command the fastball consistently. At least after one month, that is still a problem that hasn't been fixed, which isn't a surprise.
It will be interesting to see what adjustments Wheeler makes in the month of May to get his results much closer to the stuff he can bring.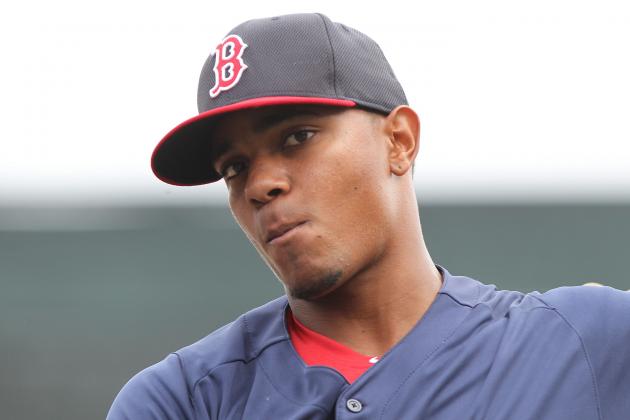 Kim Klement-USA TODAY Sports
After a slow start, Xander Bogaerts is starting to find his footing at Double-A.
| G | AVG | OBP | SLG | H | R | 2B | 3B | HR | RBI | BB | K | SB |
| --- | --- | --- | --- | --- | --- | --- | --- | --- | --- | --- | --- | --- |
| 18 | .308 | .379 | .423 | 24 | 12 | 3 | 3 | 0 | 8 | 9 | 24 | 2 |
Stock: Up
Xander Bogaerts got off to a dreadful start at Double-A Portland this season, hitting just .224 with 11 strikeouts and just two walks after two weeks. Since April 15, the 20-year-old slugger has hit a robust .415/.500/.634 with three doubles, three triples, 13 strikeouts and seven walks.
A natural hitter with big power potential. Bogaerts is always going to have high strikeout totals because he is so aggressive, though he isn't necessarily a hacker. He has the patience and discipline to take a walk.
The fact that Bogaerts has been able to make himself look like he is capable of staying at shortstop, even with fringe-average defense, only helps his stock. You put his offensive potential at that position, and we are talking about one of the 10 best players in baseball at his peak.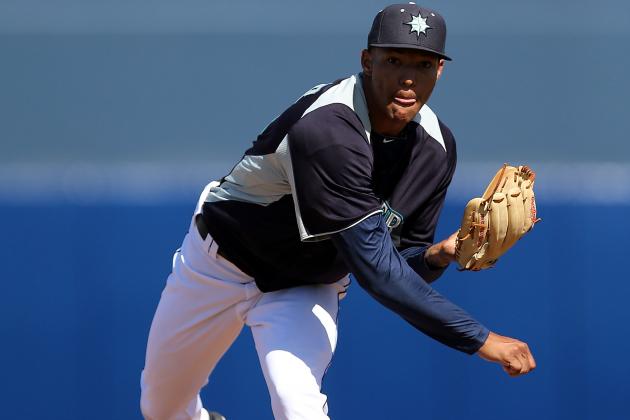 Christian Petersen/Getty Images
Command remains an issue, but Taijuan Walker is missing plenty of bats at Double-A.
| G (GS) | W-L | ERA | IP | H | R | ER | BB | K | HR | BAA |
| --- | --- | --- | --- | --- | --- | --- | --- | --- | --- | --- |
| 5 (5) | 2-2 | 1.55 | 29.0 | 15 | 9 | 5 | 18 | 32 | 2 | .150 |
Stock: Up
Usually a high walk total like the one Walker has would give pause about saying a prospect's stock is up, but in this particular case, I am willing to make an exception because there are a lot of things to be encouraged by.
First, Walker is just 20 years old. I know he is repeating Double-A, but he is still the youngest player in the Southern League by four months. For a pitcher that young to be striking out more than one batter per inning with nearly twice as many innings thrown as hits allowed is impressive.
Walker's power arsenal is still intact. He brings a heavy fastball in the mid-90s with a hammer curveball that is still lacking consistency but has good shape when it's right. His changeup and command are the two biggest things he has to work on right now.
The future is still sky high for Walker, so I am going to give him the benefit of the doubt that some things will get better later this season.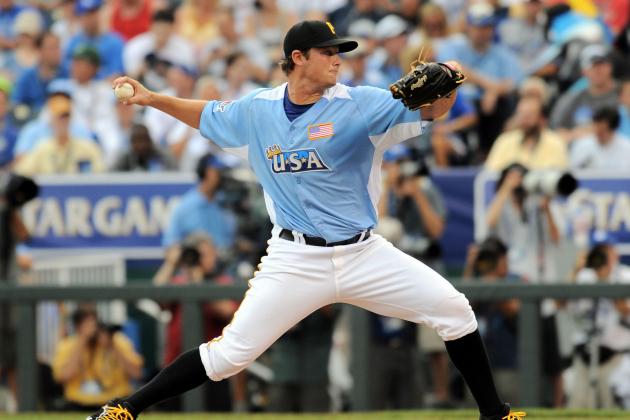 Denny Medley-USA TODAY Sports
Gerrit Cole's stuff remains fine, but consistency isn't there.
| G (GS) | W-L | ERA | IP | H | R | ER | BB | K | HR | BAA |
| --- | --- | --- | --- | --- | --- | --- | --- | --- | --- | --- |
| 5 (5) | 2-1 | 2.31 | 23.1 | 17 | 6 | 6 | 15 | 19 | 1 | .205 |
Stock: Down
Gerrit Cole is an enigma that no one can seem to figure out. On the surface, the right-hander has what it takes to be one of those special prospects who we talk about in a decade as a superstar in the big leagues.
Very few pitchers can match the kind of velocity Cole brings with his heater, a plus-plus changeup and plus slider. Add to that the huge 6'4", 240-pound frame, and you have an ace in the making.
Where Cole tends to fall apart is command and consistency. His fastball is easier to square up the harder he throws it, which he does in situations where runners get on base. There is not a lot of deception in his delivery, so the ball is easy to see out of his hand.
I'm not giving up on Cole putting all of the pieces together and becoming the leader of Pittsburgh's rotation very soon. But my certainty on that happening isn't as strong today as it was at the end of 2012.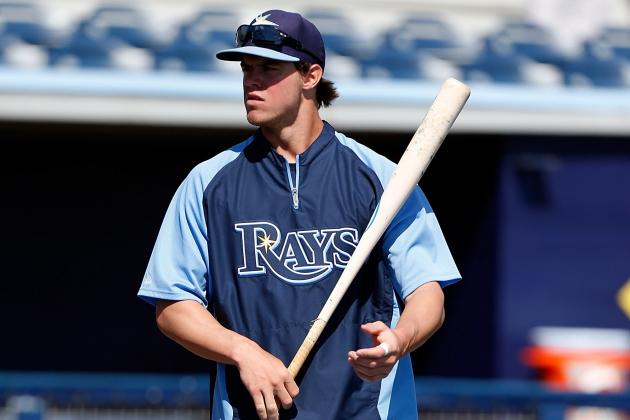 J. Meric/Getty Images
Wil Myers has been on fire for the last two weeks at Triple-A Durham.
| G | AVG | OBP | SLG | H | R | 2B | 3B | HR | RBI | BB | K | SB |
| --- | --- | --- | --- | --- | --- | --- | --- | --- | --- | --- | --- | --- |
| 20 | .316 | .413 | .474 | 24 | 11 | 4 | 1 | 2 | 14 | 13 | 26 | 1 |
Stock: Up
The Tampa Bay Rays are betting a lot on Wil Myers being the missing piece their lineup needs to go after Ben Zobrist and Evan Longoria. That would be a daunting task for most young players, but Myers is a special hitter who will shine in the middle of the order.
Of course, the Rays have to call him up eventually for Myers to prove that. The one knock on Myers right now is the swing-and-miss portion of his game. He struck out 140 times in 522 at-bats last year and already has 26 in 76 at-bats this season.
Yet when you watch Myers hit, his hands and wrists are so quick through the zone and he has great discipline and works deep counts, so the contact he does make is loud and there is a ton of power behind it.
If Tampa's offense doesn't come to life soon, we could see Myers in the big leagues well before June 1.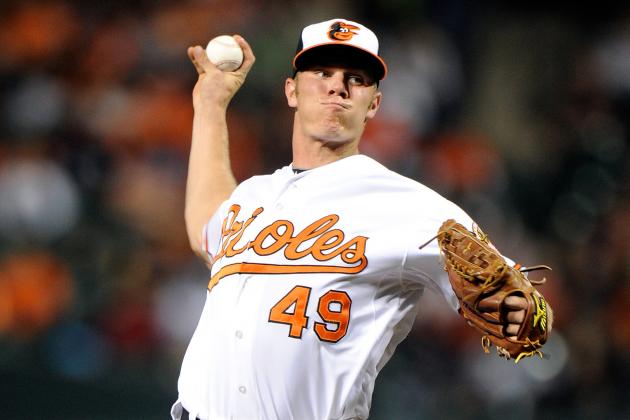 Greg Fiume/Getty Images
Baltimore's worst nightmare could be coming true with top prospect Dylan Bundy.
Stats: N/A
Stock: Down
How quickly things can change in baseball. Dylan Bundy went from being THE talk of the prospect world last season, even as he was only throwing three innings per start, because of the dominance he showed.
Bundy had 40 strikeouts against just two walks and five hits allowed in eight starts at Low-A Delmarva. He was advanced for that level, even as a 19-year-old with no previous experience, because he was the rare high school pitcher with plus command and control already.
The Orioles loved what they saw from Bundy so much that he made it to the big leagues, briefly, at the end of the season. He pitched in two games and seemed poised for a big season in 2013, though one that was always going to start in the minors.
Now, thanks to a mysterious elbow ailment, no one knows when Bundy's season will start. He hasn't pitched since early in spring training and is scheduled to go see Dr. James Andrews on Monday.
Until someone can provide some answers on Bundy, everyone in Baltimore will be biting their fingernails.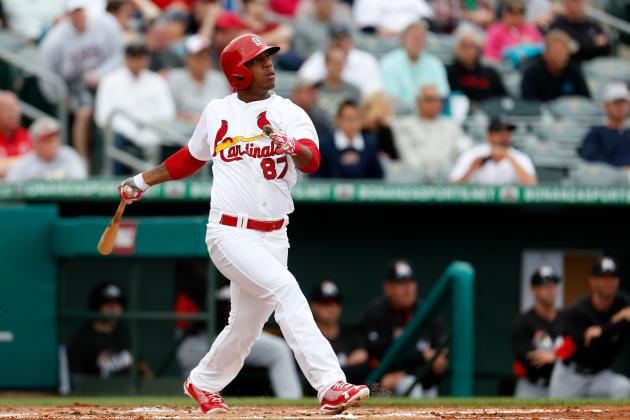 Chris Trotman/Getty Images
Don't panic, St. Louis, Oscar Taveras' power is going to show up soon.
| G | AVG | OBP | SLG | H | R | 2B | 3B | HR | RBI | BB | K | SB |
| --- | --- | --- | --- | --- | --- | --- | --- | --- | --- | --- | --- | --- |
| 16 | .274 | .308 | .371 | 17 | 9 | 3 | 0 | 1 | 6 | 3 | 6 | 3 |
Stock: Even
Admittedly, an even declaration is a cop-out answer. One could look at Taveras' numbers and feel lukewarm, though I would again say that is an overreaction to just a couple handfuls of games played.
Instead, what we should look at are some of the little things. Taveras, even though he isn't driving the ball out of the park yet, also isn't showing any signs of being overmatched at Triple-A. He is the second-youngest player in the Pacific Coast League—behind the No. 1 player on this list—and is making contact to the point where he has just six strikeouts in 62 at-bats.
Taveras is never going to be a player who takes a lot of walks, but because his plate coverage and bat speed are so good, he will hit for plenty of average to have a good on-base percentage. This start suggests a young player feeling his way through an advanced level, and when everything clicks, look out.
And it will click, because Taveras is such a great hitter that it would be a shock to see him struggle over an extended period of time.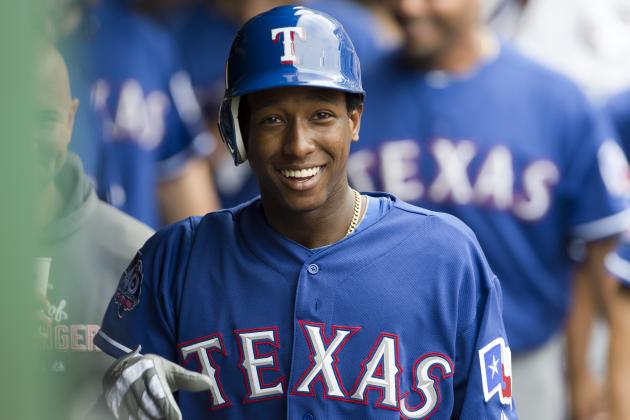 Jason Miller/Getty Images
Even though his batting average isn't where it needs to be, Jurickson Profar is showing all of his other skills at Triple-A.
| G | AVG | OBP | SLG | H | R | 2B | 3B | HR | RBI | BB | K | SB |
| --- | --- | --- | --- | --- | --- | --- | --- | --- | --- | --- | --- | --- |
| 18 | .209 | .329 | .358 | 14 | 9 | 2 | 1 | 2 | 11 | 12 | 15 | 3 |
Stock: Up
The same things that were said for Oscar Taveras can, for the most part, be said about Jurickson Profar. They aren't the same kinds of hitters, so don't expect Taveras to start pumping 25-30 home runs as the season moves along.
But as far as having a slow start and a less-than-stellar slash line, those aspects of their games right now merit the same response. Sometimes even the best players get a little unlucky to start the season, but as long as you can see some signs that it is just a funk, you know it will even itself out.
Profar still has that advanced feel for the game and approach at the plate. He boasts a strong 15-to-12 strikeout-to-walk ratio and is driving the ball with some authority, though he is not doing it regularly quite yet.
Given Profar's talent, maturity, ability to adjust on the fly and hitting skills, that average and slugging percentage are going to go way up before the Rangers decide to bring him up to play...somwhere on the diamond. It just won't be his natural position of shortstop, unless Elvis Andrus suffers an injury.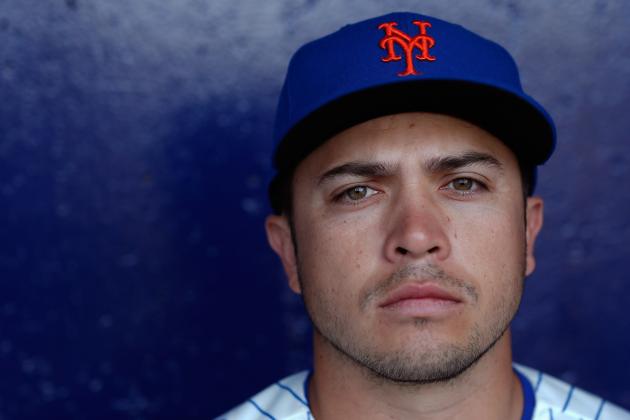 Chris Trotman/Getty Images
Travis d'Arnaud's injury leaves his status very much in doubt.
Stock Up
Joe Ross, RHP, San Diego Padres (Low-A Fort Wayne)
Falling off some lists after an injury-plagued debut season, Joe Ross looks to be back and better than ever after the first month of 2013. He has four starts under his belt, a 3-0 record, 11 hits allowed, 18 strikeouts and eight walks in 20.1 innings pitched.
Ross has a lot of projection left in him, but he can sling his fastball up around 95 already. If he can just stay on the mound, don't be surprised if he winds up high on a lot of revised prospect lists later this year.
Byron Buxton, OF, Minnesota Twins (Low-A Cedar Rapids)
The second overall pick in last June's draft, Buxton was thought to be a toolshed that was going to need a lot of work in the lower levels to tap into that raw potential he showed in high school.
Instead, Buxton has taken to his first full-season assignment rather well. He is hitting .391/.511/.639 with three home runs and a 15-to-18 strikeout-to-walk ratio. He is still years away, but this start is an encouraging sign that maybe he can move faster than originally anticipated.
Stock Down
Courtney Hawkins, OF, Chicago White Sox (High-A Winston-Salem)
It has to be noted that the reason Courtney Hawkins' stock is down is because the White Sox were too aggressive with him based on a strong, albeit small 59-game sample size last season.
Hawkins was seen as a player who could take off right away thanks to big raw power and athleticism, or flop out of the gate because he was so raw and had a lot of swing-and-miss in his game.
The latter has proven to be true out of the gate in 2013, as Hawkins looks lost at the plate. He does have six home runs, but just 11 total hits with 43 strikeouts in 68 at-bats. Hopefully the White Sox are able to either send him down without ruining his confidence or work with him to figure something out before he gets completely lost.
Travis d'Arnaud, C, New York Mets (Triple-A Las Vegas)
Even though he is just 24 years old and could have a long, storied career ahead of him, Travis d'Arnaud appears to be one of those unlucky players whose body isn't going to cooperate with him.
Thanks to suffering a fractured bone in his foot on April 17, d'Arnaud once again finds himself on the disabled list just as he was on the front steps of the big leagues. He would likely have been called up by Toronto last season if not for a knee injury that ended his season last June.
Depending on how quickly d'Arnaud heals from this most recent setback, 2013 could be the fifth time in seven minor league seasons that he has played in less than 100 games. In fact, every year he hasn't made it to the 100-game mark, he hasn't played more than 71 games.
D'Arnaud is the best catching prospect in baseball when healthy, but given his durability issues—no, not all of the injuries are his fault—you have to wonder how his body will hold up in the daily grind of a 162-game season.
For more prospect talk, or anything else you want to talk about regarding baseball, feel free to follow me on Twitter.