The 2013 Post-Draft Wish List of the San Francisco 49ers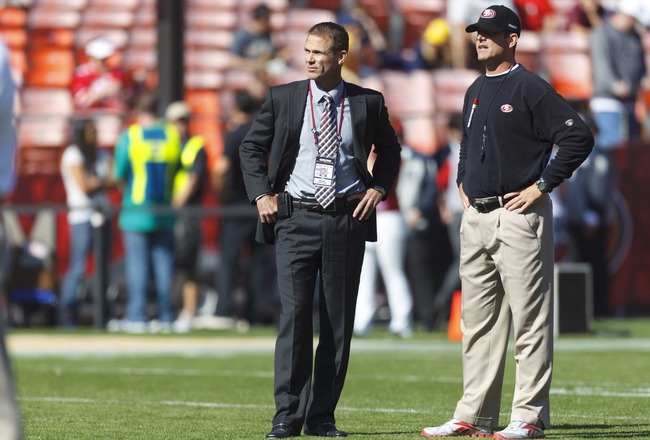 Jason O. Watson-USA TODAY Sports
And just like that, the 2013 NFL draft is in the books.
The San Francisco 49ers had a tremendous haul, assertively addressing the defensive side of the football.
With three of their first four picks in 2013, GM Trent Baalke pulled the trigger on high-profile defensive prospects, adding Eric Reid (LSU), Tank Carradine (Florida St.) and Corey Lemonier (Auburn).
San Francisco also had a chance to add some offensive talent in wide receiver Quinton Patton of Louisiana Tech and running back Marcus Lattimore of South Carolina (via Associated Press h/t Yahoo Sports). These are two potential role players that had much higher grades than their draft slot would indicate.
Overall, it was another strong April for the one-time NFL Executive of the Year.
Though, shortly after the final selection, a lot of good undrafted players started flying off the shelves rather quickly.
The 49ers were not unprepared, acquiring the No. 1 target on their post-draft wish list in Olympian Lawrence Okoye.
But is there even more the 49ers can do to get better?
Head through the following slides for post-draft options the San Francisco 49ers can explore in 2013.
Charles Woodson, DB (Free Agent)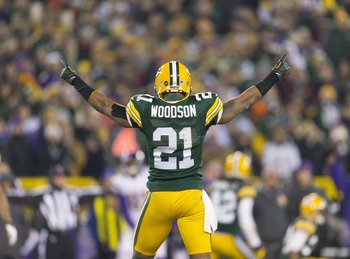 USA TODAY Sports
At the moment, veteran defensive back Charles Woodson is an unrestricted free agent with limited options.
However, this once great defender may be of use to the 49ers in 2013.
The 49ers addressed their secondary concerns in the draft, bringing in safety Eric Reid (LSU) and cornerback Marcus Cooper (Rutgers). However, they are indeed rookies and will be very green in 2013.
By bringing in Woodson on a one-year deal, the 49ers add expert experience—wisdom that can be passed down to their first-round investment, Reid.
While Reid is twice the physical specimen Woodson ever was, the LSU product does not possess the adequate football acumen. He is also not the hawking, playmaking safety Woodson has been over his career.
The former Defensive Player of the Year can educate Reid on the nuances of NFL offenses, which may help with the learning curve.
GM Trent Baalke says 49ers are "still interested" in free agent Charles Woodson.

— Matt Maiocco (@MaioccoCSN) April 17, 2013
Chris Ault, Coach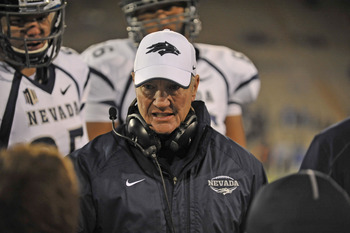 Ron Chenoy-USA TODAY Sports
While the 49ers have greatly addressed their on-field personnel, there are ways to upgrade elsewhere.
In an attempt to get savvier on the sideline, San Francisco may want to consider hiring former Nevada head coach Chris Ault as an offensive consultant.
The ex-Wolf Pack coach stepped down from the position, but not away from football (h/t NBC's Pro Football Talk):
I have a lot left in me. I'm in my offensive prime. I feel good about where I'm at. My energy level is still very high. Whether I coach again, I don't know.
Ault is the father of the pistol offense, which is now a predominantly featured wrinkle in the Niners' new-look attack.
He laid the foundation for the offense in 2004 with Nevada, but the modified shotgun really began to take shape when it was employed to optimize the skill set of his then-quarterback, Colin Kaepernick.
By no means would this take away from Greg Roman or Jim Harbaugh's influence on that side of the ball. Instead, it would be encouraging to have a fresh perspective on the rapidly evolving offense in the Bay Area.
And according to Pro Football Talk, Roman learned the intricacies of the pistol offense from Ault himself. Having visited him in Reno, there is a relationship there, and certainly more wisdom to be passed on.
Moreover, there have been numerous reports of NFL coaches reaching out to their contacts in the college ranks for advice on stopping the read-option, which is featured in the pistol scheme.
The league is going to evolve, so the 49ers must be a step ahead.
The addition of Ault would aid in the progression of this exciting new way to attack defenses at the pro level. The collaborative efforts of Ault and the offensive staff already in place could yield tremendous results.
Not to mention Ault already has a great rapport with the 49ers' starting quarterback.
Chris Ault on the invention of the Pistol: "When I presented this to my staff, they looked at me as if I had lost my marbles."

— SC_DougFarrar (@SC_DougFarrar) December 4, 2012
Nate Montana, QB (Undrafted Free Agent)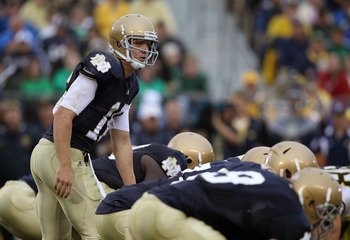 Jonathan Daniel/Getty Images
The three suggestions before Nate Montana would have been Matt Scott (Jacksonville), Jordan Rodgers (Jacksonville) and Tyler Bray (Kansas City), but they have all signed with other teams already.
However, Montana remains an undrafted free agent, and is free to sign with whomever he wants.
The 49ers should bring him into training camp, if not just to have another body competing at the position. The team already has Colt McCoy, Scott Tolzien and B.J. Daniels on the roster, but there is room for one more.
While Montana may not possess the athleticism of Kaepernick or Daniels, one has to be intrigued pairing him with quarterback guru Jim Harbaugh.
The 49ers have shown interest in the former Notre Dame quarterback, having worked him out at their annual pro day in Santa Clara (via Ann Killion of the San Francisco Chronicle), and there is still a slight chance the team issues him a camp invite.
Nate Montana has been preparing for a pro career in San Diego with George Whitfield over the last 4 mos, working on consistency#49ers

— Mindi Bach (@MBachCSN) April 17, 2013
Dylan DeSimone is the San Francisco 49ers' lead columnist for Bleacher Report. A former NFL journalist and fantasy football writer for SB Nation, Niners Nation and SB Nation Bay Area, Dylan now writes for B/R.
To talk football with Dylan, follow him on Twitter @DeSimone80.
Keep Reading

San Francisco 49ers: Like this team?