Pittsburgh Steelers: 2013 NFL Draft Report Card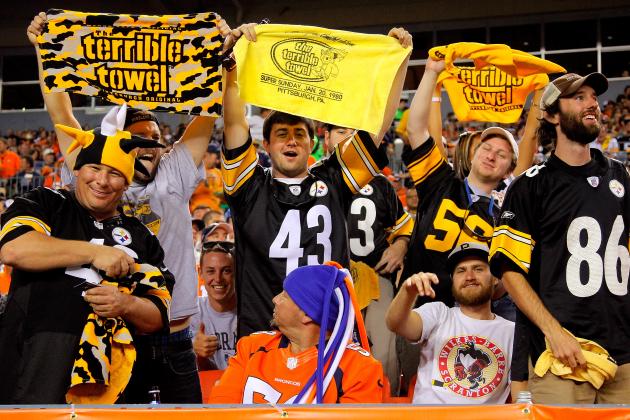 Doug Pensinger/Getty Images

2012 was a disappointment for the black and gold as the Steelers amassed an 8-8 record and missed the playoffs.
The offseason began with the Steelers parting ways with James Harrison, Rashard Mendenhall, Will Allen, Mike Wallace and other contributors. Pittsburgh added William Gay, Matt Spaeth and Bruce Gradkowski through free agency.
In typical Steelers fashion, they planned to fill key roster spots such as wide receiver, running back and pass rusher through the NFL draft.
Let's see how they did.
Begin Slideshow

»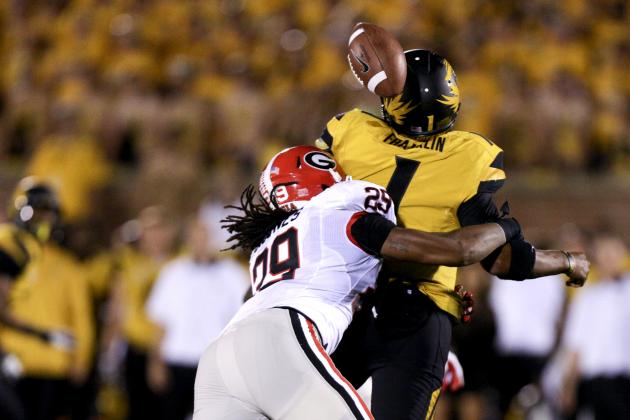 Ed Zurga/Getty Images

Grade: A+
With the loss of James Harrison this offseason, the Steelers had a big need entering the draft for a pass rusher. Jarvis Jones is a pass rusher, and a good one.
The 6'3'', 241-pound linebacker accounted for 86 tackles and led the nation in sacks and tackles-for-loss as a Georgia Bulldog last year. There are some concerns about his speed and durability, however. Jones ran a 4.84 40-yard dash at the NFL combine. Jones also has a scary medical history stemming from an injury suffered while he was at USC. Jones stayed on the ground after making a tackle in a game against Oregon in 2009. It was later discovered that Jones has a minor case of spinal stenosis, a narrowing of the spinal column.
After a long journey though, Jones is back and thriving in football. Only time will tell, but it seems as if Jones is in an ideal situation to thrive on Sundays and is in a position to start immediately where James Harrison has started for the past few seasons in Pittsburgh.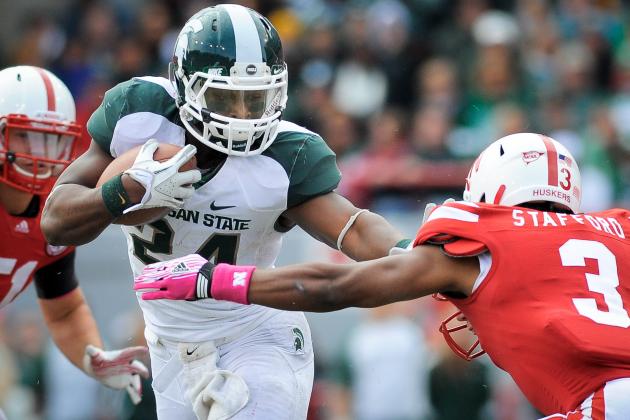 Eric Francis/Getty Images

Grade: B
The Steelers lost Rashard Mendenhall to the Arizona Cardinals in the offseason, and that opened up the possibility for Pittsburgh to pull the trigger on a running back early in the draft. They did just that by selecting Michigan State running back Le'Veon Bell in the second round.
Bell ran for almost 1,800 yards last season and scored 12 touchdowns. Scouts are concerned with Bell's initial burst off the line but praise his pass-blocking, elusiveness and field vision.
The reason this pick doesn't receive a higher grade is because Pittsburgh left Alabama running back Eddie Lacy on the board. If the Steelers want to get back to their ground-and-pound attack Lacy would have been a smarter pick, but Bell does give Pittsburgh big-play ability.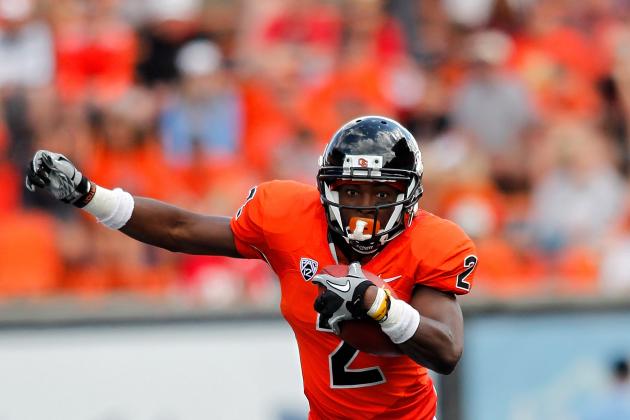 Jonathan Ferrey/Getty Images

Grade: B+
The Steelers addressed their need for a receiver who could stretch the field by selecting Markus Wheaton in the third round of the NFL draft. Wheaton won't immediately fill the hole left by Mike Wallace, but he can certainly step in and help.
Wheaton caught 91 balls last year and scored 11 touchdowns as a Beaver. Scouts say Wheaton can stretch the field with his speed but needs to improve on his route running, especially underneath.
With the Steelers bringing back Emmanuel Sanders, Wheaton will probably start as a slot receiver. Wheaton will also give the Steelers more versatility in their play-calling and will allow them to take shots downfield.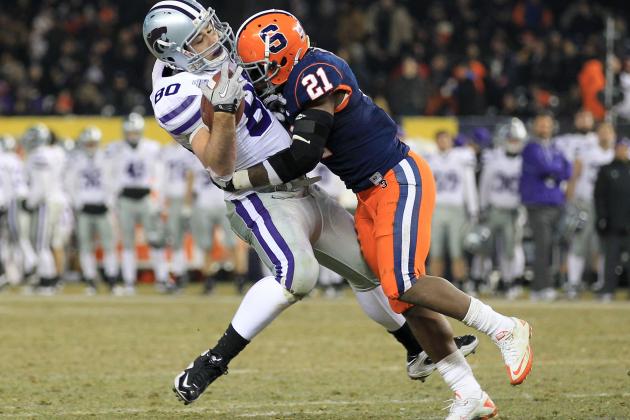 Chris McGrath/Getty Images

Grade: A
Troy Polamalu and Ryan Clark are not getting any younger, but by picking Shamarko Thomas in the fourth round, the Steelers injected some youth into their secondary.Shamarko is only 5'9", 213 pounds, but that doesn't mean he isn't a football player.
Mike Maycock of NFL.com says of Thomas: "I love this kid. You talk about Steelers picking tough guys.This guy reminds me of Bob Sanders. He's undersized but plays like a human missile."
Thomas is also mature beyond his years. Thomas lost both of his parents in a nine-month span during his sophomore year at Syracuse. As the oldest of six, Thomas became the head of the household. Pittsburgh hopes Thomas can mature on the gridiron and take the reins of the Steelers secondary from the aging Polamalu and Clark.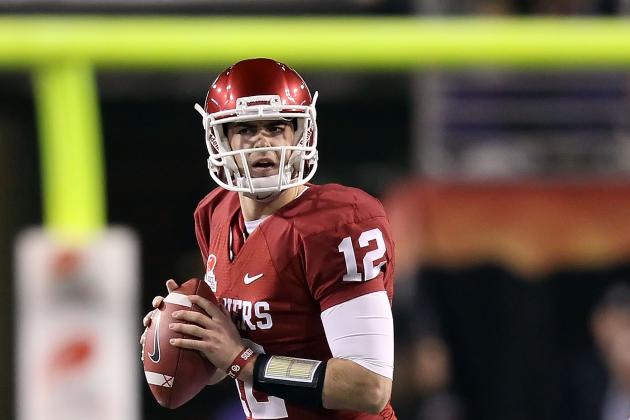 Christian Petersen/Getty Images

Grade: C
The Steelers added Bruce Gradkowski to back up Ben Roethlisberger this offseason. Pittsburgh then selected Landry Jones with the second of their fourth-round picks in the NFL draft.
Jones did throw for over 4,000 yards and 30 touchdowns last season, but the Steelers passed on a few players that could have filled needs. The Steelers could have added youth on their defensive line by adding William Gholston, or they could have bolstered their receiving unit further by picking Quinton Patton.
The Steelers saw a need to add youth to their quarterback group, however. Jones will have a chance to sit and watch one of the best in the league in Roethlisbeger. Steelers fans hope if Big Ben has injury trouble again that Gradkowski and Jones can rise to the occasion if called upon.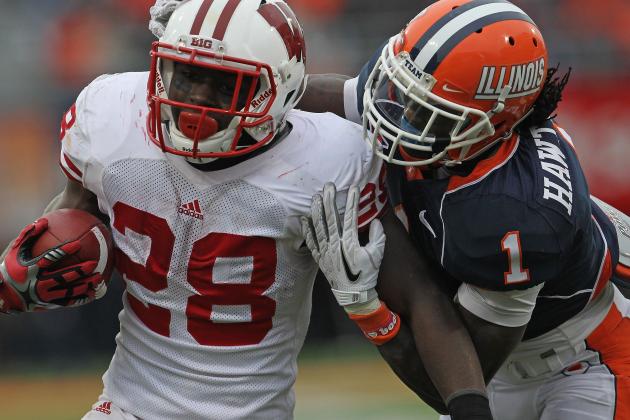 Jonathan Daniel/Getty Images

Grade: C+
The Steelers' selection of Terry Hawthorne is their attempt to add depth to a secondary that took a hit this offseason, most notably by the departure of Keenan Lewis.
Scouts aren't very high on Hawthorne, however, saying he allows for too much separation.
Hawthorne does possess speed and length, which are key to succeeding as a defensive back. Hawthorne is a bit of a project, but he does have potential.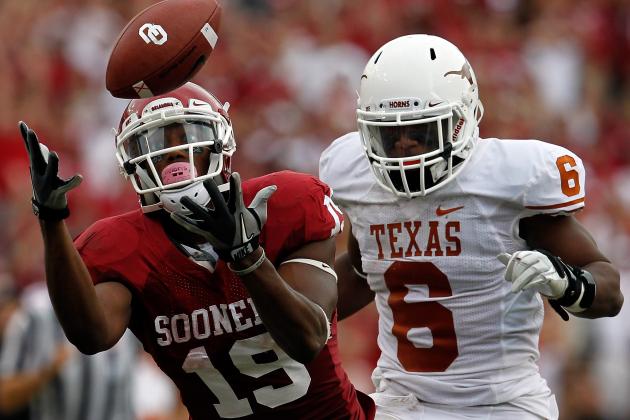 Tom Pennington/Getty Images

Grade: B+
The Steelers added more depth to their receiving unit by selecting Justin Brown in the sixth round. Brown left Penn State for his senior campaign following the Sandusky fallout. Brown transferred to Oklahoma where he had five touchdowns and caught 73 passes.
Scouts like his big frame and his ability to win one-on-one battles. Brown is more of a possession receiver who the Steelers hope can help them move the chains on third downs.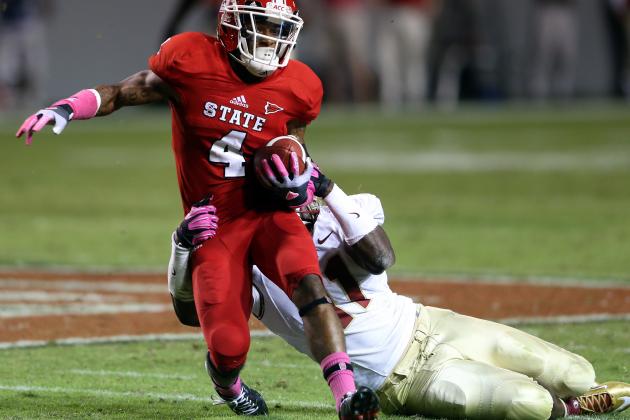 Streeter Lecka/Getty Images

Grade: A-
Late-round picks are where general managers make their money, and the Steelers' selection of Vince Williams in the sixth round is a great pick.
Williams did miss the 2009 season because of a back injury, but scouts like his closing ability, leadership skills, work ethic and potential as a blitzer.
Williams will add depth to the Steelers linebacking unit and will probably see time on special teams to begin his career. Williams is an outspoken leader and will fit right in in "Blitzburgh."
With some coaching, Williams could become an impact player for the Steelers in the future.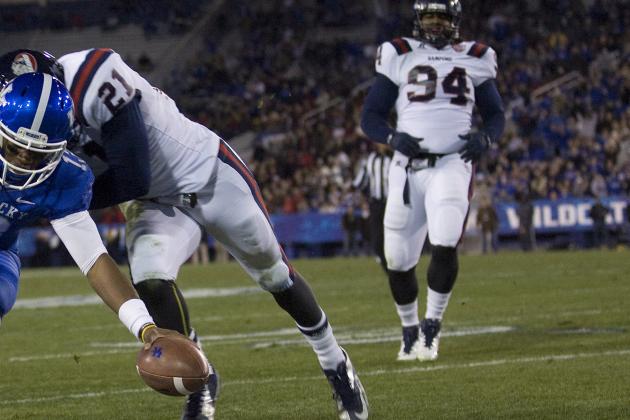 Mark Zerof-USA TODAY Sports

Grade: A
The Steelers may have struck gold again with their seventh-round selection of Nicholas Williams out of Samford.
Scouts say Williams has a unique combination of top-end speed, durability and size. He played in every game his past three seasons and added about 80 pounds over his college career.
With Casey Hampton nearing the end of his playing days, adding someone with the potential of Williams is a big get for the Steelers.