49ers 2013 Mock Draft: Predictions for Day 3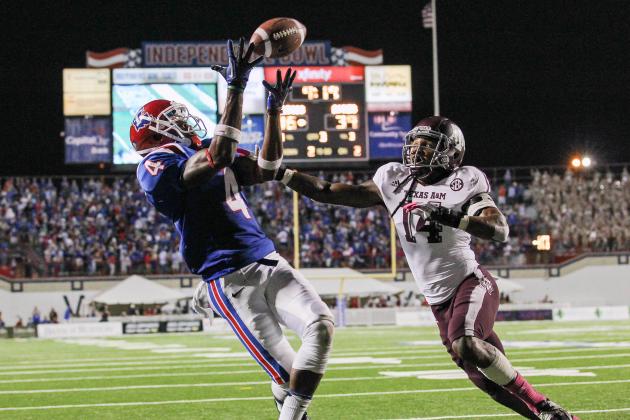 Kevin Jairaj-USA TODAY Sports

With more capital than any organization in the league, the San Francisco 49ers have attacked the 2013 NFL draft with enthusiasm unknown to mankind, as head coach Jim Harbaugh would say.
The Niners have been on a roll, executing several trades—backward and forward—and boldly moving around to select specifically targeted prospects.
Heading into the third and final day of the 2013 draft, the 49ers will strategically maneuver through Rounds 4-7, either looking to trade out to next year or locate special teamers with developmental upside.
But given the talent left on the board, there is a chance they find contributors, and maybe even future starters.
For the concluding mock draft of the San Francisco 49ers in 2013, proceed through the following slides.
The #49ers are on the clock. #draft49

— San Francisco 49ers (@49ers) April 27, 2013
Begin Slideshow

»
At the beginning of Day 3, the 49ers continue their flurry of activity, executing yet another trade. This time they send the No. 128 and 180 overall picks to the Raiders for the 100th selection in the 2013 draft.
With its first pick on the last day, San Francisco drafts Quinton Patton, wide receiver from Louisiana Tech.
After two days of movement, Patton is one of the best players left on the board and fits the 49ers, who are looking for receiver help. He is a dynamic player that generally executes well in all facets, displaying natural ability as a pass-catcher.
And from a philosophical standpoint, he is an exceptional talent who fits the mold of San Francisco's evolving spread offense, which features plenty of athletic slot-type receivers.
The 6'0", 204-pound prospect would add more explosiveness to the offense and provide yet another weapon for young Colin Kaepernick.
Moreover, with short- and long-term questions surrounding San Francisco's receiving corps, the addition of Quinton Patton alleviates some pressure from the front office.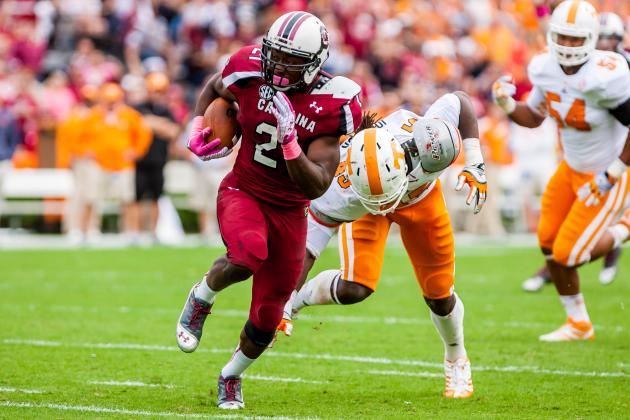 Jeff Blake-USA TODAY Sports

What would an NFL event be without a little activity by the Harbaugh brothers?
John thanks Jim again for taking on the $6 million Anquan Boldin contract by swapping picks with him here, allowing the 49ers coach to select one of his gold star guys.
San Francisco trades back into the fourth, sending the No. 157 and 217 (via Green Bay) picks to the Baltimore Ravens for their No. 129 selection.
With that pick, the Niners select RB Marcus Lattimore of South Carolina.
The rich truly get richer with this one, as San Francisco already boasts one of the league's top running attacks. The roster is loaded with talent, which makes this such an intriguing pick—running back is not a need right now.
However, the franchise's all-time leading rusher, Frank Gore, is nearing 30 years of age. Unfortunately, that is the time when you'll find most tailbacks begin to decline; although there are exceptions.
Common sense says Gore has two seasons left before the questions about his game begin to surface.
To allow for a smooth transition, the 49ers bring in a high-ceiling player at great value and gradually work him into a premier role over the course of two years, when Gore's contract eventually expires.
Marcus Lattimore will be a cheerleader in year one while he absorbs the playbook and finishes a strong rehabilitation.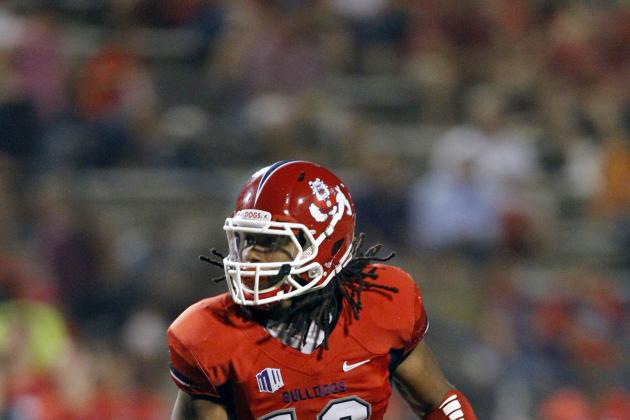 Cary Edmondson-USA TODAY Sports

Shortly after they take Marcus Lattimore, the 49ers are up again, locked in with a compensatory selection.
At this juncture, the focus shifts back to need, which is now on the secondary. The 49ers successfully addressed the pass rush on Day 2, but now they need a rangy prospect for their defensive backfield.
At the end of the fourth round, San Francisco selects FS Phillip Thomas of Fresno State.
This draft class winds up yielding huge results for the 49ers, who needed to rebuild their secondary for the future. They were able to add Eric Reid in Round 1, who can fill in at FS in year one.
However, the 49ers may want to consider moving Reid to SS down the line.
Therefore, Thomas is a great prospect who brings massive developmental upside. During his time in the NCAA, he was one of the most prolific ball hawks in the nation. He gathered 13 interceptions over his career, including eight as a senior.
Thomas finished strong, and with his instincts showed great ability to play at the next level.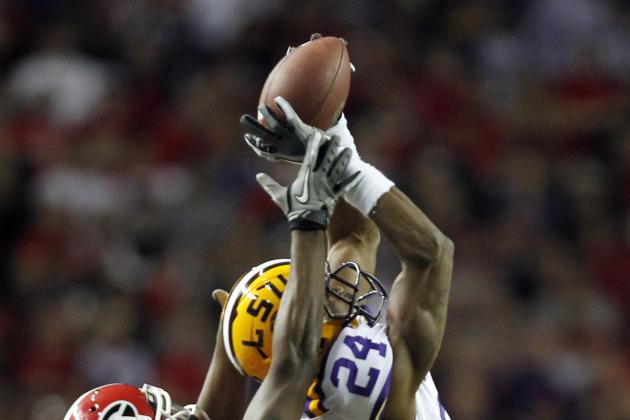 Josh D. Weiss-USA TODAY Sports

With their first compensatory pick in Round 7, the 49ers take a chance on a player that might have fallen clean out of the draft.
Heading into Day 3, Tharold Simon of LSU is the third-ranked CB left, trailing Jordan Poyer (Oregon State) and B.W. Webb (William & Mary).
At 6'2", 202 pounds, Simon is a big, physical specimen at corner with very real upside at the position.
Outside of Chris Culliver (6'0"), San Francisco does not have a whole lot of size in its defensive backfield. The addition of Simon gives the 49ers another imposing corner who further aggregates the physical demeanor that characterizes their defense.
The reason Simon is available in Round 7 is due to an arrest that occurred Thursday evening, where the former LSU corner was charged with public intimidation, resisting arrest and unnecessary noise (h/t ESPN).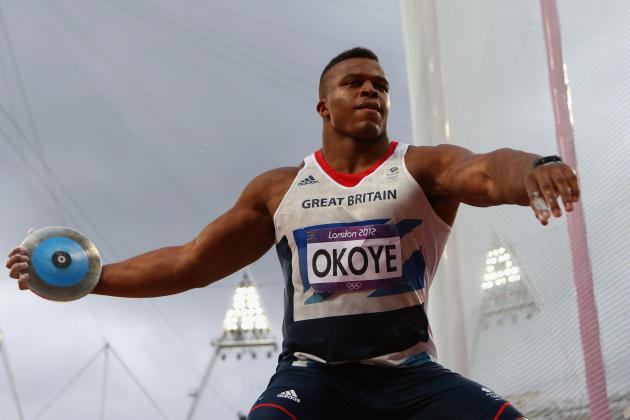 Alexander Hassenstein/Getty Images

With their last available pick in the 2013 draft, the 49ers take a chance on a project player with unfathomable upside.
At No. 252 overall, San Francisco selects Olympian Lawrence Okoye, a British record-holder for discus.
Okoye, 21, is a world-class athlete with tantalizing measurables. Although he has no football background, several teams expressed interest in him, which would make him the most popular rookie free agent if he goes undrafted.
However, if he goes undrafted, it is then his choice of which team he wants to sign with.
At 6'6", 308 pounds, Okoye runs a 4.78 40-time, making him both bigger and faster than Houston Texans' All-Pro J.J. Watt. That kind of physical ability is hard to come by, making him worth the seventh-rounder.
Before the draft, the 49ers expressed interest in Okoye (h/t NFL.com).
Therefore, in Round 7, the Niners prevent Lawrence Okoye from becoming a UDFA, giving defensive line coach Jim Tomsula a mighty chunk of marble to begin chipping away at.
Dylan DeSimone is the San Francisco 49ers' lead columnist for Bleacher Report. A former NFL journalist and fantasy football writer for SB Nation, Niners Nation and SB Nation Bay Area, Dylan now writes for B/R.
To talk football with Dylan, follow him on Twitter @DeSimone80