5 Players Dallas Cowboys Should Target on Day 3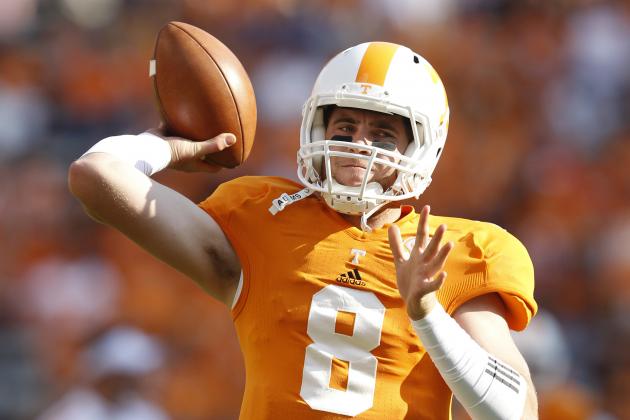 John Sommers II/Getty Images

The first three rounds of the 2013 NFL draft have ended up being a real head-scratcher concerning the Dallas Cowboys.
A draft well-stocked with positions of need has been all but ignored by owner and general manager Jerry Jones.
The national draft analysts have been wrong.
I have been way, way off—and you probably have too.
It would have been impossible to guess that Dallas would go on an offensive attack with positions like center, tight end and wide receiver with its first three selections.
And when Dallas finally did select a defensive player later in Round 3, it was another secondary guy of much less importance than addressing the defensive line and pass-rush capabilities.
A recap of who's been chosen so far:
Round 1: Travis Frederick, C, Wisconsin
Round 2: Gavin Escobar, TE, San Diego State
Round 3: Terrance Williams, WR, Baylor
Round 3: J.J. Wilcox, FS, Georgia Southern
So far, this is a very luxurious draft that hasn't added much in either the team speed or strength department. Glaring holes still reside in key places and I have no clue as to how those areas are addressed in this draft.
To attempt to guess would require me having some idea what the Dallas draft board looks like—and I can promise you that I'm as lost as 12th-grade trigonometry on that front.
I can't say that the Cowboys have failed in landing some good players, but this team had priorities that have yet to be addressed. I strongly fear that Dallas has allowed more very good football players to slip through their fingers than they might realize.
Needs or rankings aside, here are five football players still left on the board that Dallas could target on the final day of this year's selection meeting. Don't bet a jar of jelly that the Cowboys take a single one, but here are players who can still take care of some priorities in 2013 and beyond.
Begin Slideshow

»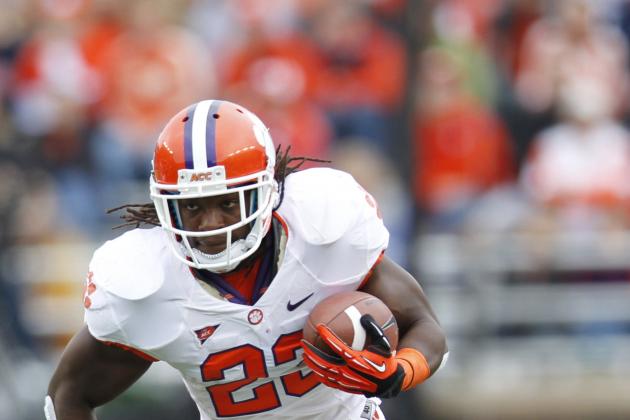 Greg M. Cooper-USA TODAY Sports

It's no secret that Dallas hasn't had a 1,000-yard rusher in a very long time, at least not by its historic standards. Julius Jones was the last to do so in 2006.
Current starter DeMarco Murray is more than capable of carrying this offense as both a ball-carrier and pass-catcher. But health is a growing concern.
No running backs were chosen in Round 1 of the draft—but things changed dramatically in the following two rounds.
Andre Ellington of Clemson is among the top-rated offensive players that don't throw the football remaining on the board heading into the fourth round.
Ellington can do it all and while I think that Le'Veon Bell of Michigan State or Montee Ball of Wisconsin would have been better long-term answers, Ellington can carry the load in the event Murray misses more time in 2013 due to injury.
After three full rounds, new defensive coordinator Monte Kiffin has free safety J.J. Wilcox to add to a defensive depth chart that is transitioning away from the 3-4 scheme and back to the 4-3 alignment of the good ol' days.
But a safety isn't the remaining piece of the puzzle for this defense and I would think that the Cowboys might start moving on some talent or depth up front right away—but I certainly won't hold my breath on that.
Easily the top-rated defensive player left heading into Round 4 is Jesse Williams of Alabama.
Williams is known for his power and mass and could possibly end up being the only premium defensive lineman added to the Dallas roster for 2013. I highlighted this Australian-born player back in January and made the case for him being selected by Dallas.
Well, the case isn't closed yet.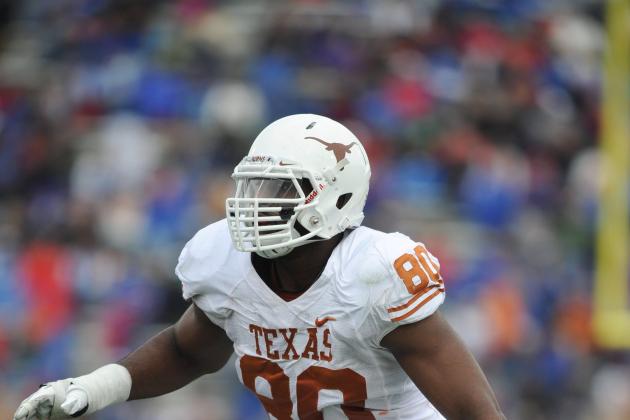 John Rieger-USA TODAY Sports

The potential liability of having two defensive ends that weigh under 265 pounds in DeMarcus Ware and Anthony Spencer is a little frightening. Both of these defensive ends were former outside linebackers during the defensive nightmare that was the 3-4 scheme.
Whether Spencer, weighing just 250 pounds, pans out at defensive end or not, it's important to remember that Dallas really isn't brimming with depth at defensive end. Ware played much of last year injured and while he's expected back at full strength for 2013, what happens if he's not?
Texas defensive end Alex Okafor was hurt at the Senior Bowl and did work out at the scouting combine in February. Nonetheless, he would bring experience, pass-rushing ability and high character that the Cowboys would probably like to have on the roster.
Okafor stands 6'4'' and 265 pounds—still not exactly a beast but better able to matchup against opposing right tackles who weigh over 300 pounds. Okafor will get bigger in the NFL as well.
Okafor might be a year away from being an impact player, but you can't have enough pass-rushers in the NFL, and right now Dallas doesn't have enough.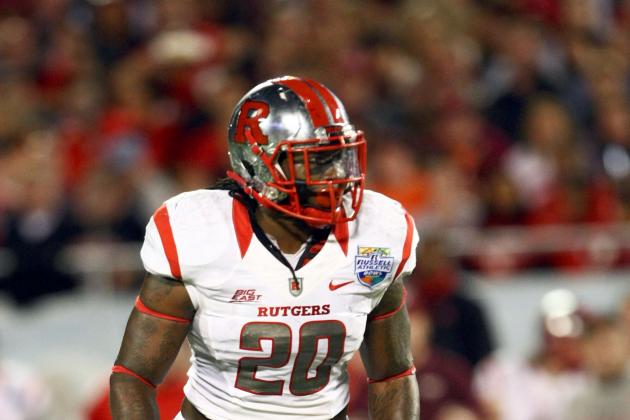 Douglas Jones-USA TODAY Sports

This week head coach Jason Garrett announced that former outside linebacker Kyle Wilber, a fourth-round selection in the 2012 NFL draft, will move to defensive end next season.
Prior to this announcement, it was believed that Wilber might have the inside track to start at strongside linebacker along with fellow incumbents Sean Lee and Bruce Carter.
Well, scrap that idea.
Rutgers outside linebacker Khaseem Greene was among the most productive defenders in college football last season. Greene is likely the top outside linebacker prospect remaining on the board heading into Round 4.
Veterans Ernie Sims and Justin Durant figure to offer depth and perhaps an additional starter for Kiffin's 4-3 scheme next season. But Greene would be an ideal player to groom for a season before he's ready to jump into the fold no later than 2014.
Lee and Carter followed similar paths and this has worked out well.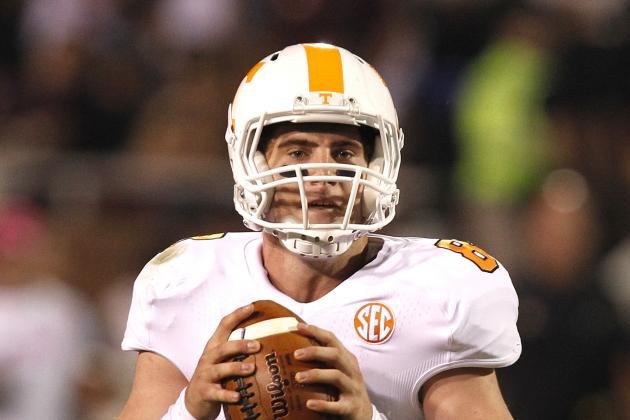 Butch Dill/Getty Images

No, quarterback is not a need in this draft.
But where needs are concerned, I think that ship sailed with the selection of Escobar, a third tight end, in Round 2.
Tony Romo will be around for the next three to four seasons minimum. That's about how long he waited to hit the field as an undrafted free agent in 2003, eventually unseating statuesque veteran Drew Bledsoe towards midseason in 2006.
I thought that drafting a quarterback was a bad idea just days ago. But given the direction Dallas has taken in the 2013 draft thus far, it's clear that perhaps drafting the best players available is the strategy, whether it's right or wrong on some of their selections thus far.
I also never thought that Tyler Bray of Tennessee would still be on the board as late as Round 4—but he is.
Selecting Bray would serve one of two positives for the Cowboys.
First off, Romo gets a little competition for his gig despite the massive contract extension he signed last month. Also, Dallas just might have a guy who can play quarterback for the Cowboys should Romo not get the team over the hump over the next few seasons.
Second, and most likely, Bray would become a prized commodity for some poor team within the next year that really thinks it needs a quarterback.
This team might not have the money to spend on a passer in free agency or might simply not have the ideal draft position to take one.
Hello, future draft picks.
At this point, nothing would surprise me.