Colts 2013 Mock Draft: Predictions for Day 2 and Beyond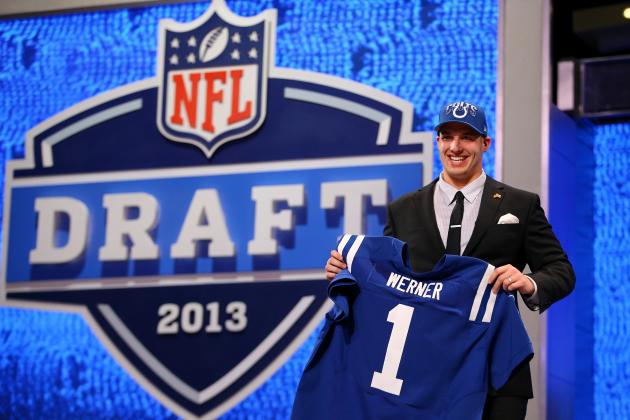 Al Bello/Getty Images
Bjoern Werner was the Colts' first round draft pick.
The Colts surprised fans and analysts alike by taking Bjoern Werner over teammate Tank Carradine in the first round of the 2013 NFL draft, but still filled the pass-rushing need, leaving the rest of my mock relatively unchanged.
The Colts still have holes throughout the roster, especially at interior offensive line, defensive line, cornerback, safety, and wide receiver. With five picks left, they have the means to address each of them, even if some of the late-round picks won't likely pan out.
Werner looks to be a fit at the strong-side outside linebacker position for Indianapolis, and an eventual starter. Their likelihood of finding other starters in the rest of this draft drops dramatically as the draft progresses. But there is depth in the draft in the middle rounds, where the offensive and defensive lines, as well as cornerback, look to have some eventual starters hidden.
With one big need addressed, where will the Colts look from here on out?
Begin Slideshow

»
Derick E. Hingle-USA TODAY Sports

Originally I had Travis Frederick in this spot, but the Cowboys stunned the draft world by taking him at the end of the first round. With the run of linemen in the first, I doubt Barrett Jones will be available at this spot, and the two best interior linemen (Brian Winters and Schwenke) who may be here are neck and neck.
Schwenke gets the nod from me, mainly for his versatility and technique. Schwenke doesn't have the elite athleticism or mauling body type, but he gets off the snap very quick and does a great job of staying low and using leverage to win one-on-one matchups. He's a reliable, smart player who could be a long-term option at center, and a spot starter at guard.
The Colts' need at interior line is arguably greater than any other position at this point, as Samson Satele and Mike McGlynn failed to earn their free-agent contracts in 2012. Schwenke would add depth and competition in 2013 at the very least.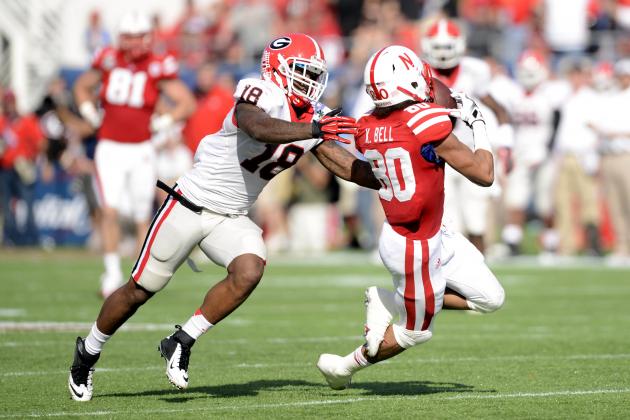 Brad Barr-USA TODAY Sports

This pick stays the same as we move forward, as the Colts need to address their secondary in these middle rounds, but are limited in their picks. Rambo is one of the better cover safeties in this draft, especially when you talk about free safety prospects with range as a center fielder.
Rambo certainly could be gone by this point, but if he's here, I expect the Colts to look at him as a possible replacement for Antoine Bethea in 2014. Rambo is a playmaker through-and-through, both with a penchant for big hits and his ball-hawking ways in coverage.
The Colts drafted one defensive playmaker for the front seven in Werner, now look for them to add one to the secondary with Rambo.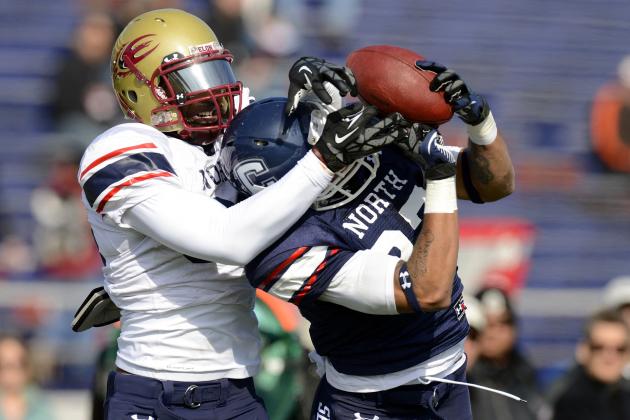 USA TODAY Sports

Once it gets into these last two rounds, if there is a prospect that has the potential to be a long-term playmaker, you take the risk. Aaron Mellette is that kind of player.
He's a relative unknown, having played at Elon, but Mellette is a great route-runner and has great hands. He could be a very good possession receiver in the mold of Anquan Boldin or an older Reggie Wayne. The Colts need that replacement , or at least they will in years to come.
Mellette knows how to go up in a crowd and get the ball, and his great size (6'2", 217 lbs) that will make him a great red-zone target at the very least.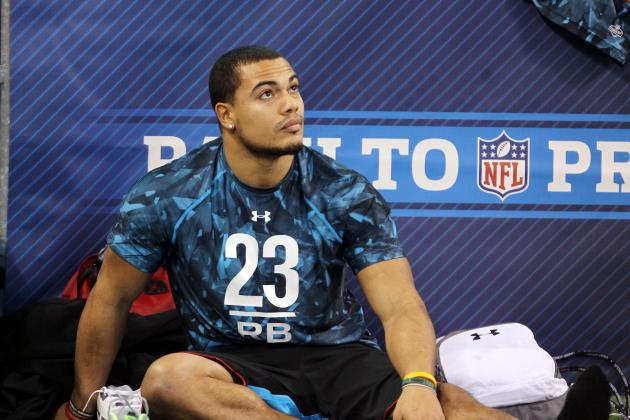 Brian Spurlock-USA TODAY Sports

Round 7, 230 Overall: RB Miguel Maysonet, Stony Brook
The Colts have a decent stock in running backs with Donald Brown and Vick Ballard slated to start in 2013, as well as Delone Carter on the roster. Maysonet fits Pep Hamilton's power run scheme, and, like Mellette, is being held back because of the lack of quality competition at college.
Maysonet is small, but has a solid stature that works out well with his vision and patience in the backfield.
Round 7, 254 Overall: CB Travis Howard, Ohio State
The only position that really hasn't been addressed here yet is cornerback and defensive line. I do like some of the depth at defensive line, but corner needs to be addressed too, and Howard could contribute on special teams as well. Howard has great size all the way around, and could possibly be coached into a starting (or at least contributing) spot fairly quickly.