5 Players the Detroit Lions Should Target on Day 2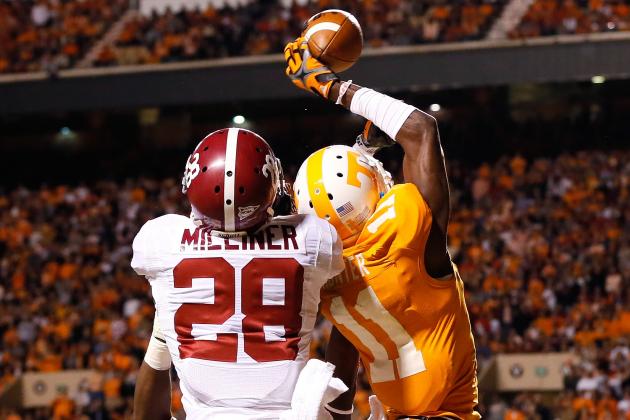 Kevin C. Cox/Getty Images

Well, the first round of the NFL draft is complete.
How are everyone's mocks? Did that go as expected?
Of course it didn't. The draft is always chaotic, and this one was even more so with the distribution of talent being as even as it is.
After a run of three offensive tackles in the first four picks (including the surprise selection of Eric Fisher first overall), the Lions had really no choice but to take Ezekiel Ansah, whom the coaching staff has liked since the Senior Bowl.
We will analyze the daylights out of Ansah and provide him with premature grades for months before he takes his first NFL snap, but let's not be too quick to jump into that. There's still a draft going on, and there are still plenty of intriguing prospects for the Lions to look at on the draft's second day.
Only one quarterback was selected in the first round (E.J. Manuel to the Bills), because most teams (correctly) assumed they could go after their quarterback targets in the second round. But don't be surprised if there's a gold rush for quarterbacks that could put the Lions in prime trading position.
None of these picks will take that possibility into account, but keep it in mind, especially with the Jets and Cardinals. Barring that, though, here are five very different directions the Lions could take on the second day of the draft.
Begin Slideshow

»
Seeing the Lions double up on defensive ends when there are other team needs may bring rage to Lions fans, but this makes a ton of sense.
First off, the Lions are a team whose entire defensive philosophy is based on rushing the passer, yet they have no elite pass-rushers. Why not bring in two first-round pass-rushers when they currently have none? If the Giants have taught us anything, it's that you can't have too many talented pass-rushers.
A lot of people thought the Lions would go with an offensive lineman in the second round if they went defensive end in the first round. But there were nine offensive linemen selected in the first round of the draft. There's barely any big uglies left with second-round grades.
Carradine is every bit a first-round pick. He suffered an injury at Florida State that lowered his stock, but he is recovering and was widely considered one of the most complete defensive ends in this class. It's a surprise to see him not taken in the first round, and it wouldn't surprise me at all to see him taken early in the second. I would have been OK with the Lions taking him at fifth overall.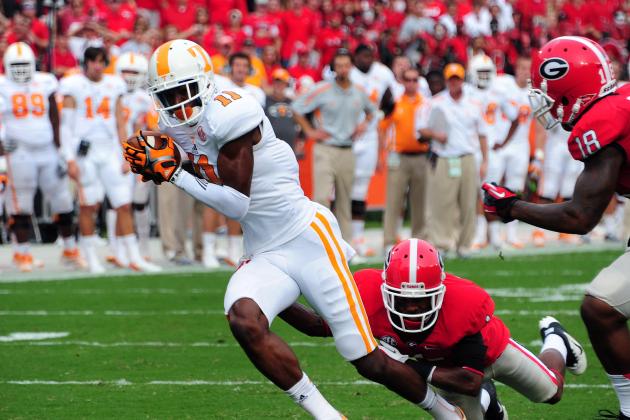 Scott Cunningham/Getty Images

Yes, another wide receiver in the second round. Let the jokes flow.
The reality is, the Lions have a lot of good wide receivers, but they lack the one they really need: the big receiver with the athleticism to stretch the field so Calvin Johnson doesn't have to do it all himself.
Justin Hunter is that, and he's another potential first-rounder who should be available to the Lions in the second round.
However, lots of teams are going to re-analyze their big boards tomorrow and realize that there were almost no offensive skill position players taken in the first round. That should spark a gold rush for them early in Round 2. If the Lions want to get the final skill piece for their offense, they'll want to do it earlier, not later.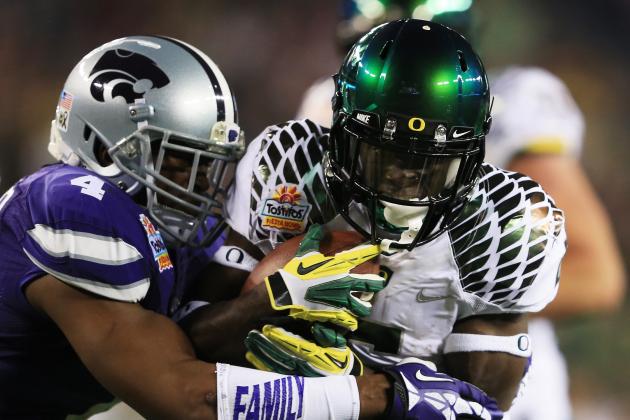 Doug Pensinger/Getty Images

Maybe the Lions don't "need" an outside linebacker, since they're anxious to try out their young guys from last year, but when has "need" ever stopped the Lions from making a value pick?
Arthur Brown was linked to teams as high as the Bears at No. 20 (h/t ESPN). He is a phenomenal athlete with big-time instincts and is widely considered one of the most explosive players in the draft.
His size isn't great for a linebacker, and he has some health concerns, but the fact is the Lions are down a starting linebacker. Though there are candidates, nobody really stands head-and-shoulders above the rest right now.
Brown could stand head-and-shoulders above most of the rest of the defense, and could give the Lions a big-time playmaker at the second level. He won't last to the third round.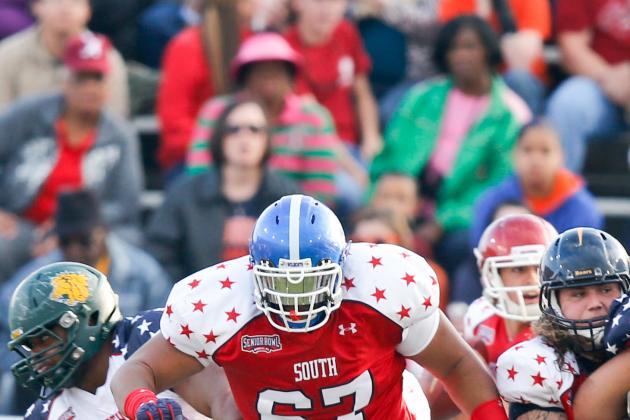 Derick E. Hingle-USA TODAY Sports

Larry Warford is one of the less likely—but probably more popular—picks for the Lions on Day 2, as the legions of fans who called for Chance Warmack in the first round will move on to calling for the next-best thing.
First, let's take a moment to appreciate that Warmack wasn't even the first guard drafted—Jonathan Cooper was. Now let's consider that the same people who were wrong about Warmack in the first are now calling for Warford.
That alone is enough to make me wary. In addition, while Warford is powerful between the center and tackle, ask him to pull and you have a slow, plodding mountain of a man who struggles to be effective outside or at the second level.
The Lions would ask him to do that a lot, which is why this is a questionable pick. But the Lions are relying on an awful lot of unproven youth to man the offensive line this year. Warford is no more proven at the NFL level, but he at least represents an infusion of talent.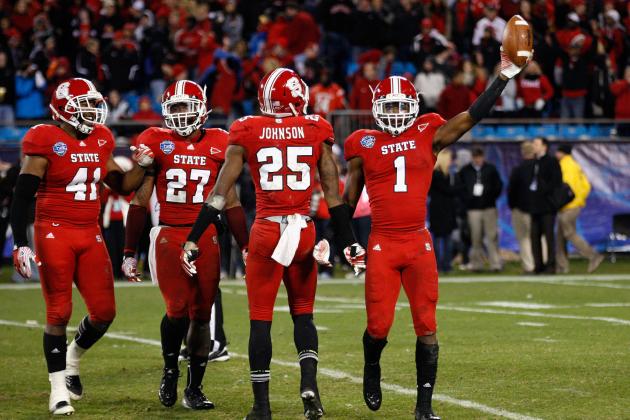 Streeter Lecka/Getty Images

David Amerson had a pretty miserable junior season at NC State, and it made a lot of people forget that as a sophomore, he was widely considered a first-round pick.
Amerson set the school record for interceptions in a season at NC State with 13 in 2011. Then in 2012, he spent most of the season chasing wide receivers into the end zone. What happened?
Well, Amerson showing the two sides of his most notable attribute: aggressiveness. He likes to jump routes and make plays. He likes to create turnovers, and opposing offenses took note of that in 2012 and started using that to go over the top of him.
In short, Amerson needs work. He has ball skills (obviously) and the size and physicality the Lions covet in their corners, but he needs to learn how not to get fooled, especially with his lack of NFL-caliber recovery speed.
Of course, unlike the other players listed here, Amerson is likely to be available in the third round. That's not bad for a corner with a former first-round grade.