The general consensus surrounding former USC quarterback Matt Barkley is that he doesn't possess first-round talent, as you'll see from the projections provided by the top 2013 NFL draft experts.
Barkley's draft stock plummeted after he opted to stay at USC for his senior season, where he injured his shoulder against UCLA on Nov. 17, which ended his college career. That shoulder injury prevented the quarterback from throwing at the NFL Combine, which didn't help his draft stock either.
None of the experts have Barkley going in the first round, as West Virginia quarterback Geno Smith appears to be the best QB of the 2013 class.
What does that mean for Barkley?
Matt Miller, Dane Brugler and Mel Kiper, Jr. are about to tell you:
Matt Miller (Bleacher Report NFL Draft Lead Writer): No. 57 overall to Houston Texans
In Bleacher Report's Matt Miller's latest seven-round mock draft, he has Barkley being selected by the Houston Texans in the second round in order to provide depth behind Matt Schaub.
Schaub did suffer a foot injury that saw him miss part of the 2011 season—including the playoffs—which could be why Miller likes Barkley to Houston.
It's definitely not a bad move for Houston, but since T.J. Yates has proven to be a serviceable backup behind Schaub, I'd like to see the Texans address the wide receiver position in the second round, assuming they don't do that with the No. 27 overall pick in the first round.
There's also this from Miller, who tweeted this information on Wednesday:
Three sources I trust very much are saying the #Bills prefer Matt Barkley over Ryan Nassib.

— Matt Miller (@nfldraftscout) April 24, 2013
For Buffalo's sake, let's hope we're speaking in terms of the second round rather than the first.
Dane Brugler (CBS Sports/NFLDraftScout.com): No. 38 overall to Arizona Cardinals
Christian Petersen/Getty Images
CBS Sports' Dane Brugler went with Barkley to the Arizona Cardinals in the second round, which makes a ton of sense in my mind.
Carson Palmer may be the newest quarterback to come to Arizona and attempt to jumpstart that offense, but the aging QB has been known to miss some games and be inconsistent at times, especially in his two seasons with the Oakland Raiders.
Despite what many think of Barkley, his body of work at USC indicates that he has the skill set to start in the NFL. While his arm strength has been brought into question, Barkley possesses solid accuracy and has the intangibles to lead an NFL offense.
With a star wide receiver like Larry Fitzgerald, the Cardinals have to insert a substantial quarterback before Fitz bounces out of town due to the offensive woes in Arizona.
The Cardinals are a team where Barkley could certainly end up becoming the starter by season's end.
Mel Kiper, Jr. (ESPN NFL Draft Analyst): No. 33 overall to Jacksonville Jaguars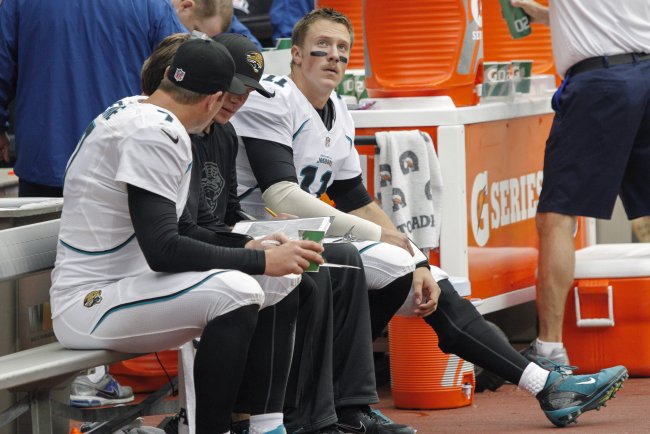 Bob Levey/Getty Images
I'm not so sure Blaine Gabbert is the franchise quarterback for the Jacksonville Jaguars, and ESPN's Mel Kiper Jr. apparently isn't sold on that fact either, as he likes the Jags to draft Barkley with the No. 33 overall pick.
Here's the note that Kiper attached to his selection of Barkley to the Jaguars: "A player who can push the incumbent starter, but with less risk at this slot."
It's actually a smart pick for the Jags. They can go out and get a defensive monster like Dion Jordan with the No. 2 overall pick and then get Barkley in the second round.
I think Jacksonville presents the best opportunity for Barkley to become a starter in 2013, as he could certainly give Gabbert a run for his money for the starting gig. Gabbert is coming off of a torn labrum in his non-throwing shoulder, also adding to the reasoning for the Jaguars to select a quarterback.
If Barkley is selected by the Jaguars, I like the odds of him becoming the starter by the time Week 17 rolls around in the 2013 season.
Follow me on Twitter: Follow @Pete_Schauer