6 Players the Kansas City Chiefs Should Target on Day 2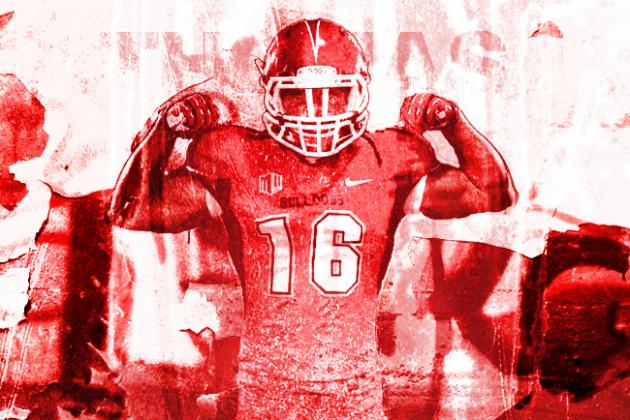 Photo: Patriotsfire.com. Image created by Brett Gering.
The Kansas City Chiefs selected offensive tackle Eric Fisher first overall in the 2013 NFL draft. But who will become his Kansas City classmates on Day 2?
When commissioner Roger Goodell announced the first pick in the draft, little mystery preceded the event. Countless sources laid Luke Joeckel rumors to rest in the City of Fountains.
But for Kansas Citians, the deck will be reshuffled for the second and third rounds.
The Chiefs forfeited their second-round pick (No. 34 overall) in trading for quarterback Alex Smith. Currently, the team owns a pair of third-rounders (No. 63 and No 96).
However, Kansas City will resume trade talks with the Miami Dolphins tomorrow, as the club (presumably) attempts to sneak back into the second round by dealing left tackle Branden Albert.
Dorsey says he'll talk with Jeff Ireland (Miami GM) about Branden Albert tomorrow and "go from there" about possible trade #Chiefs

— 610 Sports Radio- KC (@610SportsKC) April 26, 2013
Chiefs fans can expect the team to consider the following six players on Day 2.
Begin Slideshow

»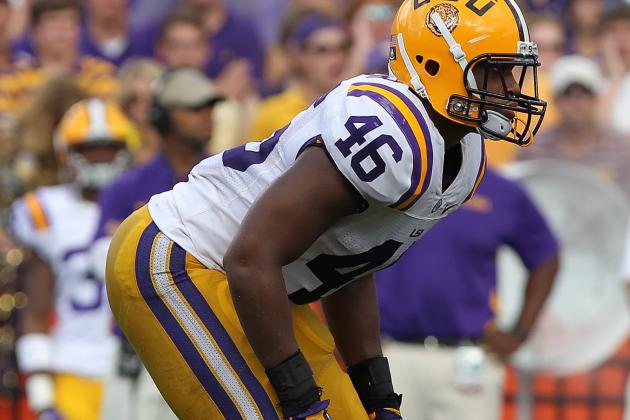 Kim Klement-USA TODAY Sports

No inside linebackers were drafted in the first round, and Manti Te'o is sure to jump off of the board at some point within the second.
But while Kevin Minter boasts a vastly different skill set, he might prove to be the top overall inside linebacker of his class.
Akeem Jordan currently projects to fill the Chiefs' void at strong-side linebacker. Jordan adds much-needed depth, but he isn't the long-term answer.
If Kansas City pulls the trigger on a potential trade for Albert and acquires the 54th selection, Andy Reid and John Dorsey could pluck Minter from the board (assuming he's still available).
Te'o is a nastier hitter, and his ability to diagnose plays are second to none in the 2013 draft, but Minter is more efficient at shedding blocks and flashes faster closing speed.
Joe Robbins/Getty Images

The curtains closed on the first round with Matt Elam's name being announced—Jonathan Cyprien's is bound to follow shortly after.
It's doubtful that Cyprien will remain on the board as the third round draws near. But if the Chiefs obtain a second-rounder and pass on an inside linebacker, the strong safety could be booking a one-way flight to Kansas City.
In terms of talent, Cyprien doesn't fall into the same category as Eric Berry, but the two share a number of qualities.
Like Berry, the Florida International standout shows off unique closing speed and thumps receivers like a 217-pound wrecking ball.
If selected, his aforementioned speed would enable him to transition to free safety. Conversely, the Chiefs could also move Berry over and change his role to mimic that of a player like Ed Reed.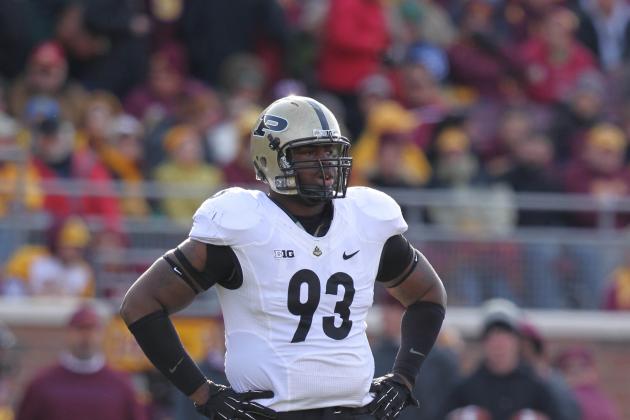 Brace Hemmelgarn-USA TODAY Sports

Unless Tyson Jackson assembles a career year in 2013, it will likely be his last stint with the Chiefs.
Kawann Short's draft stock fluctuates based on which scout is talking at the time. Ultimately, the defensive tackle should be welcomed by a fanbase at some point in the second round.
When Short is healthy, the 299-pounder doubles as a mobile mountain. In fact, Rob Rang's breakdown of No. 93 begins with the words, "Large human being..."
Despite heaps of double-teams and a nagging ankle injury, Short still managed to tally 15.5 tackles for loss and seven sacks in 2012 (via Sports-Reference).
Purdue's defensive dominator flaunts outstanding upper-body strength and uncommon athleticism for a player of his stature.
Phillip Thomas is severely underrated.
A broken left leg and dislocated left ankle sidelined the free safety for the 2011 season, but his 2012 campaign quickly silenced any critics.
Thomas represents a physical safety with superb ball skills. The playmaker plants seeds of regret in blockers after their initial introduction, and he also possesses the closing speed to make an impact in Cover 2 and Cover 1 schemes.
After a string of injuries, the production of Chiefs free safety Kendrick Lewis has nosedived.
Thomas, who may still be available as Kansas City opens the third round, would challenge Lewis for the starting job from the first day of training camp.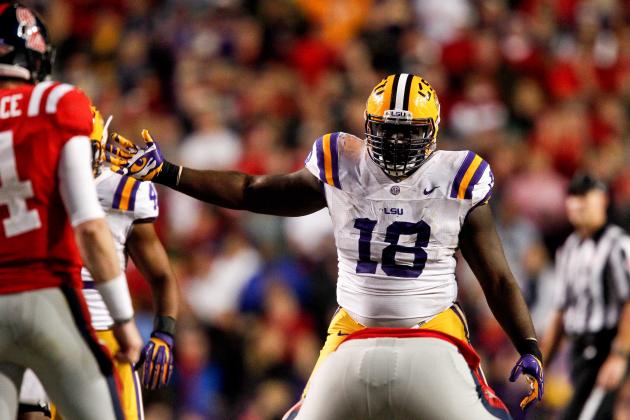 Derick E. Hingle-USA TODAY Sports

Bennie Logan appears to be a third-round project that could yield valuable results.
Like every prospect, he doesn't enter the draft without his share of flaws. His endurance can factor into play, and he hasn't developed a wide repertoire of pass-rushing moves.
But Logan wouldn't be asked to start his rookie season, and the defensive tackle—who would be moved to defensive end in Kansas City's 3-4—would bolster the Chiefs' rotation up front while honing his skills.
The LSU product displays enough lateral quickness to evolve into an effective 3-4 defender. And while he resorts to bull-rushing blockers too often, the technique normally pays dividends for him and demonstrates considerable power.
The Chiefs offense is headlined by one of the NFL's most renowned home run threats in Jamaal Charles. But thus far, No. 25's backups appear to border on serviceable replacements—nothing more.
Cyrus Gray shows flashes of brilliance, but he was pestered by the injury bug for the majority of 2012.
Shaun Draughn will always help a team more than he hurts it, but the tailback won't wow spectators with scintillating rushes any time soon.
Stepfan Taylor's game tape depicts an all-purpose running back—a jack-of-all-trades who can punish defenses in a variety of ways.
From a rushing standpoint, Taylor exhibits a highly intelligent backfield threat with infinite patience, allowing blockers to execute their tasks before bursting in one direction. And once he roams into the open field, the rusher can juke defenders out of their cleats or break would-be tackles while showing exceptional balance.
Taylor has developed into an acclaimed asset in the passing game as well. He lines up as a reliable receiver who can quickly convert into an open-field magician. But if anchored in the backfield, the Stanford running back has also proven to be a dependable blocker.
Arrowhead once hosted a running back who popularized No. 31 and exhilarated fans with the same qualities.
Follow Brett on Twitter: Follow @BrettGering