Steelers 2013 Draft Picks: Results, Analysis and Grades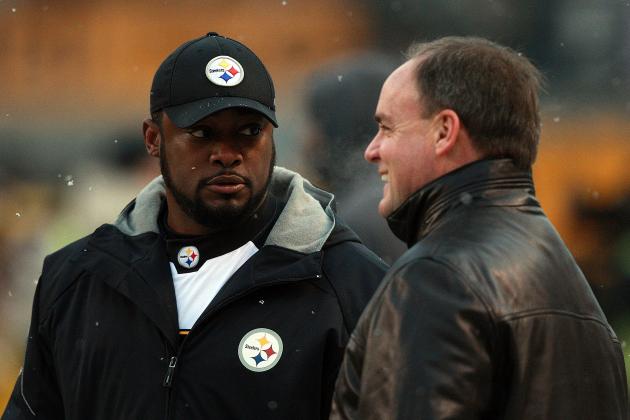 Karl Walter/Getty Images

It's finally that time of year. All the preparation, scouting, note-taking, film-watching and medical exams have brought us to this: The 2013 NFL draft is upon us.
Pittsburgh Steelers fans are in uncommon territory for 2013. Holding the 17th overall pick, Pittsburgh hasn't picked this high since taking linebacker Lawrence Timmons 15th overall in the 2007 draft. With the rash of veteran cuts the Steelers have seen in the past two offseasons, this class could be the most important one in a long time.
Stay tuned here for the latest up-to-date information on the Steelers draft featuring live grades and analysis of every pick for Pittsburgh. You can also follow me on Twitter @dsnyder34 for some more live draft coverage.
Begin Slideshow

»
The Pick: Jarvis Jones / OLB / Georgia
In my eyes, the Steelers get their guy.
After a 2012 season that saw the once dominant Steelers pass rush fall to the middle of the pack and watch James Harrison sign with the division rival Bengals, Pittsburgh needed to score an outside linebacker.
In Jones, the Steelers are getting the most accomplished pass rusher in the 2013 NFL Draft and one of the best Georgia linebackers of all time. Jones posted an eye-popping 28 sacks over the last two seasons with the Bulldogs, doing so against the highest competition college football has to offer.
In this video, B/R's own draft guru Matt Miller compares Jones to the vaunted Von Miller. But watching him on tape, he looks almost identical to Harrison, the guy he'll most likely be replacing. Jones has an explosive first step off the ball and is much stronger than his frame would suggest. He'll compete immediately for the starting job with Jason Worilds who has 10 sacks in 40 career games.
Pick Grade: A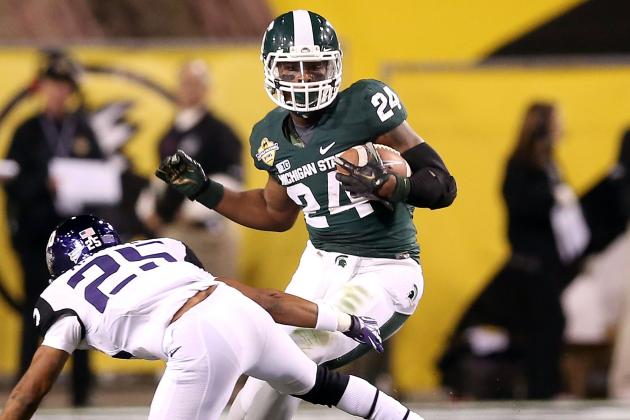 Christian Petersen/Getty Images
Matt Miller's Breakdown for Le'Veon Bell
The Pick: Le'Veon Bell / RB / Michigan State
It was pretty obvious that the Pittsburgh Steelers were going to be looking hard at the 2013 running back class and they went ahead and took one with the 48th overall pick.
But it may not be who you expected.
Bell is a big back, standing at 6'2", 230 lbs., and that's something the Steelers really like in their backs. But they have two other power backs currently sitting on their roster in Jonathan Dwyer and Isaac Redman.
More importantly, with almost all the running backs still on the board, Bell is a pretty sizable reach for the Steelers in the second round.
Bell did have great production in his time with the Spartans. He accumulated over 1,700 in 2012, his first as a full-time starter, and over 3,300 yards in three seasons in Lansing. But most impressively, Bell found the endzone 33 times in his career at Michigan State.
I was a little higher than most on Bell, but not as high as the Steelers apparently were. He would have been great value in the third, but I'd call him a stretch for sure at No. 48.
Pick Grade: C+
The Pick: Markus Wheaton / WR / Oregon State
After watching Mike Wallace walk in free agency for a bigger contract with the Miami Dolphins, wide receiver became an immediate need for the Steelers.
Pittsburgh addressed that need with their third round selection of Oregon State wide receiver Markus Wheaton, the Beavers all-time leading receiver.
Wheaton was a bit overshadowed by the Rodgers brothers early in his career at Oregon State, but exploded on the scene in his fourth and final season. Wheaton caught 91 balls for 1,244 yards and 11 touchdowns in 2012. That reception total brought his career numbers up to 227 in four years.
Wheaton is quick and sure-handed across the middle, much like current Steelers receiver Antonio Brown. But unlike Brown, Wheaton dabbled in track and field at Oregon State, adding some of the speed left by Wallace.
Pittsburgh certainly could have done worse for themselves in the third round and Wheaton certainly could have easily been a second rounder, so the value for the Steelers is great. Only problem I have with the pick is that they end up getting more of what they have. Schematically a good fit, though.
Pick Grade: B+
The Pick: Shamarko Thomas / S / Syracuse
Pittsburgh thought so little of the depth they accumulated behind their starting safeties Troy Polamalu and Ryan Clark, that they traded up with the division rival Cleveland Browns to get Shamarko Thomas from Syracuse.
Thomas doesn't have great size, but he's a fantastic fit for the Steelers scheme. On the NFL Network, Mike Mayock compared him to Bob Sanders.
Thomas is a great backup for the Steelers right now and could eventually develop into the heir apparent for Polamalu or Clark. They gave up a third round pick in 2014, but assuming they'll get a compensatory third rounder for Mike Wallace it's not a bad move.
Steelers continue to find value and fill needs. Good draft so far.
Pick Grade: A
The Pick: Landry Jones / QB / Oklahoma
Trading for another pick in the fourth round freed up the Steelers to take a luxury pick at 115 overall. They opted for some depth behind Ben Roethlisberger with Oklahoma QB Landry Jones.
Jones is an interesting quarterback and after his 2010 season in Norman, was considered the best quarterback prospect and a sure-fire first rounder. How things have changed in three years time.
Jones had a horrible 2011, but rebounded nicely last season. In 2012, he posted his highest completion percentage and lowest interception totals in his career.
Ben Roethlisberger is one of the best quarterbacks in the league, but has issues staying healthy. Jones is a nice piece behind the Steelers' starter and could develop nicely given good direction. This pick could turn out to be great for Pittsburgh.
Pick Grade: B-
The Pick: Terry Hawthorne / CB / Illinois
Losing Keenan Lewis could be a big blow to a Steelers secondary that continued to produce last season. To help sure up that loss, Pittsburgh brought in former Illinois cornerback Terry Hawthorne with their fifth round selection.
Hawthorne is the kind of cornerback that the Steelers like. He's got some size to him and he has the ability to play outside and cover down bigger receivers. He is a willing and capable tackler which makes him intriguing.
Hawthorne will have to get more fluid in his hips and will need to work on his backpedal, but he fits the system well. This is a Steelers type of corner.
With Ike Taylor, Cortez Allen, William Gay, Curtis Brown and Justin Victorian already in place on the roster, it'll be interesting to see exactly where Hawthorne fits with the Steelers. He could develop into a contributing player at some point, but for new he seems like just depth.
Pick Grade: C+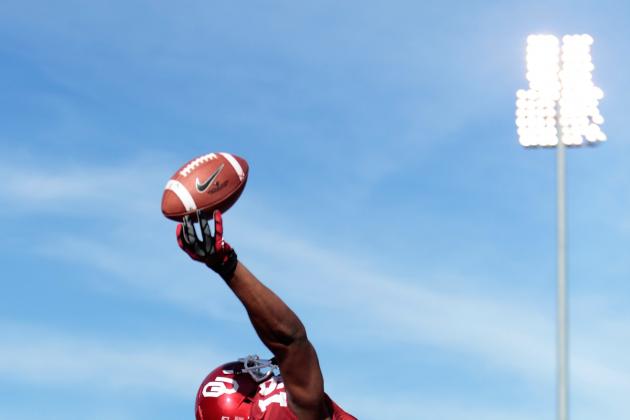 Brett Deering/Getty Images

The Pick: Justin Brown / WR / Oklahoma
Pittsburgh continued to fill out their wide receiving corps by taking former Penn State and Oklahoma wide receiver Justin Brown in the sixth round.
Brown is a big guy. He stands 6'3" and has a thick frame at nearly 210 lbs. That's something the Steelers really lack at wide receiver outside of Plaxico Burress who is nearing the end of his career.
Brown is a pretty athletic guy for his size and is still relatively raw for his age. He surely needs some work and isn't a guy who's ready to play immediately for the Steelers. That doesn't make this a bad pick.
Pittsburgh needed to add some size in their receiving corps and they continue to add weapons to their offense. It's nothing stellar and he may not be a guy who's on the team in five years, but he could become a valuable contributor.
Pick Grade: B-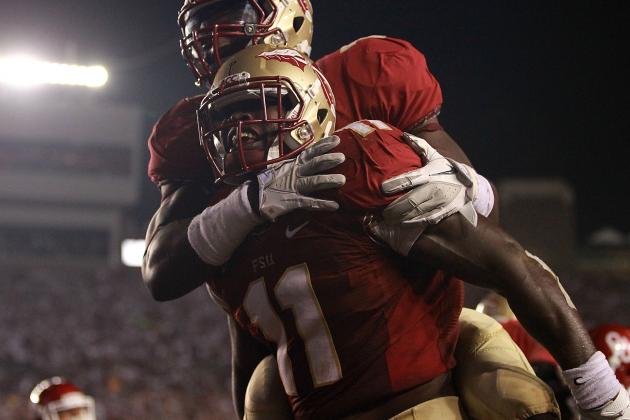 Ronald Martinez/Getty Images

The Pick: Vince Williams / LB / Florida State
The Steelers added some depth to their linebacking corps by taking Florida State linebacker Vince Williams with their compensatory pick at the end of the sixth round.
Williams is a little bit undersized for the Steelers defense, but is a downhill, run stopping linebacker. He provides good depth to a defense that is lacking that at inside linebacker.
Williams was a two year starter with the Seminoles and tallied over 50 tackles in each season in Tallahassee. He played well in the opponents backfield and has compiled three career sacks in his time with Florida State.
I'm a little confused by the pick, considering Williams is very similar to last year's third round pick Sean Spence. Both guys are undersized and apparently Pittsburgh had high hopes for Spence. Would have liked to see a bigger guy inside for Pittsburgh.
Pick Grade: C-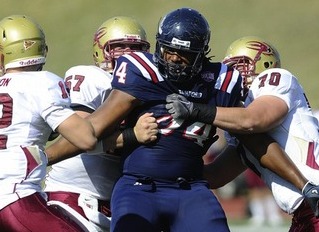 The Pick: Nick Williams / DT / Samford
Pittsburgh has attempted to solidify their defense end positions in recent drafts by spending first rounders on Ziggy Hood and Cameron Heyward. At this point, Pittsburgh is still waiting on a real return from both of those guys.
They add depth with their final pick of the afternoon in Samford defensive tackle Nick Williams.
Williams played at a small school in college and dominated his opponents. He recorded 31 tackles last season and seven sacks in his senior year. Before attending Samford, Williams played only one year of high school football.
Williams has the size the Steelers look for in a 3-4 defensive end and can be a good player for them. He's good depth at the position. Solid pick overall.
Pick Grade: B