Packers 2013 Mock Draft: Final 7-Round Predictions for Green Bay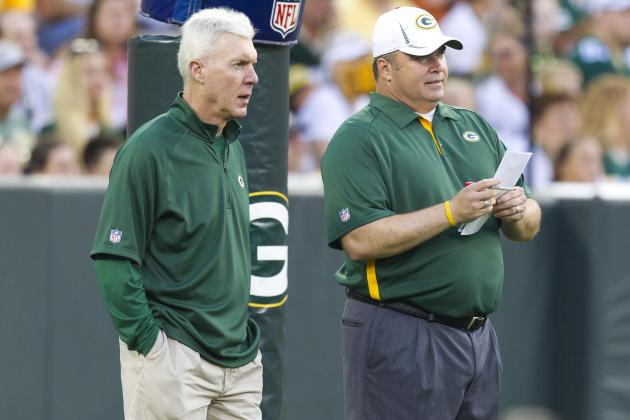 Jeff Hanisch-USA TODAY Sports

The 2013 NFL draft is finally here for the Green Bay Packers and the other 31 NFL teams.
Thanks to a steadfast (and highly respected) philosophy of using the draft as a primary tool for roster building, the Packers place an unmatched premium on getting these three days in April right every calendar year. With free agency rarely a legitimate option, Green Bay gets better year-to-year based on how it fares during the draft.
In the following slides, we'll present a seven-round mock specifically designed for the Packers.
Also, note that all selections were based on my own personal evaluation of team needs, drafting history and players.
Begin Slideshow

»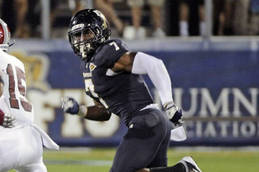 To be perfectly honest, there's some faith that goes into mocking Cyprien at the 26th pick. There's also a reason why UCLA defensive end Datone Jones isn't the selection here.
For starters, you hope that Cyprien's meteoric rise up boards is slightly more media based than NFL reality, and that clubs still view him as a late first-rounder. This is a deep draft for safeties, and teams could certainly have their boards situated in a way that allows Cyprien to be available at No. 26.
And why not Jones?
Simple. While safety is one of the deeper positions in this draft, the amount of impact defensive linemen (that fit a 3-4, mind you) suddenly becomes scarce once the big names (Sharrif Floyd, Star Lotulelei, etc.) are off the board. That's expected to happen before the 26th pick. Considering Jones is scheme-versatile and oozing potential, he could hear his name called well before the Packers are on the clock. Jones is a fit for a number of teams, but especially Indianapolis at No. 24.
Cyprien—if he's still around—is an easy fit for the Packers.
Not only is safety arguably the team's second biggest need (behind a difference-making 5-technique), but Cyprien is the kind of versatile (can play free and strong safety), tough and rangy player who can finally start replacing what Nick Collins left behind when he suffered a career-ending injury in 2011.
At his very best, Cyprien is a more athletic Dashon Goldson with a hint of Brian Dawkins. He's that good. The Packers could feel very confident in getting an immediate difference-maker with Cyprien in the first round.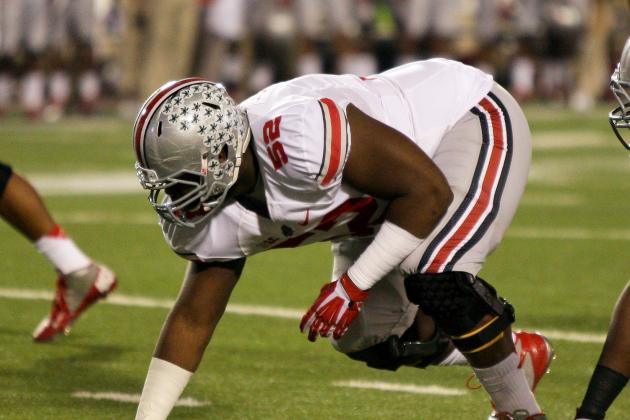 Pat Lovell-USA TODAY Sports

If Cyprien fills the need at safety, the Packers could finally look to getting bigger and tougher in the front seven with their second pick.
There could be several intriguing options waiting at No. 55, including Purdue's Kawann Short (good length), Georgia's John Jenkins (massive frame) and LSU's Bennie Logan (functionally strong).
Even if those three names are on the board, Ohio State's Johnathan Hankins might be a better fit.
Widely regarded as a top-15 talent after his sophomore season, Hankins failed to post big numbers in 2012 and has likely slipped into the second round. The Packers, in need of a big body to eat up blockers either on the nose or at the 5-technique, make a lot of sense at No. 55.
A potential base front of Hankins, B.J. Raji and Ryan Pickett would be very appealing, especially in terms of versatility and freeing of the second level. When running the football, an offensive line couldn't feel confident single-blocking either Hankins, Raji or Pickett (freeing linebackers to flow to the football), and the three could likely interchange between all three base positions in the 3-4.
At the very least, Hankins would provide a down-the-road replacement for the aging Pickett.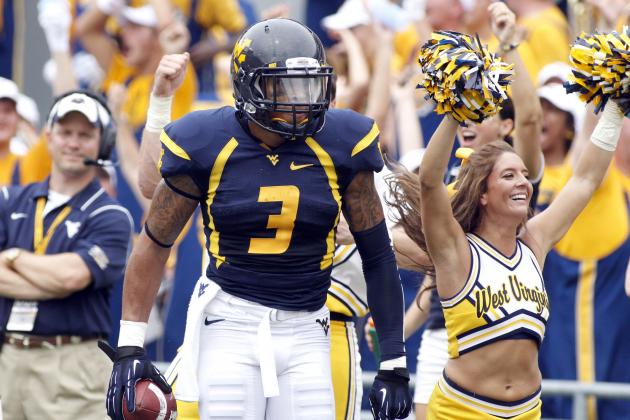 Justin K. Aller/Getty Images

Given the events of this offseason and the potential events of the next, it would be very surprising if the Packers didn't continue their tradition of reloading at the receiver position.
And with so much value at receiver in the top 100 picks, the Packers can feel confident in getting a good player in the middle rounds.
In this scenario, Green Bay strikes on ultra-productive Stedman Bailey at No. 88 overall.
A deceptive route-runner with scheme-intelligence and quickness in-and-out of his breaks, Bailey represents a very similar player to departed receiver Greg Jennings. His playmaking ability has a touch of Steve Smith, too.
Considering Jennings is in Minnesota, and both James Jones and Jermichael Finley are free agents in 2014, the Packers need to reload in the passing game. Bailey is a polished player who could contribute immediately as a rookie before potentially slotting into a bigger role in 2014 and beyond.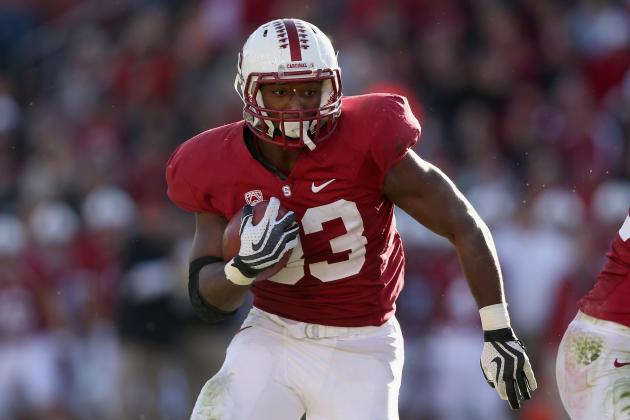 Ezra Shaw/Getty Images

Like receiver, the 2013 running back class is loaded with value in the middle rounds.
Of course, this begs the obvious question: Why overdraft the position (example: Eddie Lacy in the first round), when you can hit on a similarly-talented player in the fourth or fifth round?
The Packers follow that idea here, and take Stanford running back Stepfan Taylor.
While he isn't a straight-line burner (4.76 seconds in the 40-yard dash), Taylor is as well-rounded as any back in the class, with an ability to win inside the tackles, pass protect and catch the football. On film, he's much more explosive in short areas than his test times would suggest.
For the Packers, teaming Taylor with 2012 late bloomer DuJuan Harris would give the offense a very capable stable of backs.
Also, Taylor's prowess in pass protection and the passing game would give him a real chance to be a factor right away on third downs and in obvious passing situations. For a play-caller like Mike McCarthy, that's a big plus.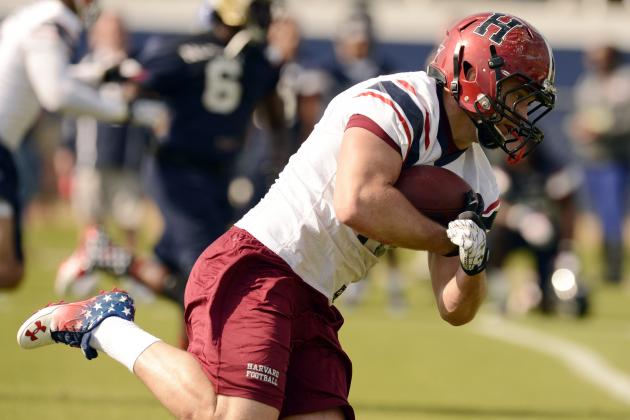 USA TODAY Sports

The fifth round might be too rich for a fullback-type, but Juszczyk isn't your typical player at the position.
Taking snaps as a fullback, H-back and slot receiver for Harvard, Juszczyk finished his career ranked sixth in school history in receptions, seventh in receiving yards and third in receiving touchdowns. His athletic skills were on display during the pre-draft process, as he ran the 40-yard dash in 4.72 seconds and posted a vertical leap of 37 inches at his pro day.
Also a capable lead blocker in the running game, Juszczyk improved every season taking on defenders inside.
The Packers still have veteran John Kuhn on the roster, but he'll turn 31 in September and is scheduled to be a free agent following the 2013 season. It's time to find his eventual replacement.
As a hybrid player, Juszczyk can be a matchup-winning option at a position that rarely features difference-makers. He's worth the pick in the fifth round.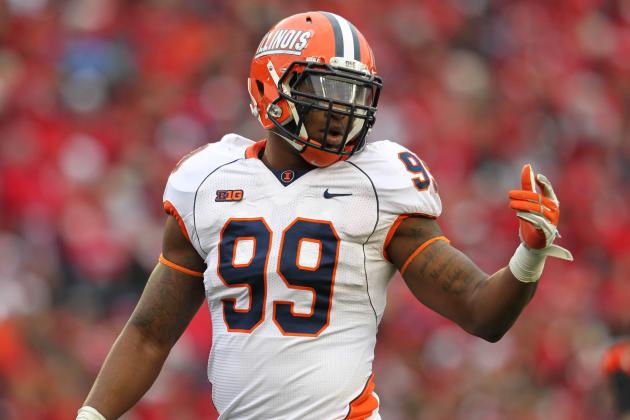 Brace Hemmelgarn-USA TODAY Sports
Photo: Samford Crimson
While the Packers have first-round picks (Clay Matthews, Nick Perry) penciled in as starters at outside linebacker in 2013, depth at the position remains ridiculously thin.
At some point in the draft, Green Bay needs to add an edge-rusher—especially considering the injury histories for both Matthews (hamstring problems) and Perry (missed 10 games in 2012). Chances are good that the Packers will have to call on a backup pass-rusher for important snaps next season.
In simply adding depth, the Packers could do much worse than Illinois' Michael Buchanan.
While not the physical specimen 2012 first-round pick Whitney Mercilus was coming out of Illinois, Buchanan is a long athlete with experience standing up and rushing the passer. He's also well-versed in dropping into coverage and playing in space.
Hybrid defenders are becoming increasing more valuable in an ever-changing game. If Buchanan is on the board in the fifth round, Green Bay should pull the trigger.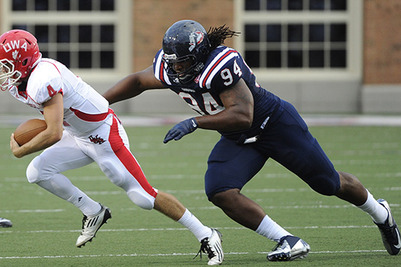 Photo: Samford Crimson
The Packers selected two defensive linemen in the 2012 NFL draft, and with depth (and talent) issues still plaguing the position, it's not unreasonable to think they could do it again.
While drafting Hankins in the second round fills a need as a starter in the base front, little-known Nicholas Williams from Samford can be the developmental player with a big long-term upside.
Despite standing 6'4" with 34 1/4" arms, Williams still ran under five seconds at the NFL combine. He also posted one of the better 20-yard shuttle times (4.65 seconds) and vertical jumps (33") among defensive linemen. He's a long, impressive athlete who projects as a 3-4 fit at defensive end.
Williams will enter the NFL as a raw prospect (just one year of high school football, played at an FCS school), but some lucky team is going to get a moldable player with starting potential. The Packers should be that team.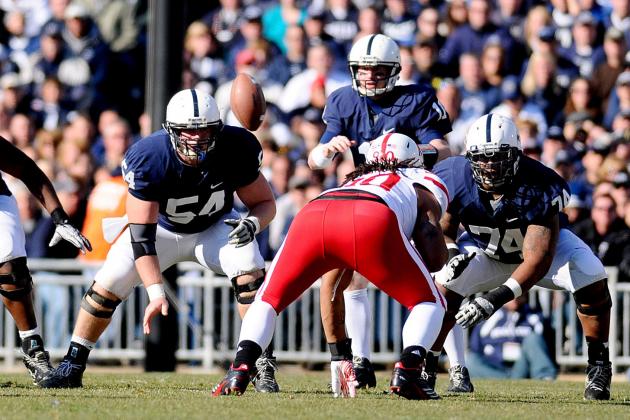 Evan Habeeb-USA TODAY Sports

The Packers are heading into the 2013 draft with journeyman Evan Dietrich-Smith as their starting center and very little depth behind him.
While this class offers precious few capable options inside, Green Bay needs to identify a young player at center whom they can start grooming to play down the road.
While Penn State's Matt Stankiewitch isn't an accomplished pass-blocker (big problem in Green Bay), he does fit Ted Thompson's ideal center size (6'2", 302 lbs) and was a first-team All-Big Ten pick in 2012.
As a rookie, Stankiewitch could get stashed onto the practice squad and then begin the grooming process to becoming a potential starter.