Imagine Miguel Cabrera not in the blue and orange of the Detroit Tigers, but in the red and white of the Los Angeles Angels.
It could have happened.
The trade that sent Cabrera to the Tigers in 2007 feels like ancient history by now, but that didn't stop Lyle Spencer of MLB.com from recalling this week that Cabrera was pretty close to being dealt to the Angels instead back in '07.
"I thought I would be here," said Cabrera during the Tigers' trip to Anaheim this past weekend.
Now, this is not a new revelation. At the time the then-Florida Marlins were dangling Cabrera on the trade market in the winter of '07, it was widely reported that the Angels were among the teams interested in him. Mike DiGiovanna of the Los Angels Times wrote that the Angels were viewing Cabrera as the power bat they'd been craving for years.
Even still, Spencer's article about what might have been is an excuse to have some ponderous fun. What would have happened if Cabrera had been traded to the Angels instead of the Tigers?
Let's step into the TARDIS and go revise some history in Anaheim, Miami and Detroit.
In Anaheim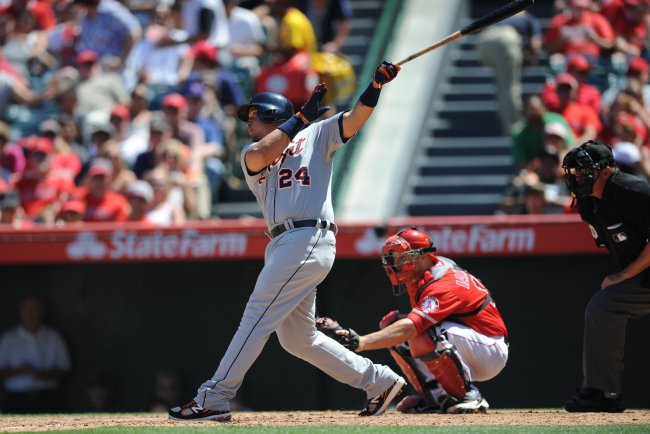 Kelvin Kuo-USA TODAY Sports
Had the Angels traded for Cabrera in 2007, he presumably would have taken Casey Kotchman's place at first base. If so, then the Angels would have been swapping out a guy who had an .840 OPS and 11 homers in '07 for a guy who had a .965 OPS and 34 homers.
Which, you know, is a pretty good switch. The Angels would have been a better offensive team the following season in 2008. Instead of ranking 15th in MLB in runs scored, they likely would have ranked in the top 10.
By this same token, the Angels would have been able to do better than the .683 OPS and 13 runs they managed in the 2008 ALDS against the Boston Red Sox, a series the Sox won in four. Seeing as how the 2008 Angels were a very good team even without Cabrera—they did win 100 games, after all—it's easy to see them going all the way to the World Series with Cabrera.
But this is oversimplifying things quite a bit. It's just as possible that the Angels may not have made the playoffs at all in 2008 had they pulled off a trade for Cabrera.
As Spencer noted, Ervin Santana and Joe Saunders were in the discussions the Angels were having with the Marlins. They were nothing special at the time, as Santana had posted an ERA over 5.00 in 2007 and Saunders only managed a 4.44 ERA in 18 starts. Their appeal was strictly in their potential.
When Cabrera went to Detroit instead of Anaheim, the Angels kept Santana and Saunders. It's a good thing they did, too, as they ended up being the Angels' two best pitchers in 2008. Both made over 30 starts and had ERAs in the 3.40 range.
Per FanGraphs, Angels starters had a 4.14 ERA in 2008 that ranked 10th in MLB. Take Santana and Saunders out of the equation, and the club's starting pitching may have been bad enough to bar the Angels from the playoffs.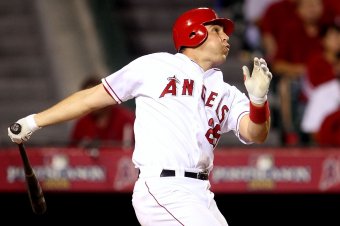 Stephen Dunn/Getty Images
One thing we know for sure, however, is that the Angels would not have traded for Mark Teixeira to play first base down the stretch in 2008. With Cabrera at first, they wouldn't have needed him.
But not dealing for Teixeira would have meant missing out on the compensatory draft pick the Angels got when he signed with the New York Yankees (more on how that scenario would have changed in a moment).
The pick they got was the No. 25 pick in the '09 draft. Guess who they used it on.
Yup. Mike Trout. Had the Angels traded for Cabrera in 2007, it's possible they may have missed out on the guy who gave him a run for his money in the 2012 AL MVP race.
Possible, yes, but honestly not very likely. The Angels may have used the Yankees' No. 25 overall pick on Trout, but they could have just as easily used their own No. 24 overall pick on him instead.
So yeah, Trout and Cabrera may indeed have ended up in the same lineup last year. Don't think about that possibly for too long, as the sheer wonder of it is liable to make you faint.
Albert Pujols wouldn't have been in the lineup with Trout and Cabrera, though. With Cabrera at first base, the Angels would have had no need for Pujols, so the door would have been open for him to go elsewhere after he became a free agent following the 2011 season.
And I think I know where he might have gone...
In Miami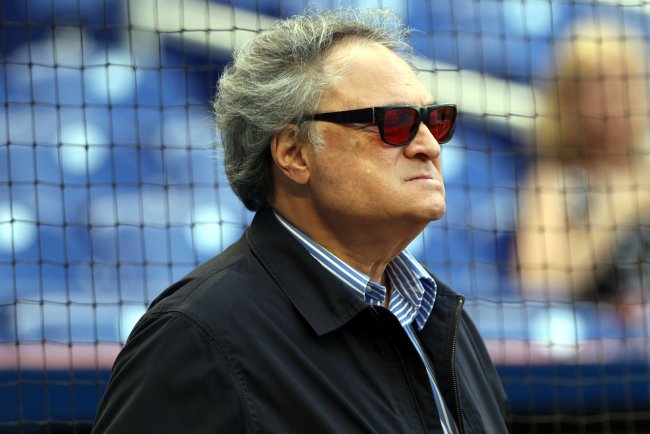 Marc Serota/Getty Images
When the Marlins dealt Cabrera to the Tigers in 2007, they were losing their best hitter.
It's therefore surprising, in retrospect, that they proceeded to get better in 2008 rather than worse, as their record improved from 71-91 to 84-77. It's even more surprising once you consider the fact that the players the Marlins got from the Tigers didn't help the cause.
Andrew Miller busted. Cameron Maybin did little for the Marlins before he was moved to San Diego for Edward Mujica and Ryan Webb in 2010. None of the three other players in the Cabrera deal surpassed expectations. In all, the deal was a bust for them.
Now consider what could have happened if the Marlins had done business with the Angels instead.
In addition to Santana and Saunders, guys like Howie Kendrick, Kendrys Morales, Reggie Willits, Jeff Mathis, Nick Adenhart and Brandon Wood were trade chips the Angels had to offer. Had the Marlins walked away with, say, Santana, Saunders and either Kendrick or Morales, they would have found themselves with two quality major league pitchers and a quality major league hitter.
Combine these guys with the talented players the Marlins already had—Hanley Ramirez, Dan Uggla, Josh Willingham, Cody Ross, Josh Johnson, Ricky Nolasco, et al.—and they would have been able to do better than 84-77 in 2008. They surely would have been closer to a 90-win team.
In fact, the Marlins could have had enough talent in '08 to bar the Philadelphia Phillies from winning the division and, by extension, the World Series.
Of course, it's likely that none of this would have stopped Marlins Park from happening, meaning team owner Jeffrey Loria may still have found himself looking for big-name talent in the 2011-12 offseason.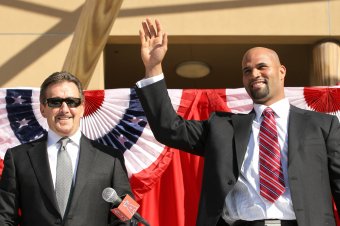 Stephen Dunn/Getty Images
That means Loria probably still would have found himself courting Prince Albert. And with the Angels out of the picture due to Cabrera's presence at first base, it's probable that there wouldn't have been anybody to match Loria's offer to Pujols.
As Bob Nightengale of USA Today reported, Loria's offer to Pujols was a major one: 10 years and $275 million. And because the Marlins would have been a quality team in this universe, Pujols surely would have been more keen to accept Loria's offer.
Loria's victory, however, may have been short-lived.
Pujols wouldn't have been any younger with the Marlins in 2012 than he was with the Angels, after all. And since it's nigh impossible to hit home runs at Marlins Park, it's probable that Pujols would have slumped worse with the Marlins than he did with the Angels.
If that had happened, the Marlins probably wouldn't have avoided the fire sale they had at the trade deadline last year. Moreover, they could have ended up jettisoning Pujols this past offseason, just as they jettisoned Jose Reyes less than a year after signing him.
So, in essence, trading Cabrera to the Angels instead of the Tigers may not have stopped the Marlins from being the Marlins.
But what would have happened in Detroit while all this was going on? How would the Tigers have responded to missing out on Cabrera?
In Detroit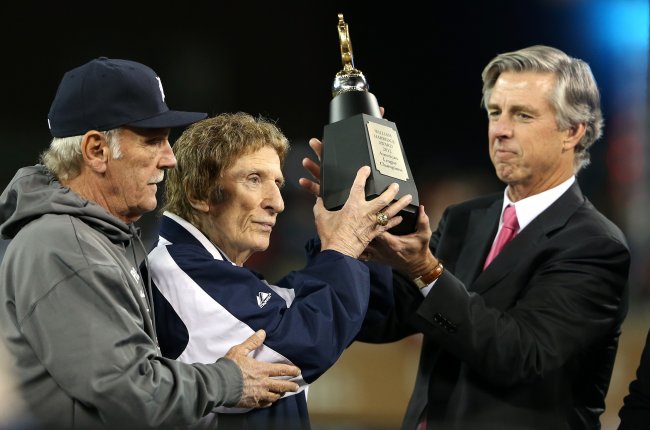 Leon Halip/Getty Images
When the Angels were discussing Cabrera with the Marlins in 2007, they really didn't need either a new third baseman or a new first baseman. They had Kotchman at first and Chone Figgins at third, and both of them were above-average players.
The Tigers were in a different boat. They had Brandon Inge at third base, and the 2007 season saw him post a mere .688 OPS. Sean Casey was their first baseman in 2007, but he left as a free agent at the end of the season.
Since the Tigers had Gary Sheffield, Magglio Ordonez and Curtis Granderson at the time, they didn't desperately need Cabrera's bat. But when he arrived, he certainly filled a need.
The big question: How would the Tigers have filled this need if they hadn't landed Cabrera?
Good one. There weren't any impact first basemen on the free-agent market after the 2007 season, so the Tigers surely would have made do with a stopgap option at first base.
When the 2008-09 offseason came around, however, they may have chosen to aggressively pursue the top first baseman on the market: Mark Teixeira.
That would have made for quite the bidding war. The Tigers would have been in there with the Yankees and the Red Sox, who supposedly made Teixeira an eight-year offer that winter (via Ian Browne of MLB.com). With no Cabrera on their payroll, the Tigers might have actually been able to win the bidding for Teixeira.
Would they have been a better team with him rather than with Cabrera? That's doubtful, but their future activities on the free-agent front certainly would have been drastically altered.
With the switch-hitting Teixeira already at the heart of their lineup, the Tigers likely wouldn't have felt the need to sign Victor Martinez after the 2010 season. If so, him tearing his ACL early on in 2012 wouldn't have mattered to them in the slightest.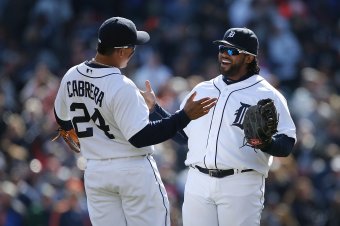 Leon Halip/Getty Images
That would have been somebody else's problem, rather than Detroit's excuse to sign Prince Fielder.
This, of course, would be the same Fielder who contributed a .412 OBP and 30 homers to Detroit's cause in 2012. Of those 30 homers, 14 of them came in August and September to help the Tigers get to the postseason. From there, they went to the World Series.
With Teixeira and who-knows-who-else at the corners instead of Cabrera and Fielder, the Tigers probably would have fallen short of the World Series last year.
For that matter, it's not hard to imagine them getting beat by Cabrera, Trout and the star-studded Angels.
Adding It All Up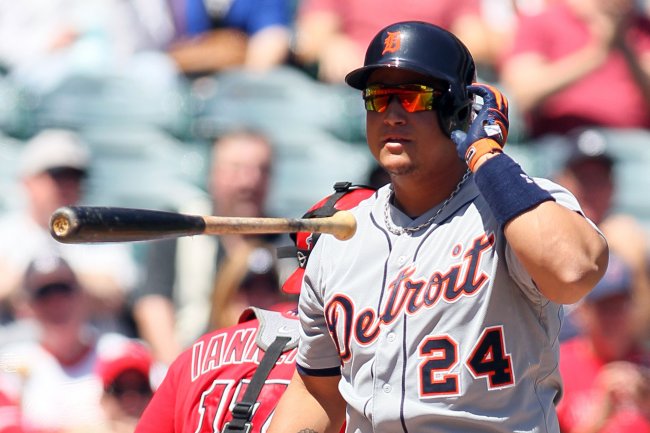 Victor Decolongon/Getty Images
I guarantee you that every single scenario I outlined above would have come to fruition if Cabrera had been traded to the Angels instead of the Tigers in 2007.
OK, that's a lie. The truth is that I have no blinkin' idea what would have happened specifically. I won't until I get my hands on a real TARDIS.
But what would have happened generally? Yeah, I've got the right idea, and that's that the fallout from Cabrera being traded to the Angels instead of the Tigers would have been very far-reaching and very significant. Baseball history would have been thrown for a loop.
The fates of three franchises would have been drastically altered. The fates of the franchises around those franchises also would have been drastically altered, and there's the probability that the fates of bystanders like the possibly Teixeira-less Yankees would have been drastically altered as well.
Imagine a baseball universe where up is down, down is up, left is right, right is left and dogs and cats are living together. That there's a baseball universe where Cabrera is an Angel.
Note: Stats courtesy of Baseball-Reference.com.
If you want to talk baseball, hit me up on Twitter.