Jacksonville Jaguars: 10 Best Draft Picks in Franchise History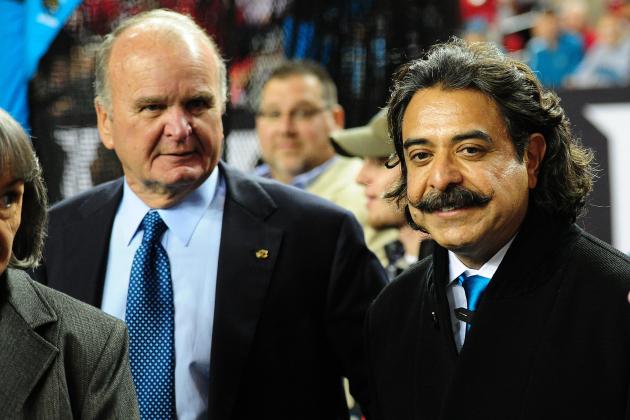 Scott Cunningham/Getty Images
Jaguars former owner Wayne Weaver and current owner Shad Khan
It's easy to be critical of a draft pick. Yesterday, I look at past drafts, and picked on the 10 worst selections of the Jacksonville Jaguars.
After a little while, fans forget about most of those types of selections. But what about the best draft picks? Those are remembered for years after the selection is made. A lot of those "best draft picks" turn into Hall of Famers, and are enshrined in the NFL's history.
Today, I'm going to look at 10 of the best draft picks of Jaguars history, and rank them against each other.
Begin Slideshow

»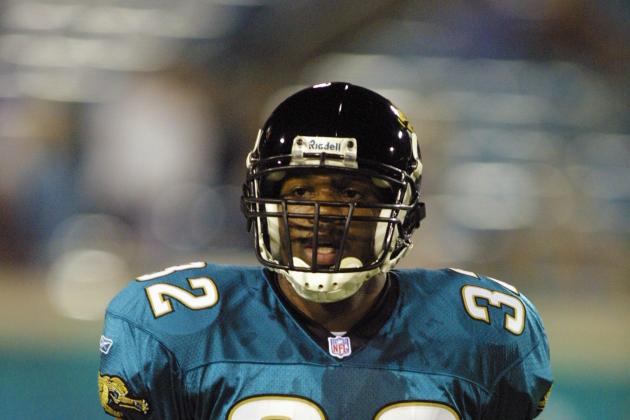 Scott Halleran/Getty Images

In the seventh round of the draft you don't expect to be selecting a starter, but that's exactly what the Jaguars got when they drafted Marlon McCree in the 2001 draft.
Though McCree only stayed with the Jaguars for two full seasons, he amassed over 120 tackles while picking off seven passes. After eight productive years as a player in the NFL, McCree re-joined the Jaguars as a member of the coaching staff.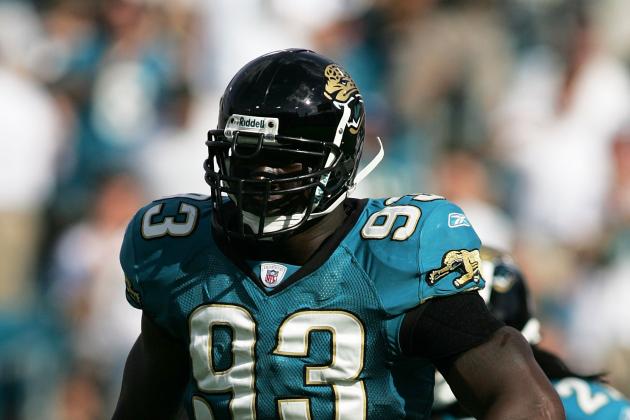 Doug Benc/Getty Images

Another seventh round draft pick, Bobby McCray joined the Jaguars as a compensatory pick in the seventh round of the 2004 draft. McCray was one of the seven last names taken in that draft. He played in all 16 games during his rookie season, and was a key contributor during his three year stint with the team.
After leaving Jacksonville, McCray found himself playing for the New Orleans Saints for a couple of years. There, McCray made an impact in every game, including three playoff wins and the Super Bowl victory over the Indianapolis Colts.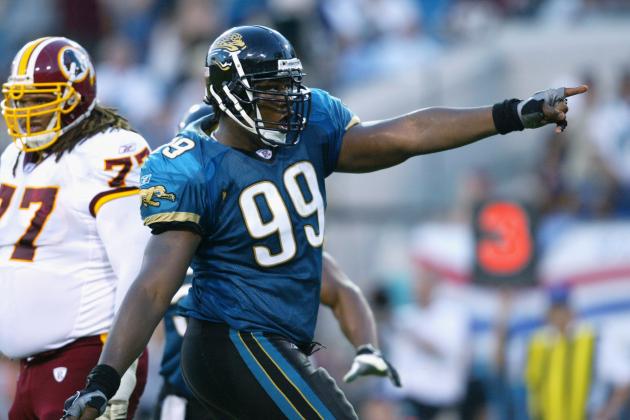 Jamie Squire/Getty Images

Marcus Stroud joined the team as a first round pick in the 2001 draft. At 6'6'' and 310 pounds, Stroud was drafted to help the Jaguars' 22nd-ranked defense against the run.
Combined with 2002 first-rounder John Henderson, the two formed one of the most formidable defensive tackle combinations in the NFL, making it nearly impossible for running backs to get between them.
In seven years with the Jaguars, Stroud made 274 tackles, 22 sacks, and forced six fumbles. In that time, Stroud was selected to three Pro Bowls. All future Jaguars defensive tackles will be compared to Stroud and, the next player on our countdown, John Henderson.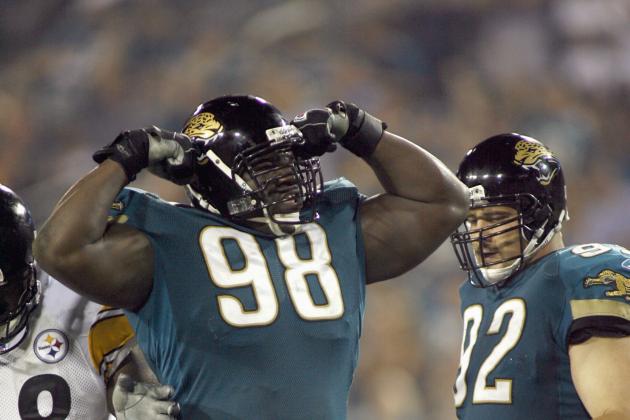 Marc Serota/Getty Images

John Henderson, or affectionately known by the Jaguars' fanbase as "Big John" joined the team as a first-round pick in the 2002 draft. He was drafted to join second-year tackle Marcus Stroud as the plug in the middle of the line. By 2003, the Jaguars were the second-ranked defense against the run.
In eight years with the Jaguars, Henderson totaled 423 tackles, 29 sacks, eight forced fumbles, and earned his way onto two Pro Bowl teams.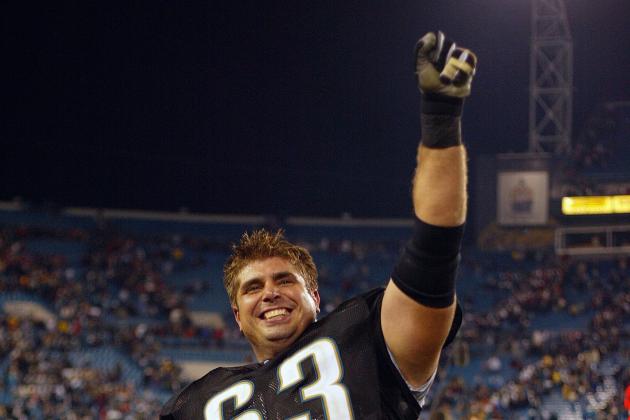 Jamie Squire/Getty Images

Players will come and go, but when you have a player that has spent 13 years with the team that drafted him, there is a reason. Brad Meester was drafted by the Jaguars when the world was still letting out a sigh of relief when the Y2K scare didn't cause an apocalypse. Meester is the longest-tenured Jaguar, and has been a productive contributor his entire career.
In 2000, Meester started all 16 games. In fact, Meester started his first 92 regular-season games. In that time, he has efficiently snapped the ball to 10 different starting quarterbacks for the Jaguars.
On March 19, 2013, Meester signed a one-year contract that will presumably lead to his retirement.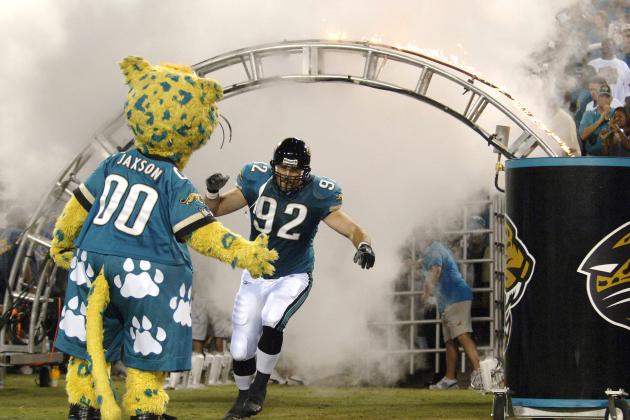 A. Messerschmidt/Getty Images

Another seventh-round compensatory draft pick, Rob Meier was able to stick to the Jaguars' roster. Unlike McCree and McCray, mentioned earlier, Meier was able to stay on with the team for 10 years.
In that 10-year career, mostly as a fill-in player, Meier totaled 228 tackles and 21-and-a-half sacks. Though Meier was never a big name on the line, he kept himself relevant with solid play at the point of attack.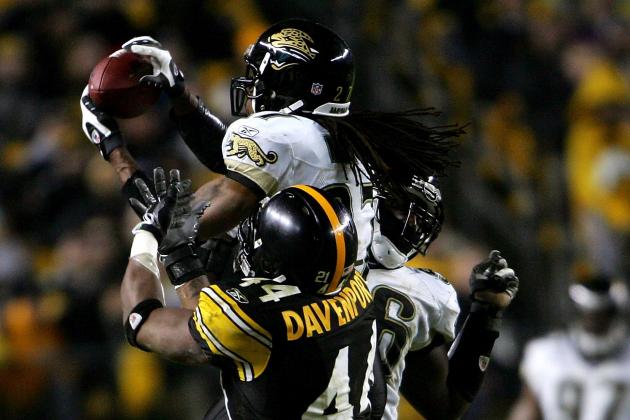 Chris McGrath/Getty Images

Not all NFL teams have the opportunity to draft a local player. But the Jacksonville Jaguars did just that when they selected Rashean Mathis.
Mathis played for local Englewood high school, and was selected in the second round from Bethune-Cookman, located less than 100 miles from Everbank Field.
In his time as a Jaguar, Mathis accumulated 518 tackles and set franchise records in interceptions (30), interception return yards (512) and interception return touchdowns (3). Mathis earned his lone Pro Bowl appearance in 2006, but was a valuable member of the Jaguars' secondary throughout his career.
Against the Steelers in the 2007 playoffs, Rashean Mathis showed the rest of the NFL what the Jaguars had in their cornerback when he intercepted Ben Roethlisberger twice, returning one for a touchdown.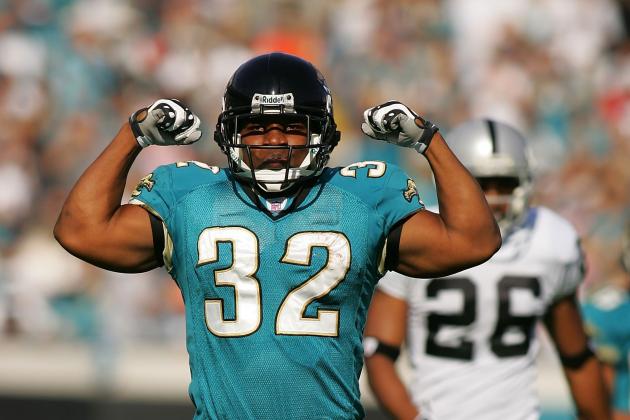 Sam Greenwood/Getty Images

When Maurice Jones-Drew was draft in the second round of the 2006 NFL draft, many criticized the pick to add the former Bruin as the eventual full-time starting running back.
Standing at only 5'7'' tall, Jones-Drew was seen as too small to take the brutality of the position. Wearing a chip on his shoulder in the form of the number ''32'' on his sleeve, Jones-Drew set out to prove to all 32 teams that passed him over in the first round that he would prove them wrong.
MJD started his rookie season as a role player, returning kicks and spelling starting running back Fred Taylor. Though slow to get time in the backfield, MJD ended the year second in the balloting for rookie of the year behind Vince Young.
Jones-Drew has earned many accolades during his career with the Jaguars. He has earned three Pro Bowl appearances, including 2011 when he was the NFL rushing leader. Jones-Drew has also set the all-time Jaguars record for single-game all-purpose yards, all-purpose yards in a season, and rushing yards in a season.
Currently, Jones-Drew has 1,570 rush attempts for 7,268 yards.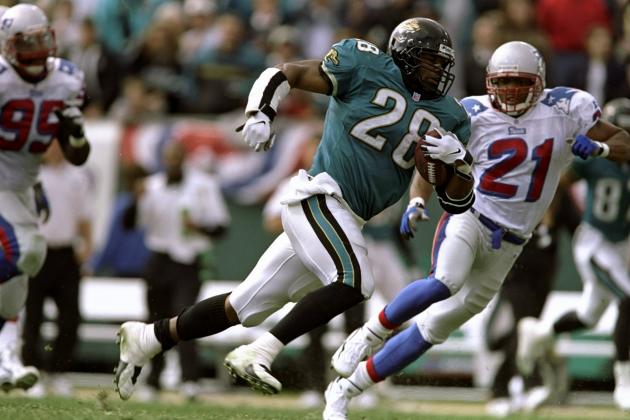 Andy Lyons/Getty Images

As good as Maurice Jones-Drew is, I don't think he'll ever be as good as Fred Taylor. Though Taylor was only invited to one Pro Bowl, he is one of only a handful of running backs to earn over 10,000 rushing yards. In fact, Fred Taylor is 15th all-time, between Hall of Famers Thurman Thomas (14th) and John Riggins (16th).
I don't know how to say this in more eloquent terms, so I'll let future Hall of Famer Ray Lewis describe Taylor:
Barring injury, he's one of the greatest talents we've ever seen touch a football. You kind of put him in that same category -- I don't want to go too far -- but like a Bo Jackson, going through the injury, playing year-in and year-out. But what Fred can do with a football in his hand, it's special.
Out of every running back to ever play the game, only Barry Sanders and Jim Brown have a better yard per-carry and per-game rushing average than Taylor. Think of the great running backs through the years; Walter Peyton, OJ Simpson, Emmitt Smith, Eric Dickerson. How many Hall of Famers can you name?
Of course a player like that is going to be a top draft pick in a team's history. But he's only No. 2…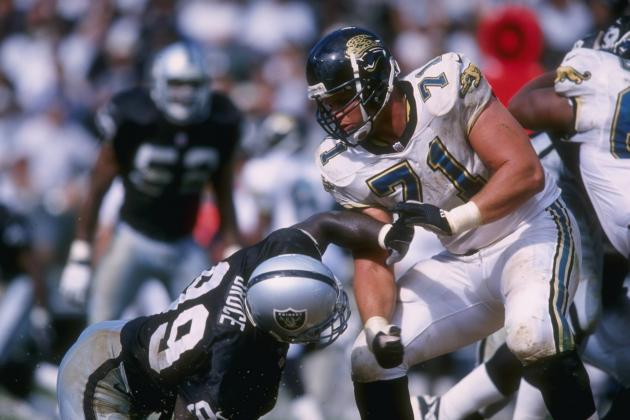 Stephen Dunn/Getty Images

Tony Boselli was an incredible NFL left tackle. He was taken with the second pick in the 1995 NFL draft and first in the 2002 NFL expansion draft. To be taken that early is a testament to what kind of player you are expected to be, and he was that twice, in two different drafts, seven years apart.
Through his eight-year career with the Jaguars, Boselli only gave up 15.5 sacks in his 91 games played. Lining up against some of the best defensive ends in his era, Boselli saw great success, including against Hall of Famers Bruce Smith and John Randle.
He earned five Pro Bowl nods, and was voted by the Pro Football Hall of Fame onto the 1990s All-Decade team. Within the franchise, Boselli was the first player inducted in the Jaguars' recognition system, the "Pride of the Jaguars."
Boselli played the most important position on the offensive line, and one of the premier positions in the sport. With a combination of size, strength and athleticism, he threw defenders to the ground with ease and directed them away from the play.
Because of this dominance at a critical position, Tony Boselli was the best draft selection in the Jaguars' history.