Updating the Top 12 Available Players of the 2014 Free-Agent Class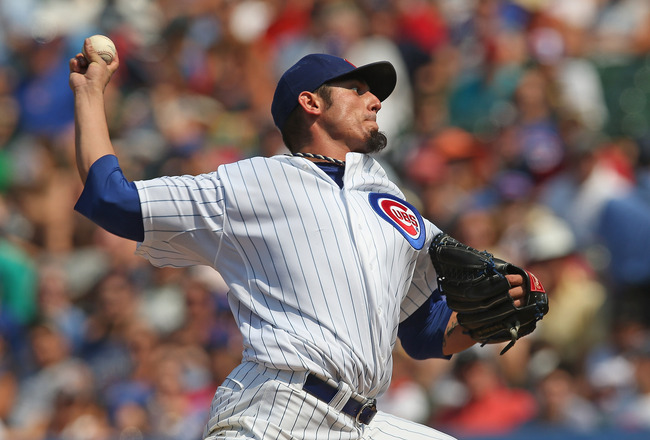 Despite an early-season stint on the DL, Garza is expected to be one of the top free agents available next offseason.
Jonathan Daniel/Getty Images
It's never too early to look ahead at the top players expected to be available as free agents next offseason. If the current trend is any indication, a few of these players will sign contract extensions and never reach free agency.
Many have already done so, including center fielder Carlos Gomez of the Brewers and Cardinals ace Adam Wainwright. Others will rise and fall from the free-agent rankings based on their in-season performance. Three weeks in, here are my Top 12 free agents-to-be.
1. Robinson Cano, 2B, New York Yankees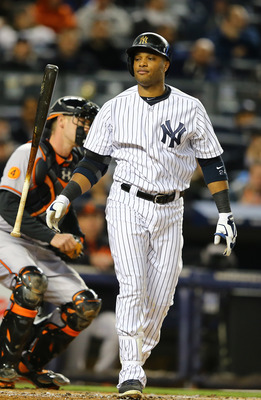 Al Bello/Getty Images
Expect Cano, who'll be 31 at the start of the 2014 season, to command a deal worth at least $200 million over eight seasons. That's a huge risk for any team to take on, which is why there will only be a handful of bidders if the Yankees can't sign him to an extension.
Cano has been amongst the most consistent superstars in the game, averaging 25 homers, 43 doubles, 96 runs batted in, 96 runs and 160 games over his last six seasons.
Along with the Yankees, expect the Cubs and Dodgers to be in the mix for Cano. The White Sox and Tigers could also have the financial means to make a run.
2. Tim Lincecum, RHP, San Francisco Giants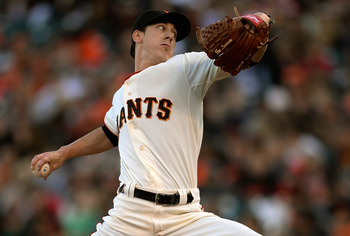 Thearon W. Henderson/Getty Images
Why is Lincecum second on this list after just one good outing against a mediocre offense (6.2 IP, 0 R, 4 H, 2 BB, 8 K)? Because no one on this list has Lincecum's credentials and upside. Any sign of his pre-2012 form and his value as a free agent can skyrocket.
Lincecum will be just 29 years old heading into the 2014 season. Combine that with his past success (two NL Cy Young awards, four-time All-Star) and a strong finish to the 2013 season, and bidding teams will have to throw his terrible 2012 numbers out the window.
If this is the case, there's no reason why Lincecum won't be asking for a contract similar to what Zack Greinke received this past offseason (6 yr., $159M).
It would be a huge risk, considering his sudden decrease in effectiveness last season, but it only takes one team to see past it and throw money at him based on the guy he's capable of being.
3. Jacoby Ellsbury, OF, Boston Red Sox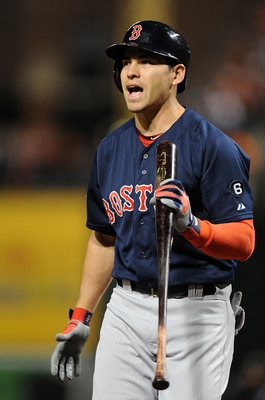 Greg Fiume/Getty Images
Another year like he had in 2011 (.321 BA, 32 HR, 105 RBI, 119 R, 39 SB), when he was second in AL MVP voting, and Ellsbury could surpass Cano at the top of this list. A more realistic possibility, however, is that he returns to his 2008-2009 form, when he had a .751 OPS while leading the league in stolen bases both seasons.
Through 18 games, that's exactly the kind of pace he's on with only one homer, a .792 OPS and nine stolen bases. The 29-year-old won't be hurting for cash, though, if this is how his season continues to play out.
At the least, he'd get a deal similar to the one Michael Bourn signed with the Indians (4 yr., $48M) this past offseason. And just the potential of another 30-plus homer season could get him much more.
4. Brian McCann, C, Atlanta Braves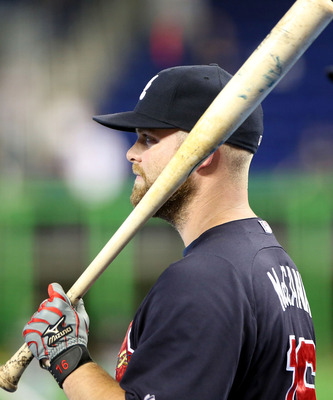 Marc Serota/Getty Images
Once all the Evan Gattis hype dies down in Atlanta after his early season home run binge, it will become obvious that the Braves miss the complete player Brian McCann was before an injury-plagued 2012 season that resulted in shoulder surgery last October.
And if he returns at full strength—he's expected to catch in extended spring training later this week and could begin a rehab assignment soon after—the Braves could be the team no one wants to face in the National League.
From 2006-2011, the 29-year-old McCann was an All-Star six times, while averaging 22 homers, 32 doubles, 86 runs batted in and 137 games per season.
Should McCann depart, the Braves have one of the top defensive catching prospects in baseball, Christian Bethancourt, waiting in the wings. He's nowhere near the hitter McCann is, though, so expect the Braves to try and re-sign him. They'll have plenty of competition if he makes it to free agency.
5. Matt Garza, RHP, Chicago Cubs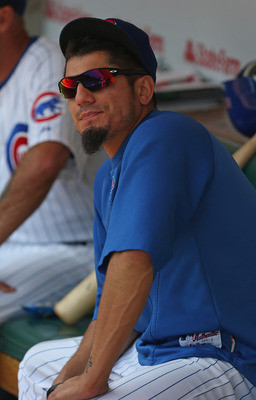 Jonathan Daniel/Getty Images
Like McCann, Garza's near the top of the rankings despite being on the disabled list since the start of the season. That's given top-pitching free-agent candidate Josh Johnson a chance to drop on the list with a couple of rough outings, while Garza's maintained his value based on what he can do.
A few other starting pitchers have a chance to move up the list, but no one has stepped up quite enough. This leaves Garza and his reputation as a top-of-the-rotation workhorse as someone who is expected to be pursued aggressively by contenders in July via trade and again this offseason as a free agent.
In two seasons with the Cubs, the 29-year-old Garza has a 3.52 ERA with a 2.8 BB/9 and 8.7 K/9 in 49 starts. Similar numbers upon his return—which is expected to come in early May—would likely result in a deal that surpasses Edwin Jackson's four-year, $52 million from this past offseason.
6. Josh Johnson, RHP, Toronto Blue Jays
Brad White/Getty Images
Even a repeat of his 2012 season (3.81 ERA, 191.1 IP, 3.1 BB/9, 7.8 K/9) would put Johnson in line for a nice payday, probably somewhere in the three-to-four year and $36-48 million range.
Regaining his pre-shoulder-injury form—when he went 29-12 with a 2.64 ERA over 70 starts between 2009-2011—would put him at the top of this list and more likely to be amongst the highest paid pitchers in baseball heading into the 2014 season.
So far, he's had mixed results in his first four starts with the Jays. The 29-year-old has two quality starts, but he's been hit hard in his other two games, which gives him an inflated 6.86 ERA. Opponents are also hitting .329 against him, including three homers.
That's obviously not a great start, but his second-half numbers will have the biggest impact on his offseason payday. Unfortunately, that won't help the last place Jays right now.
7. Shin-Soo Choo, OF, Cincinnati Reds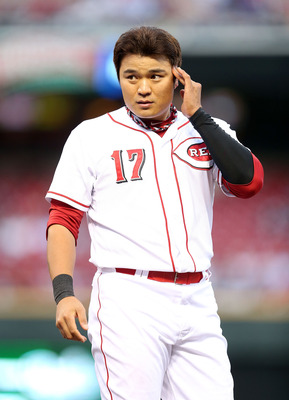 Andy Lyons/Getty Images
It's hard to imagine a better start for Choo, whom opposing pitchers cannot get out in 2013. The Reds' new leadoff hitter has a .521 on-base percentage with three homers, six doubles and 17 runs.
The 30-year-old has reached base in all 19 games and has 10 multi-hit games. He could land a similar deal to last offseason's top corner outfielder Nick Swisher, who signed a four-year, $56 million deal with Choo's former team, the Cleveland Indians.
Just don't expect him back in Cincinnati, where Ryan Ludwick and Jay Bruce are under contract for 2014, and top prospect Billy Hamilton should be ready to take over in center field early in the season.
8. Ervin Santana, RHP, Kansas City Royals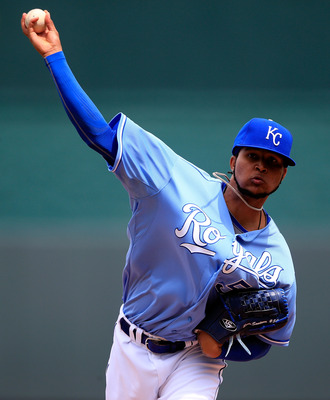 Jamie Squire/Getty Images
After giving up three homers in his first start of the season, the Royals had to be concerned that Santana's issues from last season (39 HR allowed, 5.16 ERA) would continue in 2013.
Three starts later, however, he's looking more like the guy who won 16 games with a 3.49 ERA, 1.9 BB/9 and 8.8 K/9 back in 2008. The 30-year-old allowed just four earned runs in 23 innings, with four walks and 18 strikeouts over those three starts.
Santana has the ability to sneak into the top three of starting pitcher free agents-to-be and end up getting a huge payday, at least in the four-year, $54 million range.
9. Chase Utley, 2B, Philadelphia Phillies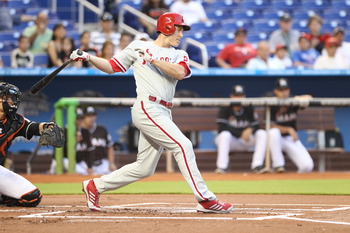 Marc Serota/Getty Images
After 11 seasons in Philadelphia, Utley could be elsewhere in 2014. He'll be 35 at the start of the season, and he missed time—due to injuries—in three consecutive seasons (2010-2012). He's been healthy and productive in 2013, though, with an .876 OPS, three homers and three stolen bases through 19 games.
If Marco Scutaro can get a three-year, $20 million contract at age 37 after just a few months of greatness in San Francisco, Utley can certainly land a similar deal, if not better, as long as he avoids any long-term stints on the disabled list over the course of this season.
Whoever loses out on the Robinson Cano sweepstakes will likely be in the mix for Utley.
10. Curtis Granderson, OF, New York Yankees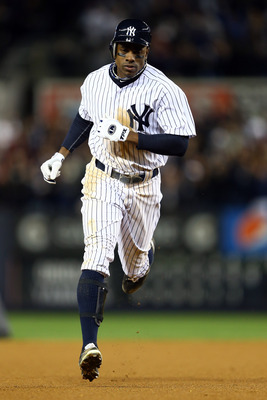 Al Bello/Getty Images
The 32-year-old—currently on the disabled list with a fractured forearm—hit just .232 with 195 strikeouts last season and isn't considered the best defensive outfielder, so it's the consecutive 40-homer seasons in 2011-2012 that will be the selling point of Granderson's agent next offseason.
Many teams would love to pencil in a left-handed hitter who can give them 30-plus homers for the next few years, which is why he'll probably get about $15 million per season through his age 36 season in 2017, despite his lack of an overall game.
11. Carlos Beltran, OF, St. Louis Cardinals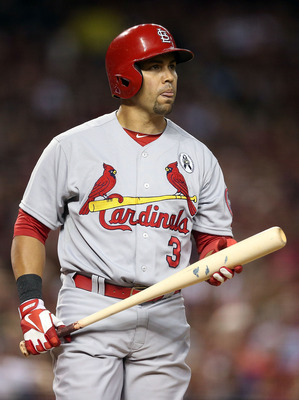 Christian Petersen/Getty Images
The Cardinals are getting great value out of Beltran's age 35 and 36-year-old seasons. They're paying $26 million for a highly productive player (.842 OPS in 2012) who has been able to stay on the field regularly.
If his knees can hold up, the switch-hitter will likely expect a similar deal from his next team. That team isn't expected to be the Cardinals, who have top prospect Oscar Taveras waiting in the wings.
An American League team, who can keep his knees rested by utilizing him as the designated hitter on occasion, might be the best fit.
12. Corey Hart, 1B/OF, Milwaukee Brewers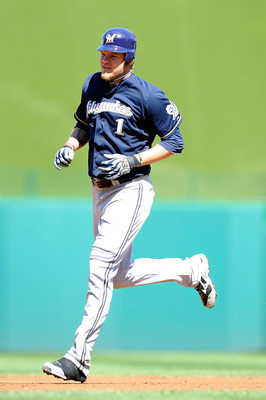 Patrick McDermott/Getty Images
Hart is the fourth player on this list who hasn't played a game this season due to injury, as he is on the 60-day disabled list recovering from knee surgery. Over the past three seasons, the 31-year-old is hitting .279 while averaging 29 homers, 31 doubles and 83 runs batted in.
Hart's ability to play first base or right field could give him more value on the open market. If he puts up his normal mid-.850's OPS once he returns, he should be making more per season than the career-high $10 million salary he's earning in 2013.
Keep Reading