Major League Baseball: Ranking the Top 10 Active Switch-Hitters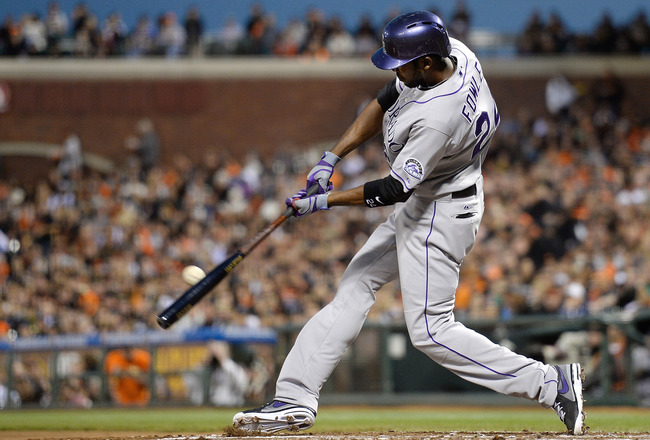 Dexter Fowler is quickly moving up the ranks as one of baseball's best switch-hitters.
Thearon W. Henderson/Getty Images
Hitting a baseball is arguably the hardest thing to do in sports, and only a small percentage of Major League Baseball players have been able accomplish that feat from both sides of the plate.
Switch-hitters are a valuable commodity for any major league franchise. Strategically, they hold the upper hand from their ability to adapt their swings to both righty and lefty pitchers.
This season, that small but coveted percentage of players has shared success across the board, thus far.
This article will rank the 10 best switch-hitters in the game based off two aspects: each player's current numbers, and my projected stat lines for each player at season's end.
Here are the top 10 active switch-hitters in baseball today.
Notable Mentions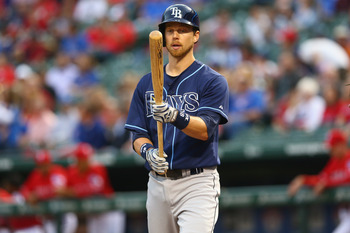 Rays' outfielder Ben Zobrist.
Ronald Martinez/Getty Images
Ben Zobrist, Tampa Bay
Current Stats: .281/ 1 HR/ 12 RBI/ 2 SB
Projected Stats: .270/ 18 HR/ 78 RBI/ 19 SB
Zobrist has been an important piece to this Rays lineup for some time now. While not breaking the top 10, he's been one of the most consistent switch-hitters over the last five years.
Angel Pagan, San Francisco Giants
Current Stats: .301/ 0 HR/ 11 RBI/ 1 SB
Projected Stats: .274/ 7 HR/ 65 RBI/ 22 SB
Pagan has proved his worth and durability over the last few seasons. He's not an All-Star player by any means, but he's one of the few five-tool switch hitters left in the game.
Matt Wieters, Baltimore Orioles
Current Stats: .224/ 3 HR/ 8 RBI/ 0 SB
Projected Stats: .251/ 25 HR/ 84 RBI/ 3 SB
Wieters will undoubtedly find his way into the top 10 switch-hitters in baseball…maybe even this season. He's come up with some big hits for the Orioles down the stretch but can't seem to maintain consistency at the plate.
Victor Martinez, Detroit Tigers
Current Stats: .167/ 0 HR/ 4 RBI/ 0 SB
Projected Stats: .254/ 19 HR/ 68 RBI/ 1 SB
Martinez is off to a dismal start to the season. He's only strung together two multi-hit games in 17 starts behind the plate. After last year's injury, it's going to take him another month to return to form.
Mark Teixeira, New York Yankees
Current Stats: .000/ 0 HR/ 0 RBI/ 0 SB
Projected Stats: .239/ 19 HR/ 73 RBI/ 1 SB
Teixeira, who has yet to have an at-bat this season for the Yankees, is likely out until May. If healthy, Tex would have easily crested the top five of this list. He's been one of the top switch-hitters in the game for almost a decade.
10. Shane Victorino, Boston Red Sox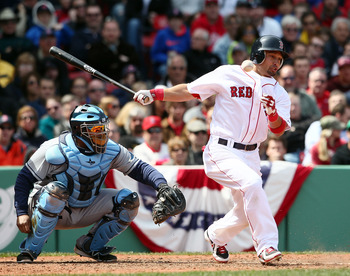 Red Sox outfielder Shane Victorino.
Alex Trautwig/Getty Images
After a confusing and conflict-ridden season with the Phillies and Dodgers last season, Shane Victorino is taking advantage of his new home in Boston with some notable numbers.
Having a leadoff hitter who switch-hits has always been a manager's dream. Whether the starting pitcher is a righty or a southpaw, if you have a guy like Victorino at the top of the lineup, you automatically start with an advantage.
The Flyin' Hawaiian is batting .311 with seven RBI and three stolen bases through the first 19 games.
Expect Victorino to bounce back from a down year and continue his hot hitting into the summer.
Projected Stats: .294/ 9 HR/ 62 RBI/ 38 SB
9. Coco Crisp, Oakland Athletics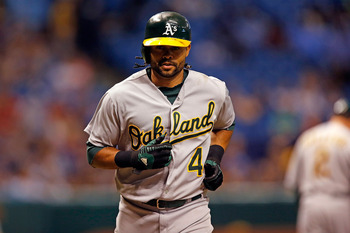 Athletics' outfielder Coco Crisp.
J. Meric/Getty Images
Oakland Athletics outfielder Coco Crisp is having himself an impressive and unanticipated start to the 2013 season.
The 33-year-old veteran switch-hitter has made a career being a threat on the base paths, but never really clicked at the dish. His awkward uppercut swing, scrappy attitude and…well…the name always made him an entertaining player to watch.
However, this season Coco Crisp has come out of the gate swinging and is making a serious statement in the West.
Crisp is batting .328 with an unprecedented five home runs and nine RBI and six stolen bases. He has an OBP of .434 and an OPS (on-base plus slugging) sitting at 1.137.
Oakland certainly would not sit at a 12-7 record in the AL West if not for the hot bat of Coco Crisp.
Expect his numbers to drop a bit in the coming months, but he should now be more than a base stealer for the Athletics.
Projected Stats: .299/ 21 HR/ 68 RBI/ 40 SB
8. Everth Cabrera, San Diego Padres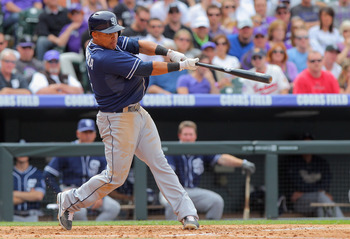 Padres' shortstop Everth Cabrera.
Doug Pensinger/Getty Images
Shortstop Everth Cabrera was a terror on the basepaths last season, leading the National League with 44 stolen bases.
This season, Cabrera is not only a threat on the bases, but he's having his best season with the bat thus far. The 26-year-old is batting .313 with two homers and three RBI with five stolen bases.
Last season, he swiped 44 bags in just 115 games. With a full season ahead of him, Cabrera should not only lead the National League in stolen bases, but make a dash towards the record books as well.
Expect Cabrera to steal upwards of 70 bases in 2013 and maintain a consistent bat for a team destined for the basement of the NL West
Projected Stats: .289/ 10 HR/ 41 RBI/ 73 SB
7. Nick Swisher, Cleveland Indians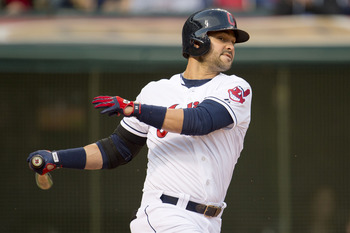 Indians first baseman Nick Swisher.
Jason Miller/Getty Images
Outfielder and converted first baseman Nick Swisher is off to his hottest start since 2009.
The switch-hitting duo of Swisher and catcher Carlos Santana is attempting to lead this offensively lacking Indians club to the playoffs for the first time in six years.
Swisher is proving durable and batting .302 with two homers and eight RBI.
The 32-year-old who wears his personality on his sleeve has hit over 20 home runs and 69 RBI in each of his last eight major league seasons, including the 93 RBI he hit for the Yankees last season.
The numbers never lie, and Swisher is a valuable and underrated asset for whatever team he suits up for.
Projected Stats: .274/ 22 HR/ 89 RBI/ 1 SB
6. Melky Cabrera, Toronto Blue Jays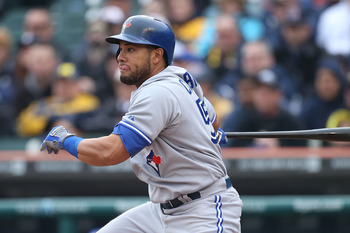 Blue Jays outfielder Melky Cabrera.
Leon Halip/Getty Images
Blue Jays outfielder Melky Cabrera is coming off a very exciting but controversial breakout season.
Now, after San Francisco parted ways with the convicted steroid user, Cabrera will still need to produce without the juice in his new home in Toronto.
So far, his numbers are down from last season. Cabrera is batting .280 with no home runs, six RBI and two stolen bases.
However, Cabrera was batting just .305 at this point last season. With a Blue Jays team with so much talent and potential, Cabrera has a chance to catch fire and lead his team to a division title.
Expect Cabrera to return to form and be the .300-plus hitter he was for the last two seasons.
Projected Stats: .301/ 14 HR/ 75 RBI/ 18 SB
5. Dexter Fowler, Colorado Rockies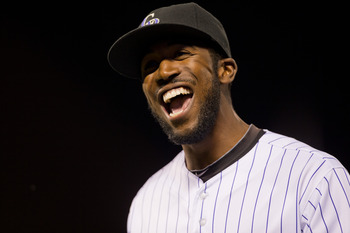 Rockies outfielder Dexter Fowler.
Justin Edmonds/Getty Images
The Colorado Rockies' Dexter Fowler is looking a bit out of character.
The 27-year-old outfielder is batting .250 with 10 RBI and is tied for second in the National League in home runs with seven. Last season, it took Fowler until May 28 to hit seven home runs.
The combination of Fowler, Carlos Gonzalez, Troy Tulowitzki and Michael Cuddyer has the Rockies first in baseball in batting average and second in runs. Fowler has hit seven of the team's 28 home runs this season.
The Rockies management considered dealing Fowler prior to the season, and it looks like their indecision has paid off so far.
Expect Fowler to improve his average over the course of the next month and come back down to earth in the home run column.
Projected Stats: .270/ 26 HR/ 65 RBI/ 15 SB
4. Carlos Santana, Cleveland Indians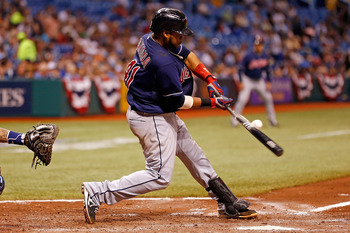 Indians catcher Carlos Santana.
J. Meric/Getty Images
The Cleveland Indians waited…and waited…and waited for their top catching prospect to blossom into a feared switch-hitter.
This season, Cleveland's patience may have finally paid off.
Santana is finally living up to his potential and batting a smooth .380 with four home runs and nine RBI. At this point last season, Santana had already racked up 18 strikeouts. His nine strikeouts and eight walks show a vast improvement at the plate.
He's also balanced his swing from both sides of the plate. Santana is batting .375 as a righty and .385 on the left side of the dish.
Expect the home run numbers to increase and the average to drop over the next few months.
Projected Stats: .315/ 33 HR/ 87 RBI/ 3 SB
3. Lance Berkman, Texas Rangers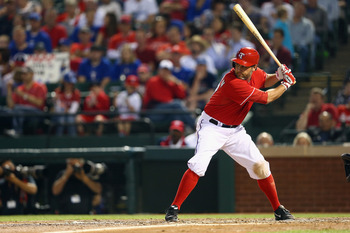 Rangers' first baseman Lance Berkman.
Ronald Martinez/Getty Images
Last season, Lance Berkman underwent yet another knee surgery in what looked like the end of a solid 15-year career.
Little did we know Berkman would be back in 2013, healthy and ready to lead his new team to the promise land.
Berkman is off to one of the hottest starts of his career, batting .378 with one home run and 10 RBI in 14 starts. He currently leads the American League in OBP.
The Waco, Texas native and longtime Astro found his new home in Arlington this offseason after signing a one-year/$11 million contract with the Rangers.
Expect the now 37-year-old to drop in average but produce enough to earn a contract extension by July.
Projected Stats: .314/ 15 HR/ 89 RBI/ 2 SB
2. Carlos Beltran, St. Louis Cardinals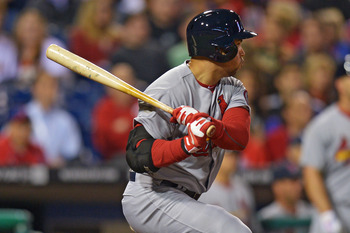 Cardinals outfielder Carlos Beltran.
Drew Hallowell/Getty Images
Outfielder Carlos Beltran's contract ends after the 2013 season, but he's definitely making a case for another big payday.
In fact, the 35-year-old is proving to be one of the most experienced and consistent switch-hitters in the game.
Beltran is batting a solid .283 with four homers and 12 RBI. He leads his team in RBI and home runs.
Cardinals prospect Oscar Taveras is breathing down the neck of Beltran and will likely force him out of a job. However, even in his old age, Beltran will likely earn another big payday after this season.
Expect Beltran's numbers to stay consistent for the next couple months, then drop off later in the season.
Projected Stats: .279/ 35 HR/ 101 RBI/ 10 SB
1. Pablo Sandoval, San Francisco Giants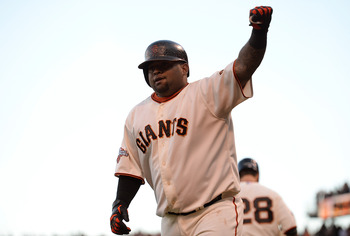 Giants third baseman Pablo Sandoval.
Thearon W. Henderson/Getty Images
Coming off a season where he played in just 108 games, a healthy Pablo Sandoval is among the league leaders in RBI. Sandoval is batting .290 with three homers and 17 RBI, tied for eighth-highest in baseball.
The Kung Fu Panda is looking to bounce back after chronic elbow problems during the 2012 season. So far, he's doing it in stunning fashion.
Sandoval is an important part of the San Francisco Giants offense, knocking in 22 percent of the team's RBI.
Expect the 26-year-old Sandoval to remain a force in the Giants' lineup and eventually raise his average.
Projected Stats: .310/ 21 HR/ 95 RBI/ 4 SB
Keep Reading