Joe Vellano: Video Highlights of Former Maryland Defensive Lineman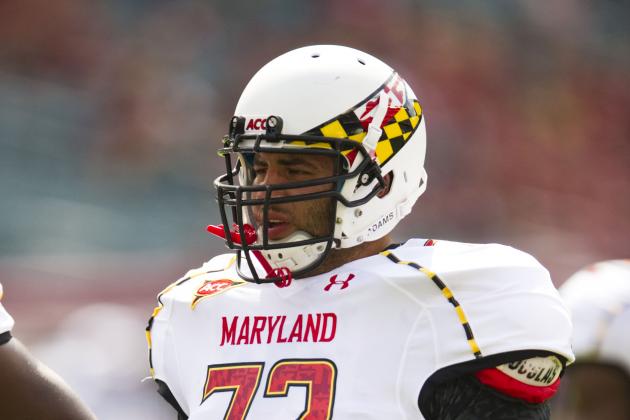 Howard Smith-USA TODAY Sports

Former Maryland defensive lineman Joe Vellano (6'2", 308 lbs.) is far from the most athletic defensive lineman in this year's NFL draft, but his work ethic and motor will land him on an NFL roster.
Vellano isn't among the first players you think of when mentioning this year's NFL draft class. Vellano isn't even the first in his own family.
Vellano's father Paul was a star at Maryland in the 1980s. After Joe was selected to be an All-American in 2011, the Vellanos became the first father-son duo to earn All-American honors at the same school in ACC history (UMTerps.com).
If you've seen Vellano on tape, you see that he has next-level talent; a potential caveat being that Maryland's 49th-ranked strength of schedule didn't give him the opportunity to play against better competition. Nonetheless, he accumulated 94 tackles in 2011 from the defensive tackle position.
Vellano's tenacity, relentlessness, strength and foot speed shouldn't go unnoticed, and chances are they won't by the end of the draft (CBSSports).
Here's a look at five video highlights demonstrating why Joe Vellano will land on an NFL roster.
Begin Slideshow

»
In this highlight, we see Joe Vellano do several things well.
First, he reads the play pretty quickly and sheds the blocker. Second, noticing that the running back would get by him, he takes an angle that would allow him to tackle the ball-carrier downfield if necessary. Next, the running back was sidetracked by another defender who poked the ball loose.
Lastly, Vellano is rewarded for his efforts by recovering the fumble and returning it 30 yards for the Maryland touchdown.
Vellano recorded a 5.35-second 40-yard dash at his pro day, but this video shows that he accelerates and moves in the open field well for a defensive tackle. Between this play and many other plays in this video of Vellano chasing down opponents, it becomes apparent that Vellano has what scouts call "game speed"; when a player plays at a speed faster than the one they test at.
At the NFL level this will translate well because lots of offensive skill position players have the ability to make the first or the second defender miss. When this happens, it's usually the linemen or back-side players that end up making those tackles.
What separates good defenders from great ones is the time between the first missed tackle and the follow-up hit.
Next we'll look at Vellano's speed and find out why he's always first to the pile.
Weighing in at 306 pounds, Joe Vellano isn't exactly an ambassador for speed. That was confirmed at his pro day, where he ran a 5.3-second 40-yard dash.
On the field, however, Vellano seems much faster. He is lined up at left defensive end on this play. The quarterback rolls out to his left, the defense's right, side.
Vellano's ability to continually pressure the quarterback closer and closer to the sideline, or widen the play, allows him to make this play. As mentioned before, Vellano does a good job of sticking with the play. Notice that Vellano isn't the first player to the quarterback; rather the nose tackle is. The Towson ball-carrier is able to make him miss, but almost immediately Vellano meets him for the tackle.
An indicator of an active and effective defensive lineman is how well they can close in and secure tackles. The plays in this highlight and the next show exactly why teams are considering Joe Vellano.
In the first video highlight, we saw Joe Vellano recover a fumble, bobbling it briefly before returning it 30 yards for a touchdown. Being that defensive linemen almost never touch the football, it's surprising that Vellano has the ball skills and awareness to locate the ball in the air, catch it, hold onto it and run.
In this video highlight, we see Vellano's awareness at play yet again. In fact, his awareness results in a takeaway.
Vellano is lined up at tackle, but the Maryland left end gets to the quarterback first and knocks the ball loose. Vellano, again, was aware enough to catch the ball out of the air to recover the fumble.
Vellano's uncanny instinct of finding loose balls will especially be attractive to NFL teams this year since the infamous "Tuck Rule" will no longer be in effect. The new rule states that any passer that loses the ball attempting to tuck it away will be credited a fumble. The old rule stated that if the passer's hand was moving forward, it was ruled an incomplete pass (Yahoo Sports).
Vellano's seemingly magnetic attraction to fumbles will help him in draft-day war rooms.
Just about any tape available on Joe Vellano shows that he has the heart of a champion. From sacks to interceptions to fumble recoveries, Vellano not only works hard but also dominates from play to play.
In this highlight, Vellano is clearly a focus of the offensive blocking scheme, as evident by the double-team he receives. He's able to keep his arms extended, maintain distance and disengage as the running back approaches. He then uses his power to separate from the two blockers and take on the running back, whom he eventually brings down.
This translates well at the NFL level, as any team can use a high-energy defensive tackle. Bleacher Report's Matt Miller compares Vellano to former Patriots, Colts and Eagles lineman Dan Klecko, who played six seasons in the NFL.
At 6'2" and 306 pounds, it's fair to say that it's not easy to get around Joe Vellano. Not only does he take up space, but he also takes on blockers well and stops the ball. This highlight needs very little explanation—Vellano completely dominates the Wake Forest offense on this play.
Ultimately, Vellano has done a good job making a case for himself over the last two years. With over 150 tackles in his final years, Vellano has added many pieces of hardware to his collection, including All-ACC and All-America honors. Although his size and measurables aren't ideal, his game film, energy level and intangibles make him an asset to whatever roster he lands with.
Dane Brugler of NFLDraftScout.com had this to say about Vellano: "Most players with his measurables are lucky to get a call from NFL teams after the draft, but Vellano has the motor and NFL instincts to be a late round pick" (NFLDraftScout).