San Diego Chargers 2013 Mock Draft: Full 7-Round Predictions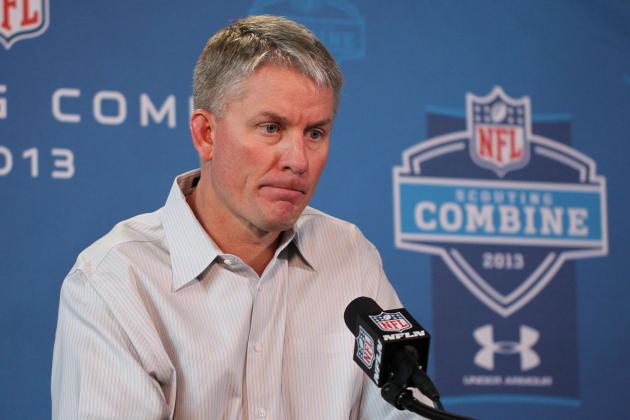 Brian Spurlock-USA TODAY Sports

With the draft less than seven days away, another mock draft seems appropriate.
Experts and writers can make as many mock drafts as they want, but there is always going to be those unpredictable selections and trades made on draft day, messing with everyone's predictions.
It's the first draft for the San Diego Chargers under Tom Telesco and Mike McCoy. The offensive line is the biggest area of concern, but John Pagano's defense needs some depth as well. It should be an interesting approach for the Chargers this season.
Here's my latest mock for the San Diego Chargers in the 2013 NFL draft.
Begin Slideshow

»
Lane Johnson had been the consensus pick for the San Diego Chargers in the last month, but recent reports are showing that the Bolts would have to trade up to draft him. According to Jeff McLane of the Philadelphia Inquirer, Johnson feels the Eagles may take him at No. 4. If he's not taken there, the Arizona Cardinals would grab him at No. 7.
As for the other top two tackles, Luke Joeckel and Eric Fisher, there's no way they would fall to the Chargers.
Telesco already knows all of this. He's most likely debating whether to trade up and get one of those three tackles or stay put and take a guard.
I say stay put and take a guard. Either Chance Warmack or Jonathan Cooper, or both, should be available at No. 11 for the Chargers. With the Tennessee Titans drafting one pick before San Diego, one of those two guards could be taken.
The Titans will take Warmack if he is available. That would leave Cooper for the Chargers.
I would much rather have the Chargers take Cooper instead of Warmack. Warmack may be a little better in pass protection than Cooper is, but Cooper's overall ability in a zone-blocking scheme, which the Chargers have recently switched to, makes him a better pick for San Diego.
Cooper has the athleticism the Chargers need for the offensive line. Protecting Philip Rivers is the biggest concern in San Diego, yet no one is talking about the lack of blocking Ryan Mathews has received over his first three seasons.
Yes, he struggles to stay healthy, but blocking does have something to do with that. Cooper is the best pulling guard in the draft and would allow Mathews the opportunity to burst through holes for long runs, something the Chargers have missed since LaDainian Tomlinson.
Cooper would be the best selection for the Chargers in the first round if the top three tackles are not available.
Another reason Cooper is an excellent pick is the talent available at the tackle position outside of the first round.
Terron Armstead has huge upside that is being overlooked. He's a perfect fit for the Chargers' new zone-blocking scheme with his incredible athleticism (as seen in the video) and balance. Armstead isn't at the level of the top tackles in the draft, yet. He is a work in progress but will be worth it with the right development.
Sigmund Bloom of Bleacher Report wrote an outstanding scouting report on Armstead where he highlighted his strengths:
Armstead moves so well that his size appears to be an optical illusion on film. He can pull like a guard, get in instant position outside the hashes to block for a screen pass and mirror speed rushers like a dance partner. There is a bit of a killer instinct, as Armstead will plant a pass-rusher who gets off balance or otherwise lets Armstead dictate the play.
With the addition of Danny Woodhead, the Chargers should look to get back to their explosive screen plays they once did with Darren Sproles. Armstead would help make those big plays possible. As for blocking speed rushers, San Diego needs that help as they face guys like Tamba Hali and Von Miller four times a season.
Armstead may not fall to the Chargers in the second round, but if he does, they should not pass on him.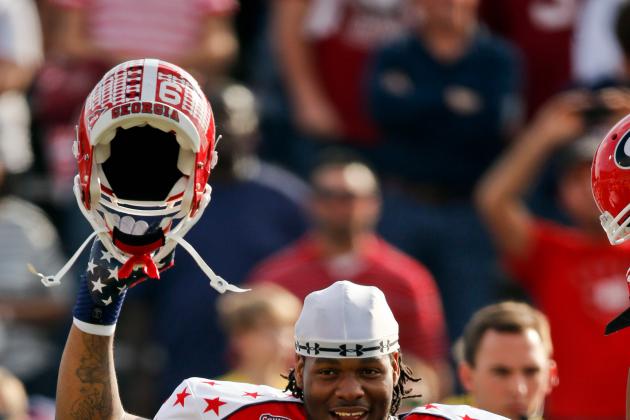 Derick E. Hingle-USA TODAY Sports

A lot of people have Johnathan Jenkins going late in the second or early in the third. Those same people had Melvin Ingram going in the top 10 last season. It shows what the NFL draft is all about: surprise.
Jenkins is a big, big boy. Standing 6'4'' and weighing almost 350 pounds, Jenkins will be one of the biggest players in the NFL next season.
Defensive tackle is a position that has been in and out the past few seasons. Antonio Garay had a good season, then Aubrayo Franklin and now it's Cam Thomas' turn. Thomas has been on the Chargers for the past three seasons and has done little to nothing to prove he's capable of anchoring the defensive line.
Corey Liuget and Kendall Reyes have emerged as young, physical players capable of starting and producing in San Diego. Now they need a guy in the middle.
Jenkins would be a perfect fit. The Chargers, for once, would have a young and talented front line.
Sigmund Bloom wrote another article on Jenkins for Bleacher Report, highlighting his strengths as well:
Jenkins will instantly be one of the biggest players in the NFL, and he's not a slug. The big man will flash surprising quickness and he can actually run a little bit. He has very good stamina in game for someone who weighs near 350. Forget about moving Jenkins backwards with one-on-one unless you go at his legs. He will tie up double-teams and re-route running plays that enter his area. Even though he is massive, Jenkins can actually collapse the pocket and generate some pressure on the quarterback.
CBS Sports has Jenkins compared to B.J. Raji of the Green Bay Packers.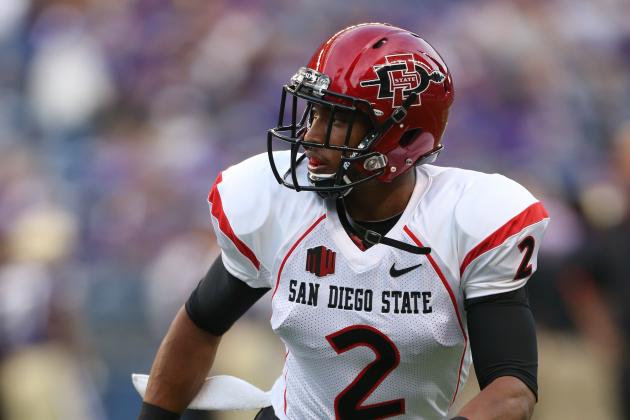 Otto Greule Jr/Getty Images

Did you think I wouldn't put a San Diego State player somewhere in this mock?
The Chargers love SDSU players. Guys like Kassim Osgood and Antwan Applewhite played for the Chargers, while Brandyn Dombroski and Vincent Brown are currently on San Diego's roster. They also had their eyes on Ronnie Hillman in last season's draft but lost him to the Denver Broncos.
This year, they need to have their eyes on Leon McFadden. Cornerback is a position that needs depth.
After losing Quentin Jammer and Antoine Cason, the Chargers will be starting two new defensive backs next season. One of those players will be Derek Cox, who was signed by the Chargers in free agency. Opposite of Cox will either be Shareece Wright or Marcus Gilchrist.
Another cornerback should be brought in to fuel the battle in camp for that second starting spot.
Another big reason a cornerback should be added is injury concerns with Derek Cox. Wright and Gilchrist may be ready to start, but San Diego can't risk it. It needs more depth.
McFadden is the guy San Diego needs. He may struggle in the NFL with bigger and more physical receivers, but his ability to make plays on the ball should make up for that. McFadden does something the Chargers have not had in recent years with Jammer and Cason; he has the ability to stay with receivers, stride for stride.
With a very good draft class for cornerbacks, McFadden could get lost in the mix. The Chargers will not lose sight of the talented corner.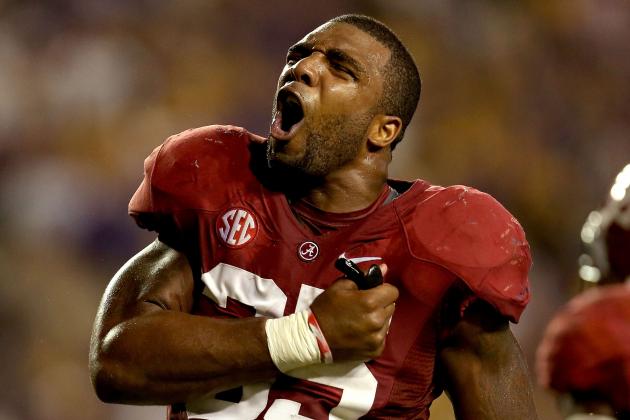 Matthew Stockman/Getty Images

Nico Johnson has been in many of my mocks. He's a flat-out beast inside. Usually, I would have the Chargers take Johnson in the fourth round, but lately, his draft stock has fallen. That reason, I have no clue.
Ryan Alfieri of Bleacher Report wrote a scouting report on Nico Johnson, making this list of his strengths:
"Assignment-sound run defender, good form tackler, effective blitzer and physical, willing to take on guards and fullbacks in force."
His physicality would fill the void left by Takeo Spikes. Maybe not immediately, but in time he would. Jonas Mouton would compete with Johnson for the spot next to Donald Butler, the emerging star.
CBS Sports has Johnson compared to Bart Scott of the New York Jets.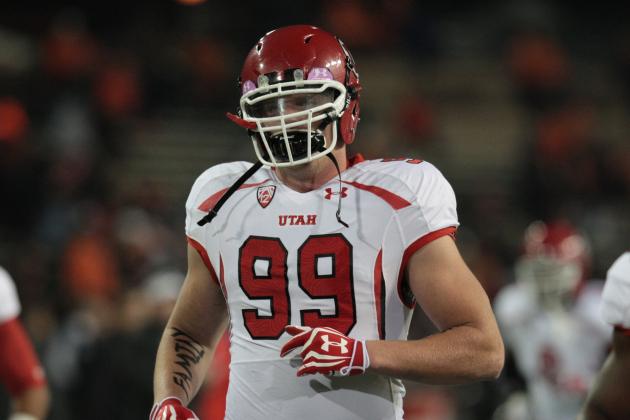 Scott Olmos-USA TODAY Sports

The brother of Paul Kruger, Joe is one of the most underrated players in the 2013 NFL draft.
Just like his brother, Joe is absolutely physical. Although Kruger is a big guy, his mobility will surprise you. He doesn't excel in one area, proving he's an all-around athlete. Kruger wouldn't be an immediate impact player, but the Chargers do not need that.
The defensive end position is not solidified, but it's also not a position of need. Kruger would be an excellent rotational player, helping the Chargers defense remain young and athletic.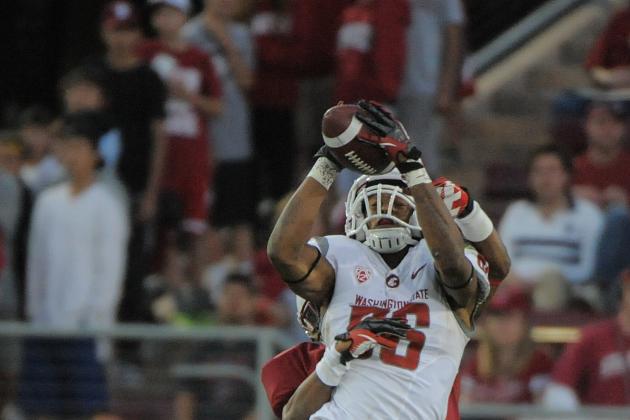 Kyle Terada-USA TODAY Sports

This is my favorite pick of all. There are two kinds of people in this season's draft, those who think the Chargers need a wide receiver and those who think it would be completely stupid to draft one.
Well, I'm neither of those. The Chargers are not in need of receiver with Danario Alexander, Malcom Floyd, Vincent Brown, Robert Meachem and Eddie Royal on the roster. It would be dumb to waste a draft pick on a wide receiver. That is, if it's a pick in the first five rounds.
For those that don't know, Marquess Wilson was the fourth-rated wide receiver at the start of the college football season. He was projected to be a first- to second-round pick. Then, he had a fallout at Washington State.
Wilson left Washington State based on allegations he made toward his head coach for "player mistreatment," according to the Seattle Times.
Months and months later, Wilson is searching for an NFL team to take him. That shouldn't happen. Wilson is 6'4'', making him a perfect target for Philip Rivers. Yes, San Diego looks set at receiver, but have you thought about injuries.

Alexander has huge injury concerns with his knees, Floyd and Eddie Royal have yet to stay healthy over their careers. Brown missed the entire season last year due to an injury and Meachem flat out did nothing.
On paper, the Chargers look set at receiver, but if they can take a guy like Wilson in Round 7, they should. Wilson is a great jump-ball receiver with outstanding ball control and hands. He has the ability of a Vincent Jackson, minus the speed and build.