Texas Rangers: 6 Reasons They Can Still Win the AL West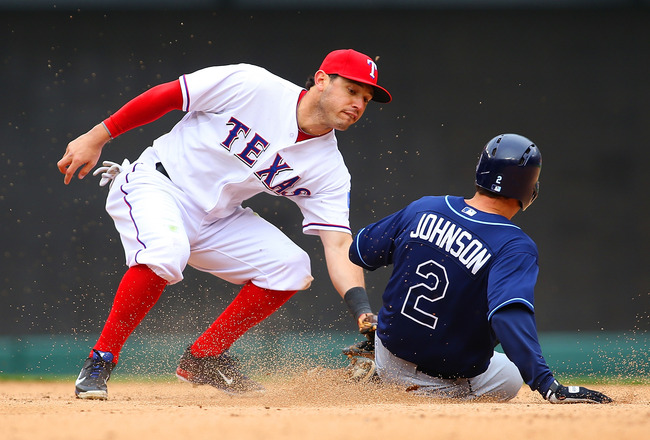 Rick Yeatts/Getty Images
The Texas Rangers are about three weeks into the new season. They were just dealt a big blow with the news that lefty Matt Harrison will need back surgery.
Despite the bad news, there is reason for optimism—after all, it's only April.
Ron Washington and his players can still set their sights on the division crown. Here are a few reasons why.
Trio at the Top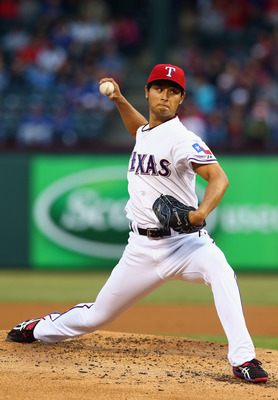 Ronald Martinez/Getty Images
Yes, the Oakland A's rotation is the class of the AL West, but that's no reason to overlook the players the Rangers send to the hill.
Although Matt Harrison is on the DL, Yu Darvish, Derek Holland and a consistent Alexi Ogando are a formidable trio. From top to bottom, these three have experience and recent success. The team's fifth starter, Nick Tepesch, has also shown promising signs during his short sample of work.
Despite a couple bumps, the Texas starters are holding up their end this season. They have helped pitch three shutouts already through 16 games.
Steady Bullpen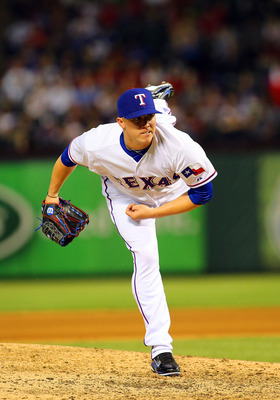 Rick Yeatts/Getty Images
The unease regarding the Rangers bullpen is significantly lower right now than it was in spring training.
That's because the players Ron Washington calls upon in crunch time—Joe Ortiz, Tanner Scheppers, Robbie Ross and Joe Nathan—have given up just three earned runs in over 30 innings.
If the Rangers continue playing tight and low-scoring games, they should feel confident holding a lead with the way these players are performing.
Reinforcements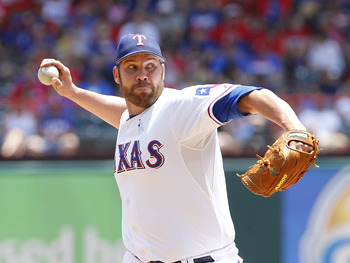 Rick Yeatts/Getty Images
With Matt Harrison on the shelf for the next couple months, the Rangers' depth will be greatly tested. Fortunately, they already have a few additions on the way without having to make a move.
Colby Lewis, Martin Perez and Neftali Feliz are all working their way back from injuries.
In particular, Lewis' return will be a huge boost. The veteran was having a great season last year before an elbow injury cut it short.
Additionally, former All-Star Joakim Soria will also join the bullpen soon. If fully healthy, he brings another electric arm to the late innings.
Offense Has Nowhere to Go but Up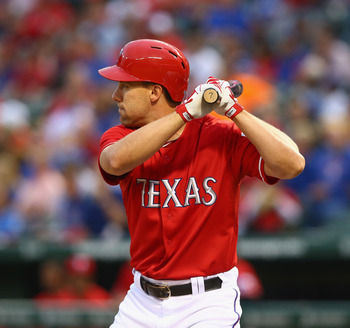 Ronald Martinez/Getty Images
Strangely enough, the Rangers' biggest issue this season has been offense. They rank in the bottom half of the league in runs scored—very unusual for the traditional offensive powerhouse.
A similar dry spell doomed the team late last year, so is this simply a sign of things to come?
Probably not. Three of the Rangers' most important hitters—Elvis Andrus, Adrian Beltre and David Murphy—won't hit .237 and below all year like they are right now. They all have track records that prove otherwise.
When the offense picks things up, it will make the Rangers much more difficult to beat.
Run-Saving Defense
Bob Levey/Getty Images
The Rangers defense is among the best in the business. They currently rank sixth in baseball in fielding percentage.
Elvis Andrus and Co. regularly turn hits into outs, thereby saving runs and keeping the pitch counts low for their teammates on the mound.
In tight ballgames, it's important for teams not to beat themselves, and careless errors are one of the easiest ways to do this.
Superior Resources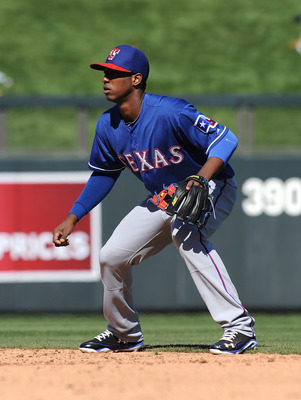 Norm Hall/Getty Images
The Rangers' farm system (currently ranked third by Baseball America) is frequently a popular topic of conversation—even more so in recent months.
When the trade deadline rolls around, Jon Daniels will have more than enough resources to land an impact player, if he feels the deal is right. The team's rivals in the AL West, however, aren't quite in the same boat (Baseball America ranks Oakland and Los Angeles' systems 25th and 30th, respectively).
Thanks to their loaded system, the Rangers have made some big splashes the past three years—Cliff Lee, Mike Adams and Ryan Dempster, among others.
Who the player(s) will be this year remains a mystery, but what is certain is that the Rangers are once again in perfect position to make a move.
Keep Reading

Texas Rangers: Like this team?