Carolina Panthers 2013 Draft Picks: Final Results, Analysis and Grades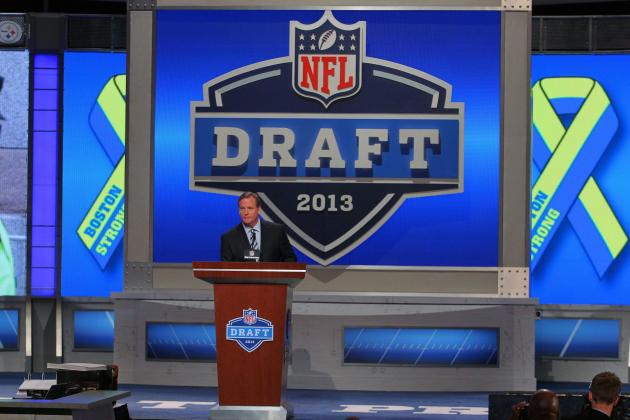 Brad Penner-USA TODAY Sports

The 2013 NFL Draft is over and it was a good one. This year's draft has featured a few surprises and for the first time in 50 years did not feature a running back being taken in the opening round. As far as surprises go, the Carolina Panthers received one with their first selection and what a beauty of a pick it was; as it plugs a major hole in the defense. The addition of Kawann Short guarantees the Panthers will field one of the most formidable lines in 2013.
Even more surprising were the picks Carolina made in rounds four through six. Their last three picks were not in line with what many felt were their biggest needs and it has been a hot button topic since the middle of round four.
All picks are here along with grades and analysis of each selection, followed by a final grade for Carolina's draft as a whole.
Begin Slideshow

»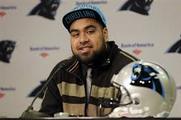 The Carolina Panthers received an early draft present in the form of Star Lotulelei. After seeing a large group of offensive linemen and defensive ends taken off the board, the Panthers found themselves looking at two of the best defensive tackles in the draft - Sharrif Floyd and Lotulelei.
Carolina has lacked a solid defensive tackle for the last few seasons and it has showed in recent years. Now Lotulelei will be paired with Dwan Edwards who will make up the interior of the defensive front and with proven pass rushers Charles Johnson and Greg Hardy lining up on the edges, the Panthers will have a formidable defensive line.
Defensive coordinator Sean McDermott will be able to get creative in his play calling as Lotulelei is strong and versatile. He immediately brings a packaged deal that is capable of rushing the passer and stuffing the rushing attack.
Draft Grade: A+
The Carolina Panthers wasted no time in deciding who they wanted in the second round as they stayed at defensive tackle and selected Kawann Short out of Purdue. This was a player who appeared in a few earlier mock drafts but only if Carolina had drafted a defensive back or wide receiver first. However, this selection falls in line with Dave Gettleman's thinking and the Panthers are a better team for it.
Paired with Star Lotulelei, Short will help beef up the defensive line which should eliminate double teams, free up the linebackers up the middle and make life difficult for opposing offenses. It seems as though the Carolina front office is drafting in response to the moves made by division rival Atlanta after they signed Steven Jackson, and want to contain Tampa Bay's Doug Martin and New Orleans Mark Ingram.
What was once a porous line up the middle is now vastly improved and considering that they are carrying three talented defensive tackles (including Dwan Edwards after his breakout season in 2012), Sean McDermott and Ron Rivera will be able to employ various schemes and not worry about a weakness on the line.
Considering the Panthers play in a division that is built on the strength of the offense, as is the case with Atlanta and New Orleans, Carolina is intent on constructing a defense that will destroy and bring down anyone they face.
Draft Grade: A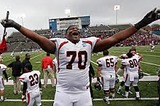 The Carolina Panthers selection of Edmund Kugbila may be the most unpopular pick among fans who were thinking the team needed to bring in a defensive back. Instead they went in another direction and drafted another offensive lineman from a small school to protect Cam Newton and help clear running lanes for DeAngelo Williams and Jonathan Stewart.
Dave Gettleman wants to get big on the lines and have the size advantage in the trenches. The Charlotte Observer's Joe Person noted on Twitter:
Dave Gettleman wasn't lying about this whole big-body thing. Weights of first 3 picks: 311, 308, 317.
— Joe Person (@josephperson) April 27, 2013
While that may be case, some have to wonder if this pick was a bit premature. Kugbila didn't grade too high in many pre-draft analysis and could be seen as a safe pick as the Panthers may not want to draft a guy with character issues.
Don't expect Kugbila to start in 2013 but he should be a second string player who will be getting a lot of looks in training camp and the preseason.
Draft Grade: C+
Carolina is not shy about making surprise picks as they shocked their fans once again by drafting a player who plays a position that is not one of need. A.J. Klein started the past three seasons at Iowa State and looks to be the backup to starter Luke Kuechly.
Klein is an intelligent player who has great instincts on the football field. This could be a move that would serve as an insurance policy in case of injuries. Joe Person of the Charlotte Observer offers his own thoughts on the pick:
Klein is, in essence, Jason Phillips' replacement. Backup LB, special teams player.
— Joe Person (@josephperson) April 27, 2013


While depth is a good thing, Panthers fans must feel a bit disappointed in the team not pursuing a defensive back. It seems as though the Carolina front office is looking to focus on the defense this year and then give the offense extra attention next year.
Draft Grade: C-
Unless Carolina makes a last minute trade, their 2013 draft class concluded with running back Kenjon Barner. This was a very surprising move considering how loaded and deep the Carolina backfield is at this time. Barner looks to be competing for a spot on special teams or a backup to either DeAngelo Williams or Jonathan Stewart if either one gets injured - which is a common theme between the two.
Barner has great speed and can be a breakaway threat. It's those skill traits that probably has the Panthers interested as they would like to get some more pop in their return game.
Panthers collecting DTs and kick/punt returners. Barner returned 1 of each for a TD at Oregon.
— Joe Person (@josephperson) April 27, 2013
It's really interesting the Panthers drafted the Oregon product as their backfield is talented in it's own right and already had Armond Smith and Tauren Poole on the roster. Both looked fairly decent in the preseason last year and Smith appeared in a couple of games in a return role.
If Barner develops into a great running back or return man, this pick will be viewed as a late draft steal. However, there will be those mulling over the players the Panthers could have drafted who were available at this point in the draft.
Draft Grade: C+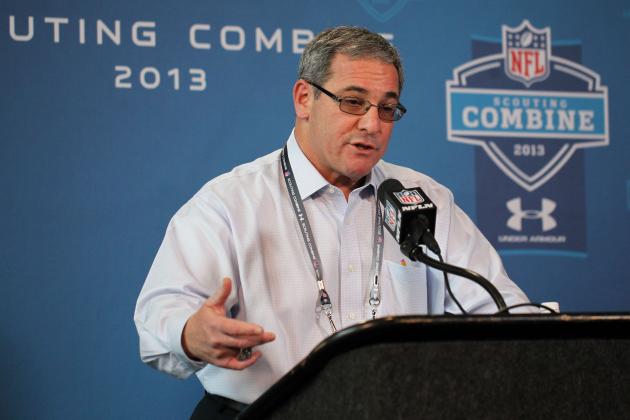 Brian Spurlock-USA TODAY Sports

In the eyes of some, the Panthers started out with promise by landing arguably the best defensive player in the draft and then landing another first round caliber player in the second. However, their last three picks were met with scrutiny, criticism and ridicule.
It is way too early to start declaring this draft as one of the worst ever as the finished product needs to be put out on the field. Dave Gettleman seems to know what he is doing and looks to building towards the future. If anything, the picks of A.J. Klein and Kenjon Barner could be beginning of a transition.
Per Joe Person:
Panthers preparing for life after Beason and Williams by drafting Klein and Barner. Not this year. Next.
— Joe Person (@josephperson) April 27, 2013
While some feel some of these picks were reaches, Gettleman felt differently.
Gettleman: Felt like we didn't reach for anyone.
— Joe Person (@josephperson) April 27, 2013
Carolina still has rookie camp and training camp to work out everything. There is a lot of positives to take away from this draft and yes, a few negatives. The Panthers probably should have looked at adding some depth at secondary and as a result, their overall grade is lower than it probably should have been,
Final Draft Grade: B-