Wes Horton: Video Highlights for Former USC Defensive End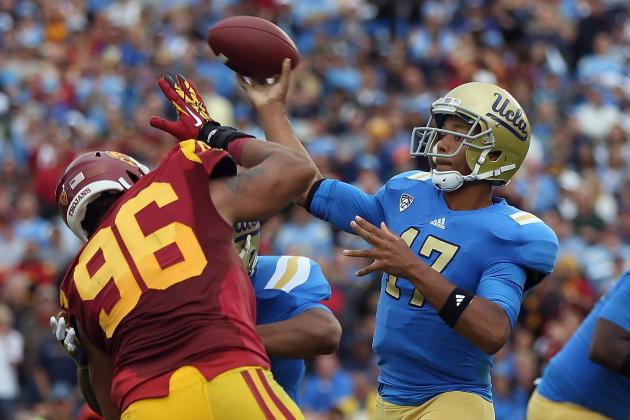 Jeff Gross/Getty Images

In a 2013 NFL draft that is laden with defensive ends and promising young pass-rushers, former USC defensive end Wes Horton is someone who will continue to draw attention in the final stretch leading up to draft day.
At 6'5'' and 255 pounds, he has the physical talent and the basic skills scouts look for in a pass-rushing prospect.
Horton has the potential to bring value to an NFL franchise as a three-down player, most likely either as a 4-3 defensive end or a 3-4 outside linebacker. His best traits include a solid first step, good closing speed, a high motor and the ability to turn the corner and get to opposing quarterbacks from the outside.
Here are some of his best and most revealing highlights from his college career at USC.
Begin Slideshow

»
In this play against Arizona, we see how Horton's quick, long strides on the outside overwhelm the left tackle. The immediate pressure placed on the opposing quarterback forces an ugly incompletion.
This type of play does not show up in a basic statistical breakdown, but is one where Horton's individual contribution broke down the offense single-handedly. These sorts of plays can end drives and disrupt the ability of any offense to move the ball downfield.
In this game against UCLA, we see again how pressure can force bad throws without resulting in a sack. The quick pressure from Horton hurries the opposing quarterback, forcing what was either a bad overthrow or an intentional throwaway (depending on your interpretation).
Either way, the UCLA offense gets an incompletion out of it, due to the quarterback having no time to make a decision. Even in the NFL, getting pressure on the quarterback often forces mistakes or throwaways.
Sometimes those mistakes are worse than incompletions.
In this game against Utah, we see what can happen when pressure takes a quarterback by surprise. By manhandling the left tackle on the outside, Horton gets right around the outside to the opposing quarterback.
The referee could have easily called an offensive holding penalty, but the result was even better for USC's defense. The hurried quarterback lobbed up a desperation throw, resulting in an interception. This is another example of the positive impact plays Horton had at USC that do not show up on his basic stat sheet.
This play from a game against Syracuse highlights Horton's quick first-step ability. With one big step he gets right around the opposing right tackle, and his long strides take him right to the quarterback before the opposition even knows what is happening.
The Syracuse quarterback has no time to do anything and is fortunate to avoid fumbling. The result is a sack that the quarterback cannot possibly avoid.
In another effort against UCLA, we see Horton following up on a near sack and chasing the opposing quarterback out of bounds. Coming all the way from the left side of the field to the right out-of-bounds area, he sticks with the play, giving the quarterback no opportunity to make any play except to run out of bounds.
This play is representative of Horton's high motor and speed, which will be important either as a defensive end or as an outside linebacker in the NFL.
In this play, we can see some determination resulting in a sack for Horton and USC. With the pocket breaking down quickly, the opposing UCLA quarterback begins to scramble, looking for space.
Horton sticks with the play and fights through multiple blocks to get into the backfield and clean up the play. His speed and length are ultimately too much for the UCLA quarterback to escape.
In this moment against Stanford, Horton's closing speed takes the opposing quarterback by surprise. While the quarterback starts to feel the pressure and tries to step up into the pocket, Horton takes him down instantly with a quick and powerful hit.
With his closing speed, even NFL quarterbacks with good pocket mobility will have to be concerned about his ability to track them down and wrap them up.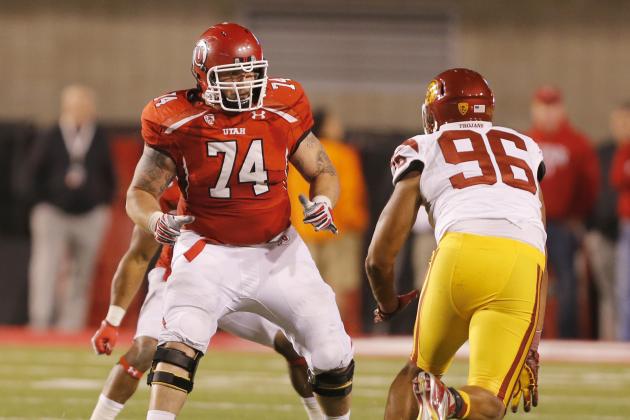 George Frey/Getty Images

Despite the depth and quality of pass-rushers in the 2013 NFL draft, expect Wes Horton to be noticed by most NFL teams.
When it comes to the mid-to-late rounds, teams that did not have the opportunity to grab a Dion Jordan or a Ziggy Ansah will be intrigued by the high ceiling Wes Horton has demonstrated.
I predict that his chances of being taken in the fifth round of this year's draft are solid. Looking at his highlights and what he accomplished at USC, he has the talent and skills that can interest any team in need of a developing pass-rusher.
Adam Waksman is a Featured Columnist for Bleacher Report who writes primarily about the New York Jets and the NFL. Be sure to follow Adam on Twitter to receive updates right away.