West Virginia Football 2013 NFL Draft Tracker and Analysis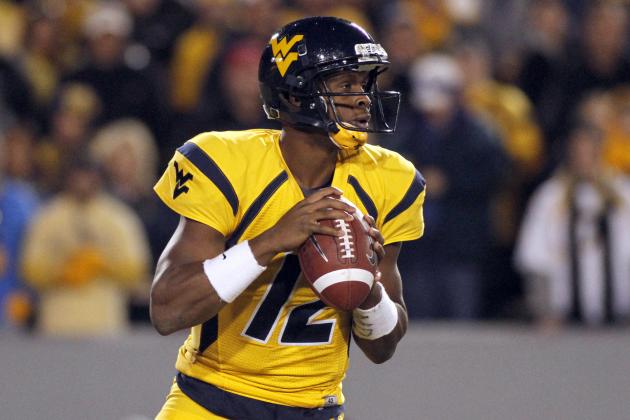 Justin K. Aller/Getty Images

West Virginia stepped into the Big 12 last fall and took its share of lumps along the way, but there were some very bright spots for the Mountaineers during the 2012 season.
The skill and talent on offense was among the best in the country, and those players are looking to become the next Mountaineers stars to make it to the NFL. This is your guide to West Virginia's draft weekend.
It is a light group heading into draft weekend, with only four departures looking to hear their names called, but this is a talented group of four headlined by Geno Smith.
Heading into the draft, this is a look at what the Mountaineers have to offer in the 2013 draft cycle.
Note: Player profiles will be updated once drafted.
Begin Slideshow

»
Where He Was Selected: Second round - 39 overall to the New York Jets
Height: 6'2"
Weight: 218 pounds
Smith is a quarterback with a lot of athleticism and a ton of upside, but his time as a shotgun-only quarterback leads to questions about the type of system that Smith can handle in the NFL.
Over the past few seasons, he has been very successful, but he has been in a controlled offense that is built for yardage production.
Where He Was Selected: First round - Eighth Overall to the St. Louis Rams
(Tavon Austin is the most explosive playmaker in this years draft. He will bring back memories Torry Holt with his arrival in St. Louis. This is a solid pick for the Rams that will help settle Sam Bradford by adding a dangerous screen option to the offense. Look for Austin to play multiple roles for the Rams offense as they get him the ball as much as possible this fall.)
Height: 5'8"
Weight: 174 pounds
Tavon Austin is one of the two electric receivers that are coming out of West Virginia in this draft class. He lacks the size looked for in an NFL receiver, but his skills in the open field and his speed will make him an early selection.
The speed and athleticism of Austin lands him in the first round, and regardless of his testing aptitude, his proven on-field electricity will help him make plays at the next level.
Where He Was Selected: Third round - 92 Overall to the St. Louis Rams
Height: 5'10"
Weight: 193 pounds
Stedman Bailey is not the fastest or most sizable player on the field, but he makes plays.
Landing in St. Louis is a surprise, but it reunites Bailey and Tavon Austin making the Rams offense one of the most explosive in the NFL overnight.
Bailey is a sure-handed receiver that runs crisp routes and makes plays that most receivers can't. He has a competitive drive that makes him tough to cover and nasty against man coverage.
Once he lands in the league, Bailey will be a Wes Welker-type player. He won't blow you away with measurables, but his knack for making plays will make him a huge asset for his team.
He will be a rookie contributor in 2013.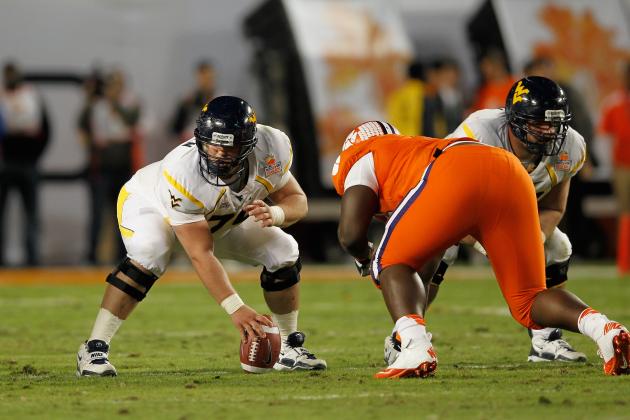 Streeter Lecka/Getty Images

Where He Was Selected: TBD
Height: 6'3"
Weight: 310 pounds
Joe Madsen was a steady performer for the Mountaineers as a starting center, but his prospects for the draft are limited.
He is not the most powerful or explosive center, but he hits his spots and can make solid second-level blocks. He is not going to be extremely successful as a power run-blocker, but he fits well in a pass-pro scheme.
Look for Madsen to be picked up, as centers are hard to find in this draft cycle. He has proven leadership and a solid work ethic, but he isn't an elite player heading into the draft.