5 Reasons the AL East Isn't as Stacked as Usual in 2013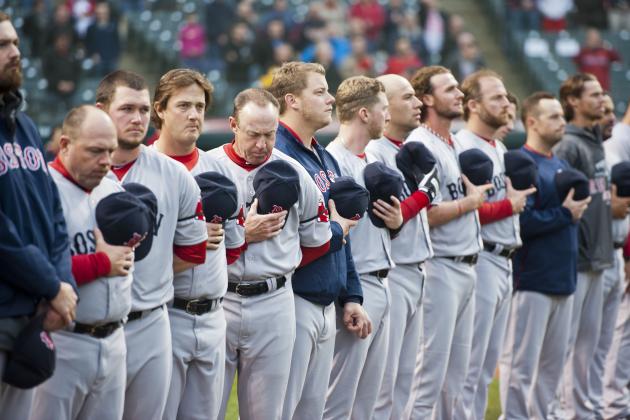 Jason Miller/Getty Images

In years past, the American League East has been the toast of Major League Baseball. Save for some dismal seasons by the Toronto Blue Jays and Baltimore Orioles in the 2000s, the AL East has been the best division for much of the past 10 years.
Since the introduction of the wild card in 1995, 14 of the 19 AL wild-card spots have gone to teams that play in the East. The Boston Red Sox lead all American League teams with seven wild cards, the New York Yankees are second with four, and the Orioles own third place with two.
It used to be a two-team race every year between the Yankees and Red Sox. In 2008, the Tampa Bay Rays dropped the "Devil" from their name and put the baseball world on notice by winning the division seemingly out of nowhere. Last season, the three-team race turned into a four-team contest when the Baltimore Orioles won 93 games. And not to be outdone by their divisional opponents, the Blue Jays had an extremely eventful offseason.
So, the AL East should be the best division in baseball and a completely open five-team race this year, right? Less than a month into the 2013 season, that has not been the case for a number of reasons. The East is still a very strong division, but early in the season, it has not lived up to its lively expectations.
Here are five reasons the AL East is not as stacked usual in 2013.
Begin Slideshow

»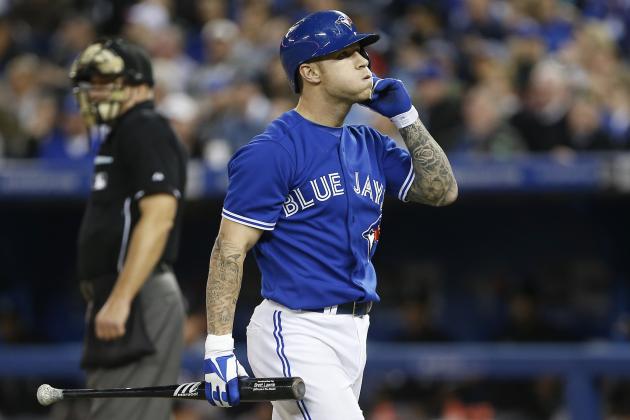 Tom Szczerbowski/Getty Images

Offseason moves by general manager Alex Anthopoulos brought in R.A. Dickey, Mark Buehrle, Josh Johnson, Jose Reyes, Melky Cabrera, Emilio Bonifacio and others. After 20 years without postseason baseball, the Blue Jays appeared ready to take the necessary steps to join baseball's elite.
The most exciting season since 1993 has disappointed from the start with a string of injuries that has hurt the Blue Jays' performance. Ignoring, for a moment, the healthy starting pitching that has struggled early in the season, the Blue Jays have also had to deal with injuries to key starters such as Brett Lawrie, Jose Reyes and Jose Bautista.
Brett Lawrie was injured in a World Baseball Classic exhibition game, preventing him from starting the year with the Blue Jays. He joined the club for the start of its fifth series against the Chicago White Sox, but has yet to contribute offensively.
Jose Reyes was injured sliding into second rather awkwardly. His ankle got caught under him and he was diagnosed with a severely sprained ankle. Although he was initially placed on the 15-day DL, he will likely miss up to three months.
Jose Bautista has been dealing with a sore ankle and back spasms this season that have limited his availability to just nine games.
For a team that has the potential to be an offensive juggernaut, it has been been forced to play Mark DeRosa, Maicer Izturis and Munenori Kawasaki far more than it would have liked in the early going.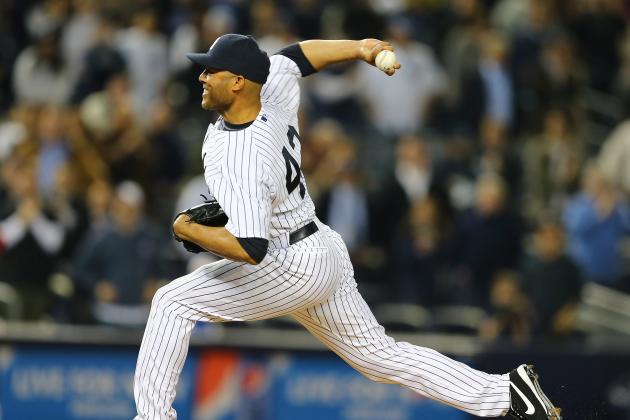 Al Bello/Getty Images

Whether you want to cite age, injuries or any number of factors—there is no denying that the Yankees are not the team they used to be.
In the offseason, they lost Nick Swisher, Rafael Soriano and Russell Martin. GM Brian Cashman promptly replaced these big names, and simultaneously increased the average age of the roster, by acquiring Kevin Youkilis and Vernon Wells.
Anything short of a World Series ring is considered a disappointment for Yankees fans, and there is a good chance this season will end up that way. Injuries to Mark Teixeira, Derek Jeter, Alex Rodriguez and Curtis Granderson have been the story for the early part of 2013. Whether their injury-plagued and aging roster can compete for a playoff spot remains to be seen, and will be something to watch this summer.
The loss of Derek Jeter also runs even deeper than just within the Yankees organization.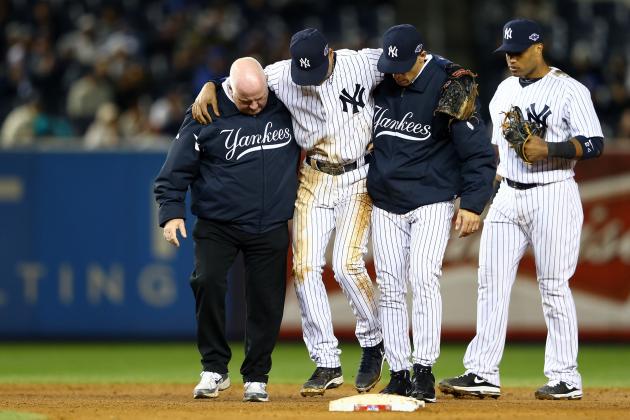 Al Bello/Getty Images

Losing Derek Jeter to an ankle injury has specifically impacted the Yankees lineup, but has also had an effect on the quality of the AL East.
For years, the AL East boasted one of the best players, if not the best player, in baseball. Sure, Jeter has fallen off a bit recently, but he is still a marquee player.
During highlight packages and at All-Star Games, players represent not only their team but also their league and division. During the All-Star Game, it is branded across their jerseys and talked about extensively by the media. The loss of Jeter takes away some of the respect and air time that the AL East would have otherwise received.
But this is not just a product of one ankle injury. The list of injured AL East All-Stars is lengthy. Jeter, Jose Reyes, Jose Bautista, John Lackey, David Ortiz, Curtis Granderson, Mark Teixeira and Alex Rodriguez are all big-name players sitting out due to injury right now.
The injuries to key players in the AL East this year have undoubtedly taken their toll on the quality of baseball played within the division.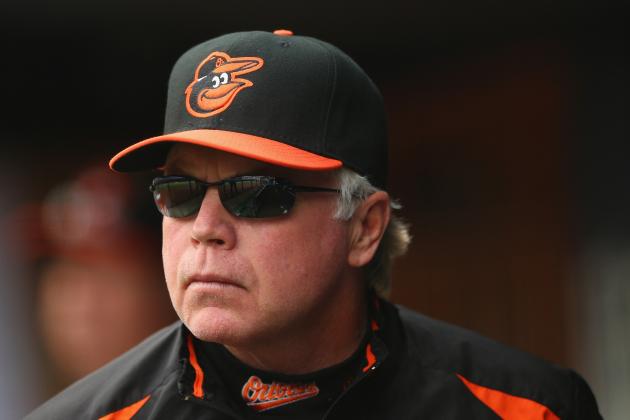 Elsa/Getty Images

Over the course of a year, a manager may be responsible for a handful of wins or losses. They make mistakes just like everyone on the diamond, but a good manager can be the difference between a good team and a great one.
Over the years, the AL East has seen its fair share of great managers, including Joe Torre, Cito Gaston and Joe Maddon. Torre and Gaston are gone, while Maddon and Orioles manager Buck Showalter are the new top dogs.
The Blue Jays have brought back John Gibbons for the 2013 season, a move that baffled many fans. Gibbons has already made some questionable decisions. On Tuesday, he pinch hit Colby Rasmus in favour of Rajai Davis, who promptly struck out. Davis, not Rasmus, also committed the second-to-last out with a man on base in a one-run game. Needless to say, most Blue Jays fans disliked the move.
The Red Sox also have a new manager, John Farrell, whom they poached from the Blue Jays. Apparently, the Blue Jays thought so highly of their manager that they traded him to a division rival for next to nothing.
The quality of managerial talent has declined in the Al East and is one reason the it's not as stacked as usual.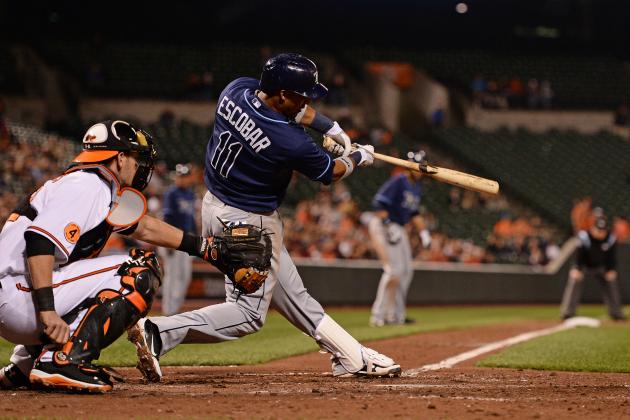 Patrick Smith/Getty Images

No one will deny that the Tampa Bay Rays' pitching staff is extremely strong. Even though they lost James Shields and Wade Davis this offseason, their rotation and bullpen look to be one of the stronger aspects of their team.
A huge question this season will be whether their offense can produce enough runs to win them some games. The Rays finished 11th in runs scored last season, but have since lost B.J. Upton, who had 78 RBI that year.
They currently rank 28th in the league in RBI, 28th in runs scored, 25th in home runs and 30th in average. It has not been a hot offensive start for the Rays, but it may get better.
Assuming everything goes according to plan, prospect Wil Myers will provide some offensive help at some point this season, but it may be too late before he sees some action.