MLB Prospects Maximizing Their Trade Value After Hot 2013 Starts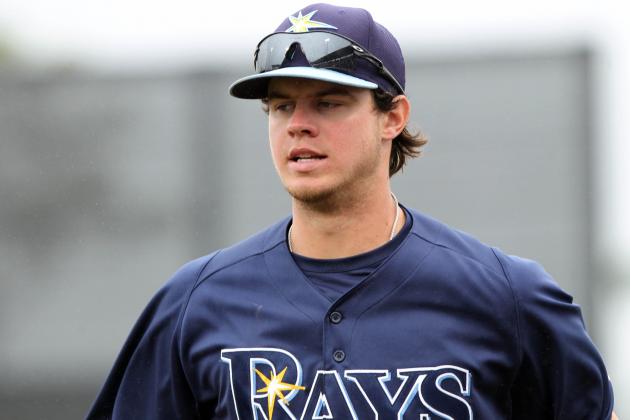 Kim Klement-USA TODAY Sports
The Royals traded Myers this past offseason after his trade value skyrocketed during an impressive 2012 season.
It's only two weeks into the minor league season, but that doesn't mean a prospect's trade value can't increase or decline based on performance thus far.
Many prospects have questions surrounding them heading into a new season, especially in regards to their ability to handle a new level or bounce back from a poor season. Getting off to a great start can ease the minds of their own organization and open up the eyes of teams potentially interested in acquiring them.
Either way, the trade value of that particular player rises because of the increasing demand on the trade market and increased asking price.
Here are five prospects, all ranking near the top in their organization, who are doing everything they can to maximize their trade value so far and might even be as close to "untouchable" as a player can be on the trade market.
Begin Slideshow

»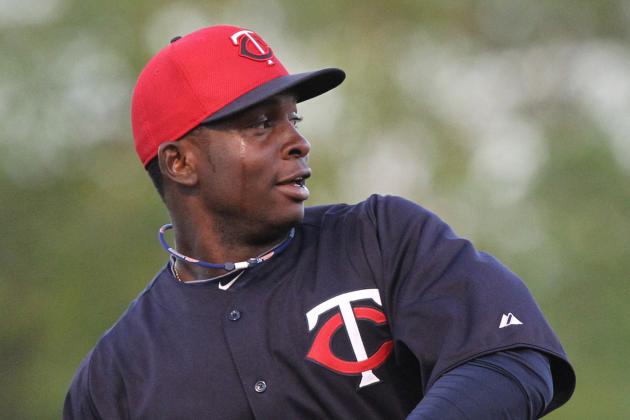 Kim Klement-USA TODAY Sports

It wouldn't be a surprise if Sano was a first baseman/designated hitter by the time he reached the majors, but no one is expecting the 19-year-old to stop hitting as he moves up the organizational ladder.
His first taste of High-A hasn't been much of a test. Sano has 19 hits in 46 at-bats with four homers, four doubles and 12 RBI through his first 12 games. In his first year of full-season ball in 2012, Sano posted an .893 OPS with 28 homers for Low-A Beloit.
The Twins don't need to trade Sano anytime soon, but the one thing to consider is that he may have his most value now while he's still in a league where he's a man among boys and can still be marketed as a future third baseman.
A few weeks back, I floated the idea of the Twins, who lack much talent in the middle infield, trading Sano in a package to acquire Rangers shortstop Jurickson Profar.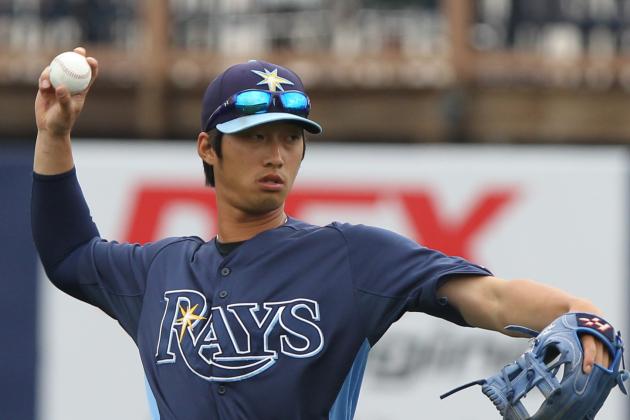 Kim Klement-USA TODAY Sports

In a perfect world, offseason acquisition Yunel Escobar would bounce back from a bad 2012 season and solidify the shortstop position for the next three years (he has $5M club options in 2014-15) in Tampa while prospect Hak-Ju Lee rebounds from a rough year at the plate in Double-A (.696 OPS) in order to re-establish his future as a big league shortstop.
Thus far, only Lee is holding up his end of the bargain. Escobar is only 4-for-41 at the plate, and Lee is looking more and more like the answer to the Rays' problems on the field as opposed to a trade chip to fill another hole.
The 22-year-old, known more for his plus-defense than his offensive potential, is off to a blazing start for Triple-A Durham. In his first 12 games, he has 15 hits in 37 at-bats with nine walks and six stolen bases in seven chances.
Ranked 10th amongst shortstops on Baseball Prospectus' Top 101 pre-season list, Lee's value is extremely high because he's close to big league ready, and he'll be able to stick at the position, unlike a few of the better hitting prospects on the list.
Escobar will get a chance to turn things around, though. If he does at any point between now and the end of the season, Lee could be blocked for 2014, and the Rays could make him available in a trade. If not, Lee could be their starting shortstop by the start of the second half.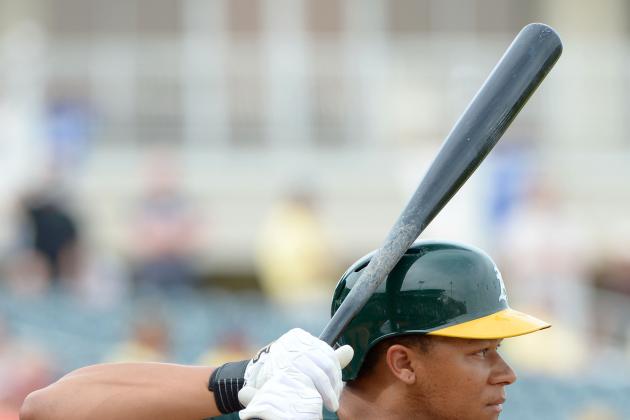 Jake Roth-USA TODAY Sports

The A's entered the season with plenty of outfield depth on the major league squad and their second-best prospect, center fielder Michael Choice, starting his first season in Triple-A. Barring injury, that's likely where he'd stay for the entire season.
After the 23-year-old put up so-so numbers in Double-A last season (.779 OPS), his value has been on a slight decline. But a solid big league camp followed by a nice start in Triple-A (15-for-48, 4 HR, 3 2B, 15 RBI, 8 BB) could have that trend reversing as we near the July 31st trade deadline.
Even though they've been just about the best team in baseball since last June, the A's could be aggressive on the trade market this time around as they try to land a playoff spot in a very tough division. Choice may be taking advantage of a hitter-friendly league, but that doesn't mean he couldn't still be the key trade chip in landing a middle-of-the-order bat like third baseman Chase Headley of the Padres.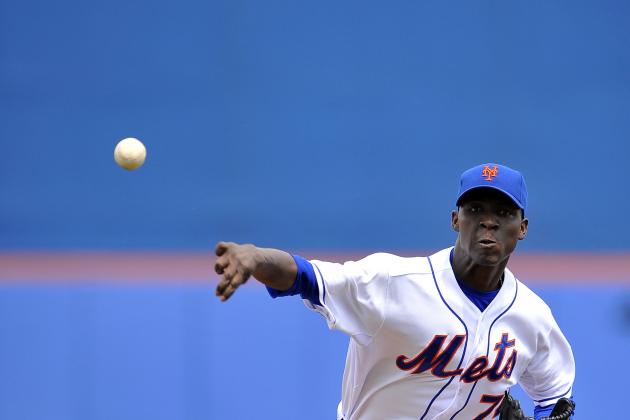 Brad Barr-USA TODAY Sports

I posted a story earlier today on a few teams that could be surprise "buyers" in July, including the Mets. While top prospects Travis d'Arnaud and Zack Wheeler are expected to be a big part of the major league club in the near future, the next wave of prospects who would have interest on the trade market is starting to take shape, and Montero might be the most intriguing of the group.
Although he didn't sign a professional contract until January 2011 as a 21-year-old, he appears to be on the fast track to the majors. A bit of a sleeper prospect coming into the season, it's not taking long for Montero to come out from under the radar in the Mets' farm system.
Through his first three starts with Double-A Binghamton, the 22-year-old has allowed just four earned in 16.1 innings with one walk and 21 strikeouts. He also made a strong impression in spring training.
Rafael Montero, rhp, 22, is thrilling mets people. "unreal'' is the word heard. throws hard & throws strikes.

— Jon Heyman (@JonHeymanCBS) February 18, 2013

If the Mets can stick around in the playoff race, they'll likely still have a need for an outfield upgrade. Landing one who may be available, such as Josh Willingham of the Twins or David DeJesus of the Cubs, could require them to part with a very good pitching prospect like Montero.
At this rate, though, Montero might be too much to part with by the time they decide to "buy."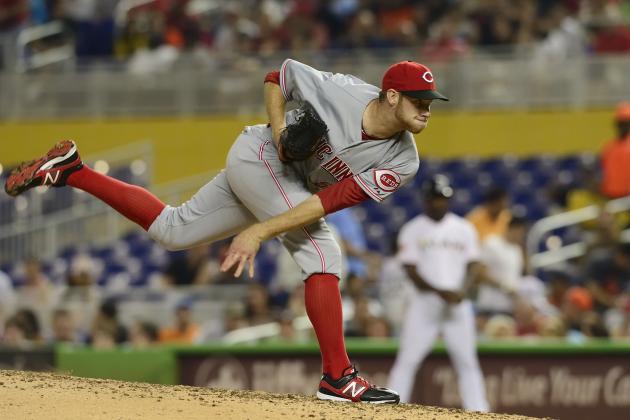 Steve Mitchell-USA TODAY Sports

After dominating in his first three Triple-A starts (14.1 IP, 0 R, 3 H, 2 BB, 26 K), Cingrani is all set to take the rotation spot of the injured Johnny Cueto, who is on the disabled list with a strained lat. His value is likely at its maximum peak right now, especially with the Reds' need for their 6th starter so early in the season.
The only way his value can get any higher is if he continues to pitch well at the major league level. If the 23-year-old struggles in his first stint as a big league starter, however, it's very likely that the value drops slightly and questions could surround his ability to succeed against big league hitters. He was, after all, a non-prospect coming into the 2012 season.
If he does get knocked around during his stint, it could be a good reminder of why a team might leave a prospect in the minors longer than what would appear to be necessary. They don't want to expose that player's weaknesses and see the trade value decrease.
In Cingrani's case, the Reds need him to help the big league club more right now than they need him to continue toying with minor league hitters, and possibly convincing interested teams that he's a potential top-of-the-rotation starter as opposed to the mid-to-back of rotation starter that scouts believe he'll be.