Uzoma Nwachukwu: Video Highlights for Former Texas A&M WR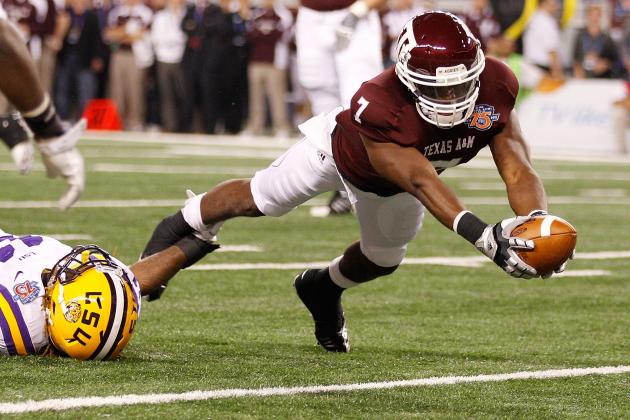 Chris Graythen/Getty Images

Though he wasn't invited to the NFL Scouting Combine, Uzoma Nwachukwu ran a solid 4.45 40-yard dash at his Texas A&M pro day and that, combined with his other skills, could earn him a late-round selection in the NFL draft.
With Johnny Manziel playing quarterback, Nwachukwu only caught 26 passes in 2012, though seven of those went for touchdowns.
He still had a solid career at Texas A&M and finished his stay there with 152 receptions for 2,239 yards with 19 touchdowns.
Here are some highlights from his college playing days.
Begin Slideshow

»
In this clip, Uzoma Nwachukwu runs a go-route to the end zone where the quarterback throws him a pass with which he has to make a play.
Nwachukwu is very proficient at going up and battling defenders for the ball. Here, he comes down with it and gets a foot down for the score (play ends at :36).
Uzoma Nwachukwu is a very quick, electric player who can make something happen once the ball is in his hands.
He is the type of guy you look to for a play that will provide a spark, similar to what Antonio Brown does for the Pittsburgh Steelers
Here, he makes a catch and sees plenty of open field in front, racing past defenders into the end zone (play ends at :30)
In this short clip, Uzoma Nwachukwu demonstrates his ability to elude tacklers and make things happen.
After sliding by multiple defenders, he makes a pretty spin move that nearly gets him into the end zone (play ends at 2:11).
This is a play the Aggies loved to run, and with which Uzoma Nwachukwu frequently made something happen.
In this particular instance, he takes the pitch, slips one tackle and then turns on the speed, easily outrunning the opposition to the end zone (play ends at 1:11).
Despite being just 5'11", Uzoma Nwachukwu is very well-versed at going up and pulling the football down, even if the defender has better position.
Here, he outworks a Texas Tech defender, resulting in a big play for his team (play ends at 2:39).
As mentioned earlier, Texas A&M likes this play.
Uzoma Nwachukwu takes another handoff and makes something happen, picking out his blocks and finding room for a gain of nearly 30 yards.
As evidenced in these video clips, Nwachukwu is the kind of player who will be able to give his team an immediate boost on one play.
The speed he brings, combined with his ability to make plays with the football either after the catch or on a running play, may entice teams to use a sixth- or seventh-round selection on the former Texas A&M product.