2013 NFL Draft: Day 3 Sleepers That the Detroit Lions Should Target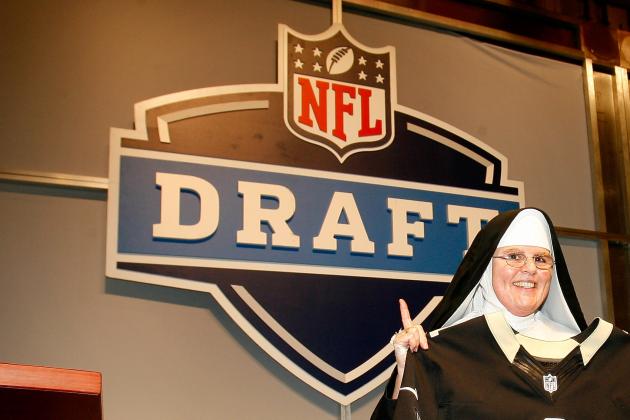 Mike Lawrie/Getty Images

The real stars of the front office are not the guys who nail the first-round pick year in and year out—okay, they do that too, but the best general managers like Ozzie Newsome consistently put out good teams because they know how to get value out of their late-round draft picks.
Players like Carl Nicks, Geno Atkins and Aaron Hernandez were all day three picks who turned into playmakers for their teams, and it is no surprise that they all played for great teams.
With this in mind, this article will outline five players who should still be on the board on day three of the draft. These are players in who I believe have the goods to start in the NFL.
Keep in mind that this is not really focused on dealing with the Lions positional needs, late in the draft if a player has talent you take him.
Begin Slideshow

»

Last year it was Brandon Brooks. The year before it was K.J. Wright. In 2013, Mike Catapano is my favorite NFL draft sleeper.
Everything about Catapano screams steal. For starters, he was the most impressive player at the East-West Shrine game, and he also backs this up with NFL size and good athleticism.
Catapano stands 6'4", and is a well built 271 lbs.
Also, surprisingly for someone who was offered very few athletic scholarships, he tested well at his pro day. He ran the 40-yard dash in 4.75 seconds, but of real importance is his vertical leap of 37.5", his three-cone drill time of 7.09 seconds and his 33 reps at the bench press.
His vertical would have been second at the combine just ahead of Barkevious Mingo, his three-cone drill would have placed him tenth in the combine and just ahead of Ezekiel Ansah and his bench press performance would have been the best of any 4-3 defensive end.
It bears saying that he does not flash this level of athletic ability on the field, but it confirms that he is not going to be too slow or weak for the NFL.
Catapano's coming out party happened, as I stated earlier, at the East-West Shrine game.
This is the stage for little known prospects outside of the power conferences to practice and play in front of scouts and to put their name on the map, and its fair to say that Catapano did just that.
Catapano, while against low level competition, was consistently dominant in all areas of the game. He showed burst off the snap, hand-fighting technique to shrug off blockers and the variety of moves to beat offensive tackles inside and outside in the run game.
While I do question his ability to consistently turn the corner in the NFL, his pro day performance indicates he just might be able to. He also was unblockable in running game drills. In short, he looked like a stud.
Even more exciting is that he only started playing on the defensive line when he went to Princeton. While he is a technically sound player, he only stands to improve with better coaching, tougher competition and more experience.
However, his ability to beat up on undrafted free agents and seventh-round picks does not make him a great player. There will be a very steep learning curve for Mike to ascend once he reaches the NFL, and it would be ridiculous to expect him to be anything other than a garbage-time body for his rookie and maybe even sophomore season.
That being said, he has the long-term upside of a starter, and at worst he should be able to fill a roster spot as a rotational specialist who can hold his own, much like Lawrence Jackson.
If the Lions can get him in Round 5 or 6, where he is projected to go, they should waste no time sprinting to the podium.
In fact, even at the top of Round 4 he still presents fair value in my opinion.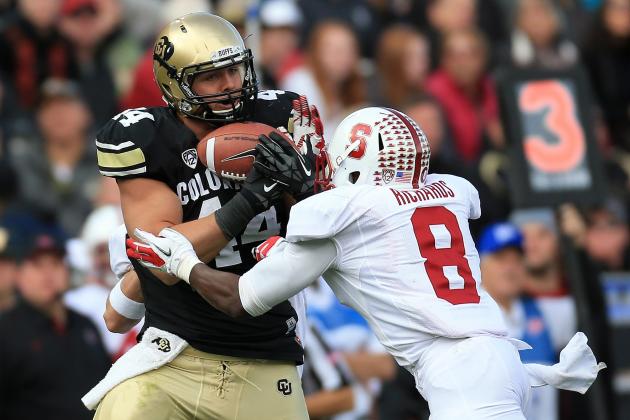 Doug Pensinger/Getty Images

Nick Kasa is pretty stereotypical of a late-round pick being a potential starter.
He has boatloads of athletic potential but limited experience at his position. After switching from the defensive line to tight end less than two years ago, he understandably lacks polish, but has the elite athleticism that has made guys like Jimmy Graham and Rob Gronkowski such matchup nightmares early in their careers.
Kasa is a big boy at 6'6", 270 lbs, and has great strength which was highlighted by his 22 reps at the bench press. He also moves very well, and has the speed and burst to get down the field in a hurry. His development as a receiver has been very minimal, and while he has decent hands for a player who has not caught many balls, he will need to do a lot of work on his route running to get open consistently in the NFL.
Kasa is a very capable blocker already though. He does not have great technique yet, but he goes about his work with the mentality and power of the defensive lineman he once was.
Despite being a tall man he does a great job winning with leverage, and can also block at the second level successfully.
Nonetheless, he may very well fall into the sixth or seventh round.
While raw, his athletic gifts and the sexiness of receiving tight ends would normally have a potential every down prospect like himself picked up much before that.
However, at the combine he was asked about his sexual orientation, and if we have learned anything in the last few months about this topic, it is that general managers will be scared about the implications of a homosexual player on the chemistry of a locker room.
While disappointing to acknowledge, it is likely that this will make Kasa drop lower in the draft than many would expect.
Nick Kasa is certainly a boom-or-bust selection, and if he does not pan out his NFL career will probably be limited to special team coverage and some snaps at the goal line.
However, for a sixth or seventh-round pick that is definitely acceptable, and if he develops to his ceiling then he could make the maddeningly inconsistent Tony Scheffler and/or Brandon Pettigrew expendable.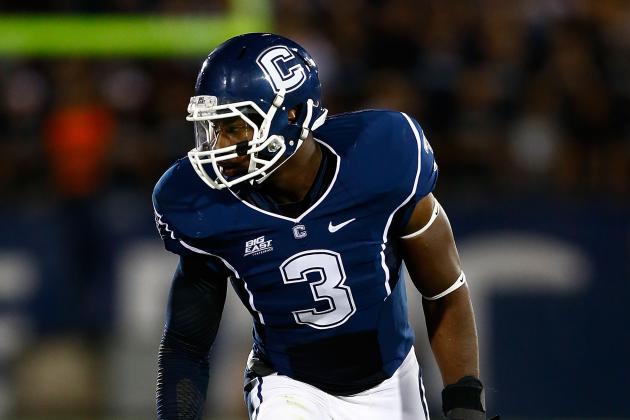 Jared Wickerham/Getty Images

Sio Moore has inexplicably been an under-the-radar guy for a long time this year, despite performing very well at the NFL Scouting Combine, and having a great body of work at UConn.
Part of this could be due to the conference he plays in, but the fact remains that he has all the tools to be a versatile and effective NFL starter at outside linebacker.
Moore will almost certainly be available in the fourth round.
He has a compact build, standing just 6'1", but weighing in at a good 245 lbs.
Despite this, he is a very fluid and sudden athlete who was one of the top performers at the scouting combine for his position. He showed explosiveness in the vertical leap, quickness in the short shuttle, long speed in the dash and very impressive strength in the weight room.
All in all, he has all the athletic tools that an outside linebacker needs.
He is not just an athlete though. Moore was the lynchpin of the Huskies defense in 2012, and his many-faceted game was put on display.
He is a very fundamental player in coverage with enough speed and burst to keep up with people in man coverage and the instincts and closing ability to break up passes and crash down on receivers. He is also a very solid run defender who is a secure, if not thumping, tackler who is always around the ball.
While great at the traditional linebacker role, the point of difference with Sio Moore is his pass-rushing skill.
He has spent a good deal of time as a 3-4 outside linebacker and it shows when blitzing or rushing the edge. He can bullrush, especially if he gets picked up by a tight end or running back, and he has the burst to threaten the edge against offensive tackles.
Moore is even better when blitzing, as his burst through the hole and block shedding skills allow him to create constant pressure on a quarterback.
Although, Moore is not without holes as a prospect, but most of them, such as his below average change of direction skills, are made up for by his football IQ and read and react skills.
He is a stud of a linebacker and in the fourth round he would provide the Lions, or any team for that matter, with an every down linebacker who can start early in his career and not let a team down.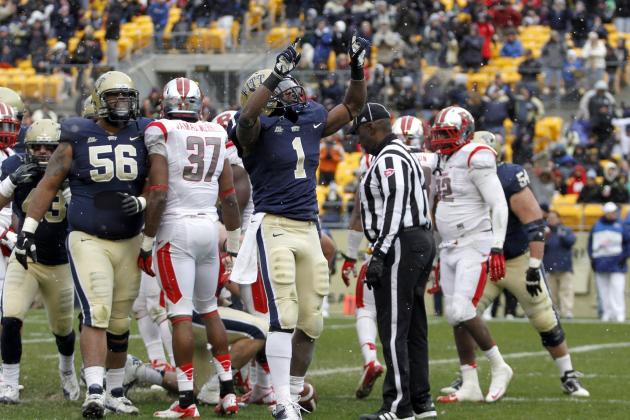 Justin K. Aller/Getty Images

Ray Graham remains my favorite running back in this draft, even after his grisly injury last season which clearly hobbled him in 2013.
He is not the biggest, strongest, fastest or most complete running back in the draft, but he runs in a way eerily reminiscent of Barry Sanders, which in itself should be enough to get every Lions fan rushing straight to YouTube to confirm (or dis-confirm) this claim.
The major condition here, and the reason why Graham may fall all the way to the sixth round, is his 2011 ACL injury that eliminated the better part of two seasons.
While he was on the field in 2012 for Pitt, he was not the same quick and explosive runner who could string together missed tackles and beat linebackers to the edge. However, given the miraculous recoveries that modern medicine can coax out of players these days, it is not too bold to expect Graham to return to near 2011 strength by the time he starts his rookie season, and if he does then the NFL had better watch out.
Graham, while lacking in measurables, has the best pure running skills in the draft.
He is lightning fast at reading creases and cutback lanes at the line of scrimmage, he has the agility and quick feet to make players grasp at thin air in the open field and the elusiveness to avoid tacklers in tight spaces.
Graham will never be a goal-line back, or a bell cow for that matter with his injury history and slight frame. However, his ability to break big runs out of nothing will make him a lethal change of pace option in the NFL.
Being a natural receiver, and although his inability to pick up blitzes will limit him as a third down back, as a featured receiver he has ball skills like Reggie Bush and the elusiveness to hit home runs on short passes.
At Pittsburgh he often was used on crossing routes and running back sweeps to get him in space against defensive backs, and in the NFL he could be used like Darren Sproles to force defenses away from their base looks.
In conclusion, Ray Graham is just an incredible runner, if he can recover from his ACL injury he should be able to carve out a niche in the NFL for any teams running back committee.
I just hope that team resides in Detroit.