Every MLB Team's Player Who Fans Already Want Traded or Sent Down to Minors
Carlos Marmol is loathed by Chicago Cubs fans, who would welcome any move that sends him out of the Windy City. Gene J. Puskar/AP
Unlike MLB executives, fans of every team advocate change at the first sign of struggle. Only a couple weeks into the 2013 season, they already want certain players traded or sent down to the minor leagues.
Of course, the die-hards don't treat all slow starters the same. Asdrubal Cabrera and Adam Dunn, for example, have been liabilities thus far. Nobody is calling for their dismissals, however, because both just completed productive campaigns.
On the other hand, fans have no patience for perennially disappointing players, like Daric Barton, Adam Lind and Carlos Marmol. They would accept anything to get a deal completed. Newly-signed free agents also attract plenty of negative attention when their multi-million dollar contracts begin on sour notes.
These are the "presents" that the 30 fanbases would happily accept on Jackie Robinson Day.
Begin Slideshow

»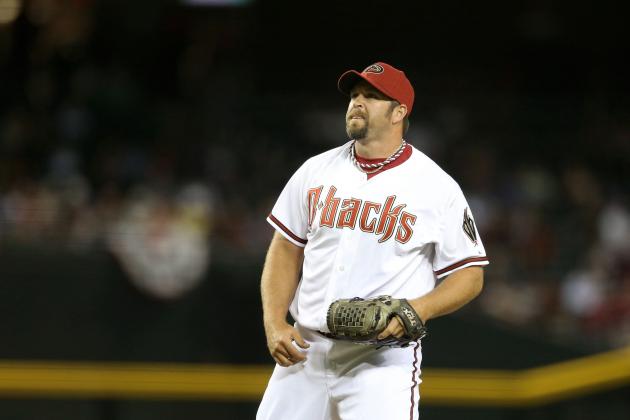 Mark J. Rebilas-USA TODAY Sports
Heath Bell.
The Arizona Diamondbacks suffered at the right arm of Heath Bell for years when he closed for the San Diego Padres.
They otherwise would not have even considered accepting him in a trade last October.
Every outing is an adventure for the 35-year-old, who has allowed baserunners all five times thus far. He's generating more fly balls than grounders, which will get him into trouble when appearing at hitter-friendly Chase Field.
Arizona can try burying Bell in middle relief, but the fans would rather see him dismissed altogether.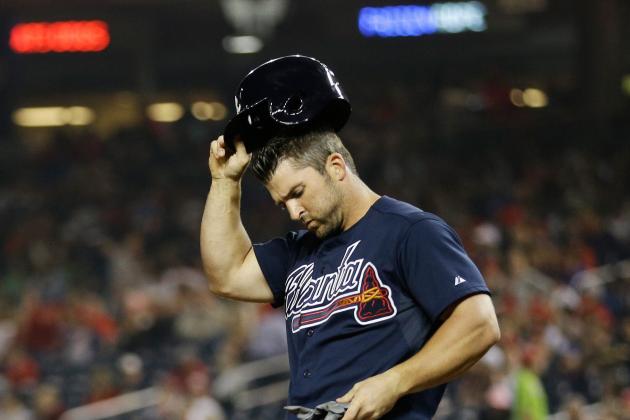 Rob Carr/Getty Images
Dan Uggla.
Dan Uggla is among baseball's brawniest players, but not its most productive. The first-place Atlanta Braves owe the second baseman $13 million per season through 2015 and won't be getting their money's worth.
So far this year, Uggla has struck out at least once in every game while struggling against right-handed pitching. He is also hitless with runners in scoring position.
The Braves would be better off inserting Ramiro Pena into the starting lineup or pursuing a free-agent infielder like Orlando Hudson.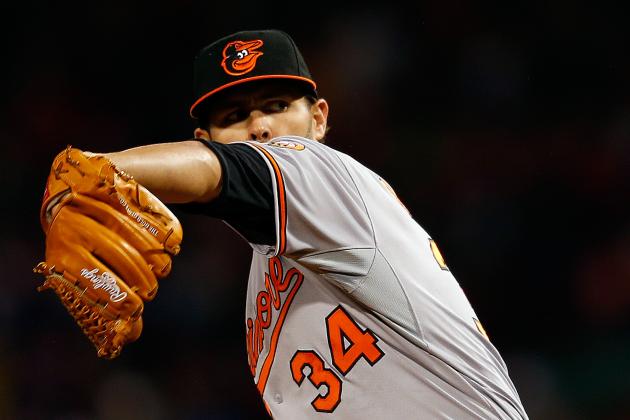 Jim Rogash/Getty Images
Jake Arrieta.
Coming off a postseason berth, the expectation was that the Baltimore Orioles would trade a surplus starting pitcher for power hitting this past winter. They were even linked to Jason Kubel (among others).
Rather, the O's seem to have more rotation depth than they did in 2012.
Baltimore has Zach Britton and Jair Jurrjens preparing at Triple-A. Top prospect Dylan Bundy and Tommy John survivor Tsuyoshi Wada could soon become options, as well.
Despite a solid spring training, Jake Arrieta isn't pitching effectively in the majors (7.20 ERA, 1.60 WHIP in 10.0 IP). Nonetheless, the right-hander's strikeout potential makes him very movable.
Besides, there's some concern about where the run production will come from as Chris Davis and Adam Jones cool down from fiery starts.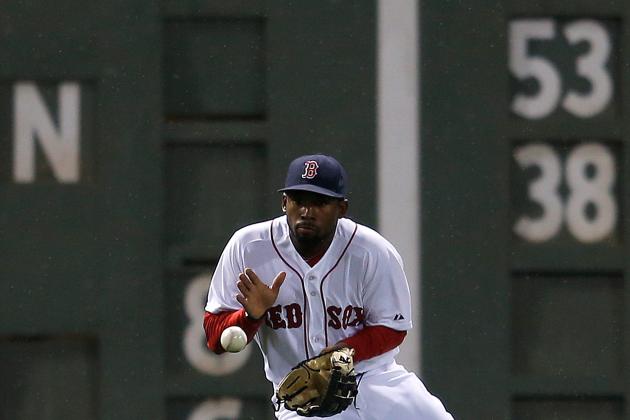 Jim Rogash/Getty Images
Jackie Bradley Jr.
The spring sensation hasn't recorded a hit in the past week-and-a-half.
The Boston Red Sox certainly feel optimistic about what he can contribute in the future, maybe even toward the end of this season. But Jackie Bradley Jr. is simply over-matched at the moment.
When David Ortiz completes his rehab this week, the rookie outfielder will likely lose his 25-man roster spot and play regularly on the farm.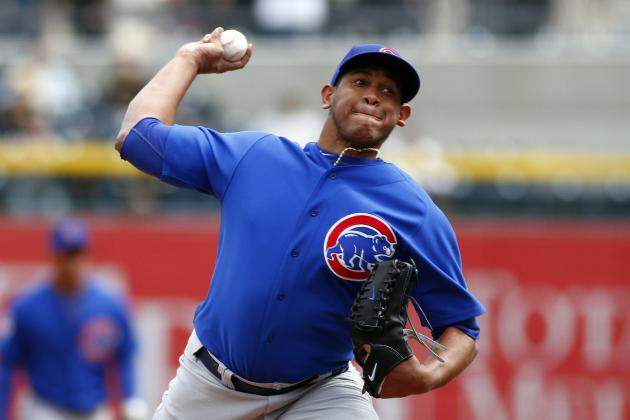 Justin K. Aller/Getty Images
Carlos Marmol.
Carlos Marmol was movable toward the end of last season, as he surrendered only one earned run over his final 12 outings (0.75 ERA). The Chicago Cubs even had a trade in place with the Los Angeles Angels, but it never went through because of Dan Haren's questionable health.
They should have pulled the trigger, anyway.
The Dominican right-hander was removed from the closer's role one week into the 2013 campaign. He doesn't generate enough swings-and-misses to compensate for his wildness.
North Siders would be doing cartwheels if the Cubs exchanged him for a fringe pitching prospect and some salary relief.
Jake Roth-USA TODAY Sports
Brent Morel.
The Chicago White Sox don't have Brent Morel in their future plans.
With Gordon Beckham fracturing his hamate bone and Jeff Keppinger sliding over to replace him at second base, the team would have had the rationale to recall him to the majors. Instead, he'll remain at Triple-A.
The best use of Morel at this point would be trading him for pitching depth.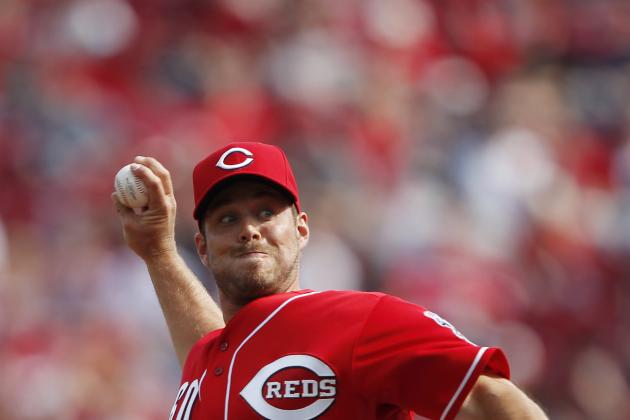 Frank Victores-USA TODAY Sports
J.J. Hoover.
J.J. Hoover has already given up more home runs than he did in 28 appearances for the Cincinnati Reds in 2012. Moreover, all the damage is being done in close contests.
Clint Eastham of Blog Red Machine assigns blame to the right-hander after he suffered his third loss of the young season, and calls for Hoover to be replaced on the active roster.
Reds fans want to keep him within the organization considering his negligible salary and knack for striking out the opposition.
Perhaps a humbling demotion would be best for him in the long run.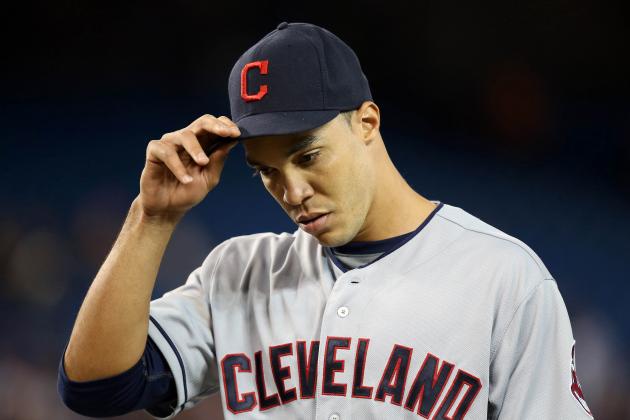 Tom Szczerbowski-USA TODAY Sport
Ubaldo Jimenez.
The worst underachievers for the Cleveland Indians thus far have been middle infielders Asdrubal Cabrera (.119/.213/.286) and Jason Kipnis (.125/.171/.219). However, both get the benefit of the doubt after ranking among the Tribe's best players in 2012.
Meanwhile, Ubaldo Jimenez is just as enigmatic—and downright mediocre—as he was last summer. Fans can't stand that they gave up two top pitching prospects for him.
The Indians could improve by promoting Trevor Bauer or Corey Kluber to take his rotation spot.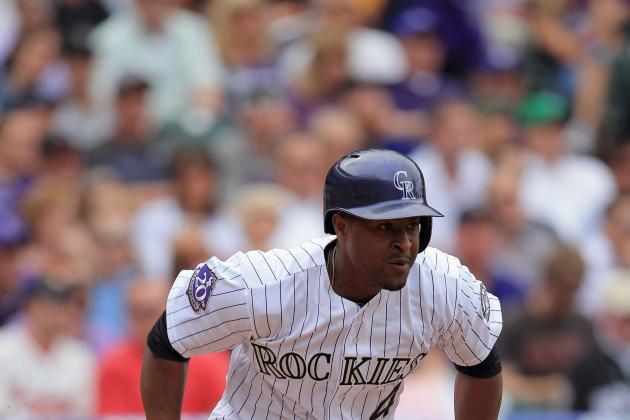 Doug Pensinger/Getty Images
Chris Nelson.
No thanks to Chris Nelson, the Colorado Rockies have been competitive with the rest of the NL West.
He has started the majority of their games at third base, yet failed to record an extra-base hit.
Rockies fans got a glimpse of their future in spring training. Nolan Arenado saw significant action at the hot corner and showed the potential to be a middle-of-the-order threat.
Playing daily at Triple-A, the soon-to-be 22-year-old continues to produce (.448/.500/.897, 2 HR, 10 RBI).
He's ready to move up in the baseball world, which means Colorado can trade Nelson for more pitching depth.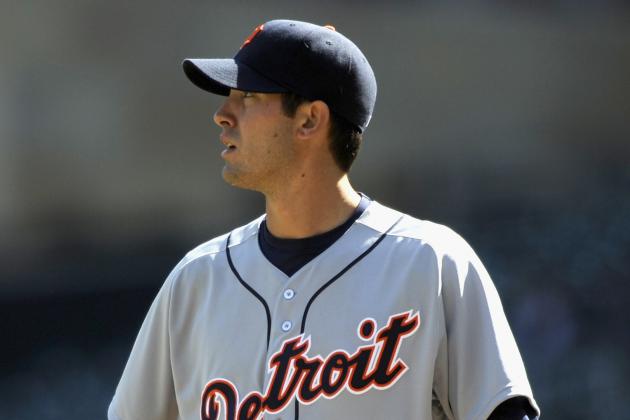 Hannah Foslien/Getty Images
Rick Porcello.
Rick Porcello teased Detroit Tigers fans with an excellent preseason, but his results in the performances that actually matter haven't been encouraging.
He failed to escape the sixth inning in his first two starts. Both times, he surrendered too many hits.
Though Porcello can be successful in the majors, he's a poor fit for the Tigers and their shaky infield defense. Sophomore reliever Drew Smyly, meanwhile, induces more fly balls so that opponents can't exploit Detroit's weakness.
Fans want to see the back end of the bullpen fortified via trade.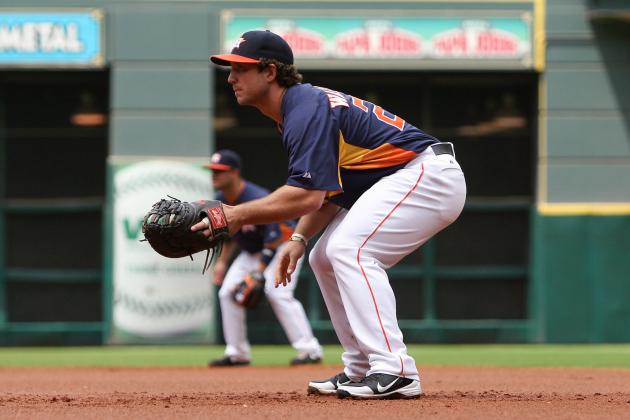 Troy Taormina-USA TODAY Sports
Brett Wallace.
Overall, the Houston Astros have been more competitive than expected in the American League.
It's most likely that the front office will move Bud Norris and others with legitimate trade value this summer to expedite the rebuilding process.
But if fans had a say, they would want to relocate Houston's most inept individuals, like Brett Wallace.
The former trade acquisition owns a brutal .042/.115/.042 batting line entering Jackie Robinson Day with 17 strikeouts in 26 plate appearances. He has performed below replacement level since joining the Astros in 2010.
From Joel Roza of caller.com:
"The sample size with Wallace is large enough to know that the investment Ed Wade made has not worked out, and the horrid start he's off to this season should be more than enough for the new regime in Houston to cut ties with the 26-year-old."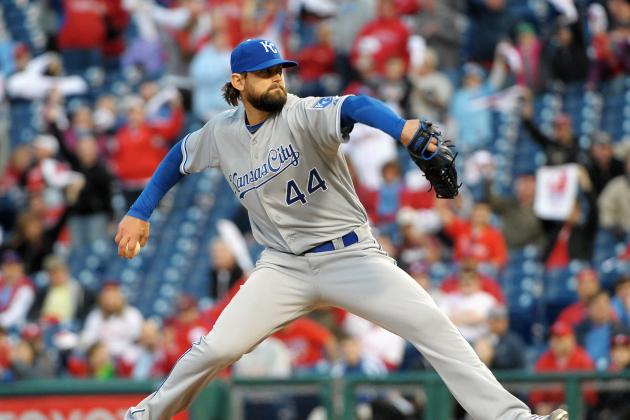 Eric Hartline-USA TODAY Sports
Luke Hochevar.
Luke Hochevar actually looks effective out of the bullpen, so the Kansas City Royals should make a move before he comes back down to Earth.
The former top overall draft pick has been a total bust in the majors, but he wasn't removed from the starting rotation until this year. The Royals now have ample depth to survive without him.
So far, Hochevar is being deployed in mop-up scenarios. It would be preferable to promote Donnie Joseph in his absence, somebody who can be relied upon under pressure.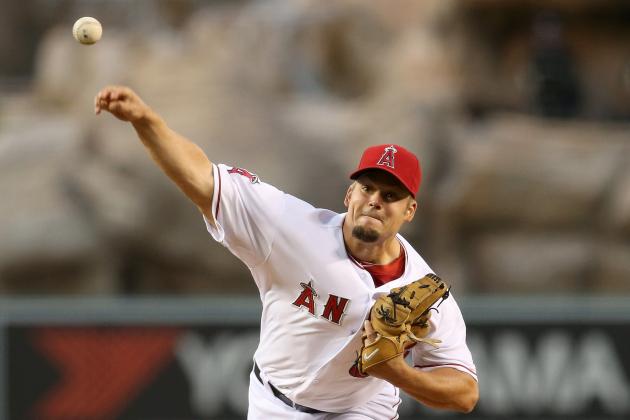 Stephen Dunn/Getty Images
Joe Blanton.
Much of the baseball world was skeptical that Joe Blanton could justify his $15 million free-agent contract.
Not surprisingly, his return to the American League is off to an ugly start. He owns a 2.00 WHIP and only 4 SO through 10.0 IP.
Even the depleted Los Angeles Angels pitching staff has in-house options that fans would rather see. Jerome Williams, for example, performed decently at times as part of the 2012 rotation.
Blanton isn't giving the Halos a chance to win with his brief, weak outings.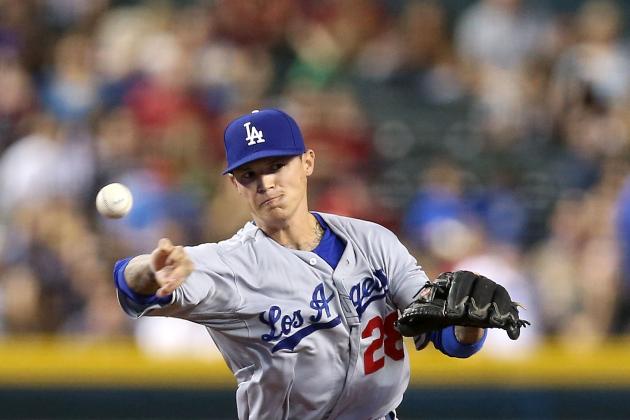 Christian Petersen/Getty Images
Justin Sellers.
Until Matt Kemp gets in a rhythm, the Los Angeles Dodgers will be reliant on Carl Crawford for all their base-stealing.
Dee Gordon can add to that dimension of L.A.'s offense. He'll make a few more defensive mistakes than current shortstop Justin Sellers, but provide more overall value.
Besides, Sellers is hurting the team by slumping with runners in scoring position. The Dodgers wouldn't be risking much by demoting him to Triple-A.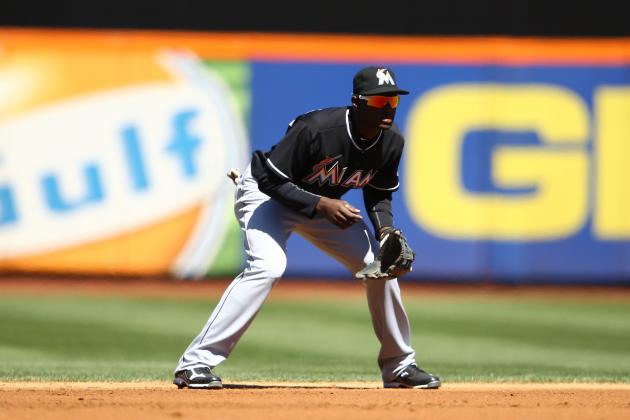 Al Bello/Getty Images
Adeiny Hechavarria.
So many potential changes could be made to the Miami Marlins lineup, which has averaged fewer than two runs per game.
The Fish acquired Adeiny Hechavarria during the winter, knowing full well that he wouldn't contribute much at the plate. But fans cannot bear to see someone with a .195/.250/.244 batting line playing every inning (which he has up to this point).
More time in the minors couldn't hurt.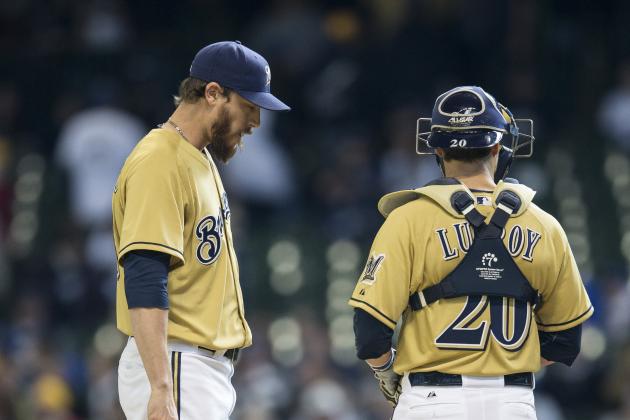 Tom Lynn/Getty Images
John Axford.
John Axford just doesn't have it anymore.
Thanks to a fiery fastball and great personality, he was embraced by the Milwaukee Brewers in 2010 and 2011. However, impressive saves totals from those seasons made him expensive as a first-time arbitration eligible player.
He's banking $5 million in 2013 and if the Brew Crew doesn't shop him soon, they could be forced to non-tender him this winter and receive nothing in return.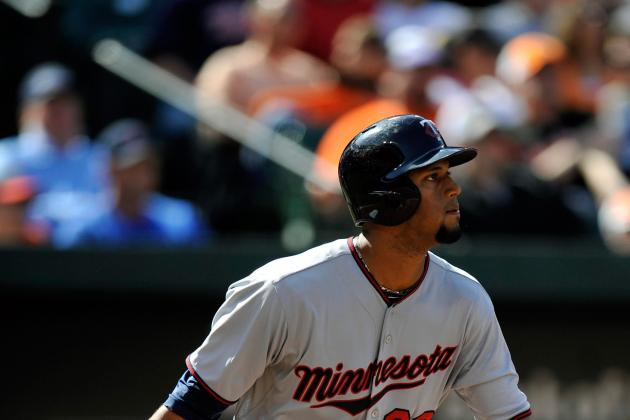 USA TODAY Sports
Aaron Hicks.
Rookie slumps are totally understandable. Even such superstars as Mike Trout and Justin Upton struggled during their initial exposures to major league competition.
But Aaron Hicks needs to go back to the minors. Now.
The spring training standout has only reached base five times through 10 contests. Minnesota Twins fan and NBC Sports blogger Aaron Gleeman puts his anemic stats in perspective:
Aaron Hicks tied the MLB record for most strikeouts through 10 career games with 20. Brett Jackson also had 20 for the Cubs last year.

— Aaron Gleeman (@AaronGleeman) April 14, 2013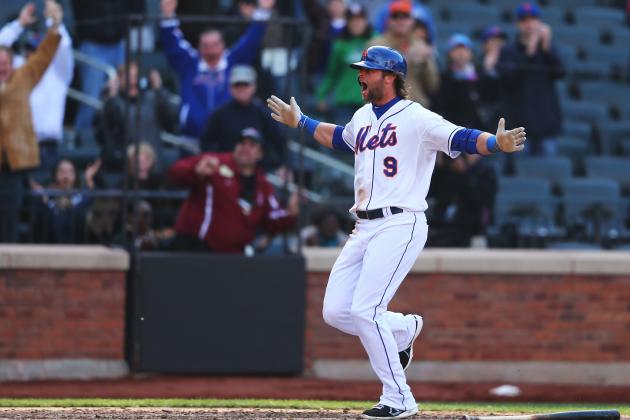 Al Bello/Getty Images
Kirk Nieuwenhuis.
Kirk Nieuwenhuis has just one plate appearance over the past week, as the New York Mets have realized that Jordany Valdespin can be more effective.
Letting him wither on the bench doesn't benefit anyone.
Fans would rather see Nieuwenhuis play regularly in the minors until one of the other outfielders slumps.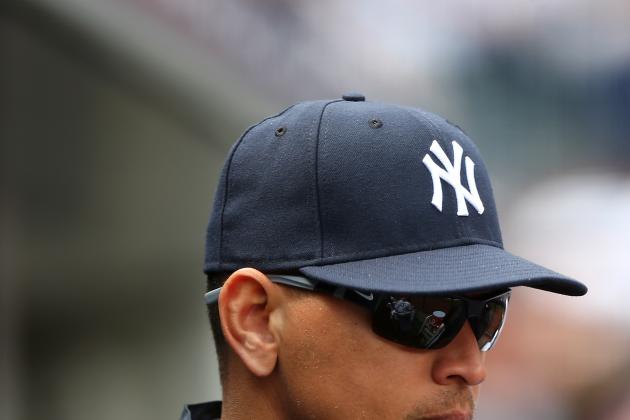 Elsa/Getty Images
Alex Rodriguez.
Alex Rodriguez led the New York Yankees to a World Series championship in 2009, but has since been a total embarrassment.
The on-field regression is bad enough. His power has gradually faded and major hip surgery won't reverse that trend.
But this latest discovery by The New York Times officially destroys any chance Rodriguez might have had to rehabilitate his image. The 37-year-old reportedly attempted to purchase documents from Biogenesis, which would have compromised Major League Baseball's investigation into the anti-aging clinic.
N.Y. fans will never support him again and the Yankees front office would be elated to dump any portion of his enormous contract, which runs through 2017. The team is also more competitive without him, as Kevin Youkilis has been a valuable offensive player early in 2013.
Rich Pilling/Getty Images
Daric Barton.
With the exception of Jarrod Parker (0-2, 10.80 ERA), the 2013 season has begun wonderfully for the Oakland Athletics. The fans don't want anybody from the active roster to go.
But former stud prospect Daric Barton is a perpetual disappointment after 11 professional seasons.
The A's have called up the first baseman for portions of the last six seasons. Despite great pitch recognition and quality defense, he isn't developing a power stroke.
Aaron Gleeman expressed surprise on the behalf of all Oakland fans when the other 29 teams passed on the opportunity to acquire Barton.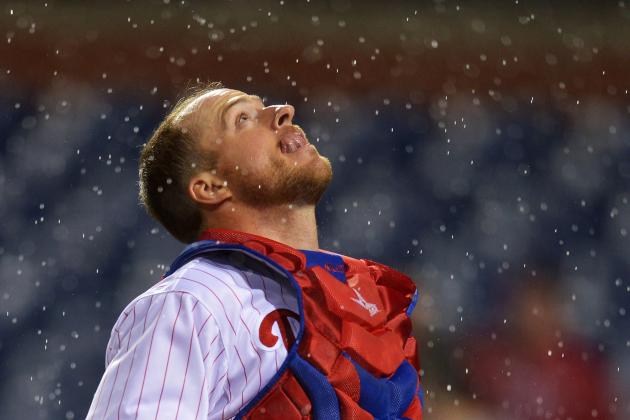 Drew Hallowell/Getty Images
Erik Kratz.
Carlos Ruiz will return from his PED suspension in a couple weeks.
If you were to ask Philadelphia Phillies fans, they would insist on keeping Humberto Quintero in the majors as his back-up, not Erik Kratz.
The latter has seen most of the action at catcher and batted only .184/.179/.316. More importantly, starting pitchers Roy Halladay and Cole Hamels aren't working well with him (via The Philadelphia Inquirer).
Even at age 32, Kratz has minor league options, so the Phillies won't have to get rid of him entirely.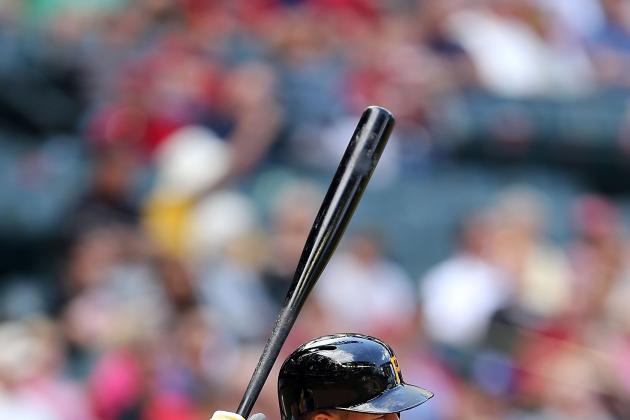 Christian Petersen/Getty Images
Gaby Sanchez.
Gaby Sanchez is merely a platoon player (and a mediocre one at that).
The Pittsburgh Pirates can control Sanchez through the 2015 season, but his salary will creep north of $2 million if he gets semi-regular plate appearances.
It's only a matter of time before infielder/outfielder Jerry Sands starts producing in the minors. He could easily fill Sanchez's role should the Pirates designate the veteran for assignment and peddle him to other teams.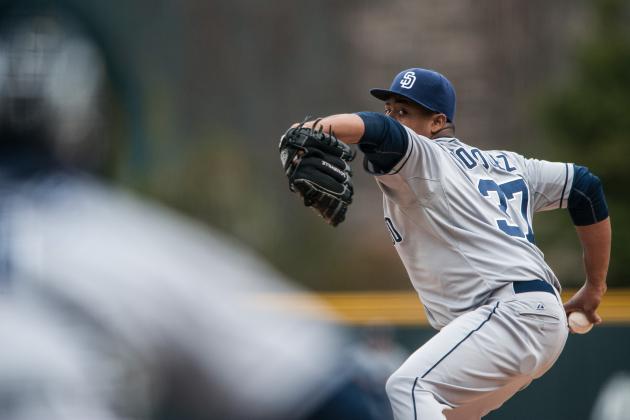 Dustin Bradford/Getty Images
Edinson Volquez.
Edinson Volquez may have a tiny bit of trade value left because he spent all of 2012 in the starting rotation. Despite constant control issues, he maintained a 4.14 earned run average and performed comfortably above replacement level.
The San Diego Padres talented right-hander Andrew Cashner cooped up in the bullpen, while MLB.com reports that Corey Luebke has been playing catch all month (h/t Michael Hurcomb, CBSSports.com).
Because Volquez, an impending free agent, isn't part of the club's future plans, fans urge the Padres to get whatever they can for him and make the rotation spot available for internal candidates.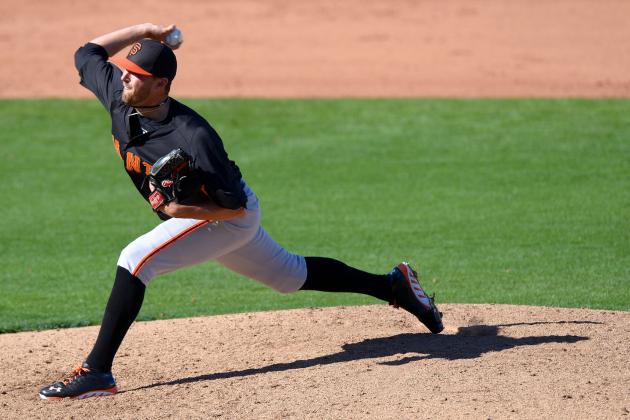 Jake Roth-USA TODAY Sports
Heath Hembree.
At about this time a year ago, Heath Hembree was considered the future closer of the San Francisco Giants. He had dominated the low minors with his overpowering stuff and pitched with acceptable command.
But he never received a September call-up after a trying experience in the Pacific Coast League.
The 24-year-old is succeeding so far as he repeats the level, but the Giants no longer have concerns about their late-inning relief. Jeremy Affeldt, Santiago Casilla and Sergio Romo block Hembree from being used in any high-leverage situations.
San Francisco might as well deal him for a budding position player.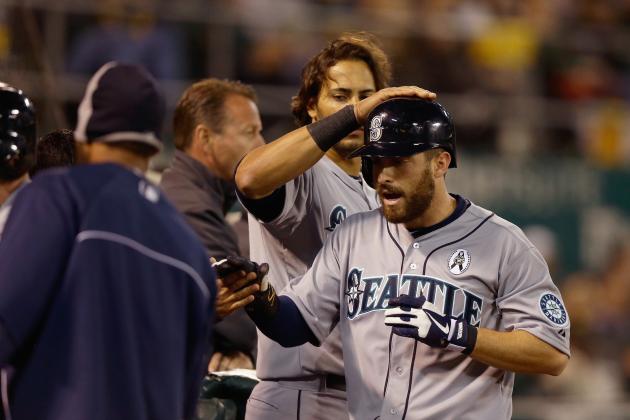 Ezra Shaw/Getty Images
Dustin Ackley.
Seattle Mariners fans were legitimately excited about Dustin Ackley in 2011. Aside from being a strong defensive second baseman, he seemed like a dynamic offensive player.
There's nothing dynamic about him this season, however. Ackley has no extra-base hits or stolen bases, and he looks utterly helpless against left-handed pitching.
A demotion would be more appropriate than a trade. The 25-year-old just needs to get back to the fundamentals.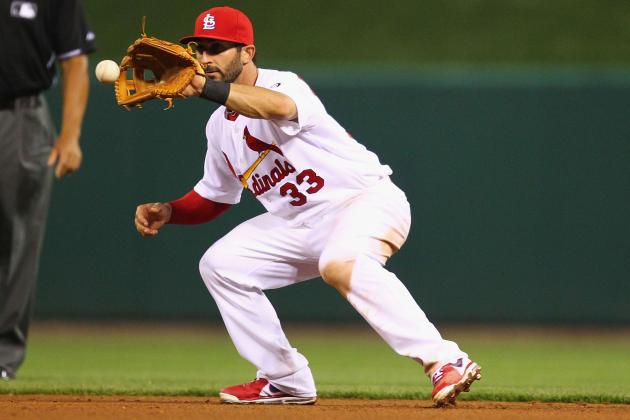 Dilip Vishwanat/Getty Images
Daniel Descalso.
After a brief stint on the disabled list, David Freese is getting re-acclimated to the baseball lifestyle.
Matt Carpenter thrived with Freese on the sidelines. To keep his bat in the lineup, the St. Louis Cardinals have shifted him to second base.
As a result, Daniel Descalso is now expendable. He has been consistently below average as an offensive player since debuting in St. Louis in 2010.
The fans wouldn't miss him.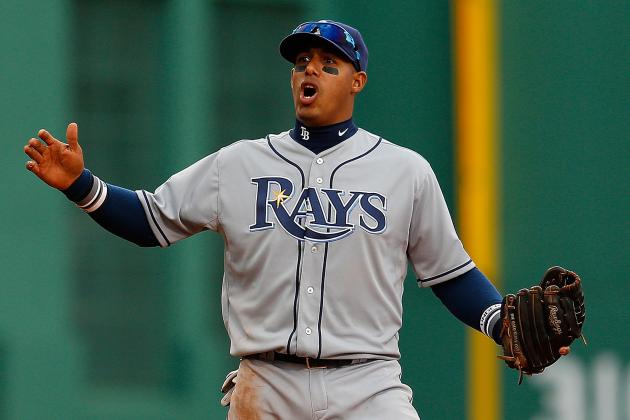 Jim Rogash/Getty Images
Yunel Escobar.
Over the course of his MLB career, Yunel Escobar has been a valuable offensive contributor in odd-numbered years.
That trend isn't continuing into 2013. His .105/.190/.158 batting line puts him in the company of several aforementioned out-of-sync youngsters.
Escobar was supposed to be a placeholder until highly-touted prospect Hak-Ju Lee made the leap from Triple-A. With the Korean shortstop thriving early on, Tampa Bay Rays fans will soon begin calling for change.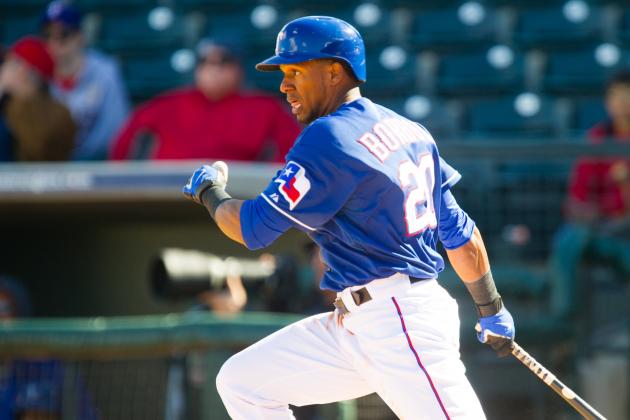 Rob Tringali/Getty Images
Julio Borbon.
One way or another, Julio Borbon will leave the Texas Rangers organization by week's end. The club designated him for assignment and have no desire to keep him in incubation at Triple-A.
Via trade, the Rangers would welcome the addition of any mature prospect who could plug a hole for them in the bullpen or infield in case of injury.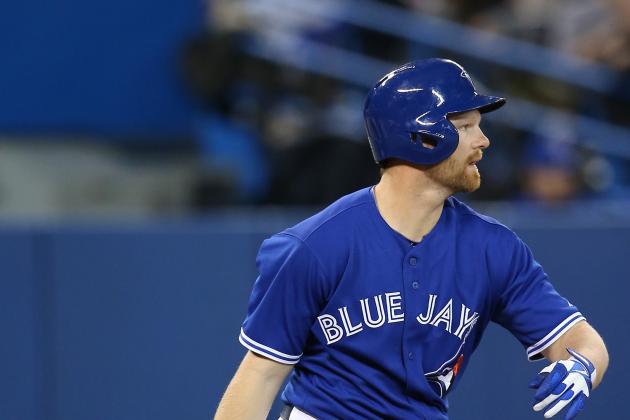 Tom Szczerbowski/Getty Images
Adam Lind.
The Toronto Blue Jays seek a replacement shortstop while Jose Reyes recovers from a severe ankle sprain. None of the internal options fit well as regular players at the position.
Designated hitter/first baseman Adam Lind continues to underachieve and Blue Jays fans would love to deal him for a developed shortstop. Lind has never figured out left-handed pitching like the team hoped he would, and he caused headaches in 2012 with his lax work ethic.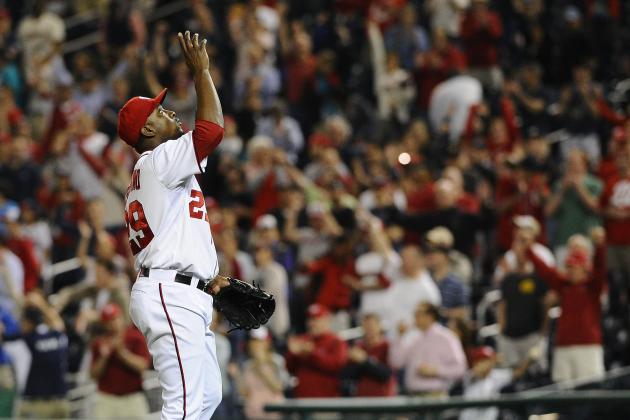 Brad Mills-USA TODAY Sports
Rafael Soriano.
The newly-signed closer lets close contests get too interesting.
Rafael Soriano pitched a perfect inning on Opening Day, but has since allowed baserunners in every appearance. On two occasions, actually, he allowed multiple runs to score.
Of all the talented pitchers on the Washington Nationals, the 33-year-old is owed the highest annual salary over the next couple seasons.