T.J. Moe: Video Highlights for Former Missouri WR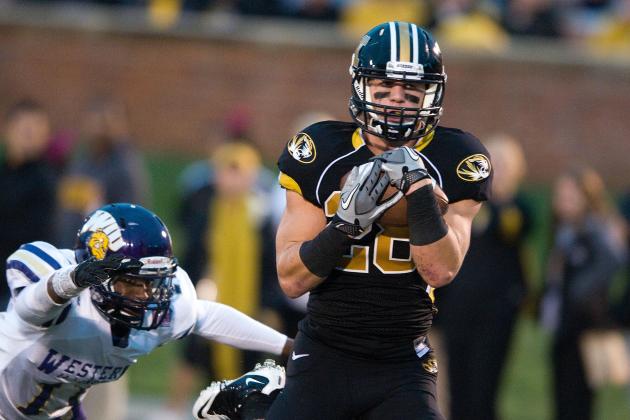 Jeff Curry-USA TODAY Sports

The journey toward the 2013 NFL draft has been an up-and-down one for Missouri receiver T.J. Moe.
An emerging sophomore who caught 92 passes for 1,045 yards and six scores in 2010, Moe saw his overall production fall in each of the next two seasons.
After two disappointing years to close out his time at Missouri, Moe then ran the 40-yard dash at 4.74 seconds at the NFL combine—or the slowest time of any receiver in attendance.
Luckily for Moe, he improved on that time during Missouri's pro day, which will take some of the pressure off of his draft stock. He is projected as a late-round pick.
In the following slides, we'll present Moe's top collegiate highlights.
Begin Slideshow

»
The biggest play in Moe's collegiate career came early in the 2010 season against underdog San Diego State.
With Missouri down 24-20 with under a minute to go in the fourth quarter, Moe caught a short pass, made one impressive juke and then outran the Aztecs defense for the game-winning score.
Thanks to Moe's highlight-reel run-and-catch, Missouri would end up winning, 27-24.
Moe caught just one touchdown pass during the 2012 season, but he certainly made it a snazzy-looking one.
Facing 3rd-and-goal against Southeastern Louisiana in the season opener, Moe went full stretch to haul in a touchdown pass in the first half.
Moe ended the 62-10 rout with three catches for 26 yards and three rushes for 16 more.
This improvised touchdown connection was good enough to make Missouri's top 10 plays of the 2010-11 season.
In the third quarter of the season opener against Illinois, quarterback Blaine Gabbert scrambled out to his left and found Moe open in the back of the end zone for a go-ahead score.
Moe ended the contest with a game-high 13 catches for 101 yards and the score. Missouri would win the rivalry game, 23-13, after Moe's touchdown put the Tigers up by three in the second half.
Moe showed off his wide range of football skills on this trick play against North Carolina in the 2011 Independence Bowl.
Down 7-0 early in the first quarter, quarterback James Franklin threw a lateral to Moe behind the line of scrimmage. Moe then wound up and tossed a 40-yard touchdown pass to Wes Kemp, who was wide open downfield.
Missouri would go on to win, 41-24.
In his career, Moe attempted five different passes. The example here was his lone touchdown pass.
Moe suffered through a disappointing 2011 season, but his performance against Oklahoma was arguably his finest of the year.
Moe would catch a season-high seven passes for 119 yards, including three catches for 20 or more yards. On one occasion, Moe beat Oklahoma safety Tony Jefferson for a 32-yard gain. Jefferson is expected to be selected in the 2013 NFL draft.
The Tigers would end up losing, 38-28. But Moe's overall performance was a very encouraging one and one that NFL scouts will have likely taken a long look at while evaluating his draft stock.