2013 NFL Draft: Quarterback Gurus Sound off on Draft Class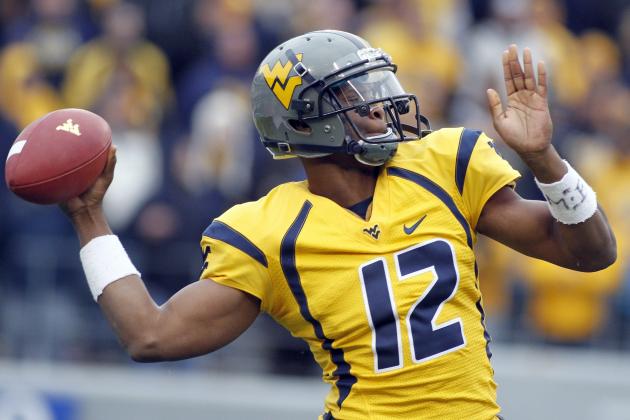 Justin K. Aller/Getty Images

The internet is chock-full of experts, analysts, and evaluators of the NFL Draft and the quarterback position. Yet there is only a select few out there who are true guru's of the quarterback position; the men who teach the position.
I was lucky enough to speak with five of the best quarterback tutors in the country. Steve Calhoun, Steve Clarkson, Donovan Dooley, Ken Mastrole, and Terry Shea all provided analysis of the quarterbacks in this draft class and had plenty to say on the quarterbacks in this class.
Let's snap the ball and scan the field of the 2013 quarterback draft class with some of the best minds of the position in the nation.
Begin Slideshow

»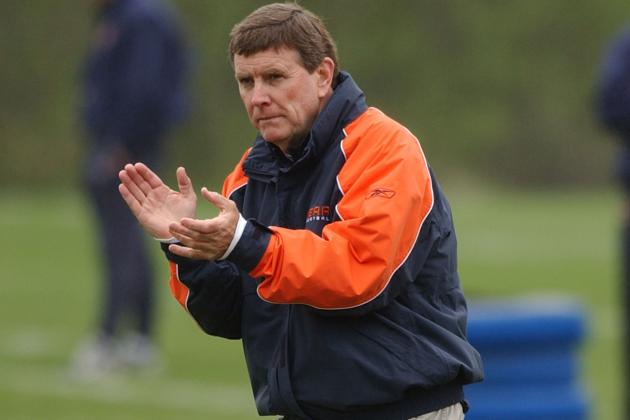 Jonathan Daniel/Getty Images
Terry Shea, shown here during his days at the Chicago Bears offensive coordinator, coached for eight years in the NFL.
Before we jump into their analysis, let's take a quick look at the quarterback guru's and some of the young arms they have helped to mold.
Steve Calhoun
Calhoun began training college quarterbacks in 2008 and has put together an impressive resume in that time. In addition to training Cam Newton and Jake Locker for the Draft, he has also worked with multiple high school recruits, including Cody Fajardo of Nevada, Christian Lemay of Georgia, Cody Kessler of USC, and Connor Brewer of Texas.
Calhoun has been working with multiple quarterbacks in this draft class, including E.J. Manuel and Mike Glennon.
Steve Clarkson
Once an NFL quarterback for a brief period, Clarkson has gone on to work with a plethora of quarterback talent. In addition to coaching Ben Roethlisberger, Josh Freeman, J.P. Losman, and the great Joe Montana, he has maintained a strong rapport with USC, working with Matt Cassel, Matt Leinart, and has worked very closely with Matt Barkley since he was a 14-year old.
Clarkson also works with David Sills, the 16-year old who is verbally committed to USC and has been being recruited since the age of 11.
Donovan Dooley
Dooley is the youngster of the group, but don't let his age fool you. Dooley is already a renowned quarterback tutor and has developed many high school prospects lately. Amongst those tutored by Dooley is Shane Morris, a five-star recruit and Michigan freshman to be, Chance Stewart, and Jayru Campbell, a 2015 prospect who has already received offers from Alabama, Notre Dame, and Michigan State.

Ken Mastrole
A player at nearly every level, starting at Maryland, then Rhode Island, and getting cracks in the NFL, NFL Europe, and AFL, Mastrole possesses experience to relate to the young quarterbacks.
This year, Mastrole has trained E.J. Manuel, directing his Pro Day, and also worked with Zach Maynard.
Terry Shea
Shea is the eldest of this group and has been involved with coaching ever since he took a position as a graduate assistant at Oregon after his playing days as a quarterback there were over. He's had multiple stops since then, becoming the head coach of San Jose State and Rutgers during the 90's, and after his time with the Scarlet Knights, he spent time working with the Kansas City Chiefs, Chicago Bears, Miami Dolphins, and most recently, the St. Louis Rams in 2008.
Shea is currently working with Tyler Wilson. Each of the last four years, he has directed and designed the Pro Day of a first round quarterback, including Robert Griffin III this year. He has also worked with Matthew Stafford and Brady Quinn as well.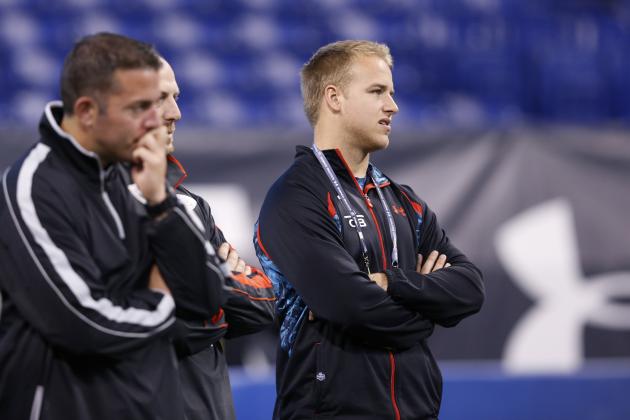 Joe Robbins/Getty Images
Matt Barkley has been one of the most polarizing prospects in this draft. What will the guru's say about him?
I asked four of the quarterback gurus to rank their top five quarterback prospects for me. Terry Shea was the only one omitted from this. The following eight slides will go in order from last (eighth) to first amongst the eight quarterbacks that were listed as a top five quarterback.
Each slide will relate directly to the player and will be broken down into three sections contain quotes from our panel. "The Good" and "The Bad" are self-explainable, but there will also be a "Threading the Needle" part that will contain a key quote(s) or story told to me by one of the gurus regarding something of particular interest related to the prospect.
So without further ado, let's take a look at what had to be said about our first quarterback, Tyler Bray.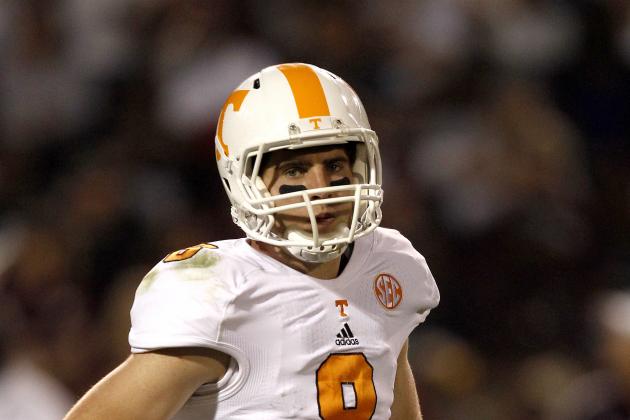 Butch Dill/Getty Images
Many have raised questions about Bray and he will need to answer them to succeed at the next level.
Height: 6-6
Weight: 232 lbs.
40-Yard Dash: 5.04
2012: 3,612 Passing Yards, 34 Passing Touchdowns, 12 Interceptions, 59.4 Completion Percentage, 8.0 Yards Per Attempt, -34 Rushing Yards, 0 Rushing Touchdowns
The Good
"Big arm strength guy. First-round talent, but his grade doesn't indicate that." - Steve Clarkson
"Big kid, strong arm." - Ken Mastrole
"Great kid. As (Bray) matures, he will become a really good quarterback. He can make every throw." - Steve Calhoun
"Playing in the SEC always helps." - Steve Calhoun
The Bad
"When you draft a quarterback, you need to fit your system to match his strengths. If Tyler doesn't match the team he is playing for, that's when the struggles happen." - Steve Calhoun
"(Bray) has to understand when facing pressure, they're sending six, and you only pick-up five, he is responsible for the sixth guy. He has to understand he has to shake the guy or get rid of it to a hot receiver. Has to learn the relationship of the scheme and where to go with the ball." - Donovan Dooley
"Needs to reset his feet." - Donovan Dooley
"Teams are going to have to do their due diligence (on Bray)." - Steve Clarkson
Threading the Needle
"Just him being a kid. Just hope they grow from that and learn from his mistakes." - Steve Calhoun said in regards to Bray's off-field incident.
Overall
Bray actually received no top five votes, but was ranked sixth by Steve Clarkson. The general feeling I got from talking with everybody was that they love his arm, but that wasn't enough for them to think highly of him.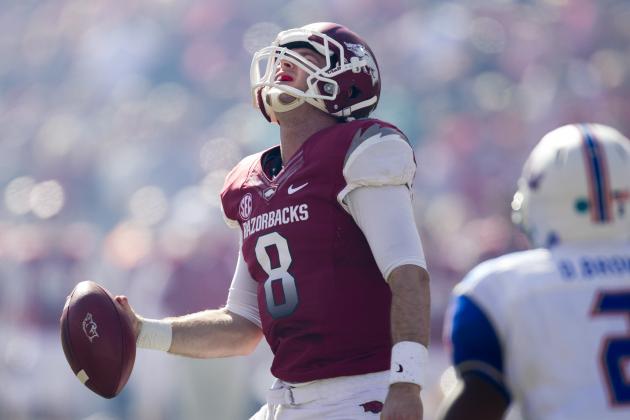 Wesley Hitt/Getty Images
Wilson and the Razorbacks struggled his senior season, which may have resulted in Wilson falling down the boards.
Height: 6-2
Weight: 215 lbs.
40-Yard Dash: 4.93
2012: 3,387 Passing Yards, 21 Passing Touchdowns, 13 Interceptions, 62.1 Completion Percentage, 8.4 Yards Per Attempt, 7 Rushing Yards, 0 Rushing Touchdowns
The Good
"Accurate. Very good acceleration from the moment from his release point to his target. Reminds me of Matthew Stafford. Instant acceleration on the ball. Fits it into small windows with accuracy." - Terry Shea
"Loved (Wilson) as a Junior. I thought, for whatever reason, the Arkansas situation was a bad situation. So much had gone on with that campus. Wonder what things would've been like if he had his coach that last year. Thought he was a better prospect than (Ryan) Mallett at the (end of his Junior season)." - Steve Clarkson
"Hits the mold as a pro-style type of quarterback." - Ken Mastrole
"Tyler has athletic feet." - Terry Shea
"I thought he made some throws that I thought Robert Griffin did." - Terry Shea
The Bad
"There are inconsistencies within Wilson. Not sure if it's protection or guys around him. He was inconsistent in taking care of the football and extending drives. Not capitalizing on scoring opportunities." - Donovan Dooley
"I saw a need to try and extend the elbow more and get a higher release point. I thought that was really imperative that he correct that and improve on that part of it." - Terry Shea
"His ability to separate from the center and get back into the set-up point needed some more fluidity. Not unusual for college quarterbacks" - Terry Shea
"Certainly draft worthy because of his upside. Don't see him coming him being a starter or a franchise guy." - Donovan Dooley
"Not in the first round. Talking more like of a middle rounder." - Steve Clarkson
Threading the Needle
"Tremendous reputation for being football tough. Don't get that unless you know how to work. A number of times he would come out on a Saturday morning after spending five days going through the IMG program routine, he would find a way when nobody else thought working on a Saturday morning was a good idea, to work with me for an hour, hour 15 minutes. It's what he is all about. I can only imagine how tough he has truly been throughout his college career." - Terry Shea
"I sensed Tyler Wilson was really special (as a leader). He pulled the various athletes towards him and was very comfortable with his fellow teammates." - Terry Shea
"If you can spin a football and throw it consistently accurate, hand size doesn't have much to do with success. I never say 'your hands are too small, that's going to be an issue.'" - Donovan Dooley on Wilson's small hands.
"Given when you have an average at best line, it plays a huge part in a quarterback's psyche. Forces you to alter your timing and make some inaccurate choices. It's just a bad draw sometimes. Can't choose your lineman." - Donovan Dooley discussing Wilson's senior season and the lack of help around him.
Overall
Terry Shea, Wilson's current trainer, spoke glowingly of Wilson. He even said after watching Wilson and Geno Smith going head-to-head at the IMG Academy that Wilson has the same type of arm strength that Smith has.
Wilson wasn't as highly thought of by everybody else. Dooley and Mastrole had him fifth and fourth respectively, but didn't crack Clarkson or Calhoun's top five.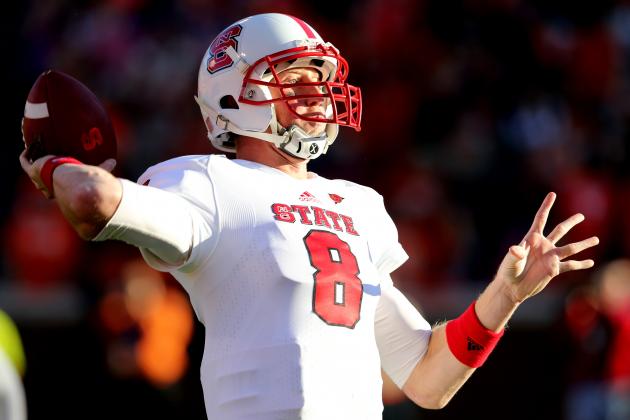 Streeter Lecka/Getty Images
Glennon possesses a big arm and combined with his stature, has drawn comparisons to Joe Flacco.
Height: 6-7
Weight: 225 lbs.
40-Yard Dash: 4.94
2012: 4,031 Passing Yards, 31 Passing Touchdowns, 17 Interceptions, 58.5 Completion Percentage, 7.1 Yards Per Attempt, -164 Rushing Yards, 2 Rushing Touchdowns
The Good
"Can absolutely flat out throw the ball." - Steve Calhoun
"Typical pro-style quarterback as we see with Flacco. Shows some Flacco traits with the big arm." - Donovan Dooley
"Really smart guy, really high football IQ." - Steve Calhoun
"Very good arm and can spin the ball well. (Glennon) had some games where he was really dialed in and made some really tight throws. The ball comes off the arm really well." - Ken Mastrole
"Strong arm." - Steve Clarkson
The Bad
"I don't get that 'it' factor from Glennon. I don't think he is going to get much better." - Steve Clarkson
"Corky deliver." - Steve Clarkson
"Haven't seen him throw the 15-yard dig that well." - Donovan Dooley
"Has to be able to slide around in the pocket and create those throwing lanes and make those throws." - Steve Calhoun
Threading the Needle
"Once he gets to know you, he really starts to open up and becomes more vocal. Naturally a quiet guy. He didn't say much at first; it was more of a one-way conversation. Once we created that relationship, it was a normal drill for him just to open up to me. Mike is a fiery competitor, no doubt about it. His teammates will see it." - Steve Calhoun discussing his relationship with Glennon and Glennon's leadership
Overall
Glennon certainly wasn't really blasted by anybody, but as Clarkson put it, it just didn't seem like many thought he had that "it" factor. Clarkson and Dooley also expressed slight concerns over Glennon's leadership and overall attitude due to Glennon's generally perceived casual attitude. Calhoun also acknowledged Glennon needs to improve his footwork and how he operates within the pocket, something Dooley was worried about as well.
Glennon ranked as high as third on Calhoun's board, and was ranked sixth and seventh by Mastrole and Clarkson respectively.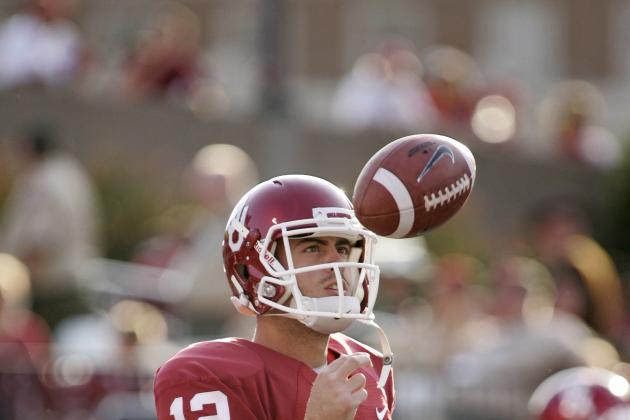 Brett Deering/Getty Images
While he has fallen down the board for many, Landry Jones arm and experience intrigues the guru's.
Height: 6-4
Weight: 225 lbs.
40-Yard Dash: 5.03
2012: 4,272 Passing Yards, 30 Passing Touchdowns, 11 Interceptions, 66.1 Completion Percentage, 7.7 Yards Per Attempt, -110 Rushing Yards, 2 Rushing Touchdowns
The Good
"Intriguing for me because (Jones) has played so many games and has gained so much experience. Speaks highly of the kid. He can make every throw." - Steve Calhoun
"Natural passer. Does a nice job of getting the ball outside accurately." - Ken Mastrole
"Looked like he threw a really tight spiral." - Terry Shea
The Bad
"Landry needs to learn to slide in the pocket." - Steve Calhoun
"Forces the ball a lot deep. Doesn't take a lot of smart throws at times." - Donovan Dooley
"Has been up and down in terms of his Oklahoma days." - Terry Shea
Threading the Needle

"Don't want to make the assumption that because he came from Oklahoma that he can't play. Has great gifts, but when I'm looking at drafting in the first or second round, you get down to the 10-yard line when they are pulling him out to put in a new quarterback, that worries me." - Steve Clarkson said regarding Blake Bell being put into the game as the quarterback near the goal-line in place of Jones.
Overall
Opinions on Landry Jones seemed similar overall, as everybody liked the way he threw the ball but saw holes in his game such as his decision-making and lack of athletic ability. Jones was left out of Dooley's and Calhoun's top five, but was fifth for Clarkson and third for Mastrole.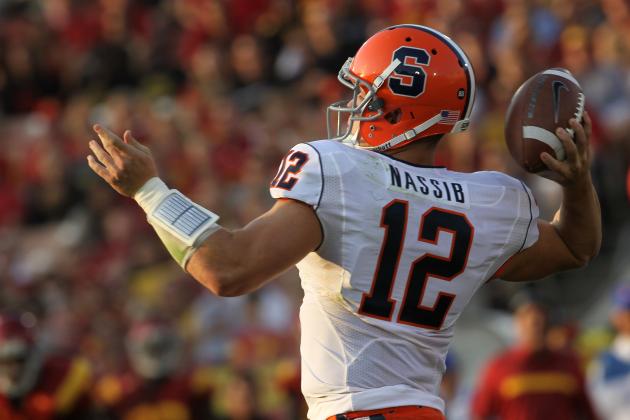 Stephen Dunn/Getty Images
Ryan Nassib has been a riser as of late and has intriguing tools for the next level.
Height: 6-2
Weight: 227 lbs.
40-Yard Dash: 4.95
2012: 3,753 Passing Yards, 26 Passing Touchdowns, 10 Interceptions, 62.5 Completion Percentage, 8.0 Yards Per Attempt, 137 Rushing Yards, 2 Rushing Touchdowns
The Good
"Very polished. (Nassib) put in a lot of work. Traditional, pro-style guy, very poised, and throws the deep out very well. Definitely has good feet too." - Donovan Dooley
"I love (Nassib's) ability, his tenacity. Very intelligent, comes off very confident, but in a good way. Took an inferior team and had them very competitive for the most part. Tells me a lot about him." - Steve Clarkson
"Has done a good job of climbing the ranks this past season. He can make a mixture of throws." - Ken Mastrole
"The people I talk to around the NFL, think he is super smart, can handle NFL playbooks, and is a big guy. Can handle the physicality." - Steve Calhoun
The Bad
"If (Nassib) is lifting his back foot, he isn't getting as much on it as he could. Being more consistent mechanically." - Donovan Dooley
"A little bit of a wind-up." - Ken Mastrole
Threading the Needle
"Could be this year's version of Brett Favre. Stocky build, very athletic, can throw the piss out of the ball, seems a little wild at times, but if you look at him in the second round, there is great value there in the right situation." - Steve Clarkson
Overall
It is a shock overall that Nassib ended up only fourth on this list just because of the fact that when talking to these guys, they generally spoke glowingly of Nassib and as the above shows, had very little to say about him negatively.
Clarkson rated Nassib third, yet had a hard time putting him that low, saying that he could put Nassib, Matt Barkley, and Geno Smith at all number one. Dooley had Nassib third, unranked by Mastrole, and fifth by Calhoun.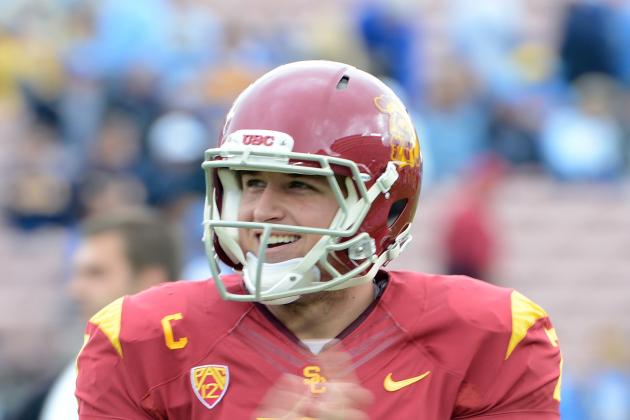 Harry How/Getty Images
While not at the top of the list like many him before the season, Matt Barkley is still respected amongst some of the best minds of the position.
Height: 6-2 1/2
Weight: 227 lbs.
40-Yard Dash: 4.90
2012: 3,273 Passing Yards, 36 Passing Touchdowns, 15 Interceptions, 63.6 Completion Percentage, 8.5 Yards Per Attempt, -72 Rushing Yards, 0 Rushing Touchdowns
The Good
"Matt can throw any ball that is required in the pro level accurately and with plenty of zip. College football is a lot different. Hashes are different. You can throw an out route and it's a much longer throw than in the NFL level. He can drive a deep bench route 35-40 yards on a line with no problem." - Steve Clarkson
"One of the most advanced kids I've ever seen early-on. I swear he had a photographic memory." - Steve Clarkson
"Has really good mechanics. (Barkley) has no wasted motion in his delivery. Has what I call 'sweet feet'. Has been dropping back more considerably than any other college quarterback." - Terry Shea
"I put him in the same realm as Carson Palmer. I think he can go into the pro's and be successful. Has a strong arm, cerebral in terms of checking coverage and alignments" - Donovan Dooley
"When you talk about reps, in terms of game reps, there is a benefit to him. In terms of the whole draft, having a solid pre-snap, (Barkley's) probably the best at doing it." - Donovan Dooley
"When you really look at him, I see a ton of upside." - Donovan Dooley
"Short, compact release. Can really put a lot on the ball." - Steve Clarkson
"I remember Jon Gruden looking at him and saying "oh my gosh, this kid has so much ability." - Steve Clarkson talking about a time Barkley worked out at the Tampa Bay Buccaneers facilities.
"Fluid passer." - Ken Mastrole
The Bad
"Doesn't spin the ball really tight. That worries me a little bit. To be able to drive the ball in really bad weather, you have to be able to spin the football really tight." - Steve Calhoun
"We know what we're getting. (Barkley's) not Mike Vick or Steve Young." - Steve Clarkson talking about Barkley's athletic ability.
Threading the Needle
"Biggest thing is (Barkley's) leadership. I don't think you can undervalue that at all. What he did at USC, it showed people that didn't know him what kind of person you are getting. When you have a leader that can take something at its worse and make something positive out of it, that's what you want. You don't want when the air gets thick, and he starts choking. That's a quality that's not coached, he's just born with." - Steve Clarkson
Overall
While many in the media have been bashing Barkley essentially since the beginning of this past season, the guru's are still seemingly in love with him.
Talking with Clarkson, who has trained Barkley since the age of 14, was a great opportunity to hear about Barkley. Clarkson spoke with great passion when speaking of Barkley, and you can tell that there is a high level of respect between the two.
Clarkson was not the one that directed Barkley's Pro Day, however. Chris Weinke did and Clarkson said some of his insight on the Pro Day, which he wasn't a fan of.
"You want to just answer the question, not give anything else," said Clarkson. "There was no reason for (Barkley) to run. It's much different than playing a game. It's more of a Broadway opera than playing a game. You have a script, you work on the script, you perfect it. Manning has still never run a forty time. Peyton Manning has never run one. (Weinke) wasted four hours of this (Barkley's) time. You need your legs under you for the throws."
Clarkson went on to say how Barkley should've thrown significantly less passes during the workout.
"Workout should've been 40-45 throws," Clarkson estimated. "Simplistic throws take a lot of a young man's legs. Also want your receivers to be fresh to go after the ball, go get the ball at their fastest speed. Spend about three-quarters of that workout, doing all the intermediate throws, and now the kids are somewhat exhausted."
Well essentially tied for the top spot with Geno Smith in his rankings, Clarkson did say that if you're looking for "a guy for a franchise, can't go against Matt Barkley."
Calhoun had Barkley fourth, Mastrole put him fifth, and Dooley had Barkley fourth as well.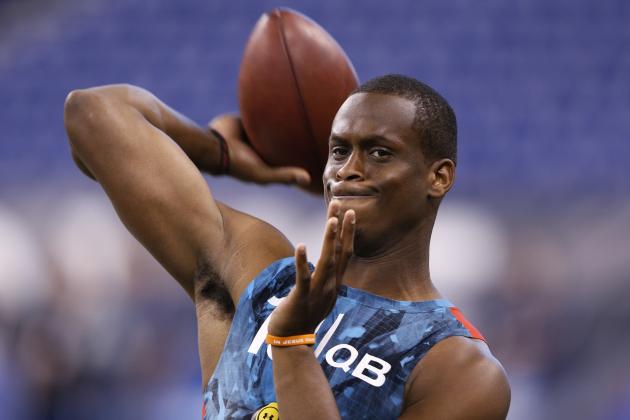 Joe Robbins/Getty Images
Geno Smith posted big stats at West Virginia this past year, but still has some risks.
Height: 6-2 1/2
Weight: 218 lbs.
40-Yard Dash: 4.56
2012: 4,198 Passing Yards, 42 Passing Touchdowns, 6 Interceptions, 71.2 Completion Percentage, 8.2 Yards Per Attempt, 167 Rushing Yards, 2 Rushing Touchdowns
The Good
"(Geno) is a guy that just gets back there and let's it rip. He plays loose and does a good job of distributing the ball around. He can make all the throws." - Ken Mastrole
"I don't see any weaknesses really at all. I haven't been around him in the classroom, but no glaring weaknesses. Great footwork and has that escapability which is needed at the NFL now with the defensive line becoming so athletic." – Steve Calhoun
"Has a really high ceiling in terms of becoming a really good quarterback in the NFL." – Steve Calhoun
"Nice stature. Angular build, moves his feet well. Has good footwork. Good arm speed, ball comes out of his hand well." – Terry Shea
"The ability to extend the play, make plays on the run, and very decisive where to go with the ball." – Donovan Dooley
"He has taken some hits, people are trying to shoot through holes through your game, he has done a good job of staying the course. Overall, he has done an excellent job." – Ken Mastrole
"Good arm speed, ball comes out of his hand well." - Terry Shea
The Bad
"His drop is a little long at the top of his drop, therefore it takes a little long for him to collect his drop and pull the trigger." - Terry Shea
"Uncomfortable being more of a pro-style quarterback" – Donovan Dooley
"Looks unorthodox and doesn't stand tall." – Donovan Dooley
"In terms of the deep ball, waiting too long to throw the ball. Just delivering the ball within a radius. Forcing the ball deep, overthrowing guys." – Donovan Dooley
"Had his great games and had some that weren't so great." – Steve Clarkson
"I would like to see him get to a place with strong veteran leadership where he doesn't have to be the savior. Then again, if it's a team not going succeed right away, might as well plug in." – Steve Clarkson
Threading the Needle
"(Smith) worked hard when he was on the field at IMG. They get 90 minutes of on the field work. Every time Geno was there for a workout session, he worked hard. I saw times Geno would take time to correct a route, and he did it in a positive way." - Terry Shea
"I think that was sole immaturity. I think what we have to realize is if someone was to be so judgmental of all the immature and stupid things we did before 25, would that be a fair shake at who that person has grown to be? Geno is no different." - Donovan Dooley on the sideline incident that occurred during the Texas-West Virginia game.
"I read the piece and I didn't see anything that should've been written. Seemed like (Nolan Nawrocki) was just writing a story; jumping on a guy who you've never talked to or interviewed it. Guys need to know their space. To make those kinds of psychological judgments on somebody is out of line." - Steve Clarkson regarding the Nawrocki piece on Smith.
Overall
While Dooley and Mastrole were both a bit worrisome of how Smith will translate to a more pro-style scheme, everybody liked Smith for the most part. Clarkson and Dooley also expressed concerns over his anticipation as well.
Shea, Clarkson, and Calhoun all had the chance to work around Smith and none of them were disturbed over his leadership in the least bit despite some reports to the contrary.
Smith was rated second on all boards except Clarkson's, who listed him as "1a" with Barkley.
Chris Trotman/Getty Images
E.J. Manuel takes the top spot, mainly due to his combination of arm talent and athletic ability.
Height: 6-4 3/4
Weight: 237 lbs.
40-Yard Dash: 4.59
2012: 3,392 Passing Yards, 23 Passing Touchdowns, 10 Interceptions, 68.0 Completion Percentage, 8.8 Yards Per Attempt, 310 Rushing Yards, 4 Rushing Touchdowns
The Good
"(Manuel) has a very high ceiling. Can throw it through a donut hole. Cannot disregard this guy is a freakish athlete on top of that." - Steve Clarkson
"Main strengths are first and foremost, (Manuel's) athletic ability. His ability to adapt with the league as it evolves to a quarterback that can move the pocket and change the launch points." - Ken Mastrole
"(Manuel's) football IQ is absolutely through the roof. You add his physical attributes to that; athletic, can make every throw you ask him, along with the mental part of it, I really think he should be one of the top draft picks in the draft." - Steve Calhoun
"(Manuel's) ready to go. He is a complete quarterback. Just needs rep at that level to get him ready for the speed of the game. Most complete guy in this class." - Steve Calhoun
"(Manuel) is a humble individual. How he approaches the position. He understands it's going to be 12-14 hour days at the professional level. Those guys that take the next step in terms of staying in the league the next 8-10 years as opposed to 2-3 years it's about mental side." - Ken Mastrole
"As far as (Manuel's) skill set, out of all the guys, he has the best skill set in terms of being able to make all the plays on the field." - Donovan Dooley
The Bad
"Get (Manuel) on the balls of his feet and weight transfer. His alignment in regards to his hips and shoulders being aligned to the target. Being a technician. Being a golf swing coach but not being mechanical. Getting that extension out of his arm." - Ken Mastrole on what he has tried to correct with Manuel.
"Early on when he first got the job, he faced some struggles. Had to learn he didn't have to make every play. Make easy throws versus forcing the ball deep." - Donovan Dooley
Threading the Needle
"I would be getting texts late at night (from Manuel), and they would be coach 'I'm watching film right now' or 'coach I have questions about this.' He always showed up 15 minutes earlier than I would. He is motivated, aggressive. I got to get to know him on a personal level. Played golf with him, always a competitor. Instead of trying to feed him information, I'm constantly being hit by texts, emails, and twitter messages. I was always pushed to try and challenge him." - Ken Mastrole
"Their persona carries their reputation. It feels good you have 'this guy' in the room. I get that with E.J. Manuel. He has an "it" factor that feels different than most." - Steve Clarkson
Overall
Absolutely in love with his physical tools, everybody except Clarkson had Manuel as their number one quarterback (Clarkson had Manuel fourth). And even despite Clarkson not having him at the top, what he said about Manuel's presence when you walk into a room with him is a huge compliment.
If NFL teams are seeing the same thing that these guys hammered on in terms of Manuel's great tools and leadership, you might hear his name called earlier than expected on April 25th.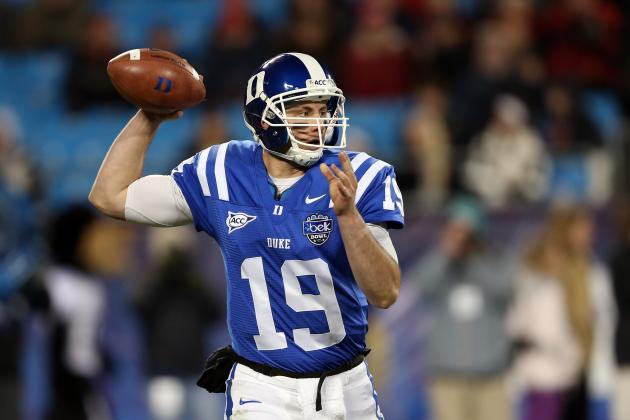 Streeter Lecka/Getty Images
Could Sean Renfree be the next David Cutcliffe quarterback to make it in the NFL?
Here are a few other notable quotes regarding some of the other quarterback prospects that some of these guys have either seen or worked with.
Listed in alphabetically order.
Dayne Crist - Kansas
"He's a classic passer. Very similar to a Landry Jones the way the ball comes of his hand, nice over the top deliver." - Terry Shea
Seth Doege - Texas Tech
"Can definitely play in the NFL. (Doege) is a student of the game. When you throw the ball that much and have the high completion percentage he has, that says a lot." - Steve Calhoun
"Savvy around the pocket to create space to create throwing lanes." - Steve Calhoun
Zac Dysert - Miami (Ohio)

"(Dysert) is a mid-major guy. If you're not a big school guy, you're going to come in on the bottom half unless you had upper echelon numbers." - Donovan Dooley
MarQueis Gray - Minnesota
"Very intriguing prospect. (Gray) has played everything. Runs well, big strong kid. Almost has a flawless throwing motion. Could be a better Hines Ward coming out. He's a bigger, stronger, faster kid." - Steve Clarkson
Collin Klein - Kansas State
"Klein is an accurate quarterback who has had different mechanics. As tough a runner as you can ask for when he carries the football. They label them and put them into these boxes. It's tough to get these boxes off these quarterbacks that show good mechanical development in his senior season." - Terry Shea
Zach Maynard - California
"Can go throw for throw with anybody coming out in this draft." - Steve Calhoun
Matt McGloin - Penn State
"(McGloin) has probably the strongest arm amongst all the guys I've worked with this offseason. Never think it because of his statue, but he has an absolute cannon." - Steve Calhoun
"I was learning from him. Mentally, the most prepared quarterback right now (in the class). Can absolutely make every throw and is a competitor. Has that chip on his shoulder and carries it with him all the time." - Steve Calhoun
Sean Renfree - Duke
"I like (Renfree) because the biggest endorsement he has is David Cutcliffe. He knows a quarterback when he sees one. The two games I saw of him on television, I thought, "who is this kid?" Does a lot with less." - Steve Clarkson
Matt Scott - Arizona
"I watched probably four or five games, I think (Scott) has the ability to throw the football in terms of the intermediate game pretty well. Not sure he can throw the deep ball consistently." - Donovan Dooley
Jeff Tuel - Washington State
"A really nice, quick arm." - Terry Shea
Chris Graythen/Getty Images
Louisville's Teddy Bridgewater is already picking up steam as one of the top signal callers for next year's Draft.
Many of these quarterback gurus have not only seen and worked with the prospects in this draft class, but many from future classes as well. Here is a quick look at what they had to say about some of the top guys currently in the college game.
Listed in alphabetically order.
Tajh Boyd - Clemson
"Tajh Boyd is one of those guys that is really going to stand out in next year's draft class. More mature than a lot of quarterbacks. Definitely a leader, vocal guy, and can move the chains. When you watch the film, he can throw every pass on the football field." - Donovan Dooley
Teddy Bridgewater - Louisville
"That's a guy who I don't think is as fundamentally sound but definitely has the ability to make plays with his feet and is a warrior." - Donovan Dooley
"Kid on film is very calm; has that moxie, that savviness to him. When you watch him in the game, first play he gets hit, most guys fold up and look down, but the kid can move around. Not a running quarterback but can move around." - Ken Mastrole
David Fales - San Jose State
"(Fales) might be, if not, the top passer, one of the top two (for next year's Draft). In terms of the way he throws the ball, the accuracy he demonstrates. I'm excited to see him. Talked to him over the phone and sounds like a bright young man. Heard from four or five different people that he is the real deal." - Terry Shea
Kevin Hogan - Stanford
"Very good athlete. Not Andrew Luck, not too many people are." - Steve Clarkson
Brett Hundley - UCLA
"Always talk about the head first. First thing that jumps out is he is an incredibly gifted leader. His first season as a starter and he came out from day one, and they believe in this kid. Plays for a pro coach in Jim Mora and he believed in him." - Steve Clarkson
"Skill set is off the charts. Ability to make all the throws whether it's tight, touch, or on the run. Today's quarterback needs to execute the play that's called, extend the play that's called, and when all hell breaks loose, can create a brand new play. He is a bigger Russell Wilson. Very muscular. Can break tackles and see things so fluidly. When times are most chaotic, they are at their most comfortable." - Steve Clarkson
Johnny Manziel - Texas A&M
"Nobody won more than him in the biggest setting. If he has anything close to what he did last year, I will drive him to New York myself." - Steve Clarkson
"The best thing about Johnny that will allow him to be successful is he is a winner. That never say die attitude, he finds a way to get it done. He finds a way." - Steve Calhoun
Shane Morris - Michigan
"Very big arm, and I mean huge. I work with about 133 quarterbacks, and Shane has probably if not the biggest, probably the second best." - Donovan Dooley
"More athletic than people would ever imagine. Can dunk a basketball." - Donovan Dooley
Stephen Morris - Miami (Fla.)
"Can become a potentially good pro prospect. Saw him a lot in high school. Rocket arm and great athlete. Excellent basketball player and baseball player too." - Ken Mastrole
Aaron Murray - Georgia
"I always liked Aaron. Kind of a journeyman quarterback. Modern day Ty Detmer. Leads well. Georgia is surrounded by so much talent and he has played with some great receivers. I don't get that excited." - Steve Clarkson
Keith Price - Washington
"Reminds me a lot of Russell Wilson. Had a chance to work them out together (in Seattle). He gets it. He can really play the quarterback position. Great leader. Can make every throw, and as much as you can throw at him, he can handle it. Been working with him since his freshman year in high school. Nothing he can't do at the next level." - Steve Calhoun
All quotes obtained firsthand unless otherwise noted. Follow Joshua Gleason on Twitter (@JGleas) for more regarding the NFL Draft and other football content.