Underclassmen Who Will Regret Declaring for the 2013 NFL Draft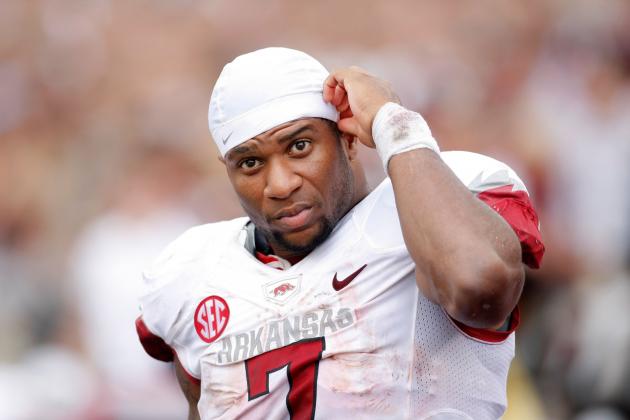 Brett Davis-USA TODAY Sports

There are 73 underclassmen who are eligible for the 2013 NFL draft. However, not all of them will land with a team. In fact, not all of those who decided to end their college careers early were wise in doing so.
Some of the players discussed herein are coming off of seasons that were either subpar or affected by injuries. Others are taking a serious risk by entering before truly making a name for themselves, as in many cases, the 2013 season would've provided increased roles.
Here are eight underclassmen who made a mistake by choosing to enter the draft this year.
Begin Slideshow

»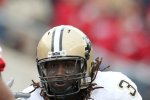 Source: PurdueSports.com
The only reason that former Purdue inside linebacker Dwyane Beckford declared for the draft this year is that he was kicked off the team in August of 2012 after notching his fourth arrest in 14 months, this time for drug-related offenses.
Beckford would have benefited from transferring to another school and trying to revive his college career rather than trying to make it in the NFL. At this point, with his history, Beckford certainly won't be drafted, and his odds of landing with a team as a free agent are also incredibly slim.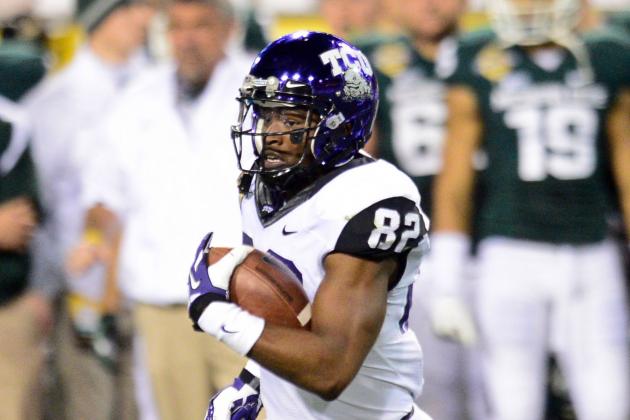 Matt Kartozian-USA TODAY Sports

Though former TCU wide receiver Josh Boyce had a nice scouting combine, running faster in the 40-yard dash than initially assumed, he would have been better off playing college ball for one more year.
Boyce had 66 receptions for 891 yards and seven touchdowns in 2012—nice numbers, to be sure, but not enough to make him any better than a Day 3 selection this year. Another year at TCU would have given him a better opportunity to improve his draft stock.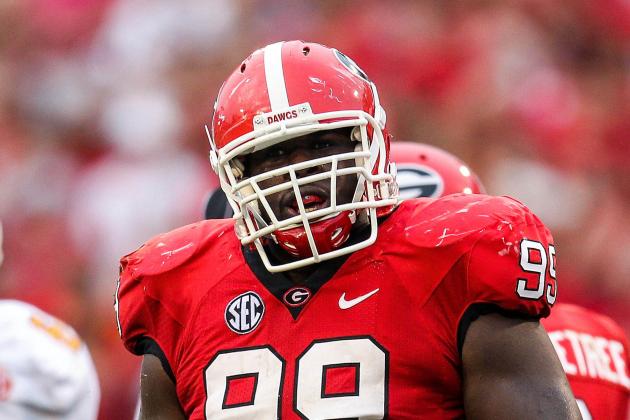 Daniel Shirey-USA TODAY Sports

Georgia defensive tackle Kwame Geathers would have been the team's starting nose tackle in 2013, what with Johnathan Jenkins also leaving for the NFL. That alone would have given Geathers' draft stock a much-needed boost; now, he's not likely to be taken any higher than Round 3.
Geathers had 40 tackles, a sack and a blocked kick in 2012. Though he has the size to play 3-4 nose tackle in the NFL, a strong 2013 season as Georgia's starter at the position could have pushed him into the second round in 2014.
Geathers clearly jumped the gun.
Florida State offensive tackle Menelik Watson likely took one look at this year's class of fellow tackles, saw needs around the league and decided to try his hand at NFL fortune. However, another year of college playing time would have helped him immensely.
Watson's draft stock has fluctuated wildly since the scouting combine. On the one hand, he's extremely athletic and fast and seems to have an innate knowledge of the game. On the other, he's a former basketball player still learning the ropes of his new sport.
Considering that he'd need development in 2013—meaning his playing time will be limited if he gets any at all (his pass protection, in particular, is quite raw)—another year in college could have helped him hone his skills and made him a potential sure-thing first-rounder in 2014.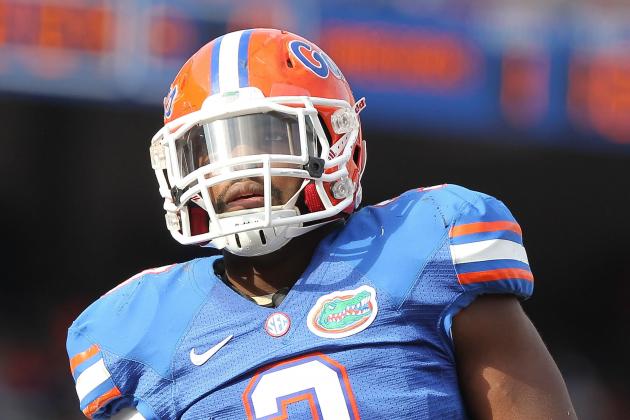 Kim Klement-USA TODAY Sports

Jelani Jenkins' 2012 season for the Florida Gators was marred by injury—he missed a total of four games with thumb and hamstring injuries as well as a broken foot in November. For those reasons, it seemed like he'd return for his senior season, but he instead he chose to declare for the NFL draft.
Considering how many injuries he sustained in 2012, he should have returned in 2013 and proved that he can stay healthy. It would have done wonders for his draft stock in 2014; now, he may not be picked in any round and might have to wait for a team to add him as an undrafted free agent.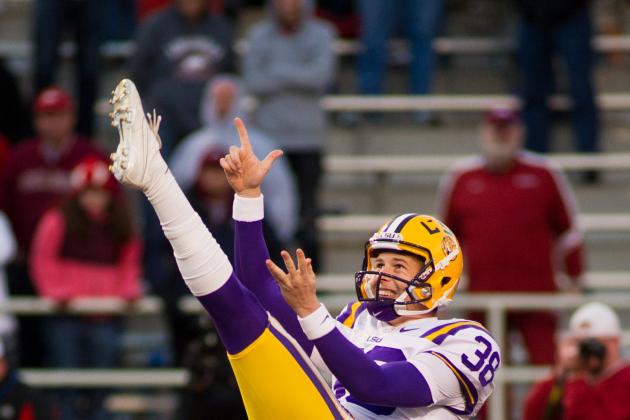 USA TODAY Sports

It's hard enough for a punter to get taken in the NFL draft (Bryan Anger and the Jacksonville Jaguars in 2012 notwithstanding), but one who has a history of arrest is almost certain to miss out on being selected by any team.
LSU's Brad Wing was first arrested for battery in 2011 and then was suspended and subsequently kicked off the team at the end of the 2012 season, missing the Chick-fil-A Bowl, which resulted in his declaration for the draft.
Wing is a redshirt sophomore who may have been able to transfer and play elsewhere and rehab his image. At one point, he was the best college punter in the nation, but now his character risks make him too big a liability.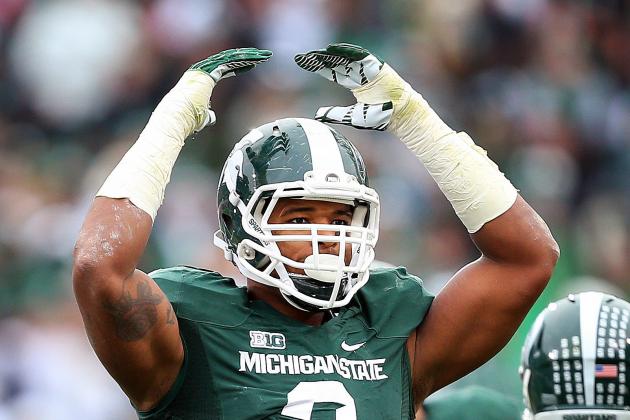 Mike Carter-USA TODAY Sports

Many expected Michigan State defensive end William Gholston to have a breakout 2012 season, but instead he was rather disappointing. Though he has the look of a truly intimidating pass-rusher, his ability to pressure quarterbacks didn't take the leap that was expected after an inconsistent 2011 season.
Gholston had 59 tackles (13 for a loss), one forced fumble and 4.5 sacks in 2012. He's a solid run defender, but if he wants to be a 4-3 defensive end in the NFL, he simply needs to improve his ability to get to quarterbacks.
Another year in college could have helped him hone his skills and raise his 2014 draft stock. Now, he'll go no earlier than Round 4.
Arkansas running back Knile Davis has great speed as well as size, so on the one hand, he looks to have a bright future in the NFL.
However, another year playing the college game could have significantly helped him. Davis had just 377 rushing yards and two touchdowns in 2012, along with a number of fumbles. The bad year was partly attributable to rust—he missed all of 2011 with a broken ankle (he also broke the same ankle in high school)—as well as his small hands.
If Davis had stayed at Arkansas for his 2013 season, he would have been an every-down back, giving him the opportunity to leave his poor 2012 in the past. Instead, he enters the draft with questions swirling, which will certainly lower his draft stock. A healthy 2013 would have seen it rise considerably in 2014's draft.