Potential Early-Season MLB Trades That Would Shake Up the League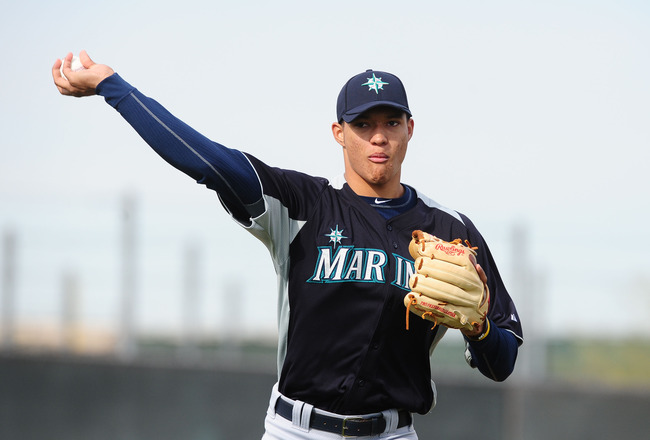 Would the Mariners move Walker, their top pitching prospect, to add one of the top power hitters in the game?
Mark J. Rebilas-USA TODAY Sports
Early-season trades aren't common, but there is always a chance a front office makes the quick observation that their team is in big trouble and looks to shake things up in a big way.
Here are three trades that could not only change a team's 25-man roster in a big way, but could change the landscape of the 2013 pennant races.
Marlins Trade Giancarlo Stanton to Mariners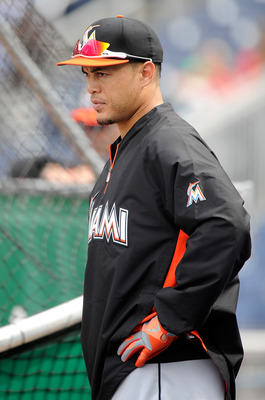 Greg Fiume/Getty Images
The Mariners didn't add several veteran hitters to their lineup this offseason to ensure a fourth-place finish over the Astros. They expect to compete in a very tough AL West, and, at the very least, they have a much-improved ballclub with plenty of talent on the way.
The Rangers, despite a 6-2 start, aren't as strong on paper as they've been in the past. The Angels, who don't have a rotation that scares opponents in the first place, have lost No. 1 starter Jered Weaver for four to six weeks with a fractured left elbow.
The A's have won six in a row and were just about the best team in baseball during the second half of 2012, but they don't appear to be head and shoulders above the M's in overall talent.
In other words, the division is there for the taking. Adding one of the top young power hitters in the game could certainly give the Mariners a more realistic chance to be there at the end of the season.
They'd have to give up a ton, but the M's are one of the few teams in baseball that can put together a package of prospects to entice the Marlins without cleaning out the farm system.
And why would the Marlins consider trading their best player? They've already made the most surprising move of the year by giving an Opening Day roster spot to top pitching prospect Jose Fernandez, who is making the jump from High-A. I wouldn't be surprised by anything the Marlins do.
The fact that they have some outfield talent on the way in Christian Yelich and Jake Marisnick could make a Stanton trade more likely. Adding four of the Mariners' best prospects, three of which would be ready to help Fernandez and Yelich in 2014, could make it an easier sell to the fanbase as they get beat up on a daily basis this season.
Here's my trade proposal:
Mariners receive:
OF Giancarlo Stanton
Marlins receive:
C Mike Zunino
2B/SS Nick Franklin
RHP Taijuan Walker
LHP Luiz Gohara

It would take one of the top catching prospects in baseball, Zunino, and one of the top pitching prospects in Walker. Franklin, a better fit as a second baseman, is blocked by Dustin Ackley, so he probably wouldn't be a huge loss. Gohara has a huge ceiling, but he's only 16 and several years away from the majors.
The Mariners' new "go-to" lineup could look something like this:
CF Michael Saunders/Franklin Gutierrez
3B Kyle Seager
DH Kendrys Morales
LF Michael Morse
RF Giancarlo Stanton
1B Justin Smoak
C Jesus Montero
2B Dustin Ackley
SS Brendan Ryan
Twins Trade Josh Willingham to Orioles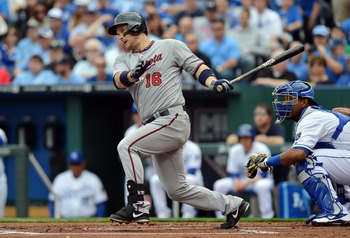 USA TODAY Sports
While Josh Willingham is a bargain at just $14 million over the next two seasons, the Twins aren't likely to compete in 2013 and could benefit from trading him to a contender as they continue to build up a farm system that could start graduating some big-time talent over the next few seasons.
The O's have some depth issues in the outfield with the oft-injured Nolan Reimold, already a disabled-list candidate, and Nate McLouth off to a slow start. They're also short in designated-hitter options with Wilson Betemit out up to two months with a strained knee.
Willingham, who had 35 homers and 110 runs batted in last season, would fit nicely in the middle of an O's lineup with left-handed slugger Chris Davis and All-Star center fielder Adam Jones.
Although they'd have to dip into their rotation depth, they could probably get a deal done without offering either of their top prospects, Dylan Bundy or Kevin Gausman.
Here's my trade proposal:
Orioles receive:
OF Josh Willingham
Twins receive:
2B Jonathan Schoop
LHP Zach Britton
The Twins would lose a huge bat in the middle of their lineup now, but adding another starter with upside in Britton and a high-ceiling second baseman who could be in the big leagues by late 2013 could make it well worth it.
The Orioles' new "go-to" lineup could look something like this:
RF Nick Markakis
3B Manny Machado
1B Chris Davis
CF Adam Jones
DH Josh Willingham
C Matt Wieters
SS J.J. Hardy
LF Nate McLouth/Nolan Reimold
2B Ryan Flaherty/Alexi Casilla/Brian Roberts
Rangers Trade Mike Olt to Dodgers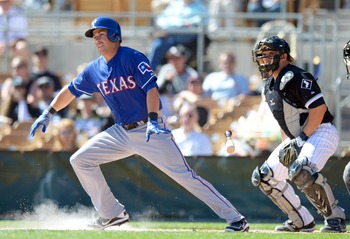 Jake Roth-USA TODAY Sports
The Dodgers' third basemen are 1-for-22 on the season, with journeyman Luis Cruz getting most of the at-bats. Unless Scott Rolen comes out of retirement and signs with them, options are few and far between for an upgrade.
Chase Headley figures to be the top third baseman who might be available on the trade market, but not until much closer to the trade deadline, and he's very unlikely to be traded within the division.
That leaves Olt, one of the top third-base prospects in the game, as one of the lone potential solutions at the hot corner. He's blocked in Texas by Adrian Beltre and is currently biding his time in Triple-A, where he had two hits and a walk on Tuesday.
The 24 year-old hit .288 with 28 homers in 95 Double-A games last season and should be able to hold his own in the big leagues now, both defensively and at the plate.
The Rangers could use some bullpen help in 2013 and would also likely ask for a top Dodgers' prospect in return.
Here's my trade proposal:
Dodgers receive:
3B Mike Olt
Rangers receive:
RHP Javy Guerra
3B Corey Seager
The Rangers would be trading a top third-base prospect who is likely ready to help in the big leagues now, but is blocked at his primary position for the next several years, for another top third-base prospect who probably won't be major league ready until Beltre is a free agent after the 2015 or 2016 season.
They also get some bullpen help in Guerra, who has a 2.45 ERA and 29 saves in 92 big league appearances.
The Dodgers' new "go-to" lineup, once Hanley Ramirez returns from the disabled list later in the season, could look something like this:
LF Carl Crawford
SS Hanley Ramirez
CF Matt Kemp
1B Adrian Gonzalez
RF Andre Ethier
3B Mike Olt
C A.J. Ellis
2B Mark Ellis
Keep Reading