6 Late-Round Prospects That Are Perfect Matches for the Indianapolis Colts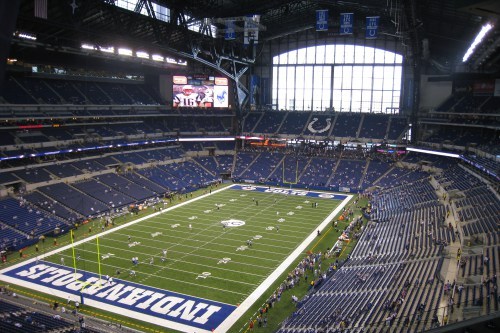 The Indianapolis Colts used the 2013 NFL free-agency period to fortify all of their weak position groups. They also found veteran depth at QB and traded small change for a fullback.
Ryan Grigson's broad-base strategy means that the Colts do not enter the 2013 NFL Draft needing to fill any particular holes. Grigson's more-is-better tactic still leaves room for a draft pick to emerge from training camp as a contributing, if not impact, player.
This chance could come for a player selected in the later rounds. Here are a half-dozen late-round draft prospects that could take advantage of this opportunity.
Begin Slideshow

»
The Harvard fullback broke all kinds of records and physically dominated the inferior Ivy League competition. He was barely on the draft boards before a good Senior Bowl performance and a 4.6-second 40-yard dash on his pro day moved him up the fullback rankings.
Fullbacks in general are later-round picks, but this one could go as high as the third round. The Colts did trade for a fullback during free agency, acquiring Stanley Havili from the Eagles for chump change.
Because Havili came so cheap and the Colts' new offensive coordinator tends to utilize a fullback, taking an impressive athlete like Juszcyk could be a good move for the Colts if he is still available in later rounds.
David Quessenberry is another lower-conference player who jumped onto the draft boards with his Senior Bowl and NFL Scouting Combine performances. He has the ability to play any position on the interior line, a flexibility the Colts' rebuilt offensive line could surely use.
The Colts didn't sign a specific free agent to play center even though that position was problematic 2012 due to injuries and a lack of depth. Drafting a multi-tool on the interior line is the kind of move that Grigson and his crew might favor.
Quanterus Smith had 12.5 sacks in 2012, including three against eventual national champion Alabama. A late-season ACL tear ruined his draft but recovery from that injury is now more the norm than it use to be.
Given the Colts failure in finding a solid pass rusher in free agency and Grigson's interest in finding nuggets where no one else is panning for gold, Smith could be a great late-round pick.
Joe Kruger no doubt benefited from playing next to potential first-round pick Star Lotulelei in Utah's 3-4 defense. Even so, his game footage shows some speed, strength a bit of nastiness.
The Colts singed Ricky Jean Francois to a contract that many consider to be too large for the talent level. Bringing in a rookie to challenge Francois and the Colts returning DEs could result in some good training camp competition and add depth the DE rotation.
Earl Wolf posted back-to-back 100-tackle seasons and ran an impressive 4.44-second 40-yard dash at the NFL Scouting Combine. He is also a big hitter, forcing seven fumbles in his college career.
The Colts signed one veteran strong safety, LaRon Landry, who has good playmaking ability, but was inconsistent throughout his rookie contract. The Colts released one veteran safety so they will need depth at the position and with Wolf they get another playmaker.
Meet Mr. Irrelevant for the 2013 Draft, Tyrone Goard. At 6'4" with a 36-inch vertical jump, he has the size to go over defensive backs and his 4.44-second-40-yard-dash speed can put him past them. Coming from an FBS school limits his draft stock but this combination of size and speed could be interesting.
The Colts already signed a deep threat in Darrius Hayword-Bey, though they only gave him a one year contract which tells you something about their confidence in him as a long-term prospect. Goad is even taller than Hayword-Bey and may match his athleticism. If Hayward-Bey doesn't work out, perhaps Mr. Irrelevant's work ethic—he graduated in 3.5 years—can make him relevant.