6 Late-Round Prospects That Would Be a Perfect Match for the Cardinals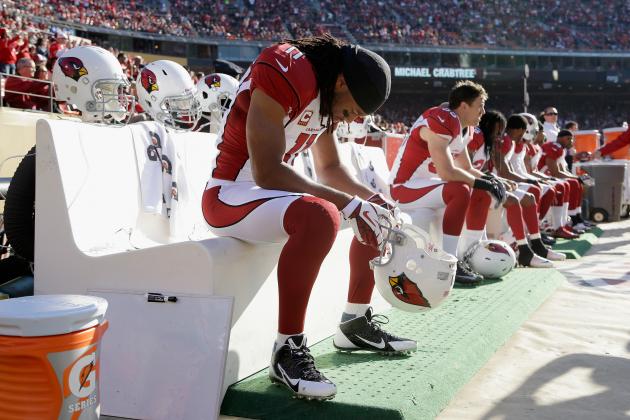 Ezra Shaw/Getty Images
Larry Fitzgerald and the Cardinals ended 2012 with their heads hung.
The Arizona Cardinals will head to the NFL draft in search of answers. Questions still remain on the offensive line and in the linebacking unit as Arizona looks to improve on last season's 5-11 team that started 4-0 before the wheels fell off in unprecedented fashion.
There's certainly a lot of buzz being generated with the Cardinals holding the seventh overall pick in the draft and several options that they could have to spend that pick on.
While a lot of attention is being paid to the front of the draft, Arizona would be wise to look to the draft's latter rounds for players that fit their system perfectly.
Start the slideshow below and meet the six players who could be picked up later in the draft and still be a perfect fit in the Cardinals' system.
Begin Slideshow

»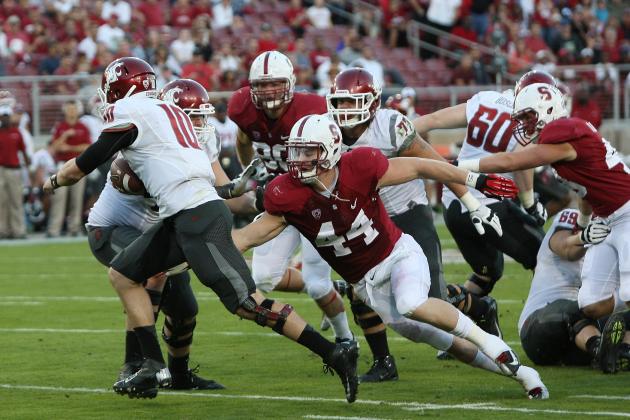 Tony Medina/Getty Images
Thomas (44) pursues a Washington State Cougar.
The Cardinals need help against the run, and Thomas could be the perfect match of a player Arizona could find to shore up its defense.
Thomas is more of a cerebral player at the linebacker position and that tends to make up for his lack of top end speed (4.80 40-yard dash time). Yet, he still has strong instincts for the ball and would be a disruptive force against the ground game.
He stands 6'3", 244 pounds and has a 32-inch vertical leap, so he should also be able to help in pass protection. Thomas plays fast and hard with quick feet that will always keep him in motion until the whistle blows.
Arizona should keep an eye out for him around the fourth round, changing Thomas from a collegiate Cardinal to a professional Cardinal.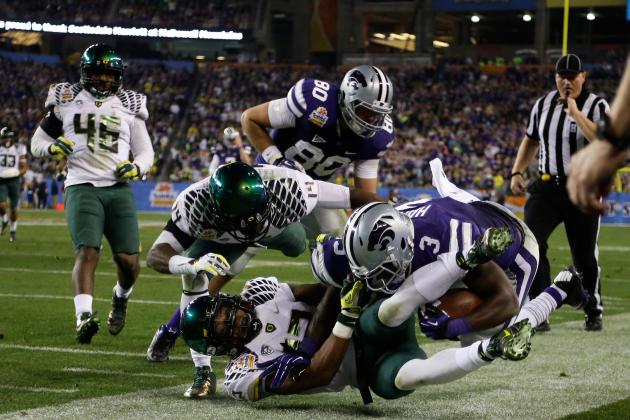 Ezra Shaw/Getty Images
Harper (right) is escorted out of bounds at the Fiesta Bowl.
Harper would give Arizona something they've been needing for a while now and that's a third wide receiver who can be a legitimate threat downfield. Larry Fitzgerald would be the leading receiver with Andre Roberts or Michael Floyd playing on the opposite side.
Harper stands 6'1" and 230 pounds. He's able to clock a 4.5-second 40-yard dash and possesses a 35.5 inch vertical leap. That kind of size and speed would make a nice target for Carson Palmer to throw to and take some of the heat off of Fitzgerald. Harper's hands are strong and reliable, which are assets at this position. The other nice thing about Harper is that he can throw blocks downfield, which should help the running game.
Harper would fit nicely with the vertical attack passing game that head coach Bruce Arians wants to use in 2013.
Harper could be available in the fifth round, and Arizona could snap him up if he is.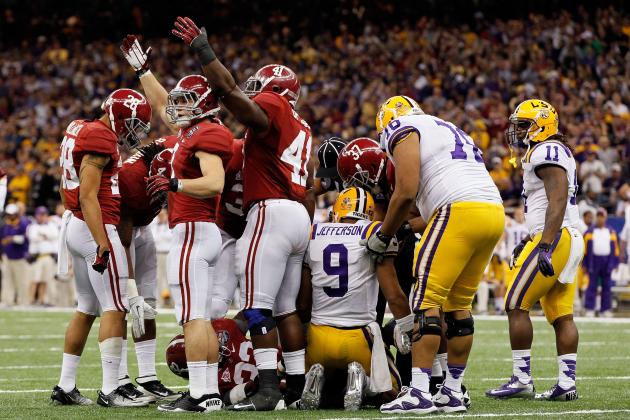 Kevin C. Cox/Getty Images
Faulk (right) is coming off of a torn ACL last summer.
Faulk would be a perfect match for the Arizona Cardinals' offensive line. He's got the size (6'6", 331 lbs) and respectable speed (5.08-second 40-yard dash) and the knee surgery as well (torn ACL last summer).
He has the agility to perform well against elite competition and is very smooth out of his stance. Faulk is also able to latch onto oncoming rushers and keep them at bay in pass protection. Faulk also is strong in run blocking as well and is capable of consistently driving his opponents off the ball. He could be a first-round-caliber talent for a bargain price.
While there are concerns about the weight he carries around the middle, Faulk is still a perfect match for Arizona and could be available in the fifth round as well.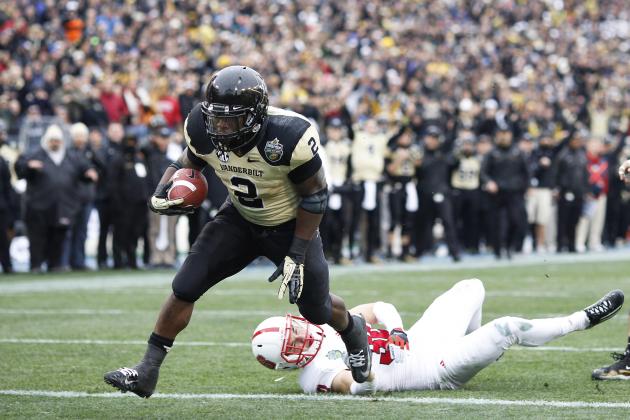 Joe Robbins/Getty Images
Stacy runs over a defender.
Stacy broke rushing and touchdown records at Vanderbilt with his 1,193 yards on the ground and 14 scores, and he would be a perfect late-round fit for the Cardinals.
Stacy is more compact (5'9", 216 lbs) and runs with power and toughness when he carries the ball. Additionally, he adds a kick-return element which is missing after LaRod Stephens-Howling became a free agent this offseason. He's also a leader on his team, which can help out as well.
He's not productive in the passing game, which can be a good thing in Arians' system that favors passes to wide receivers and running backs who run the ball primarily.
Stacy could still be there in the sixth round, and Arizona should consider him to complement Rashard Mendenhall and Ryan Williams.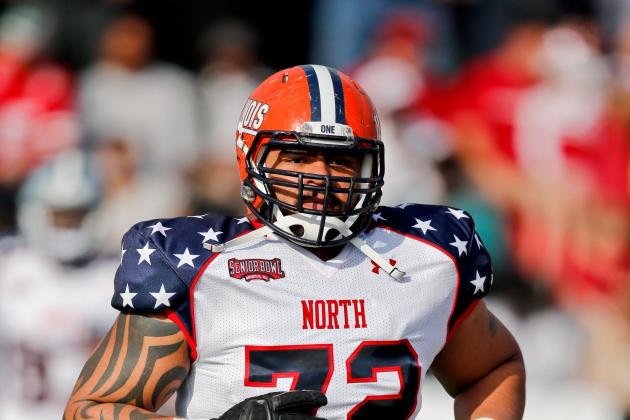 Derick E. Hingle-USA TODAY Sports
Thornton takes the field in the Senior Bowl.
Thornton is a mauler who could be available in the fifth round for the Arizona Cardinals. He stands 6'3" and 320 pounds with long arms that he uses effectively in both run and pass blocking.
Thornton is able to use his frame and leverage well against oncoming rushers. In the run game, Thornton makes solid reads in open-field blocking and is able to easily get to the second level of the defense.
Thornton played both guard and tackle at the University of Illinois and could be used by Arizona in either position.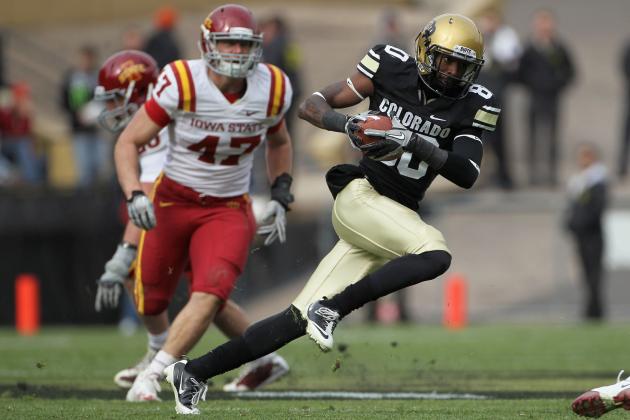 Doug Pensinger/Getty Images
Klein (left) hunts down a Buffalo with the ball.
A.J. Klein of Iowa State is another option Arizona could be looking at come the fifth round. Klein is also a run plugger who can shut down lanes and get to the ball carrier quickly.
Klein is able to read the opposing offense and diagnose the play to make tackles easier to come by. Klein also adds value as an open-field tackler, which you can never have too many of.
Klein can drop back into coverage as well as play on special teams so he would be a perfect fit to learn behind the other Arizona linebackers on the roster.