Red Sox vs. Orioles: 3 Up, 3 Down for April 8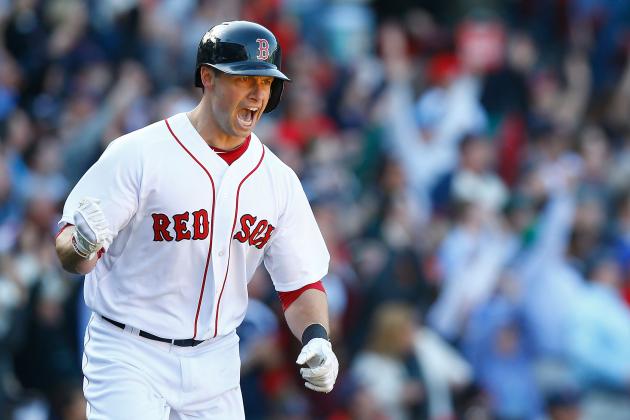 Jared Wickerham/Getty Images
Daniel Nava came up big in the home opener.
The Red Sox won a pitching duel in their home opener.
Thanks to a Daniel Nava home run and a phenomenal performance from Clay Buchholz, the Fenway faithful witnessed the ninth straight win on Opening Day in Boston.
Unlike the last two seasons, the Red Sox came home to Fenway with a winning record. After beating Baltimore 3-1, they are tied with Oakland and Texas for the best record in the AL at 5-2.
Here is my three up, three down for the home opener against the Orioles.
Begin Slideshow

»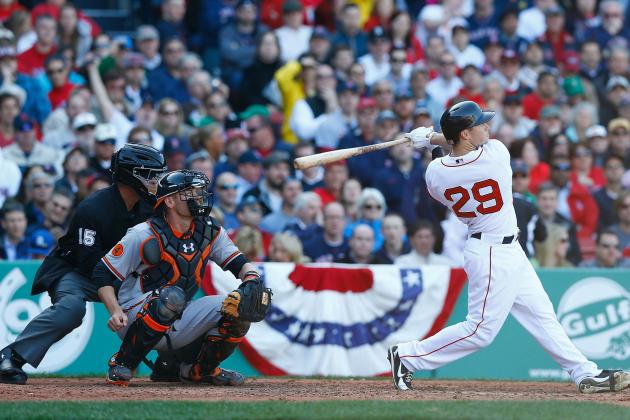 Jared Wickerham/Getty Images
Daniel Nava's home run was the difference in the home opener.
Coming into the game Daniel Nava was hitting .191 with three home runs in 131 plate appearances batting from the right side against left-handed pitchers.
Despite the poor numbers, John Farrell went with the journeyman outfielder and Nava rewarded his manager by going 2-for-2 with a walk and a three-run game-winning home run in the bottom of the seventh inning.
Nava is off to a hot start and could fight for additional playing time if he continues to come up big in the clutch.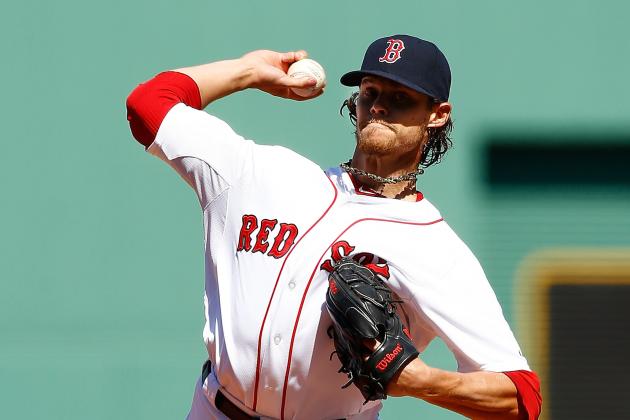 Jared Wickerham/Getty Images
Clay Buchholz managed to find a way to win despite poor command.
Even though Clay Buchholz struggled with his command in the home opener, he managed to get timely strikeouts on his way to seven shutout innings.
The wiry Buchholz scattered just three hits, but it was the four walks that caused problems.
Despite not having his best stuff, that the 28-year-old has gone seven innings in his first two starts is a great sign for Farrell.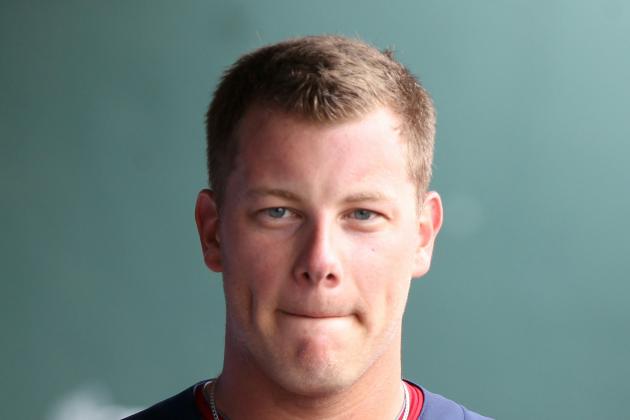 Kim Klement-USA TODAY Sports
Andrew Bailey is off to a good start in year two.
After struggling in his first season with Boston due to an early-season injury, Andrew Bailey looks like he has returned to being the dominant late-inning pitcher that he was in Oakland.
Bailey has appeared in three games, striking out four while allowing only one hit and one walk in 2.1 innings of work.
Even though the Red Sox bullpen looks deep, they need Bailey to be successful late in games if they are going to be dominant.
Jared Wickerham/Getty Images
Dustin Pedroia needs to step up against lefties.
One of the few negative developments early in the 2013 season has been the Red Sox's struggles at the plate when facing a lefty starter.
Aside from the season opener when CC Sabathia didn't have his best stuff, the Red Sox have struggled in the last three games against a lefty starter.
Wei-Yin Chen, J.A. Happ and Andy Pettitte have combined to pitch 19.2 innings while allowing just four earned runs on 14 hits.
The problem would be even worse if it weren't for Daniel Nava's home run Monday.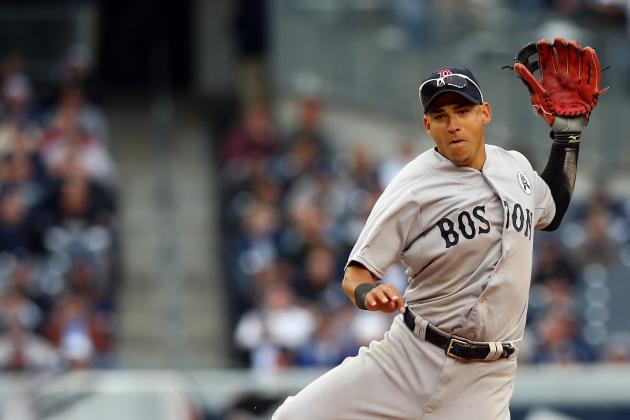 Elsa/Getty Images
Despite a hot start Jose Iglesias could be sent down by the end of the week.
Unfortunately all signs point to Jose Iglesias and Jackie Bradley Jr. being sent down to Pawtucket when Stephen Drew and David Ortiz return to Boston.
While Bradley has struggled with inside fastballs, his defense has been great and his overall approach at the plate is excellent.
Iglesias' numbers look great, but realistically he still struggles to hit anything hard. With Drew expected to start, the younger Iglesias will be sent to Pawtucket to get much-needed regular at-bats.
Jared Wickerham/Getty Images
Joel Hanrahan hasn't been elite yet.
The Red Sox are off to a 5-2 start, which is great, but Joel Hanrahan looked like he was too amped up in his Fenway debut.
This isn't a major problem yet since he has recorded three saves in the first week of the season. But after pitching in Pittsburgh it warrants watching whether he can handle pitching in Boston.
The only other concern I have is David Ross. In three starts Ross has only one single and three strikeouts. It bears watching because at 36 years old the recently reliable catcher may have hit a career wall.