6 Late-Round Prospects That Would Be a Perfect Match for the New York Giants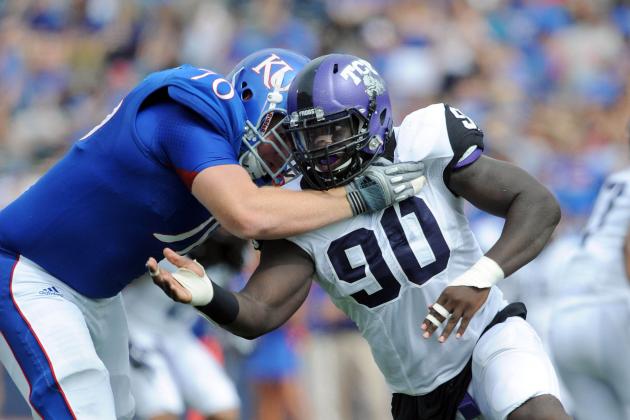 John Rieger-USA TODAY Sports
Will Stansly Maponga be a late round steal at defensive end for the Giants?
The true success of the New York Giants' 2013 draft may ultimately be determined by the late-round prospects they are able to secure.
With an infusion of talent and depth needed along the offensive line and in all three levels of the defense, the Giants can't just rely on the picks they get in Rounds 1 through 4. They need a gem or two in the last three rounds of the draft in order to significantly help this team in 2013 and beyond.
Luckily for them, they have had a knack for late-round success in the previous drafts.
In 2007, they selected Ahmad Bradshaw in the seventh round. Bradshaw proved to be a steal, accumulating 4,232 yards rushing and 32 TDs in six seasons as a Giant. He was also a key member of both recent Super Bowl championships.
Another late-round success story occurred in 1993 when Big Blue chose Jessie Armstead in the eighth round (the draft would move to its current seven-round format in 1994). Armstead turned out to be the best linebacker the Giants have had since Lawrence Taylor, amassing 597 tackles, 30.5 sacks and 12 INTs in nine seasons with the team.
The following slides detail players that would be a good fit for New York in Rounds 5 through 7 of the draft, starting with the last round and working backwards. The focus is entirely on the defense and offensive line, but no two positions are duplicated to provide a full scope of how the late rounds can provide value for the team.
All combine results are courtesy of NFL.com
Begin Slideshow

»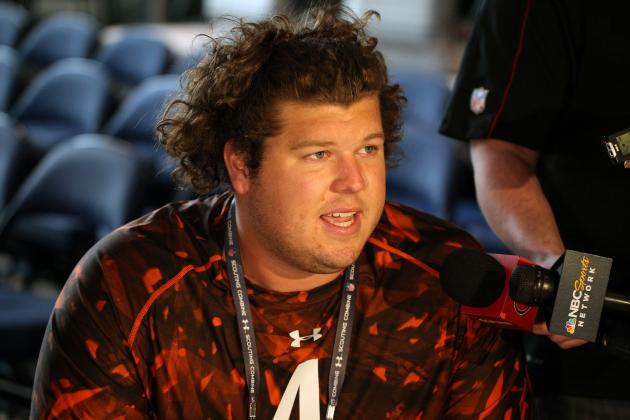 Brian Spurlock-USA TODAY Sports

The Giants are set at both starting guard positions for 2013. But providing depth at this position in the last round of the draft makes a lot of sense, given the future prospects of both starters with the team.
Left guard Chris Snee has gone on record stating that he thinks about retirement on an annual basis at this point of his career. Given these comments and the fact that he is 31 years old and entering his 10th season in the NFL, it would not be surprising to see Tom Coughlin's son-in-law call it quits after 2013 or 2014.
As for right guard, Kevin Boothe currently mans it. The problem is that he only re-signed with New York for one year back in late March. He will once again be an unrestricted free agent in 2014, so he obviously can't be considered a long-term solution at this point.
Baca is a good fit because he has nice raw talent and can handle both guard positions (though he mostly played left guard in college). He is especially impressive at run-blocking where he effectively uses his raw strength and relentless motor to drive defenders back. He is also agile enough to get to the second level of the defense.
His quick feet were on display at the combine where he was a top performer among offensive lineman in the three-cone drill, with a time of 7.26 seconds, and the 20-yard shuttle, which he completed in 4.44 seconds.
With time to learn behind Snee and Boothe and with a great offensive line coach in Pat Flaherty, Baca will be in an ideal situation to grow into a starting-caliber player.
It is no secret that the Giants like defensive ends. They have also shown the willingness to take on a project at the position, even in the first round, when they selected Jason Pierre-Paul with the 15th overall pick in 2010.
If they can get a poor man's JPP in Round 7, then, it would be smart for the Giants to bite.
Maponga is not the physical specimen Pierre-Paul was coming out of college, largely because he is three inches shorter and 22 pounds lighter.
He is still an impressive athlete in his own right. Maponga possesses a quick first step and a strong powerful build. Both of these attributes have been on display in draft-related workouts. At the combine, the former Horned Frog put up 30 reps in the bench press. At the TCU pro day in early March, he ran the 40-yard dash in an impressive 4.84 seconds.
The downside is that he still has a lot to learn. Maponga negates his quick first step by being slow off the snap at times. He also tends to get too upright when rushing, which hurts his leverage.
In addition, the fact that he is deciding to leave college after a junior season that was worse then his sophomore campaign is troubling. He had 6.5 tackles for a loss and four sacks in 2012, compared to 13.5 tackles for a loss and nine sacks in 2011.
Still, in the final round, Maponga is a great risk to take. Whether he will be available 209 picks into the draft, though, is up in the air. As his athleticism gets more notice, Maponga could bump up to the sixth round. Even here, Big Blue should consider selecting him.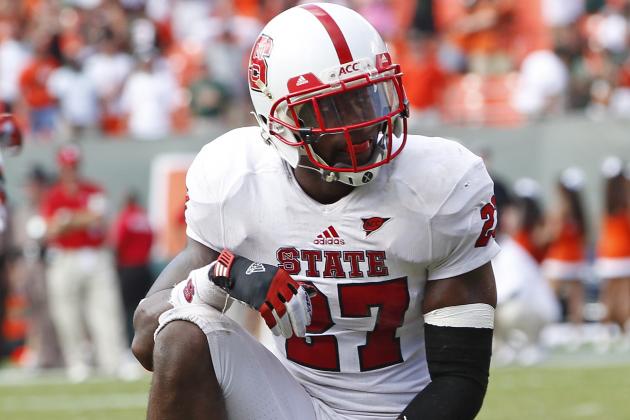 Joel Auerbach/Getty Images

Safety is usually the last position that is considered a concern on the Giants defense. Even with the departure of Kenny Phillips to the Eagles this offseason, New York still has Antrel Rolle and Stevie Brown entrenched as starters for 2013.
The problem is that things get a bit murky after this upcoming season. Brown, who entered the offseason as a restricted free agent, was tendered with a one-year deal. He will be an unrestricted free agent in 2014 and could flee for greener pastures if he has another strong season (Brown had eight picks in his first season with Big Blue in 2012).
Rolle is signed through 2014 but carries a $9.25 million cap hit in the last year of his contract. Considering that his play is on the decline, he looks like a prime target, at this point, to be a cap casualty after 2013.
Unless you think Ryan Mundy, Tyler Sash or Will Hill are starting-caliber safeties, which you shouldn't, then Big Blue needs to get help at this position in the draft.
Wolff makes a lot of sense. He has the talent to start in the NFL but will likely be available in the sixth round. The reason is twofold—the safety position is deep in this draft class, and it tends to be the most overlooked position, outside of field-goal kickers and punters, in the draft.
Wolff's case to be a starter at the next level begins with a stellar senior season at N.C. State. He amassed 134 tackles in 2012, which was a big reason why he earned first-team All-ACC honors.
Also, his strength is stopping the run, but he can hold his own in pass-coverage—despite lacking great lateral agility.
The Giants will likely enter the sixth round having not yet addressed safety. If Wolff is available when their turn comes around, they would be wise to snatch him up and provide depth at a quietly weak, unstable position.
Unlike the safety position, the Giants are set with their starters at defensive tackle for the foreseeable future with Linval Joseph and Cullen Jenkins.
But the depth at this position is weak.
Unproven players such as Markus Kuhn and Marvin Austin, along with the aging, jewelry-challenged Shaun Rogers, currently back up Joseph and Jenkins. If either of those guys goes down, suddenly the Giants' front four becomes a problem.
Enter Grissom, who has the skills to be part of a defensive tackle rotation and even fill in as a spot starter at the next level. He is coming off a strong senior season at South Florida, where he registered seven tackles for a loss and 2.5 sacks. His performance earned him second-team All-Big East honors.
Grissom's strengths are a quick first step, strong motor and good lateral movement. There was some concern about his athleticism after a poor combine, but he made up for it with a strong showing at the USF pro day in early March.
The Giants would probably be wise to select a defensive tackle earlier in the draft. They have a lot of needs to fill, however, at positions with weaker starters (cornerback, linebacker etc.). If the sixth round is when they decide to focus on the interior of their defensive line, Grissom should be the choice.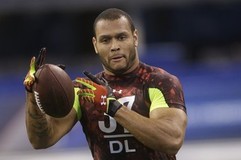 The Giants were weak at linebacker in 2012, and the offseason may have actually made things worse.
Michael Boley is gone, a cap casualty early in the offseason. Mathias Kiwanuka is likely headed back to the defensive line with Osi Umenyiora no longer on the team. Dan Connor is an upgrade at middle linebacker over the departed Chase Blackburn, but only marginally.
The team will be helped by a healthier 2013 from Jacquian Williams, who missed six games due to injury last season. But, realistically, the last true hope to salvage this unit is a strong draft.
The Giants must select a linebacker with one of their first four picks. But they shouldn't stop there. Taking a second linebacker in the back end of the draft would be wise to add some much-needed depth.
Powell makes for an intriguing option in the fifth round.
He is not a natural linebacker, having actually not played the position at all in college. Instead, he played safety early in his career at Harding and defensive end in the latter part.
He is being looked at as an outside linebacker in the NFL probably because his frame (6'2", 249 lbs) does not suggest he'll be able to hold up physically at defensive end or be quick enough to excel at safety.
His athleticism does make him a natural fit for the position.
He has very fluid hip movement and breaks on the ball well. He should be a good coverage linebacker at the next level and his experience at defensive end suggests he'll be good at pursuing ball-carriers in the backfield (he did have 15 tackles for a loss as a defensive end his senior season).
He also notched 8.5 sacks in 2012, so he should be adept at getting to the quarterback in blitz situations out of the 4-3 scheme.
There will be a learning curve with Powell, given the fact that he'll be transitioning to yet another new position. His talent and athleticism is undeniable, though. (For you workout worshippers, he threw up an impressive 28 reps in the bench press at the combine and ran the 40 in a legit 4.64 seconds.) Patience may pay off with a fifth-round gem.
Also, if you have any doubts about Powell because he went to a Division II school, it is understandable. Competition is always an issue when you move away from top-notch Division I football.
But there have been a lot of good players in the NFL that have come from D2 schools. Three of the more famous ones are Hall of Famers Walter Payton, Shannon Sharpe and Darrell Green.
It also helps to know that Powell's talent suggests he should have been playing at a Division I school all along.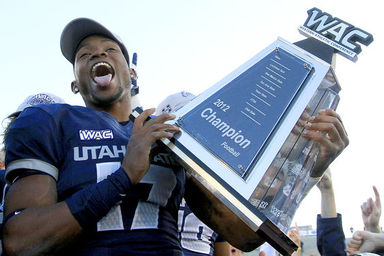 Next to linebacker, the cornerback position is the biggest weakness on the defense. There isn't a standout player in the unit, and only Prince Amukamara has the combination of youth and talent to develop into one in 2013.
The first thing you notice about Davis is that he has the physical tools to start in the NFL. His strengths are his agility and quickness. He is very good at changing directions and gaining ground in short bursts. He should be effective against short and intermediate routes in the NFL.
He also possesses decent size at 5'11" and strong ball skills, as witnessed by the 17 pass defenses and five interceptions he had during his senior season.
On the down side, he does not have great lateral speed. He only ran the 40-yard dash at the combine in 4.51 seconds, which is subpar for a cornerback. He also has a propensity to bite on double moves, so it is not surprising that he struggles defending the deep pass.
In addition, his tackling can be inconsistent. While at times he pursues with a purpose and wraps up aggressively, he can also look tentative and get sloppy with his technique.
The good news is that Davis has room to improve given his lack of football experience. He only played one year in high school and three years in college, including a season at De Anza Community College before coming over to Utah State for his junior year.
His susceptibility to double moves and tackling issues will likely improve as he continues to gain experience at the next level.
Davis is a risky pick but, like Maponga and Powell, he has early-round talent that could translate into a starting-caliber, impact NFL player.