Stock Up, Stock Down on MLB's Top 10 Prospects After Week 1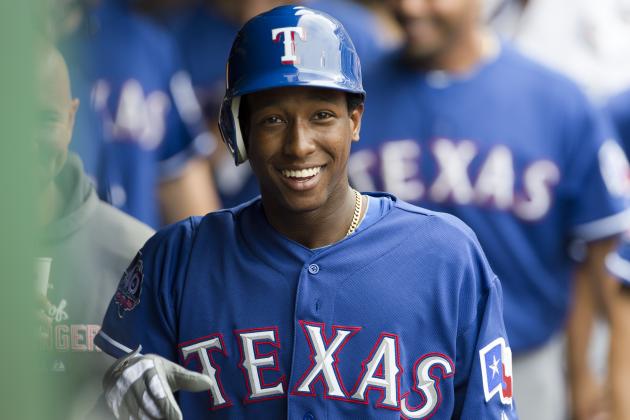 Jason Miller/Getty Images
Sent to Triple-A to start the season, how did Jurickson Profar fare in his first games of 2013?
The prospect watch for 2013 has begun as the minor league season got underway last Thursday. Fans and analysts have their eyes locked on what the future stars of the game will be doing for the next five months.
With just a handful of games under their belt, it is hardly time to start the hype machine if someone is off to a hot start or panicking if someone hasn't lived up to expectations. But it is fun to see where the best prospects are at in the early part of the season.
As we play stock up, stock down on the top 10 prospects in baseball this season, bear in mind that an "up" or "down" ranking doesn't reflect a movement in their position. No one is going to move, say, Oscar Taveras down if he takes on an 0-fer in the third game of the year.
Those caveats out of the way, here is how the best prospects are looking after the first four days of action.
Note: All stats courtesy of MiLB.com unless otherwise noted. Prospect rankings reflect my personal order. The list doesn't include prospects currently on Major League rosters (i.e. Jose Fernandez of the Miami Marlins).
Begin Slideshow

»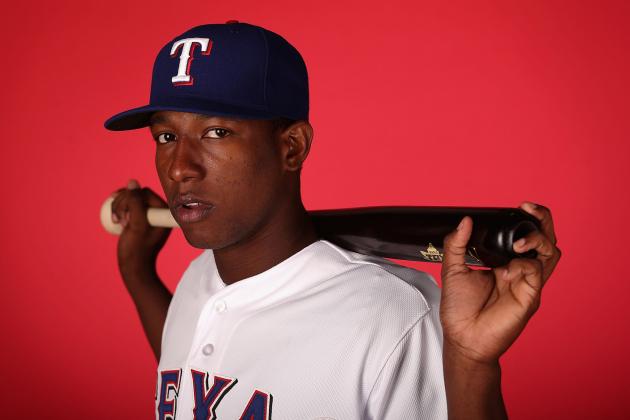 Christian Petersen/Getty Images
Jurickson Profar has picked up this season where he left off in 2012.
Stats at Triple-A Round Rock
| AVG | OBP | SLG | 2B | 3B | HR | RBI | RUNS | BB | K | SB |
| --- | --- | --- | --- | --- | --- | --- | --- | --- | --- | --- |
| .333 (4-for-12) | .556 | .333 | 0 | 0 | 0 | 1 | 3 | 6 | 3 | 3 |
Stock: Up
It is hard to say that the player already regarded as the best prospect in baseball could have his stock any higher, but the 20-year-old Profar is not like everyone else. He is a special player with special makeup and has an incredible future in the big leagues.
With the Rangers sending him down to Triple-A, then re-signing Elvis Andrus, who happens to play the same position as Profar, to an eight-year deal, it would have been easy for Profar to wonder what his future held and get down on himself.
Instead, he started the season going 2-for-3 with one run, one walk and one stolen base in the first game and is only proving that he will be a special big leaguer when he gets the chance. Perhaps the Rangers will move Ian Kinsler to first base to create an opening later in the season.
Regardless of what happens, Profar is going to be in the big leagues this season. He is ready, and this start just shows everything that we already knew about him.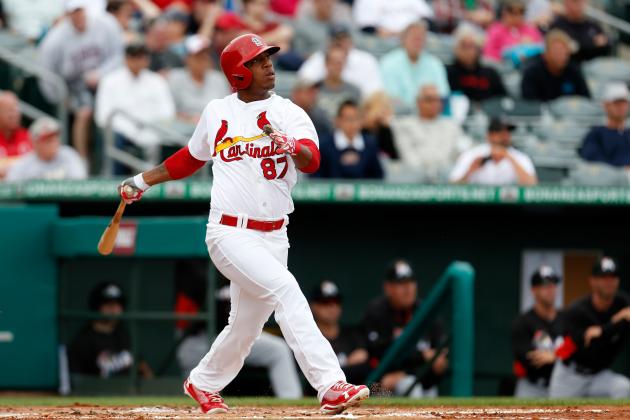 Chris Trotman/Getty Images
Oscar Taveras' offensive prowess should serve him well in Memphis to start the season.
Stats At Triple-A Memphis
N/A
Stock: Even
Despite sending Oscar Taveras to Triple-A at the start of the season, the power-hitting outfielder has yet to make his 2013 debut.
According to Derrick Goold of the St. Louis Post-Dispatch, Taveras flew back to the Dominican Republic due to a death in his family.
With no performance to judge, it is obviously impossible to say anything, good or bad, about Taveras. Hopefully everything is okay for him and his family in the Dominican as they work their way through this difficult time.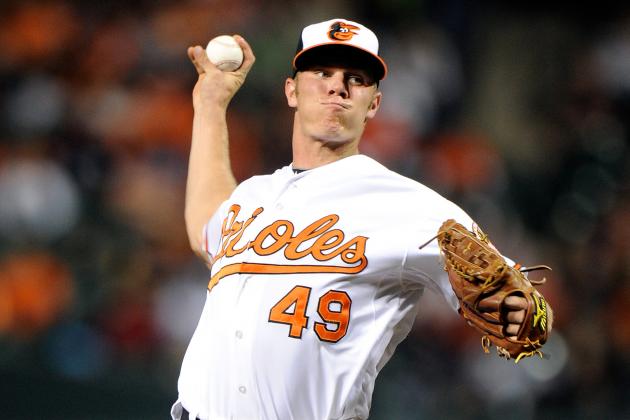 Greg Fiume/Getty Images
Dylan Bundy's arm is going to be intensely monitored by everyone around Baltimore.
Stats at Double-A Bowie
N/A
Stock: Down
If there was one player you might consider moving down a prospect list right now, it would be Dylan Bundy.
Not only did Baltimore's top prospect look off a bit during spring training, as his velocity wasn't quite where it was expected, but the team shut him down for a couple of days to start the season as he deals with what general manager Dan Duquette called "mild tightness in his right elbow." (via MASNSports.com)
Whenever you hear about an elbow issue, especially with a young pitcher, your ears immediately perk up. Duquette made it seem as if this was just a precautionary measure, but it does create a panic for fans and analysts when talking about a 20-year-old with a ceiling as high as Bundy's.
Hopefully Bundy is able to return later this month and dominate minor league hitters the way he did last season when he posted a 119-28 strikeout-to-walk ratio in 103.2 innings.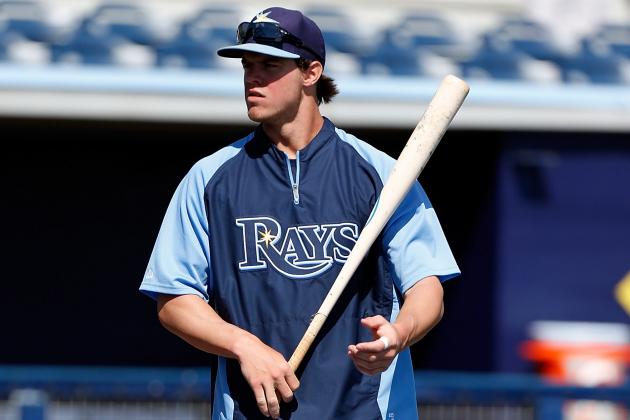 J. Meric/Getty Images
Wil Myers could have started the season in Tampa Bay but does need a little more seasoning in Triple-A.
Stats at Triple-A Durham
| AVG | OBP | SLG | 2B | 3B | HR | RBI | RUNS | BB | K | SB |
| --- | --- | --- | --- | --- | --- | --- | --- | --- | --- | --- |
| .333 (4-for-12) | .357 | .500 | 2 | 0 | 0 | 3 | 1 | 1 | 4 | 0 |
Stock: Even
The Tampa Bay Rays sent Wil Myers down to Triple-A, presumably, for two reasons. One, to work on his defense and reads in right field. Two, focus on making more contact without sacrificing that home-run power.
So far, everything has been about what you would expect from Myers. He has struck out four times in 12 at-bats, a high percentage in an incredibly small sample size. But he also has two extra-base hits.
Perhaps the strikeouts are just going to be a part of Myers' game from now on—he still hit .314/.387/.600 with 140 strikeouts last season—but as long as he is making enough contact to hit for average and power, which there has been no indication he won't do, his ceiling is still off the charts.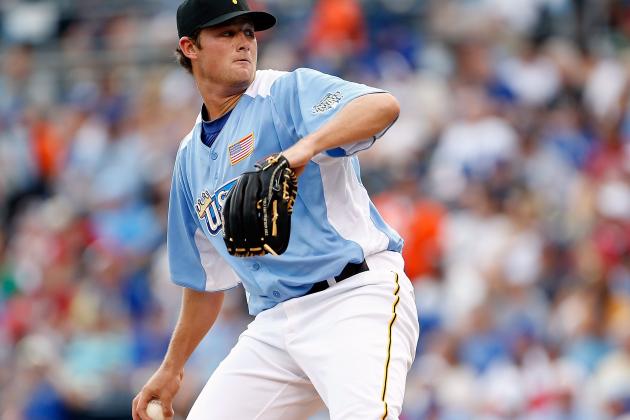 Jamie Squire/Getty Images
Gerrit Cole's first start of 2013 was a mixed bag.
Stats at Triple-A Indianapolis
| GS | W-L | ERA | IP | H | RA | EARNED RUNS | HR | BB | K | BAA |
| --- | --- | --- | --- | --- | --- | --- | --- | --- | --- | --- |
| 1 | 0-1 | 6.75 | 4.0 | 5 | 3 | 3 | 0 | 0 | 2 | .294 |
Stock: Down
I had the pleasure of taking in Cole's first start with Indianapolis against Columbus on Friday. It was a mixed bag, with the former No. 1 overall pick showing the raw stuff that makes you think he can be an ace and some of the issues that give you some hesitation.
Let's start with the good, as Cole started the game throwing 94-97 with his fastball. It is a little straight when he tries to throw it harder, making it easier for hitters to square up.
He mixed in a few straight changeups in the second and third inning in the 85-87 mph range. The pitch was a little too firm but had enough separation and arm speed to fool Triple-A hitters.
The stuff was fine. It was the command and inability to put hitters away, when he gets in trouble, that was a cause for concern. He got ahead of Columbus first baseman Mike McDade 0-2 with two outs in the fourth inning but kept trying to overthrow his fastball, leading to several foul balls and eventually an opposite-field double that scored two runs.
Cole has to learn to pitch more and throw less if he wants to reach his potential. It is hard to knock him too much since it was just one game, and the temperature was less than ideal. But there are improvements that have to be made before he arrives in Pittsburgh.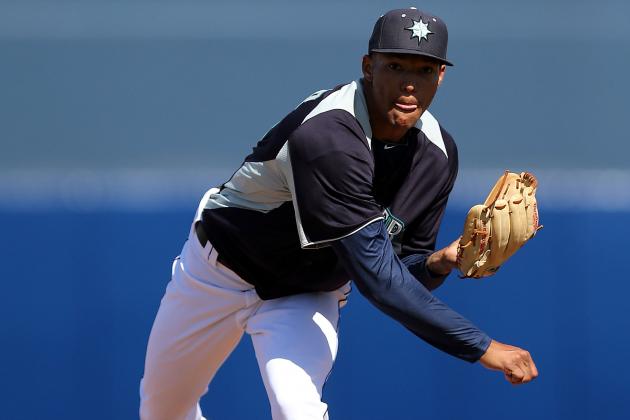 Christian Petersen/Getty Images
Taijuan Walker is starting the season back at Double-A, though at just 20 years old, that is hardly an indictment on his talent.
Stats at Double-A Jackson
| GS | W-L | ERA | IP | H | RA | EARNED RUNS | HR | BB | K | BAA |
| --- | --- | --- | --- | --- | --- | --- | --- | --- | --- | --- |
| 1 | 0-1 | 7.20 | 5.0 | 5 | 4 | 4 | 2 | 4 | 8 | .250 |
Stock: Up
I know this might seem like an odd time to put Walker's stock up, as he did give up two home runs and five hits in five innings of work against Jacksonville on April 4. But it was really one player, J.T. Realmuto, who got to him with a double and home run.
Plus, and I can't emphasize this enough, Walker is just 20 years old, already in Double-A (he pitched there all last season) and struck out eight batters in five innings.
Walker is not a finished product by any stretch. He needs to command his fastball in the strike zone, but he has easy plus-velocity on his fastball and a plus curveball already. When everything comes together, and there is no reason to think it won't, Walker will be special.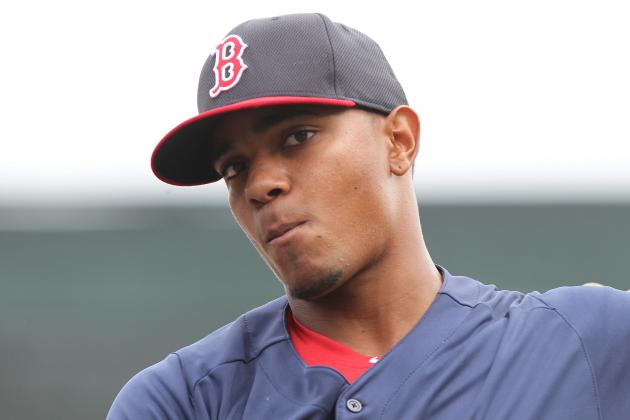 Kim Klement-USA TODAY Sports
Xander Bogaerts could end the year as the top prospect in baseball, with a few promotions and some small improvements in a few areas.
Stats at Double-A Portland
| AVG | OBP | SLG | 2B | 3B | HR | RBI | RUNS | BB | K | SB |
| --- | --- | --- | --- | --- | --- | --- | --- | --- | --- | --- |
| .214 (4-for-12) | .214 | .214 | 0 | 0 | 0 | 1 | 3 | 0 | 6 | 0 |
Stock: Even
Like Walker, it is hard to punish Bogaerts for a lot of things right now because he is just 20 years old and getting his first extended taste of Double-A. He did play 23 games with Portland last season and hit .326/.351/.598, but that was at the end of the year.
That said, unlike Walker, where there were some positives to be gleaned from his first start, Bogaerts has gotten off to a rocky start. He has always been a free-swinger and needs work on pitch recognition, which has been exposed in the early going this season.
Because Bogaerts has such good bat speed, controls the bat through the zone very well and has plus power, it would be foolish to expect this slow start to drag on very long. It is just a bit disheartening to see six strikeouts in 12 at-bats.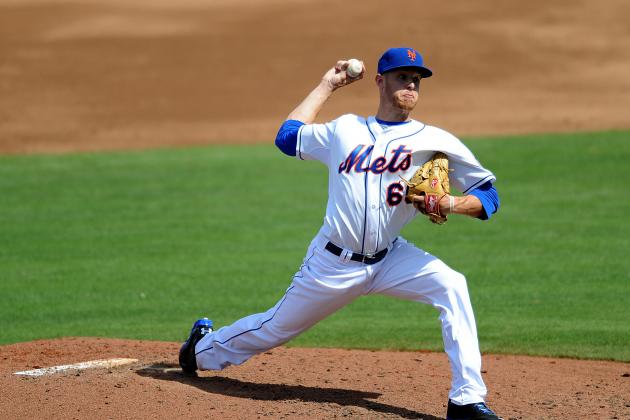 Steve Mitchell-USA TODAY Sports
Zack Wheeler will need to work on commanding his fastball before joining Matt Harvey in New York's rotation.
Stats at Triple-A Las Vegas
| GS | W-L | ERA | IP | H | RA | EARNED RUNS | HR | BB | K | BAA |
| --- | --- | --- | --- | --- | --- | --- | --- | --- | --- | --- |
| 1 | 0-0 | 5.40 | 3.1 | 3 | 2 | 2 | 0 | 3 | 3 | .231 |
Stock: Even
The biggest thing Wheeler had to work on in Triple-A—and why he didn't start the season in the big leagues—was his changeup to get lefties out. They got on base at a .386 clip against him in Double-A last season.
While it is clearly too early to tell whether Wheeler has been able to find the changeup he needs, his first start was a mixed bag that showcased the good and not-so-good that he brings to the table.
It should be considered a win that he was able to keep the ball in the park, because the Pacific Coast League is notorious for being a hitters' paradise. He did give up three hits, but two of them were singles. His only big mistake pitch was to Shane Peterson, who hit a double.
Time in Triple-A will serve Wheeler well, though the Mets are going to bring him up very soon. Likely long enough to delay his arbitration clock.
Jamie Squire/Getty Images
With a better understanding of the grind a full season can take, Francisco Lindor could be poised for a bigger offensive season in 2013.
Stats at High-A Carolina
| AVG | OBP | SLG | 2B | 3B | HR | RBI | RUNS | BB | K | SB |
| --- | --- | --- | --- | --- | --- | --- | --- | --- | --- | --- |
| .545 (6-for-11) | .585 | .818 | 1 | 1 | 0 | 1 | 2 | 1 | 1 | 2 |
Stock: Up
If you were to just look at Lindor's stat line from 2012, it would not impress you. He hit .257/.352/.355 in 122 games at Low-A. But when you dig deeper into the young shortstop, it is easy to see why everyone falls in love.
First, Lindor's defense at shortstop is tremendous. He has plus range, plus arm strength, plus hands and has tremendous instincts. He can make the most difficult plays look routine.
Second, he played in a full season league at just 18 years old and had a 78-61 strikeout-to-walk ratio. Lindor faded down the stretch, as young players tend to do. But it was a very encouraging start to what should be a great career.
Even though he will never be a huge home run hitter, Lindor can drive the ball into the gap as well as anyone. He doesn't expand his strike zone and has better pitch recognition than most players two or three years older than him.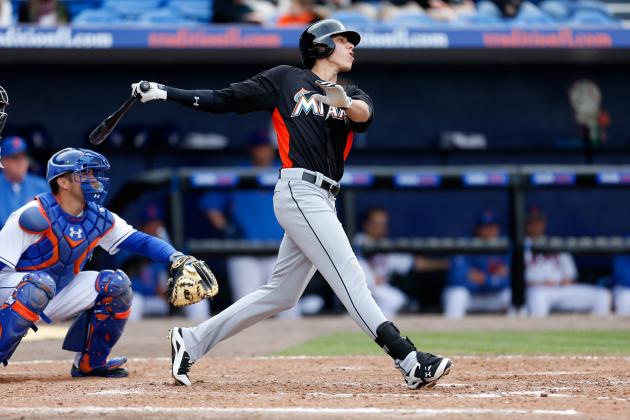 Chris Trotman/Getty Images
Christian Yelich continues to get better with each minor league season.
Stats at Double-A Jacksonville
N/A
Stock: Even
Like the aforementioned Dylan Bundy, Christian Yelich's season is going to start later than everyone else's due to a bout of plantar fasciitis that landed him on the disabled list.
It really is a shame that Yelich is missing time because he was one of the big prospects to watch this season.
Last season, Yelich hit 12 home runs in 107 games at High-A Jupiter and set a new career high in slugging with a .516. He also made some improvements in the outfield to at least look more like a center fielder in the future.
As impressive as the power production, and evolution, has been during his three seasons in the minors, Yelich really seemed poised to take the next step and hit 25 home runs. He could still get there this season, though we won't get a chance to see it for at least another week.
For more prospect talk, or anything baseball related, feel free to hit me up on Twitter.