Browns: Draft Prospects WHo Could Fit Perfectly with Cleveland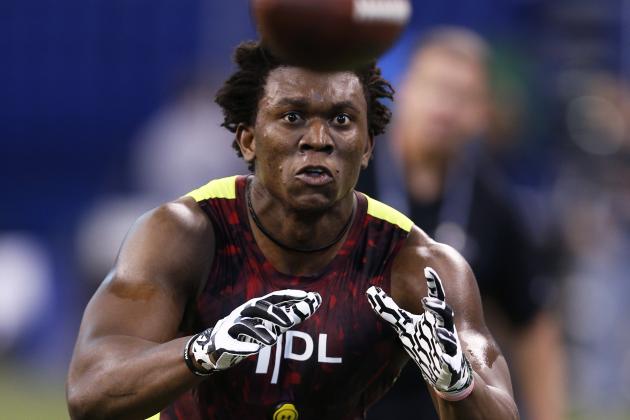 Joe Robbins/Getty Images

In just 19 days, the Cleveland Browns will partake in perhaps the most highly scrutinized draft in years, setting the tone for the new administration and attempting to turn some seriously stagnant tides.
The signs are unmistakable; emotions are high, debates are raging and some guy told me to go back to my cooking shows after hearing my views on Jarvis Jones. Folks, it must be draft month. It's a big one for Browns fans for many reasons: We're sick of losing; we're eager to see the new coaching staff in action and we just ran out of our last Christmas Ale. Things are getting real.
The Browns are a team desperately seeking consistency. With the possible exception of the front lines on either side of the ball, the team is still moving some parts around in an attempt to find a formula that sticks. This year's draft features several players with impressive physicality that just needs to be coached up and refined. Right now, the Browns are jazz. The notes are there, they just need to find a rhythm.
But in the meantime, there is some serious talent that's also looking for a system in which to thrive. The Browns have an exciting opportunity to seize these prospects on the way up and mold them into long-term contributors. This could mean getting creative and taking a look in some unlikely places.
Some of these picks are likely to cause anxiety. However, the best part of the draft is wild speculation, followed by debate with other intelligent, astute and good-looking Browns fans. And in that spirit, friends, here are four players who are just crazy enough to work.
Begin Slideshow

»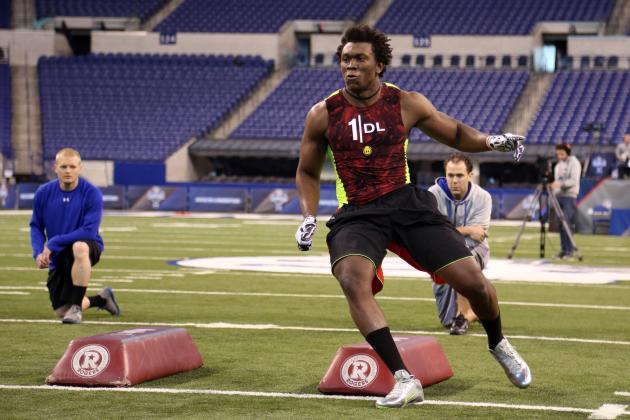 Brian Spurlock-USA TODAY Sports

Browns fans are looking for a jolt of electricity. But while the casual watcher typically focuses that energy on offense, the draft diehards are praying the front office doesn't jump at another sexy but short-sighted pick.
Ezekiel Ansah makes everyone happy. He's fast, big and he can close. On a more anecdotal note, his story is kind of fun. He worked to get where he is and is no stranger to failure. But in the short time he's been concentrating on football, he's made a big impression. This kid has nowhere to go but up.
It could, however, be effectively argued that the pick doesn't make sense in the current scheme since he arguably wouldn't start over Jabaal Sheard or Paul Kruger. However, the pick could open the door to put Sheard on the trading block for a second-round pick in a draft that is pretty deep at CB. It's a question of risk, creativity and long-term potential.
Versatility helps. Ansah is lined up at defensive end, tackle and linebacker. Defensive coordinator Ray Horton could get as creative as he wants, placing the rookie in different schemes until discovering where to use him best. For Ansah, it's a little more complicated than "he doesn't fit." The team that makes him fit stands to reap the benefits for years to come.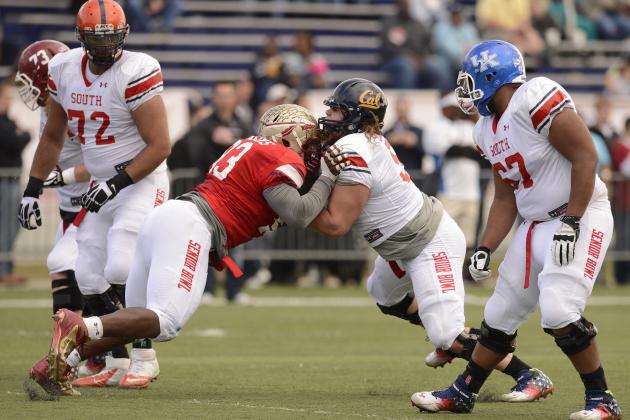 USA TODAY Sports

Finally, the phrase "lower-body girth" is being used in another context besides my fitness diary.
Warford is a tempting option to usurp Shawn Lauvao at right guard. He's not remarkably quick, but he's solid and known for utilizing his arms and low center of gravity to stand his ground. After watching Lauvao lose his balance one too many times, Browns fans would welcome this kind of consistency on the right.
He's a three-year starter in the SEC and is no stranger to tough matchups and lots of sustained contact. Warford could be a steal in the third round if he's still on the board, and an instant starter for the Browns.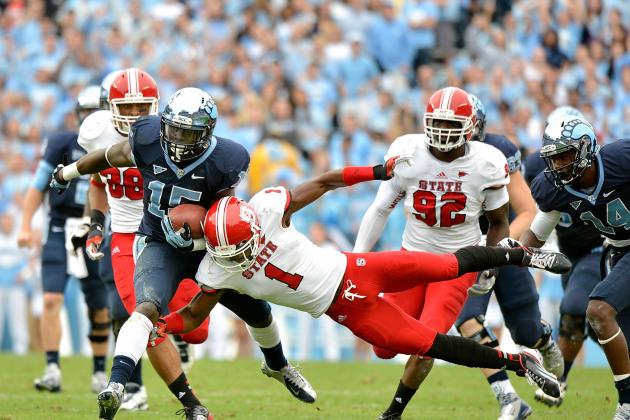 Grant Halverson/Getty Images

David Amerson had a tough senior year after turning quite a few heads the year before. Which was the fluke, and which was the standard? It's tough to tell.
What we do know is that Amerson has the size for the NFL and could be deadly if he cultivates the speed and agility to match. He plays aggressively and, if given a shot to play opposite Haden, could contribute to a volatile and intimidating secondary. While Buster Skrine allows the pass but wraps up to prevent the touchdown, Amerson aims to break up passes and get his hands on the ball. As a result, receivers can get the best of him.
The combination could make for an interesting duo on the depth chart, depending on the opponent's receivers. If they don't pick up an elite CB in the first round, Amerson may make a viable choice later on.
Al Messerschmidt/Getty Images

It pains me to praise a Michigan man, but Denard Robinson is worth considering as a late-round pick.
A former high school track star, Robinson has the speed and agility to make his mark in the NFL. Whether it's as a running back and/or receiver and/or returner and/or quarterback remains to be seen.
More importantly, though, how often do we get to type a sentence like that? Robinson is another versatile player who could ease some of Cleveland's growing pains. While his role may be too similar to Travis Benjamin's for the tastes of some, he's got more mass behind his speed.
As a quarterback, he's good on the move but can make the occasional risky decision. Again, many of his weaknesses are more habitual in nature and can potentially be coached out of him. What can't be coached is his natural athleticism, and Robinson could be a significant weapon if given time.