Ranking the Top 15 MLB Players Earning Under $10 Million Per Year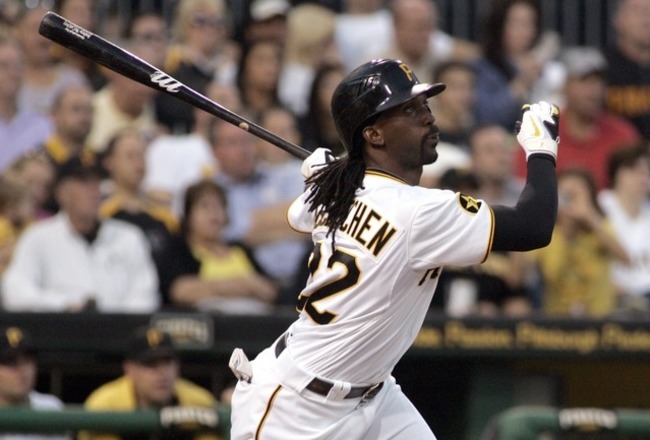 Andrew McCutchen signed an extension with the Pittsburgh Pirates that guarantees under $10 million annually. Justin K. Aller/Getty Images

The current MLB economic system rewards declining players for their past production, while elite individuals like Andrew McCutchen and Bryce Harper earn under $10 million per year. In this article, we'll recognize and rank the difference-makers who make only six or seven figures.
Let's be clear about which veterans were not considered.
Free agents who signed new contracts this past offseason were ineligible if their new terms guaranteed average annual salaries north of $10 million. That means Zack Greinke (six years, $147 million), Kevin Youkilis (one year, $12 million) and everybody in between didn't qualify. Same goes for the youngsters to recently sign monstrous extensions, Elvis Andrus and Buster Posey.
Guys in the middle of back-loaded deals didn't get any love on this list, either. Robinson Cano, for example, is finishing out an agreement that paid him $57 million from 2008 to 2013 ($9.5 million per year). However, he'll get $15 million of that this summer.
With all that said, it's safe to continue clicking.
*All earnings information provided by Cot's Baseball Contracts.
Stars Barely Earning Eight Figures Annually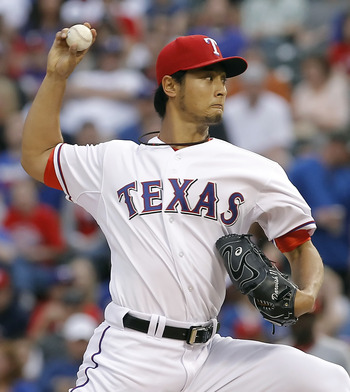 Yu Darvish.
Brandon Wade/Getty Images
RHP Yu Darvish ($10.1 million per year from Texas Rangers)
Over the past eight months, the Japanese right-hander has arguably been baseball's most effective pitcher.
Alas, his salary excludes him from further discussion. He also has easy-to-reach roster bonuses that kick in with good health.
LF Alex Gordon ($10.5 million per year from Kansas City Royals)
The former first-round draft pick was considered a bust as recently as 2010. Now, he's universally underrated despite all-around excellent production.
Expect Gordon to make the trek to Citi Field this July for his first All-Star Game.
2B Dustin Pedroia ($10.25 million per year from Boston Red Sox)
Pedroia, one of the few MLB regulars with more career walks than strikeouts, has been Boston's consistent leader in recent years (in every sense of the word).
LHP Clayton Kershaw ($11 million this year from Los Angeles Dodgers)
L.A.'s starting rotation has gone through dramatic changes since new ownership took over.
Kershaw, however, has been the constant ace. At age 25, he is undoubtedly on a Hall of Fame track.
Honorable Mentions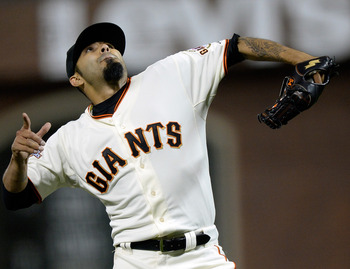 Sergio Romo, an elite MLB reliever, barely missed the cut.
Thearon W. Henderson/Getty Images
Bargains who would fill out a top-25 version of this list:
Wade Miley (Arizona Diamondbacks), Starlin Castro (Chicago Cubs), Shin-Soo Choo and Mat Latos (Cincinnati Reds), Billy Butler (Kansas City Royals), Howard Kendrick (Los Angeles Angels), Pablo Sandoval and Sergio Romo (San Francisco Giants), Edwin Encarnacion (Toronto Blue Jays) and Jordan Zimmermann (Washington Nationals).
15. LHP Aroldis Chapman (Cincinnati Reds)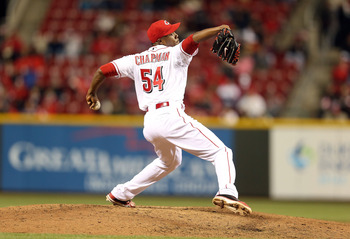 Aroldis Chapman.
Andy Lyons/Getty Images
Remaining contract guarantees: three years and $20.25 million ($6.75 million per year).
The Cincinnati Reds have a very unusual deal in place with closer Aroldis Chapman.
The two sides agreed to a $16.25 million signing bonus, and the left-hander is still owed $10.25 million of it. He'll also earn $5 million in salary from now through the 2014 season. Although Chapman is likely to decline his 2015 player option (worth $5 million), it's guaranteed money nonetheless.
Now for some baseball numbers.
The Cuban Missile has maintained a 5.24 strikeout-to-walk ratio since the start of 2011. He has surrendered three-plus runs in only one appearance over that span. Chapman complements his triple-digit heat with an equally nasty slider.
Even without transitioning into the starting rotation, he has tremendous value to the Reds.
14. RF Jason Heyward (Atlanta Braves)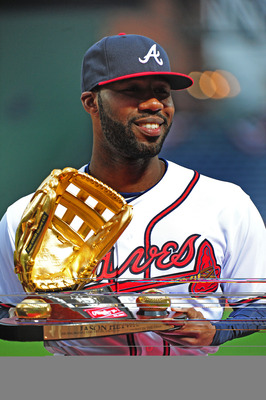 Jason Heyward.
Scott Cunningham/Getty Images
Remaining contract guarantees: one year and $3.65 million.
Sure, Jason Heyward is mired in an ugly slump so far in 2013, but let's not discount all he accomplished the three previous seasons.
Through 2012, Heyward owned a .261/.352/.447 batting line in the majors.
His outfield defense, however, needs to be emphasized. Heyward's athleticism and instincts earned him a Gold Glove last summer. Taking those run-saving skills into consideration, WAR calculations from both Baseball-Reference.com and FanGraphs placed him among the top 10 players in the National League.
13. LHP Madison Bumgarner (San Francisco Giants)
Madison Bumgarner.
Harry How/Getty Images
Remaining contract guarantees: five years and $34 million ($6.8 million per year).
Madison Bumgarner frequently gets overshadowed by Matt Cain's dominance and Tim Lincecum's inconsistency.
Of course, the San Francisco Giants wouldn't have locked him up through 2017 (with club options through 2019) unless they were convinced that he was a rising star.
Coming off consecutive 200-inning seasons and a memorable World Series performance, the 23-year-old is still hot.
The most impressive thing about Bumgarner is his consistency. He never implodes. The southpaw has lasted at least four innings in every regular-season start dating back to June 26, 2011.
12. RHP Craig Kimbrel (Atlanta Braves)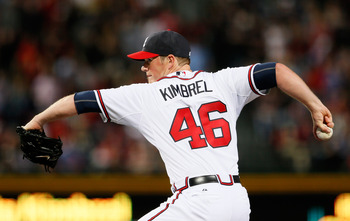 Craig Kimbrel.
Kevin C. Cox/Getty Images
Remaining contract guarantees: one year and $655,000.
Outstanding young players are ushering in another golden era of Atlanta Braves baseball.
Closer Craig Kimbrel stands out as the most indispensable one of them all. His strikeout rate is the highest in baseball history (min. 150 IP).
Since the beginning of 2012, the Braves own a 63-5 record in games that he pitches.
Quite simply, Kimbrel is the sport's best reliever.
11. LHP Gio Gonzalez (Washington Nationals)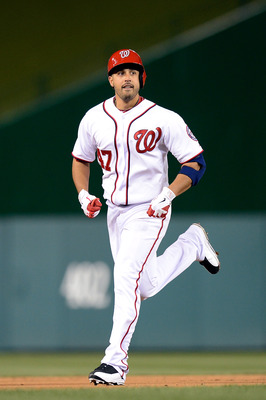 Gio Gonzalez.
Patrick McDermott/Getty Images
Remaining contract guarantees: four years and $38.25 million ($9.56 million per year).
Gio Gonzalez contended for the NL Cy Young Award in his first year with the Washington Nationals.
It's very rare to find a strikeout artist who allows so few home runs. Gonzalez debuted in the majors in 2008 and has annually boosted his win total while lowering his earned run average and walk rate.
The Florida native is among the many active players linked to the Biogenesis anti-aging clinic, but we must assume innocence until evidence to the contrary comes out.
10. CF Jacoby Ellsbury (Boston Red Sox)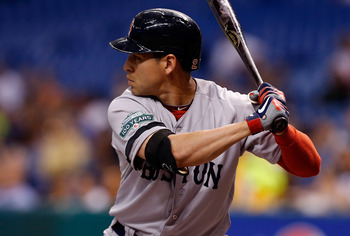 Jacoby Ellsbury.
J. Meric/Getty Images
Remaining contract guarantees: one year and $9 million.
Jacoby Ellsbury could play another dozen seasons and never match the power numbers he posted with the Boston Red Sox in 2011 (32 HR, .552 SLG). With that said, this impending free agent can be much more dynamic than he showed last year.
In center field, he combines blazing speed with sure-handedness to keep the opposition off the scoreboard. Moreover, Ellsbury averages about one stolen base every three contests and seldom gets caught.
The 29-year-old has proven to be a great "pure hitter" when healthy.
9. RF Giancarlo Stanton (Miami Marlins)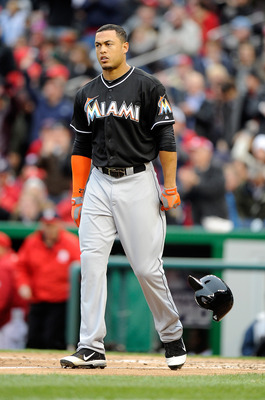 Giancarlo Stanton.
Greg Fiume/Getty Images
Remaining contract guarantees: one year and $537,000.
The artist formerly known as "Mike" is in a pretty miserable situation.
The Miami Marlins have surrounded him with mediocrity and infuriated the fans. The dozens who actually show up at Marlins Park often encourage the opposition.
Even though he won't see many hittable pitches in 2013, Giancarlo Stanton should go deep often anyway. He has incredible power to all fields.
8. LHP Chris Sale (Chicago White Sox)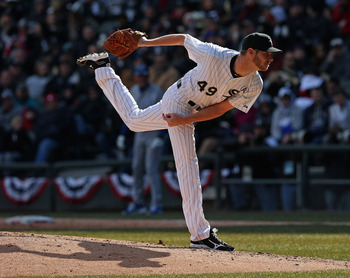 Chris Sale.
Jonathan Daniel/Getty Images
Remaining contract guarantees: five years and $32.5 million ($6.5 million per year).
The Chicago White Sox successfully supervised Chris Sale's jump from 71 to 192 innings.
And so far in 2013, the wiry southpaw has shown no ill effects.
Given the platoon advantage, Sale is practically untouchable. You would be hard-pressed to find another slider that puts away more batters.
His command has improved each season.
7. CF Andrew McCutchen (Pittsburgh Pirates)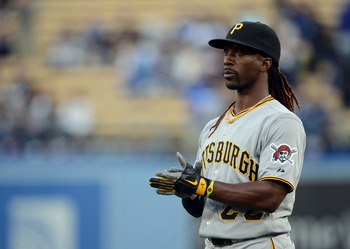 Andrew McCutchen.
Harry How/Getty Images
Remaining contract guarantees: five years and $49.75 million ($9.95 million per year).
We first observed Andrew McCutchen's potential greatness in the first half of 2011, when his offensive production was rewarded with an NL All-Star selection.

He completed his maturation last summer and nearly willed his team to a .500 record. Though McCutchen fell short of that goal, he led the Senior Circuit in hits.

In 2012, the center fielder finished in the exclusive company of Ryan Braun and Mike Trout. They were the only major league players to launch at least 30 home runs while stealing 20-plus bases.
6. LF Bryce Harper (Washington Nationals)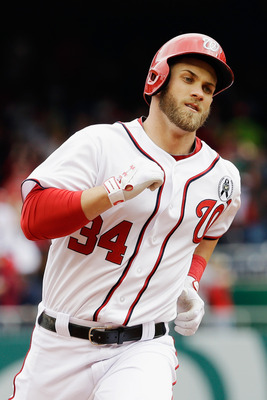 Bryce Harper.
Rob Carr/Getty Images
Remaining contract guarantees: three years and $5.15 million ($1.72 million per year).
Bryce Harper still has several years left on his first professional contract. It's the most lucrative deal any amateur position player has ever signed, but the Washington Nationals have no reason to regret it.

The 20-year-old possesses every tool imaginable. His power, in particular, will be the key to his NL MVP candidacy in 2013.
Now that Under Armour has created an original Bryce Harper logo (via Harper's Twitter account), he'll soon have lots of merchandise-related money flowing into his bank account.
5. RHP Johnny Cueto (Cincinnati Reds)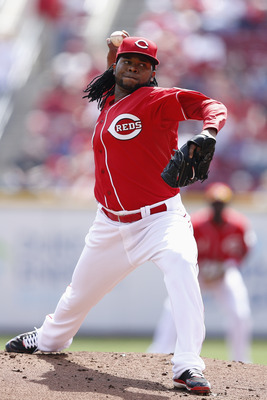 Johnny Cueto.
Joe Robbins/Getty Images
Remaining contract guarantees: two years and $18.2 million ($9.1 million per year).
Without question, Johnny Cueto is the greatest active starting pitcher to never get recognized as an All-Star.
Haters draw attention to his strikeout rate, which peaked during his rookie season and has since been very ordinary. Cueto also stands out as one of baseball's most useless batters (.087/.118/.091 in 322 career plate appearances).
However, the right-hander excels at Great American Ballpark despite its hitter-friendly conditions. Only 14 of 42 would-be base-stealers have succeeded against him in the majors, which is a testament to his lethal pick-off move.
4. RHP Stephen Strasburg (Washington Nationals)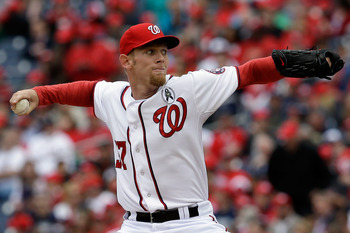 Stephen Strasburg.
Rob Carr/Getty Images
Remaining contract guarantees: one year and $3.9 million.
The Washington Nationals pitching staff is led by its youngest member.

Beyond extraordinary stuff, Stephen Strasburg has an impeccable ability to locate. The speed differential between his fastball and off-speed offerings is almost unfair.

By year's end, Strasburg could prove to be the best pitcher on the planet. However, durability concerns prevent him from placing any higher on this list.
3. RF/2B Ben Zobrist (Tampa Bay Rays)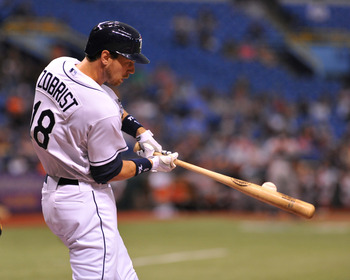 Ben Zobrist.
Al Messerschmidt/Getty Images
Remaining contract guarantees: one year and $8 million.
The Wins Above Replacement is emerging as the be-all, end-all of player analysis...provided you have a sufficient sample size.
Ben Zobrist has never batted .300 in a season or totaled 30 home runs. He isn't on the cover of video games or on the minds of BBWAA voters when they select major award winners.
But thanks to defensive versatility, avoidance of injury and plate discipline, the utility man is extraordinarily valuable. According to FanGraphs, Miguel Cabrera is the only position player with a higher WAR since 2009.
The Evan Longoria-less Tampa Bay Rays wouldn't have stayed relevant through September had Zobrist not continued contributing.
2. LHP David Price (Tampa Bay Rays)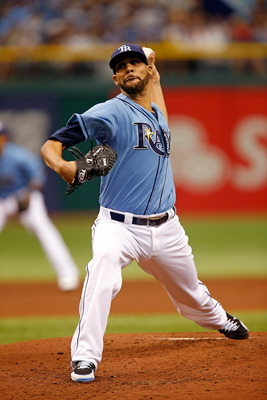 David Price.
J. Meric/Getty Images
Remaining contract guarantees: one year and $5.11 million.
As Jon Paul Morosi of Fox Sports reports, David Price received nearly half of his $10.11 million contract before the calendar even turned to 2013. The Tampa Bay Rays paid in the form of a signing bonus so that it would count as 2012 income and be taxed at a lower rate.
The uniqueness of the deal allows the left-hander to sneak onto this list.
Even though Price won the AL Cy Young Award last year, few analysts consider him the best pitcher in the American League. Still, 205 strikeouts and a 2.56 earned run average shouldn't be sneezed at.
The three-time All-Star has been as effective as anyone in his division over the past three-plus seasons.
1. LF Mike Trout (Los Angeles Angels)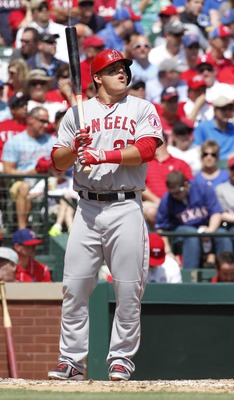 Mike Trout.
Tim Heitman-USA TODAY Sports
Remaining contract guarantees: one year and $510,000.
Being a pre-arbitration eligible player, Mike Trout has little control over his salary. The Los Angeles Angels don't owe him more than the league minimum.
They understandably have doubts about whether or not he can replicate—much less improve upon—his historic 2012 campaign.
So far, not so good. Through 10 games, Trout owns a .227/.277/.341 batting line and 12 strikeouts.
But the outfielder's talents are undeniable. He dominated MLB competition for five months and deserves the benefit of the doubt during this surprising slump.
Keep Reading