Each MLB Team's Most Shocking Storyline of Week 1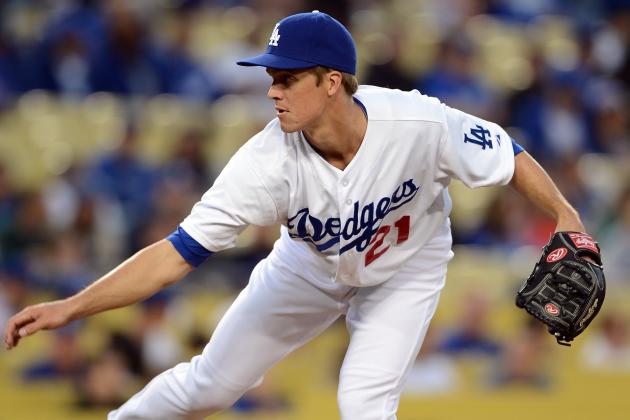 Harry How/Getty Images

From near-perfect games to batters going deep multiple times in a single game; from shutouts that were seemingly over early to high-scoring, extra-inning affairs, the opening week of MLB's regular season has had something for everyone.
Each of baseball's 30 teams has seen multiple storylines begin to develop, some that are sure to be short-lived and others that, well, have the potential to hang around for much of the 2013 season.
From the good to the bad and everything in between, let's take a look at each team's most shocking storyline heading into the second week of the regular season.
Begin Slideshow

»
Rob Carr/Getty Images

Baltimore left more than a few people scratching their heads this winter when the team sat idly by and watched first baseman Mark Reynolds leave for Cleveland, taking his 23 home runs and 69 RBI with him and leaving the defensively challenged Chris Davis as the team's starting first baseman.
Make no mistake about it, Davis is a defensive liability—he's on pace to commit more than 30 errors this season—but he's more than made up for it with his bat.
The American League MVP after the season's first week, Davis leads baseball in multiple offensive categories.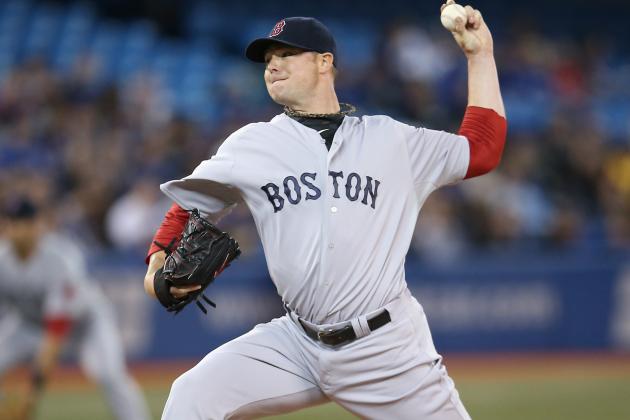 Tom Szczerbowski/Getty Images
Jon Lester is back.
Coming off of a disastrous 2012 season, there were legitimate questions about whether the Red Sox had the pitching necessary for the team to at least return to respectability, much less the playoffs.
After the early returns from Jon Lester and Clay Buchholz, the answer to that question is a resounding "Yes!" The pair sit undefeated in a combined three starts with an ERA of 1.42, a WHIP of 1.05 and 17 strikeouts over 19 innings of work.
Perhaps we shouldn't really be surprised at all. Nobody ever questioned the pair's talent level, and they gave every indication this spring that things were going to be different in 2013, going a combined 6-0 with a 0.77 ERA and 0.64 WHIP in 46.2 innings of work.
So much for spring training statistics being completely useless.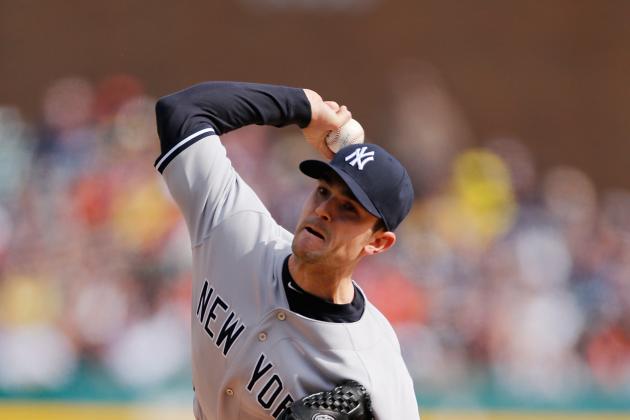 Gregory Shamus/Getty Images
David Robertson is the only Yankees reliever to not surrender an earned run.
In the wake of multiple injuries to key pieces of the Yankees' starting lineup, the team's bullpen was expected to be something that manager Joe Girardi could lean on to get through the season's opening month.
Girardi may need to look somewhere else for support.
Yankees relievers have allowed 17 earned runs and 32 hits over 22 innings, leaving the group with an obscenely bloated 6.95 ERA and 2.00 WHIP after the first week of the season.
Setup man David Robertson has been the star of the bullpen thus far, the only reliever on the team who has yet to surrender an earned run, scattering four hits over three innings of work while fanning four.
Robertson and Mariano Rivera worked two scoreless innings against the Detroit Tigers to end the week, the first time this season that the team's bullpen was able to keep the opposition off the board and perhaps a sign that things are progressing in the right direction.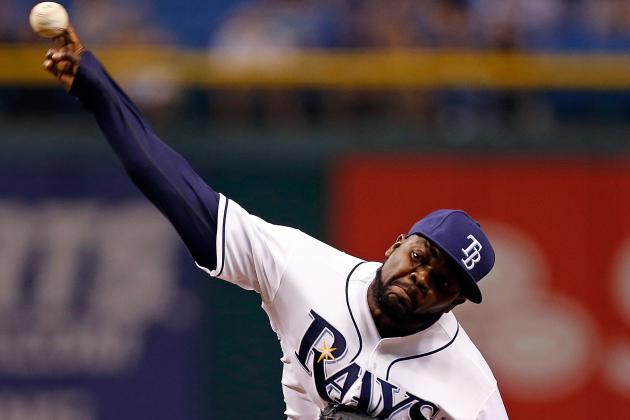 J. Meric/Getty Images
Fernando Rodney has been ineffective thus far.
Tampa Bay's pitching staff, both the starting rotation and the bullpen, were expected to be strengths of the team once again in 2013.
Heading into spring training, I had the Rays bullpen ranked as the third-best in all of MLB.
Thus far, setup men Kyle Farnsworth and Jake McGee, along with closer Fernando Rodney, have done their very best to make that pick look foolish.
In a combined five innings of work, the trio has allowed 12 hits and 13 earned runs, sitting with a 23.40 ERA and 3.00 WHIP after the first week of the regular season.
Rodney, the 2012 AL Comeback Player of the Year, has allowed five earned runs in 1.2 innings—equaling the number of earned runs that he allowed all of last season.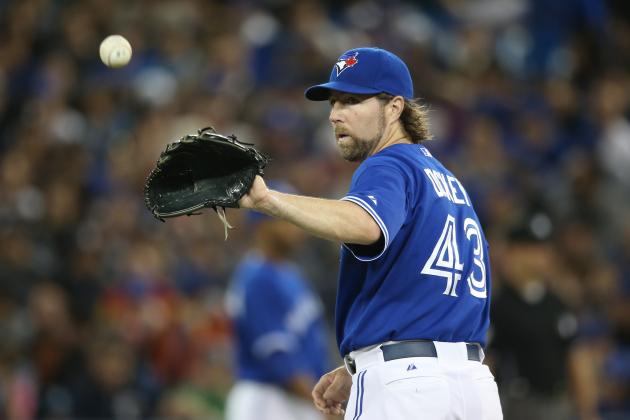 Tom Szczerbowski/Getty Images
This isn't the R.A. Dickey Toronto thought it was getting.
While Toronto added some big pieces to the lineup this winter with the acquisitions of Emilio Bonifacio, Melky Cabrera and Jose Reyes, it was the additions to the team's starting rotation—Mark Buehrle, R.A. Dickey and Josh Johnson—that had people believing that the Blue Jays were primed to be contenders.
While Johnson was serviceable in his first start, allowing three earned runs and nine hits in a six-inning no-decision against the Boston Red Sox, both Buehrle and Dickey have been anything but serviceable.
The pair has allowed 16 earned runs and 22 hits over 16 innings of work, walking seven while striking out 13, numbers that leave them with a combined 9.00 ERA and 1.81 WHIP after the season's first week.
By comparison, Brandon Morrow, the lone holdover from last year's rotation in Toronto, and J.A. Happ, somewhat of a surprise to make the team's Opening Day rotation, have allowed one earned run and seven hits in a combined 11.1 innings so far.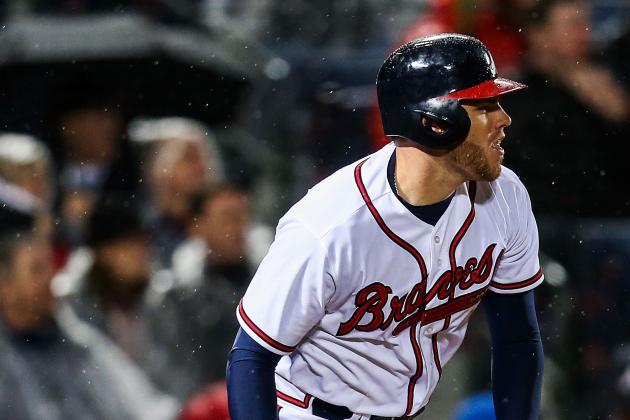 Daniel Shirey/Getty Images
Freddie Freeman was off to a torrid start in 2013.
It's going to be a little while before we see Freddie Freeman at first base for the Atlanta Braves, as the 23-year-old was placed on the 15-day disabled list with a strained right oblique.
Freeman didn't hold back when speaking to reporters upon learning of the news:
They didn't even give me a choice. It's my career. I should be able to make that decision. They didn't even tell me anything. I don't know what's going on. I'm pretty [angry] right now. It's not hurt to the point where I can't play. I can play just fine. At least talk to me about it. You can't just make a decision without me knowing.
Braves GM Frank Wren explained that, sometimes, a team needs to protect a player from himself:
He's a young guy that wants to play, and you appreciate that. You want him to be out there, but I think sometimes you have to protect players from themselves.

This is not one of those situations where we want to lose him for the whole first half by letting him go out and tear that oblique area, and then we're dealing with a whole different injury. We think we've caught it early enough that he should be back in two to three weeks.
Both sides have valid points, but you have to wonder if the Braves would have handled things the same way with, say, Justin Upton, or whether there would have been a discussion between management and the player before a decision was announced.
Chances are, Upton gets the courtesy of a conversation.
While I tend to side with the team on this, any player, regardless of age or tenure, deserves to be consulted and clued into the team's train of thought before a decision is made.
This is a situation that could have very easily been avoided.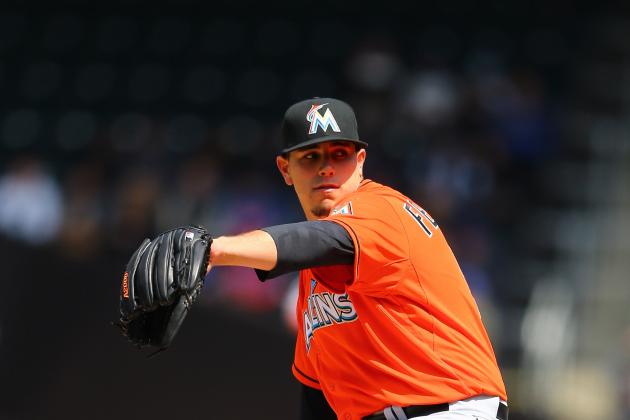 Al Bello/Getty Images
Miami's future ace has arrived.
Injuries to Henderson Alvarez and Nate Eovaldi opened the door for 20-year-old Jose Fernandez to start the season as a member of Miami's starting rotation, and the phenom didn't disappoint.
Fernandez was masterful against the New York Mets, allowing one run on three hits over five innings, walking one and striking out eight. As MLB.com notes, it took the Mets a while to figure out how to hit the phenom:
#Marlins phenom Jose Fernandez retired the first 10 batters he faced in his career before yielding a single in 4th vs #Mets. Kid is dealing.

— MLB (@MLB) April 7, 2013
While Fernandez is sure to have his fair share of mediocre outings, it's hard to imagine that Miami would send him down upon Alvarez and/or Eovaldi returning to action.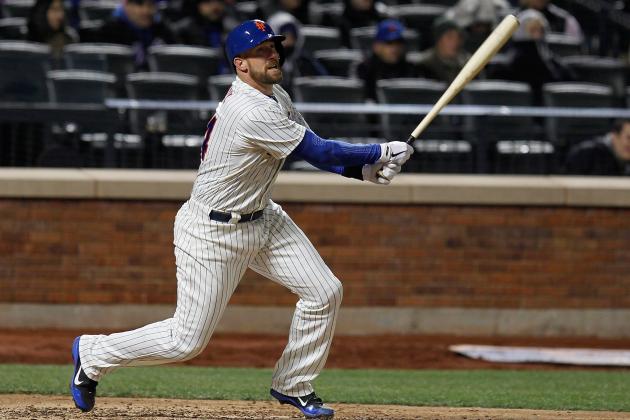 Mike Stobe/Getty Images
Travis who?
While prospect Travis d'Arnaud remains the future behind the plate for the New York Mets, veteran John Buck is doing his best to keep the future from arriving anytime soon.
Buck, largely an afterthought in the trade that sent R.A. Dickey to Toronto, is batting .400 (8-for-20) with a pair of home runs and nine RBI, the latter tying him with Cincinnati's Todd Frazier for the National League lead.
The 10-year veteran has been equally as impressive handling the team's pitching staff, as Buck's 2.47 CERA (Catcher's ERA) ranks third in all of baseball, behind only Los Angeles' A.J. Ellis and Pittsburgh's Russell Martin.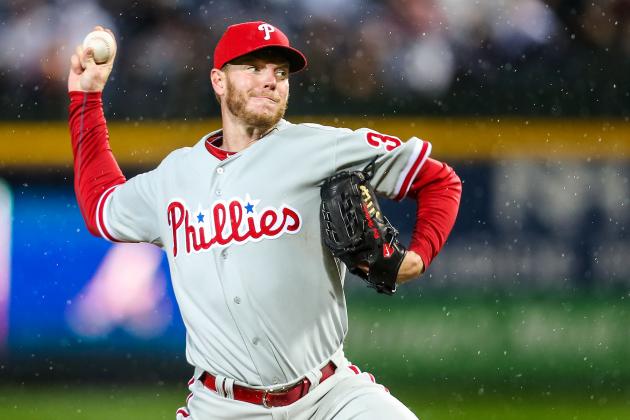 Daniel Shirey/Getty Images
Roy Halladay just isn't the same pitcher he used to be.
There were plenty of questions surrounding Roy Halladay entering the season, but with the presence of Cole Hamels atop the rotation in Philadelphia, most believed that the Phillies had the front-of-the-rotation pitching, with Hamels and Cliff Lee, to handle a slow start by the two-time Cy Young Award winner.
While Lee has been solid, Hamels has not.
The 29-year-old left-hander has been hit hard, allowing 13 earned runs and 16 hits (including four home runs) in 10.2 innings of work, walking five while striking out seven.
Halladay, 35, allowed five earned runs and six hits over 3.1 innings of work against the Atlanta Braves, though he did manage to do something we haven't seen in nearly 100 years in the process:
FACT: Roy Halladay is only pitcher since 1916 to strike out 9 batters in start that lasted 10 outs or fewer.

— MLB (@MLB) April 4, 2013
Yet, as ESPN's Jayson Stark notes, Halladay looks nothing like the man who only two years ago was in the conversation as one of baseball's most dominant starters:
One scout on Halladay: If you didn't know who it was, "you'd say `This guy looks like a journeyman.'" New blog post espn.go.com/mlb/blog/_/nam…

— Jayson Stark (@jaysonst) April 4, 2013
It's fair to assume that Hamels will snap out of his early-season funk. After the season Halladay had in 2012 and his struggles this spring, it's not as easy to make the same assumption about the good doctor.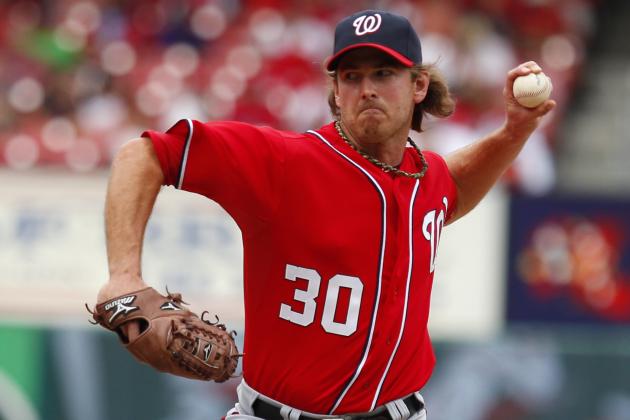 Kyle Rivas/Getty Images
Zach Duke was awful in his first appearance of the season.
A trio of left-handed relievers—Tom Gorzelanny, Mike Gonzalez and Sean Burnett—all bolted our nation's capital this past winter, leaving Washington with only one left-handed reliever in the bullpen, failed starter Zach Duke.
Against the Cincinnati Reds, Duke was a failure, allowing six hits and five earned runs over 2.2 innings in relief of Dan Haren.
While Duke faced both left-handed and right-handed batters during his outing, his awful performance raises a legitimate question—not a clown one.
Do the Nationals have enough in the bullpen to replace the departed southpaws?
Perhaps the answers lie in the minor leagues, but Duke has given no reason to believe that he'll be able to shoulder the load as the team's only left-handed reliever in 2013.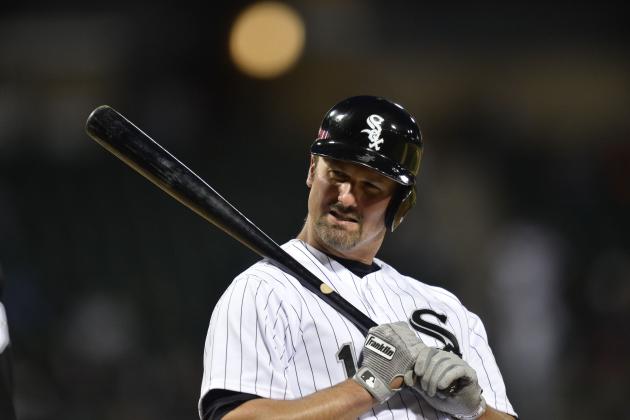 Brian Kersey/Getty Images
Paul Konerko's bat has yet to wake up from its offseason slumber.
Last season, the Chicago White Sox ranked seventh in baseball (and fourth in the American League) with 748 runs scored, an average of 4.6 runs per game.
Through the first week of the 2013 season, Chicago sits with 22 runs scored in six games, putting the team in the bottom third of all MLB teams and averaging 3.6 runs per game, a full run lower than 2012.
First baseman Paul Konerko and shortstop Alexei Ramirez combined for 148 RBI and 125 runs scored in 2012; in 2013, the pair has combined for two RBI and two runs scored, the latter both belonging to Ramirez.
Nobody expects that their lack of run production will continue, and the team, sitting with a 4-2 record, has had success, largely due to the performance of the pitching staff, whose combined 2.41 ERA is the third-lowest in baseball.
But in a highly competitive AL Central, the White Sox can't afford for two of the biggest bats in its lineup to stay silent for much longer.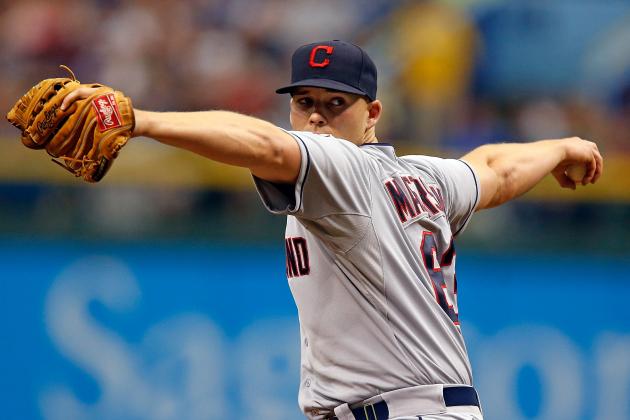 J. Meric/Getty Images
Justin Masterson has been masterful thus far.
What a difference a year makes.
In 2012, the trio of Justin Masterson, Ubaldo Jimenez and Zach McAllister went a combined 26-40 with a 4.92 ERA and 1.49 WHIP in 87 starts, and their continued presence in the team's starting rotation was a big reason many were hesitant to call Cleveland a playoff contender in 2013.
Through the trio's first four starts of the 2013 season, their presence has been a major boost, not a hindrance, to the team's success. They allowed only four earned runs and 14 hits in 25 innings of work, giving the trio a combined 1.44 ERA and 0.92 WHIP after the season's first week.
The ballyhooed newcomers to the rotation who were supposed to make things better, Brett Myers and Trevor Bauer, have struggled, allowing a combined 10 earned runs in 10 innings over two starts.
I still have my doubts as to whether Cleveland's pitching can keep up this level of success, but doing so will be paramount to the Indians making their triumphant return to postseason baseball.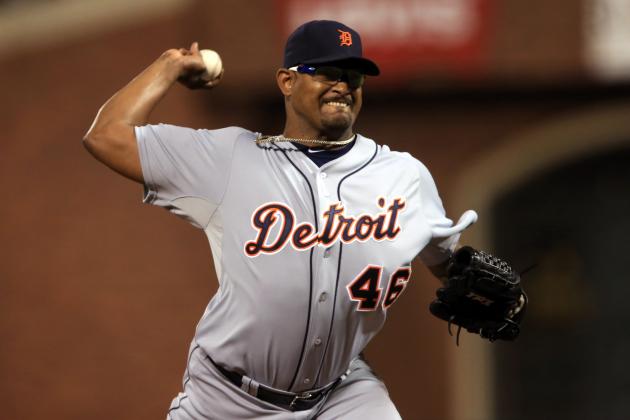 Doug Pensinger/Getty Images
Papa Grande has a chance to reclaim his job in Detroit.
Jose Valverde, who suffered through a terrible 2012 season as Detroit's closer, was re-signed to a minor league contract, and you can bet that manager Jim Leyland and GM Dave Dombrowski will be closely monitoring Papa Grande's progress.
Prospect Bruce Rondon remains the future closer in the Motor City, but after a mediocre performance this spring, both he and the Tigers may be best served if the 22-year-old flamethrower spent the bulk of 2013 in the minor leagues.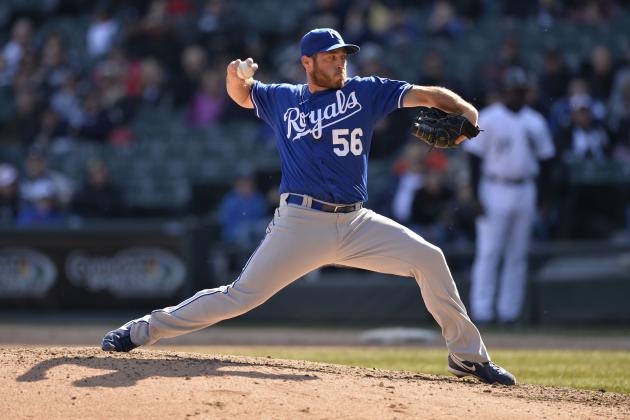 Brian Kersey/Getty Images
Greg Holland hasn't been sharp in 2013.
Kansas City's bullpen, which I had ranked as the second-best in baseball heading into spring training, has been mediocre thus far, pitching to a 4.08 ERA while converting three-of-four save opportunities.
The biggest issue has been the ninth inning, where Greg Holland has struggled badly.
Holland emerged as a legitimate closer in 2012 after the midseason trade of Jonathan Broxton, converting 16-of-20 save opportunities and finishing the season with 91 strikeouts in only 67 innings.
This year, he has allowed at least one earned run in two of his three appearances this year, walking four while striking out three.
The Royals have enough arms to mix-and-match things until Holland gets back on track, but the team needs their closer to return to his form of the past two years, when he pitched to a 2.41 ERA and 1.17 WHIP, striking out more than three batters for every walk that he issued.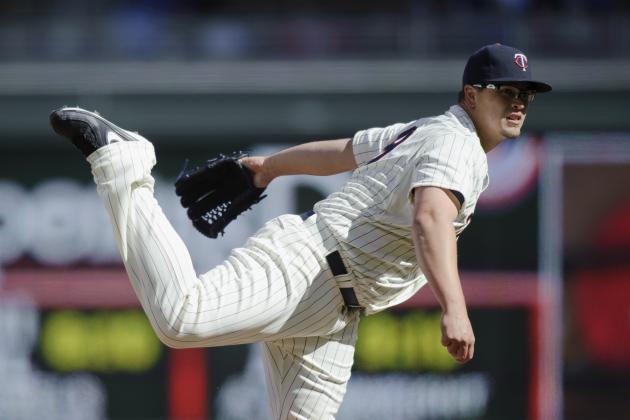 Hannah Foslien/Getty Images
Vance Worley has been mediocre so far in a Twins uniform.
Minnesota ended 2012 with one of the worst starting rotations in baseball, and while the team added multiple pieces this past winter, none of the moves were really considered to be game-changing ones.
While the rotation has recorded a decision in only two of the team's six games and sit with a 4.06 ERA, a number that ranks 20th among all MLB starting rotations, the team's starters, for the most part, have gotten the ball to the bullpen either with a lead or the team in striking distance.
Mike Pelfrey and Kevin Correia were very good in their respective starts, while Vance Worley, the biggest name that Minnesota added to the mix, surrendered a combined 18 hits and 10 earned runs to Baltimore and Detroit in his two starts thus far.
But help is on the way.
Scott Diamond, the team's best pitcher in 2012, is set to return from the disabled list at the end of the week, likely against the New York Mets, while Sam Deduno and Cole de Vries both continue to make progress with their injuries and are slowly working their way back into the fold.
If the ragtag group of starters can hold things together until reinforcements arrive, Minnesota could be one of the surprise teams in baseball in 2013.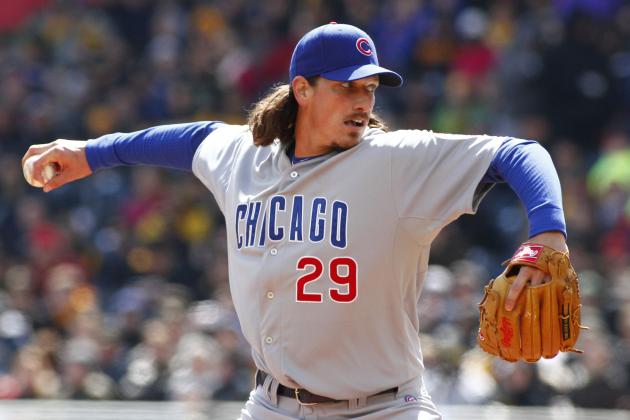 Justin K. Aller/Getty Images
Jeff Samardzija has been nearly unhittable in 2013.
With apologies to Edwin Jackson, Carlos Villanueva and Travis Wood, who were all very good in their first starts of the season for the Chicago Cubs, it's all about Jeff Samardzija at Wrigley Field these days.
I'm man enough to admit when I'm wrong, and Samardzija has proven my assessment of him being no better than a middle-of-the-rotation arm on a contending team to be woefully incorrect through his first two starts of the season.
Samardzija was masterful on Opening Day, throwing eight shutout innings against Pittsburgh, walking one while striking out nine. He labored against Atlanta, surrendering four earned runs in 5.2 innings of work, but he kept batters missing, striking out 13.
Is he really this good? Is Jeff Samardzija a legitimate candidate for the Cy Young Award?
Asking him to continue fanning batters at this ridiculous rate may be asking too much, but Samardzija is dialed in and throwing gas like we've never seen him do before.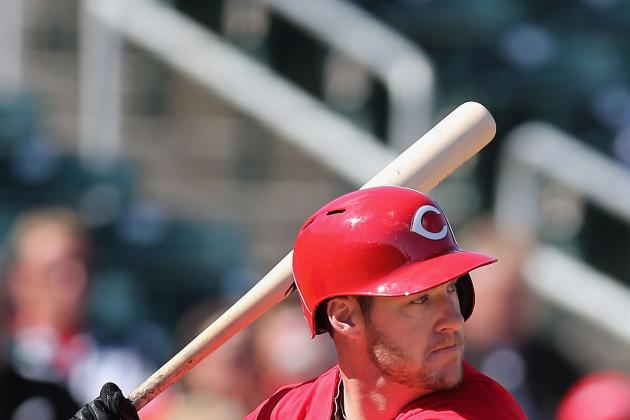 Christian Petersen/Getty Images
Cincinnati hasn't missed a beat since losing Ryan Ludwick.
Losing your starting left fielder and cleanup hitter on Opening Day is not how any team wants to begin a season, but that's exactly what happened in Cincinnati, as Ryan Ludwick dislocated his shoulder on a slide into third base and will be out until July at the earliest.
Yet the Reds offense hasn't missed a beat.
Cincinnati has scored 38 runs through the first six games of the season, tied for the second-most of any team in baseball and trailing Colorado by only one for the MLB lead.
The rest of the lineup has picked up the slack, most notably third baseman Todd Frazier, whose nine RBI have him tied for the NL lead.
With a 4-2 record that finds them sitting alone atop the NL Central after the season's opening week, the Reds have already proven—as they did in 2012 when first baseman Joey Votto missed significant time with a knee injury—that it can weather any storm and still come out as winners.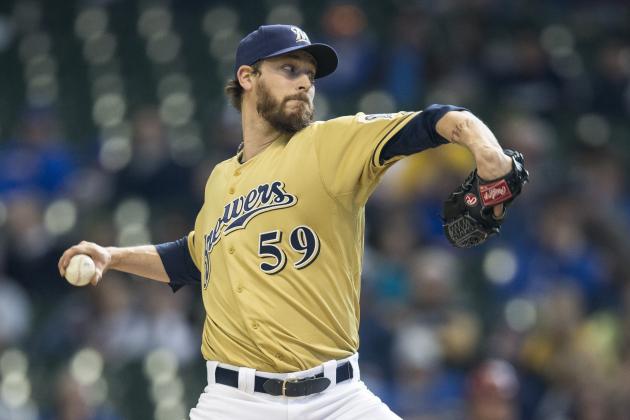 Tom Lynn/Getty Images
John Axford continues to struggle badly.
Heading into spring training, I said that if John Axford's struggles from 2012 continued in 2013, the wholesale changes that Milwaukee made to its bullpen wouldn't make a lick of difference.
Unfortunately for the Brewers, it looks like I was right.
Axford has been horrendous, allowing at least one earned run in each of his three appearances and sitting with a 20.25 ERA and 3.00 WHIP. He's given up four home runs, a number that was nearly six as Arizona hit two shots that died on the warning track in his latest outing.
Sooner, rather than later, manager Ron Roenicke is going to have to make a change in the ninth inning if Axford doesn't turn things around quickly.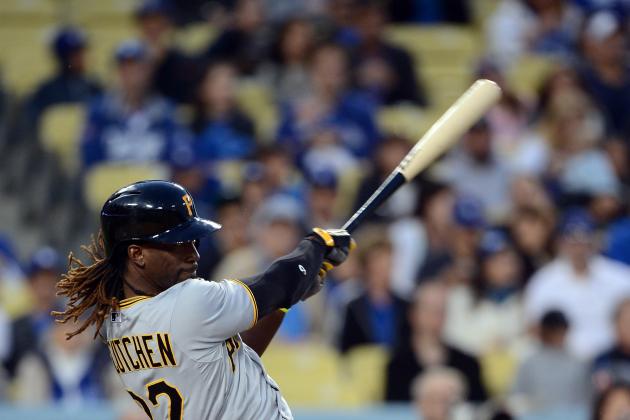 Harry How/Getty Images
Even Andrew McCutchen isn't doing much at the plate this season.
Pick any statistical category that a team's offense is measured by, and chances are that Pittsburgh ranks dead last in whichever one you've chosen.
The Pirates suffered back-to-back shutouts at the hands of the Los Angeles Dodgers, and the team's seven runs scored over its first six games is an ominous sign for the 2013 season.
Two starters, Russell Martin and Travis Snider, have yet to record a hit, and the team's .119/.188/.159 slash line has undermined some exceptional performances from the pitching staff, owners of the sixth-lowest ERA in baseball after the first week of the season with a 2.82 mark.
While nobody expects Russell Martin and Travis Snider to go the entire season without a hit, the Pirates' inability to add a second impact bat to help Andrew McCutchen in the middle of the lineup is going to cost the team a shot at ending its playoff drought in 2013.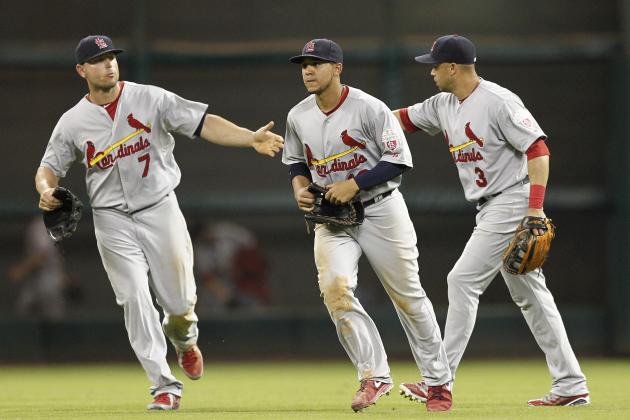 Bob Levey/Getty Images
Holliday, Jay and Beltran have yet to get going.
Heading into the season, it was pretty common knowledge that as Carlos Beltran, Matt Holliday, Jon Jay and Yadier Molina went, so did the Cardinals offense.
Through the season's opening week, that foursome is hitting a measly .226 (21-for-93) with three home runs, eight walks and 18 strikeouts, numbers you wouldn't expect from a group as talented as they are.
Despite the low batting average and high number of strikeouts, the group has been productive when at the plate, with a combined 15 runs scored and 17 RBI.
St. Louis has weathered their struggles fine thus far, sitting with a .500 record (3-3), one game behind the Cincinnati Reds in the NL Central.
It's only a matter of time before that foursome breaks out of their respective slumps, and that will only make St. Louis a more dangerous team than they already are.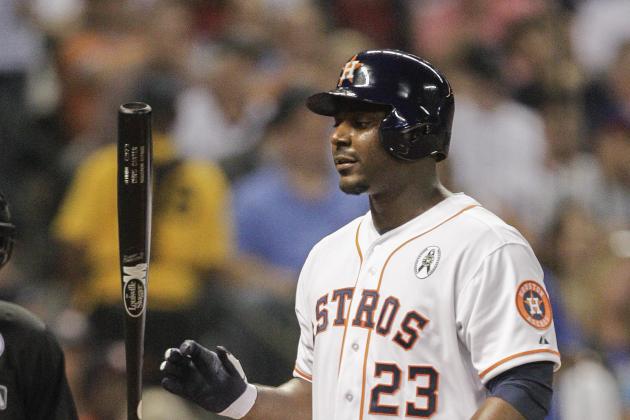 Bob Levey/Getty Images
Chris Carter hasn't provided any offense for the Astros so far.
Astros fans should savor the team's surprising 8-2 Opening Day victory over the Texas Rangers, for both wins and offensive explosions like that one will be few and far between in 2013.
Chris Carter and Carlos Pena, bought in to provide power and some run production in the middle of the team's lineup, are hitting a combined .122 (5-for-41) with no RBI, one walk and 18 strikeouts. Two other everyday players, J.D. Martinez and Brett Wallace, join them without an RBI on the season.
Houston's collective .199 batting average and .520 OPS is third-lowest in baseball, ahead of only the Chicago Cubs and Pittsburgh Pirates.
If there's a silver lining to this misery, it's that a promotion of the team's top hitting prospects may not be too far off—they can't do any worse than the collection of has-beens and journeymen that Houston is trying to pass off as a major league lineup.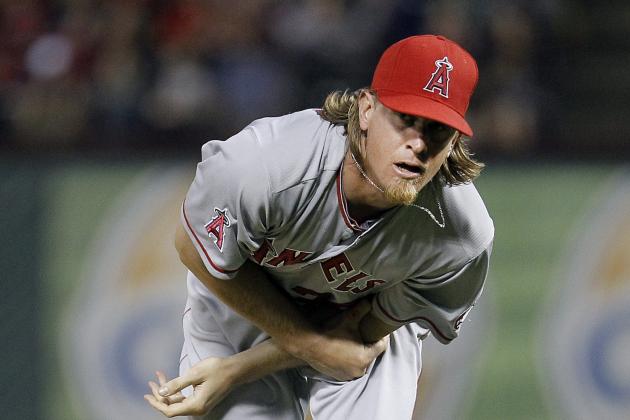 Brandon Wade/Getty Images
Not a good sign for the Angels.
The Los Angeles Angels and their fans will be holding their breath over the next few days as the severity of Jered Weaver's elbow injury is determined.
As of now, the ace of the team's starting rotation has been diagnosed with a strained left elbow after being removed from Sunday's start against the Texas Rangers, according to Mike DiGiovanna of the Los Angeles Times:
#Angels RHP Jered Weaver diagnosed with a strained left elbow. X-rays negative. Not sure if, or how long, he will be sidelined.

— Mike DiGiovanna (@MikeDiGiovanna) April 8, 2013
At first glance, it appeared as if Weaver was hit by a line drive off the bat of Texas' Mitch Moreland in the sixth inning, but replays showed that the ball clearly missed the perennial Cy Young Award contender, the only positive to take from the entire episode.
It's fair to assume that the Angels will err on the side of caution with their ace, keeping him sidelined until he feels no discomfort whatsoever in the elbow. Pushing him to come back early could be met with disastrous results.
Weaver's injury puts an even greater emphasis on the rest of the starting rotation, which looks good on paper but has been mediocre on the mound, to raise their games in Weaver's absence.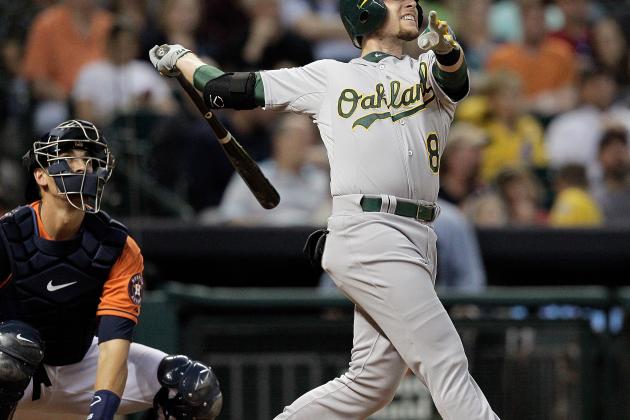 Bob Levey/Getty Images
Jed Lowrie is thriving in Oakland.
When Oakland acquired Jed Lowrie from Houston back in February, I gave both teams a grade of "B" for the deal, Oakland's being contingent on the team finding a spot for Lowrie in the lineup on a daily basis.
It may be time to re-grade the deal, as Lowrie has been outstanding, hitting .500 (13-for-26) with seven extra-base hits (three home runs), six RBI and seven runs scored through the first six games of the season.
Oakland's 38 runs scored are the most in the American League and second-most in baseball, as are the team's 12 home runs, both numbers trailing only the Colorado Rockies who lead the A's in each category by one.
Lowrie certainly isn't going to hit .500 for the season, but as he showed in Houston last season, the power that he's got in his bat is real. Not only are the A's capable of shutting down the opposition with a quality pitching staff, but they can beat their opponents into submission with their bats as well.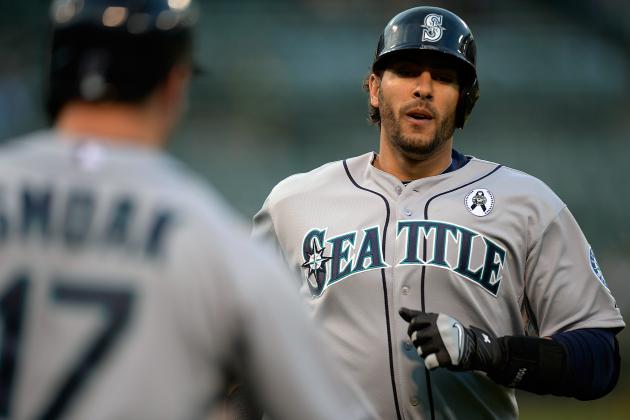 Thearon W. Henderson/Getty Images
Mike Morse is loving his return to the Emerald City.
It may be time for me to take back what I wrote about Seattle's offense following spring training:
No team in baseball has hit more home runs than the Seattle Mariners (54), who have put 194 runs on the board this spring, trailing only Kansas City and Los Angeles (AL).

Between Safeco Field being a pitcher's park (despite the reconfigured outfield) and the fact that Seattle's batters have struck out more than three times as often as they've drawn a walk, it's only a matter of time before the Mariners' offensive woes return.
While the Mariners aren't leading baseball in home runs or runs scored, the offense is vastly improved from a year ago, sitting just outside the Top 10 in baseball with 27 runs scored while ranking seventh with nine home runs on the season.
They are productive despite hitting a woeful .218 as a team, with four of the team's nine starters hitting below the Mendoza Line.
Dustin Ackley, Jesus Montero, Kyle Seager and Justin Smoak have combined to hit .157 (14-for-89) over the season's first week with only three extra-base hits, three RBI and five runs scored. Most surprising of the group is Smoak, who was raking during spring training and looked poised to finally break out in 2013.
Sooner or later, the group of youngsters will break out of their slumps and start contributing, making Seattle's offense more productive than it's already been—a scary proposition for the rest of the AL West.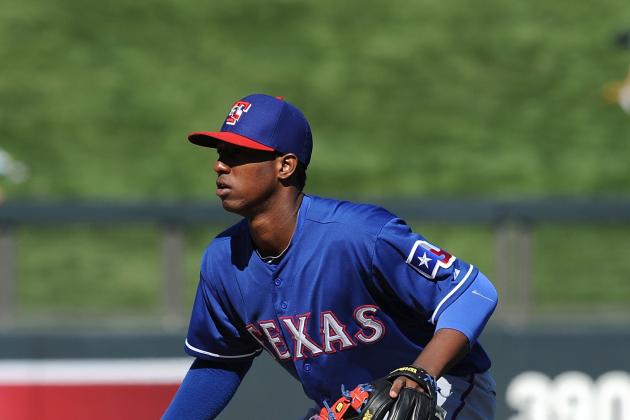 Norm Hall/Getty Images
Profar is too talented to keep on the farm for long in 2013.
Texas locked up shortstop Elvis Andrus through the 2022 season with an eight-year, $120 million extension as the regular season got underway, adding more hurdles for top prospect Jurickson Profar to jump over as he attempts to start his major league career in earnest.
As complete a prospect as there is in the minor leagues, Profar is simply too talented for the Rangers to keep him on the farm for the bulk of the 2013 season. The team simply needs to find an everyday spot for him to fill at the major league level.
B/R's prospect guru Mike Rosenbaum broke down many of the possible scenarios that could find Profar in the big leagues before long, but one thing is clear.
Until Profar is on a big league roster, whether it be in Texas or elsewhere, this storyline will continue to gain momentum as the season progresses.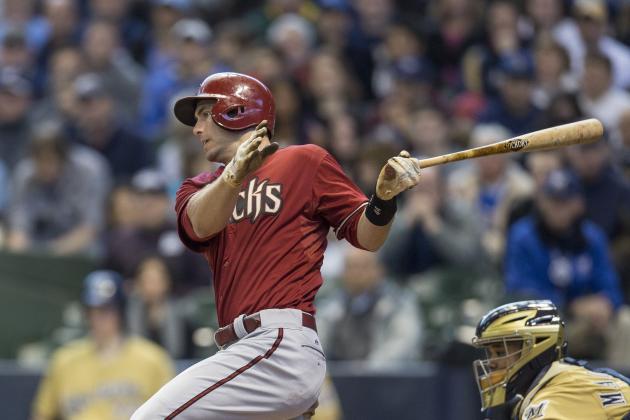 Tom Lynn/Getty Images
Paul Goldschmidt is swinging the bat like a MVP.
While nearly everyone was in agreement that the Arizona Diamondbacks needed to move Justin Upton (which it did, to the Atlanta Braves), there were some who had concerns about Arizona's ability to replace Upton's bat in the middle of the lineup.
Apparently those folks weren't paying attention to Paul Goldschmidt, who had a breakout campaign in 2012, hitting .286 with 20 home runs and 82 RBI.
Goldschmidt has been on fire over the first week of the season, hitting .370 (10-for-27) with five of his 10 hits going for extra bases, including two home runs and a team-high seven RBI.
Chances are that the 25-year-old first baseman isn't going to contend for a batting title in 2013, but a .300 batting average with 30 home runs and 100 RBI seems like a foregone conclusion at this point, numbers that will put him in the discussion (perhaps only on the fringes) for MVP in the National League.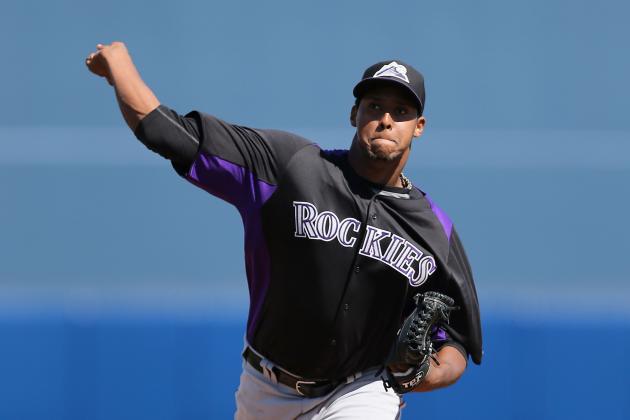 Christian Petersen/Getty Images
Juan Nicasio is healthy and dealing for the Rockies in 2013.
The Colorado Rockies' pitching staff ranks fifth in baseball with a 2.80 ERA.
That's not a typo.
After years of having a pitching staff that was mediocre at best—and really bad most of the time—everything's coming up Milhouse for the Rockies' arms in 2013.
The starting rotation is undefeated (4-0) with a 2.78 ERA and 1.18 WHIP in six starts, while the bullpen has been equally as impressive, going 1-1 with a 2.84 ERA and 1.21 WHIP.
With only three games at Coors Field thus far, against the San Diego Padres, the pitching staff is going to give up its fair share of runs.
But if the starters can stay healthy—namely Jhoulys Chacin and Juan Nicasio—the Rockies have the offensive firepower to at least contend for a wild-card spot in the National League.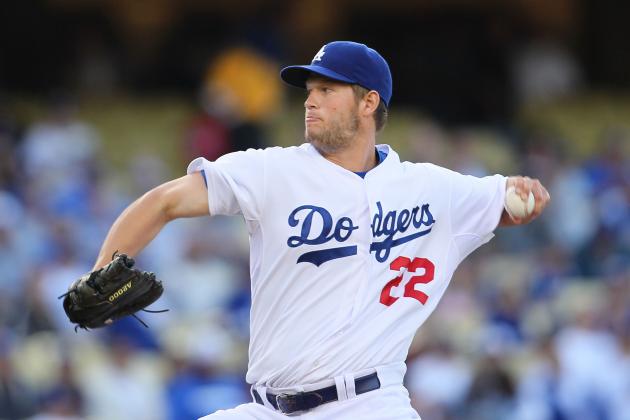 Victor Decolongon/Getty Images
Clayton Kershaw: Best Pitcher in Baseball.
"This" would be the Dodgers pitching staff, which leads baseball with a ridiculous 1.00 ERA and 0.67 WHIP.
Only two pitchers—Hyun-Jin Ryu and Josh Beckett—have allowed an earned run this season. Ryu has given up three earned runs over 12.2 innings of work, while Beckett surrendered three earned runs in his lone start of the season thus far.
With Clayton Kershaw and Zack Greinke leading the way for the starting rotation and a bullpen full of confident, capable relievers, the Dodgers are going to give opposing teams fits all season long, taking pressure off of the lineup, which is powerful and can put runs on the board in a hurry.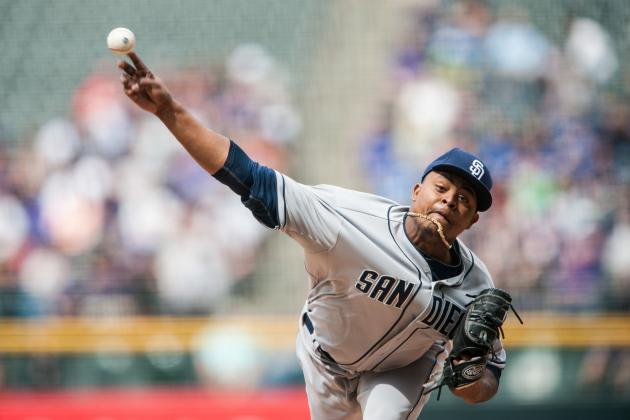 Dustin Bradford/Getty Images
The word "ace" doesn't belong near Edinson Volquez' name.
Edinson Volquez gets shelled away from Petco Park—we only need look at San Diego's 11-2 loss at the hands of the New York Mets on Opening Day for the most recent proof of that. But he's not the only Padres starter who fails to deliver when the team takes its act on the road.
In 2012, Padres starters pitched to a 3.35 ERA and 1.27 WHIP at home, a 4.73 ERA and 1.38 WHIP on the road.
Through six games this season, the rotation has gone 1-5 with a 6.67 ERA and 1.66 WHIP.
Volquez, the "ace" of the staff, has allowed 10 earned runs and 15 hits in his two starts, lasting only 9.1 innings while walking nearly as many batters (four) as he's struck out (five).
There's no denying that Volquez has the talent to get batters out—but his inconsistency and inability to command his pitches will continue to cost San Diego badly, exercising the bullpen and ensuring that the team remains in the basement of the NL West.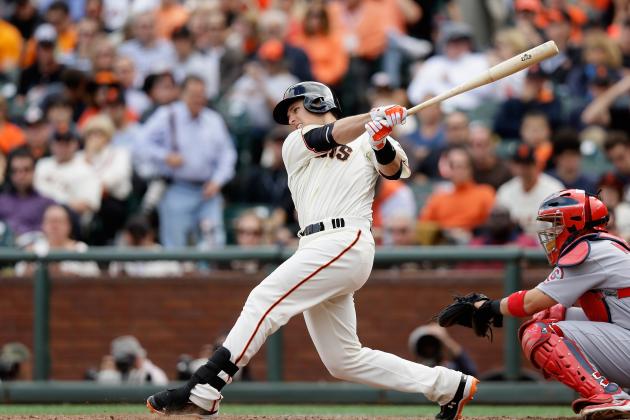 Ezra Shaw/Getty Images
What happened to the reigning NL MVP?
The defending World Series champions sit with a .500 record after the season's first week, due largely in part to the team's inability to put runs on the board.
Brandon Belt, Brandon Crawford, Buster Posey and Marco Scutaro have yet to collect their first RBI, and the foursome is hitting a combined .143 (11-for-77) with only four runs scored, striking out 17 times while drawing only six walks.
That Crawford isn't hitting doesn't come as much of a surprise, as his contributions have always been greater with the glove than with the bat.
But Posey, the reigning NL MVP, must produce in the middle of San Francisco's lineup for the team to have a chance to defend its championship.
Sooner or later, Posey will begin to get into a groove.